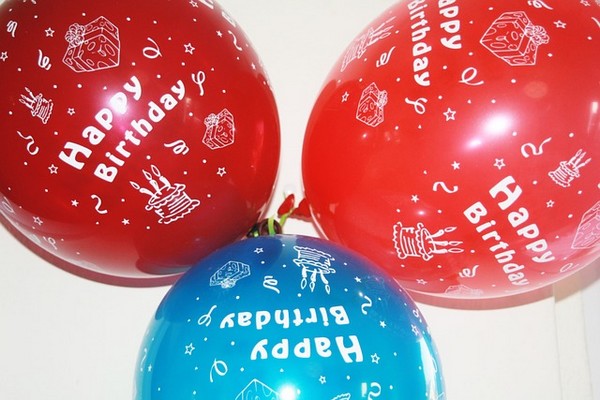 There are lots of ways to make money online and offline.
The trick is to be creative.
Here is a simple method this guy I know is using to pull in $200-$300 a day.
Note: This isn't a quick method. So if you are looking to make $300 a week/day fast, this isn't the best option. This is more of a "take your time, long-term business."
The Process
Go to the nearest Dollar Store in your town and buy 10 or so balloons.
I am talking about those big inflated smiley face, happy birthday, happy anniversary, etc balloons.
They cost around a buck.
Mix them up.
I would buy a few Happy Birthday, Smiley Face, and Congratulations balloons.
Then, find a local, independent bakery.
We're looking for a small independent bakery and not a bakery part of a Franchise or in a grocery store.
Why Local I
ndependent

?

This wouldn't work with franchised bakeries or the ones in the grocery store. This works with those small mom and pop owned bakeries in your neighborhood.

Big stores have a lot of money and resources, they think of everything.

And if you notice, most of them have a balloon stand in the bakery. They know it's a good way to make more money.

But small mom & pop owned bakery owners are usually so busy with the day to day operation that they miss out on side sales like this.

Also, the advantage of dealing with small independent owners is that sometimes they are not doing very good, sales-wise, so they would do anything to increase profit.

Sure, 99 cents on a balloon may not be much, but if they get 100 customers a day, and 50 of them buy a balloon each, that's an extra (almost) $50 a day for them.

And for many small business owners, an extra 50 bucks a day is a lot of money.

Back to the Plan…

Take your balloons to the bakery, and persuade the owner that some of his customers who buy cakes for special occasions, like Birthday or Anniversary, may be interested in buying a balloon or two as well.

Tell him that you will leave the balloons On Consignment, tied to a heavy object (to keep it from flying up).

Work out a deal with the owner.

Let him know you sell each balloon for $2.99. He can keep 99 cents, and you get two dollars. You can, of course, change the numbers based on what you think the owner will go for.

You can buy balloons from the dollar store for around a buck. Selling them for $2.99 and keeping $2 for yourself gives you an easy $2 profit.
What If the Bakery Owner Isn't Interested?
Not every business owner is going to agree to this.
That's fine, you take your balloons and move on to another bakery. Keep going until you get a few that are on board.
While you may think it's a stupid idea, the truth it is that it works. You are providing an extra service to their customers. A lot of people do buy balloons when they buy flowers or cakes, especially if it's a special occasion.
Down the road, when you have it sorted out with a few bakeries, you can even offer a special deal and discount to increase the sales volume.
For example, 1 Anniversary balloon + 4 plains ones for $12, or something like that.
If your business really gets going, you can even rent a Helium tank so you can save money on balloons.
Instead of going to the Dollar Store and buying already inflated balloons for a dollar a pop, you can buy balloons in bulk which will probably cost you around 20 cents a balloon, and inflate them yourself. That will bring your overhead down, leaving you with more profit at the end.
But…
I know there are many of you out there who are saying:
"It's not gonna work."
"Why wouldn't the bakery owner buy and sell the balloons himself?"o bakery owner is going to agree to this".
"No bakery owner is going to agree to this."
Here is the deal…
Do you think Jacob D'Aniello, co-founder of DoodyCalls (a company that picks up dog poop), or Matthew Osborn, the guy who came up with the idea of Pooper Scooper, would have a multi-million dollar business now if they were saying to themselves "no, nobody is going to pay me to pick up their dog poop. People can do it themselves in 10 seconds."?
No, they wouldn't!
There are tons of people who use crazy ways to make money.
Sure, it's a good idea to make sure you have some potential before you put time and money into building a business.
But then again, this requires a mere 10 bucks to get started. So, you are not really risking much money.
Give it a try. If it works, great. Build it up and make some money.
If it doesn't, that's fine too, move on with your life.
How Much Can You Really Make?
To be honest, it depends.
The biggest factor is the number of bakeries you get to work with you on this, and how busy they are.
The guy I know has been doing this for a long time and he has this down to a science. He works with over 15 bakeries.
And according to him, he pulls in on average between $200-300 a day.
That's a lot of money.
We all know that "work smart not hard" saying. This guy is really creative. He practically made a business out of nothing.
Now, I am not saying you will make $300 in a day doing this from day one. You may or may not make money.
Again, it depends on how many bakeries you get on board with this plan, and how much time and effort you're willing to put into it. But I would imagine $300 in a week is doable with only a handful of bakeries.