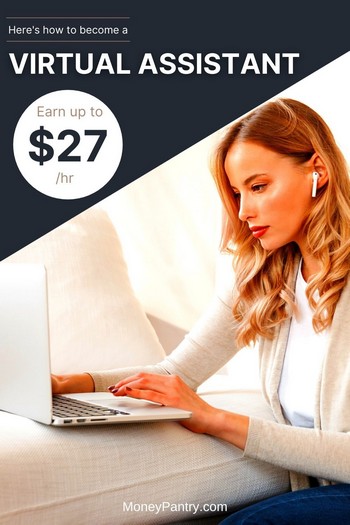 There are lots of ways to make money online nowadays, whether it's with freelance writing, selling stuff, taking surveys or remote work at home jobs.
A really great option for earning online and a good career to consider is working as a virtual assistant, and thankfully, there are a lot of virtual assistant jobs available.
There are lots of people looking to hire online assistants from e-commerce website owners to companies looking for assistance in managing their social media accounts.
In this post, I'll tell you how to become a virtual assistant. I'll cover everything from how to get started to where to find legit work from home jobs for virtual assistants and of course, how much money virtual assistants make!
What is a Virtual Assistant?
Like the name says virtual assists are assistants who conduct their work online.
Virtual assistants do all of the same tasks as a regular assistant would, except for one big difference:
Need Easy Extra $300+/Month for Free?
KashKick
: Get paid directly into your PayPal for watching videos, surfing, shopping and more.
Join KashKick Now!
Panel Payday
: Earn up to $75 per survey. They also pay up to $50/hr for mystery shopping.
Join Now!
InboxDollars
: Paid over $57 Million to members to watch videos, take surveys, shop and more.
Get $5 instantly!
Branded Surveys
: Get $1 instantly just for joining for free. Plus get paid within 48 hours by PayPal!
Join Branded Surveys
First Opinion
: Wanna get paid for every single survey (+ high paying online focus groups) with cash or direct deposit? This is for you!
Join Now!
Swagbucks
: Get paid to watch videos, shop online, take surveys and more.
Join now & get $5 instantly!
Work is based online!
That's ideal nowadays when we're being encouraged to stay home more.
They're also called online assistants.
Basically, as a VA, it's your job to make someone's life easier.
Lots of small business owners need help managing the everyday tasks of their business from updating the company's Facebook page to answering customer inquiries.
There's often too much for the owner to do by themselves – that's why they hire someone like you to help!
Because it's virtual, you can work from anywhere in the world – which is just awesome!
What Exactly Does a Virtual Assistant Do?
It's an incredibly diverse role and what you do can differ not only depending on the client or company that you're working for, but also from day to day!
One day you may be organizing expenses in Excel and the next you might be writing a newsletter!
Not all roles involve just traditional administrative tasks. It really depends on the area you're working in – but more on that below.
Of course, there will be admin and organizational tasks involved in most jobs though.
Some responsibilities of this job could include:
Organizing appointments
Entering data
Making phone calls
Organizing meetings
Customer support
Processing online orders
Processing refunds
Maintaining WordPress
Website design
Providing graphic design work
Creating content
Organizing travel arrangements
Researching content
Keyword research
Email management
Bookkeeping
Answering and moderating comments
Data entry
Creating sales pages
Editing videos
Social media management
Project management
Managing product launches
Performing outreach
Lead generation
Other admin and organizational tasks
What Skills Do You Need to Become a Virtual Assistant?
It really depends on what area you choose to specialize in (more on that below).
Generally though, VAs need to:
Be organized
Have good communication skills
Be proficient with technology and software like Word, Excel, and PowerPoint
In terms of qualifications and experience – they're not a requirement for every job.
It's on of those relatively high paying jobs without a degree (in most cases!). A degree isn't required by all clients. So if you haven't been to college, you can still become a virtual assistant.
Some clients of course will want a VA with a degree.
The same goes for the experience. Some clients will only hire VAs who have admin or assistant experience and others won't require any experience at all.
If you do want to build up your experience a little before you start applying for jobs, you can always try something like data entry to get started.
How Much Money Do Virtual Assistants Make?
Do virtual assistants make good money? If so, how much can you earn as a VA?
Lots of people ask these questions online.
According to PayScale, virtual assistants make $10 to $27 an hour with the average income being $15 an hour. The average virtual assistant salary is between $21k to $60k (combining hourly wage, bonuses, tips, etc.).
Please note that those are just average figures. You could make more money than that or less.
There are a few factors that will determine your income, such as:
The client you work with.
How many hours you work.
The services you offer.
That last one brings me to my next point…
Services Virtual Assistants Can Specialize In
Virtual assistants can work in lots of different industries. Here are a few examples of areas you can specialize in:
1. Customer service
One of the most common virtual assistant jobs you'll find out there are customer service-based positions.
Business owners want happy customers. However, they just don't have the time to provide customer support. That's often why they hire a virtual assistant to make their life easier.
As a virtual assistant, here are a few customer service-related tasks that you may be responsible for:
Responding to customer inquiries.
Offering real-time support to customers, like on a Live Chat or over the phone.
Processing orders.
Managing shipments.
Following up payments.
Keeping records up to date.
This is a pretty popular industry for VAs and definitely one to consider if you're looking to get into this career.
2. General admin
This is one of the most common areas for a VA to work in. And it's generally the type of work that you would associate with online assistants.
It isn't the most specialized niche but it's a good area to get started with as a VA.
Here are some of the tasks that you may do:
Managing emails.
Making travel arrangements.
Booking appointments.
Data entry.
Taking calls.
Monitoring voicemail.
Creating PDF documents.
Writing emails.
Preparing PowerPoint presentations.
Managing calendars and schedule.
File management.
Setting up spreadsheets.
Creating reports.
And pretty much any task that an office assistant would do on-site, except you do all of your tasks online!
3. Social media management
Online assistants work in so many different industries and not all of them will involve the general admin tasks that you would associate the career with.
No, some assistants choose to specialize in social media management, which involves a lot of different tasks compared with your traditional admin-based VA position.
Having a presence on social media platforms like Instagram and Facebook is paramount for a business nowadays.
Again though, business owners are busy, meaning they don't have the time to invest in running social media accounts.
That's why they hire someone, like you, to do it for them.
They hire VAs to handle their social-media related tasks, which could include:
Posting content on social media platforms like Twitter, Facebook, and Instagram.
Responding to comments from customers.
Optimizing posts using social SEO.
Staying up to date with what the promotional rules are on each platform the business posts on.
Reaching out to new customers through social media accounts.
Developing social media campaign ideas and launching them.
4. Email management
Companies can get a whole lot of email. This can pile up leaving thousands of unanswered messages in their inbox. Business owners and website owners often don't have the time to go through all of their emails because they're busy managing other aspects of their business.
That's why they might hire a VA to help them to stay on top of their emails!
You could offer email management services, like:
Flagging important emails.
Following up on sent emails.
Managing junk mail – so setting up spam filters.
Archiving emails.
Replying to emails.
Unsubscribing from unwanted promotional activity.
5. Finance
Another popular industry is finance, with many online assistants specializing in this area.
This can be a particularly lucrative niche, especially if you have experience in finance and bookkeeping.
There are lots of people who need assistance in staying on top of their finances, whether that's their personal finances, business's finances or both.
If you have any expertise in this area and are good with numbers, then you might want to get into this niche.
Here are some services you could offer:
Bookkeeping
Invoice creation.
Planning for taxes.
Tracking debt repayment.
Sending invoices.
Payments processing.
Payroll
Calculating profit and loss.
Managing retirement funds.
6. Content production
Do you enjoy creating things like videos, graphics, or articles? Then you might want to specialize in content production.
You could start a VA business as a content creator.
Since creating content takes up a lot of time, most business owners don't have the time to do it themselves and will outsource these tasks to people like you.
See a theme here? Most businesses hire VAs to help them with the tasks that they just don't have the time to do themselves.
Businesses looking for content may hire to you help with:
Writing blog posts.
Researching content ideas.
Creating graphics.
Sourcing and editing photos.
Taking photos of products.
Editing pictures.
Creating videos.
Creating infographics.
Researching and suggesting topics.
Making posts SEO-friendly.
Keyword research.
Turning business data into interesting and engaging content.
Adding affiliate links
Scheduling posts for publication.
If you offer to create content, this can give you an edge over other VAs.
And if you really enjoy what you do, it's a great way to get paid for it. For example, with writing blog posts, you can get paid to write about what you love!
7. Website and blog management
Running a website or blog takes time and many businesses just don't have the time to invest.
So they hire you to manage their website for them.
If you're familiar with the WordPress platform and other web publishing platforms, this could be a service you could offer as a VA.
Here are some website or blog management tasks you may be responsible for:
Fixing broken links.
Setting up redirects.
Deleting old, unwanted, or outdated blog posts and pages.
Keeping plugins up to date.
Improving the website's SEO.
Moderating blog comments.
Replying to blog comments.
Tracking performance metrics.
Reporting on popular topics and trends.
Understanding the blog's performance (KPIs).
8. Online marketing
With millions of people using the internet every day, businesses want to do everything they can to market themselves online.
Business owners again don't have the time to do everything themselves, so they need to hire a virtual assistant to help them with their online marketing campaigns.
If you have experience with the online marketing field or take some time to learn about internet marketing, you could offer these services to businesses.
This would make you a valuable VA and help to set you apart from the competition.
Tasks you could be responsible for include:
Creating sales pages.
Setting up webinars.
Making flyers and brochures.
Tracking the effectiveness of the business's advertising.
Setting up paid ad campaigns.
Creating SEO landing pages.
Managing promotions and giveaways.
Managing product launches.
9. Email marketing
While social media platforms may be incredibly popular, email marketing is still important to many businesses. This is no surprise since there are more than 3.8 billion email accounts around the world!
You could offer email marketing services as part of your VA business and provide services, like:
Scheduling emails.
Creating email templates.
Creating and sending the newsletter.
Managing the company's subscriber list.
Tracking the effectiveness of email marketing campaigns, such as unsubscribes and click-throughs.
10. Business exposure
You could offer outreach VA services that help businesses to build relationships and increase exposure.
Businesses sometimes hire VAs to help them to increase their visibility.
There are lots of outreach VA services that you could provide, like:
Participating in forums related to the business.
Generating leads.
Contacting influencers to discuss collaborations.
Reaching out to bloggers.
Creating and distributing press releases
Contacting advertisers and sponsors.
Managing affiliate programs.
There are so many different areas you can work in and services that you can offer as a VA!
How to Become a Virtual Assistant for Free (With No Experience!)
Okay, so now that you know what VAs do, the types of services you can offer, and how much money you make, you probably want to know "how do I get started as a virtual assistant?"
Well, in this section, I'll give you a step-by-step guide to starting your own virtual assistant business!
Step One: Decide what type of business you want
The first step is to decide:
What types of services you want to offer (take a look at the list above for ideas to get you started but don't be afraid to think outside of the box, since clients in pretty much every industry will need a VA).
What types of clients you want to work with. Would you prefer to work with an individual, like a blogger, a small business, or a large company?
Knowing those two things before you can get started can save you a lot of hassle in the long run.
If you know what services you want to offer and what clients you want to work with, you'll know how to set up and target your VA business to those types of industries and clients.
It's a good idea to list the skills you have and compare them to the services a VA may offer (as we listed above.)
For example:
If you're good with numbers, you might want to offer financial VA services, like bookkeeping.
If you enjoy creating content, then offer content production services.
If general admin's where you shine, then offer admin services.
Or perhaps you're great at getting followers on social media? Then social media management services are something you could provide.
You can pick a few different areas to focus on too – for example you could provide both social media management and content production.
Spend some time thinking about what you're good at and what type of tasks you enjoy doing. Then see what people need help with.
You can keep adding new skills and offering new services as you progress in your career as VA. So don't worry if you start out offering general admin and want to expand in the future, because there are lots of options for doing so!
The first step towards success is definitely deciding what your unique selling point is.
Step Two: Decide your pay rate
The next step is to decide how much you want to charge for your services.
You may want to know "how much does a virtual make?"
How much should I charge?
I gave you the average payment for VAs above. Like I said though because the role of VA itself is so varied, payment is too.
The client you work with and the industry you work in are both determining factors in how much money you can make.
Now, that's out of the way, I have a few tips you can use when determining your rate.
Don't sell yourself short
Your services are important. The client hires you because they can't do these tasks themselves. That makes you valuable. So don't be afraid to charge what you're worth!
Keep in mind that lots of positions are freelance-based
Most companies won't hire you as an employee. This means that you (generally) don't get benefits like sick days, paid vacation or health insurance.
Also, you may have overheads, like the cost of software and any other tools you may use in your business. And you'll have to pay self-employment taxes.
So factor in those things when setting your rate.
It can be a good idea to take whatever wage you think is acceptable as your take-home pay and then add 25% on top of that. This will cover those expenses that I mentioned above.
Look at what other VAs are charging for similar services
Like I said, you're valuable so you don't want to sell yourself short. However, you don't want to overcharge.
Companies won't hire you if you charge too much.
You have to find that sweet spot between what you feel your services are worth and how much other people offering similar services to you are charging.
I'd recommend seeing what other VAs who are offering similar services charge their clients.
Also, consider whether you want to be paid hourly or a flat fee for completing certain tasks.
For example, you may charge a set amount per social media post.
Many clients do pay hourly.
Getting paid for completing a set of tasks though can work out well because you can complete these tasks on your own schedule rather than having to work a set number or hours and track your time.
And if you can get these tasks done faster, you can increase what you earn each hour.
Let's say you make $10 an hour in one gig.
Let's say in another you are paid $5 per social media post. If you can do two social media posts in an hour, you've earned $10 already. Complete four posts and you've earned $20. Of course, if tasks end up taking longer, you can earn less.
If you get paid hourly, your income is set based on the number of hours you work.
Whatever you decide, make sure that you charge enough for your services.
Step Three: Build your online presence (website and social media accounts)
Once you've decided what type of business you're going to start and how much you're going to charge for your services, you need to actually get started launching your business!
The good news is that since this is a home-based job, there aren't that many overheads.
The best place to get started is with your online presence.
If you're going to be working online, it makes sense for you to have your own web presence.
Having both a website and a social media presence makes it much easier to market your business to potential clients.
Your online presence should include:
A website
Social media accounts
You can also consider starting a blog, although this isn't necessarily required.
For both your website and social media accounts you'll need a:
It's important to use the same logo, font, and color scheme across all of your platforms. This makes your business look much more professional.
Setting up your website
On your website you'll need, as a minimum, a homepage and an about page. In my experience, the About page is incredibly important and often one of the most visited pages on a website.
Your website should:
Outline the services you offer
Tell clients about you
Highlight your skills and any experience that you may have (although experience isn't always required, remember?)
So how do you get started making your own website?
There are three things you'll need:
A domain name: This is your website's URL. This needs to be either the name of your business or your name if that's also the name of your VA business. I like com for domains because I've found them to have more .com domains available on there compared to other platforms. And the prices are really affordable as well.
Hosting for your website: Basically, you need a place to host your site online. You can get hosting and domain names from the following platforms:
A publishing platform: A common one is WordPress. This is where you write and publish all of your content online. You'll also need a theme for your site, basically a design template. You can get free themes on WP. If you're serious about your business though it can be a good idea to purchase a theme or get a custom one.
Setting up your social media accounts
Having a presence on social media platforms is really important as well. I do have one piece of advice though – don't spread yourself too thinly.
Juggling multiple social media accounts can be time-consuming (that's why companies hire VAs like you to do this for them, remember?)
So try to keep things simple. Just be where your clients are. Generally speaking, LinkedIn and Facebook are great for virtual assistants.
That being said, if you're planning to help influencers or bloggers to create content, then Instagram or Twitter could be just as successful for you.
Think about where your ideal client would spend their time and then focus on those platforms.
Use social media to build relationships and be genuinely helpful to others!
Step Four: Start finding clients
Okay, now that you have your web presence, it's time to start finding clients.
There are a couple of different options here:
Contact companies directly
Apply for jobs online (I'll cover the top 15 places to find virtual assistant jobs below.)
Both have their pros. When you contact companies directly you can often get higher rates because well, you're telling them your rate, rather than responding to an advertised job where the pay rate is likely already set.
Contacting companies directly is a good way to find work.
I would recommend pitching daily when you're first starting out.
You want to pitch new prospects daily until your business grows to the point where you are consistently getting referrals.
Of course, cold-pitching companies is time-consuming and not all of them are going to have an opening available.
If you'd prefer to just apply for work, scroll down for my top 15 list of places to find work as a virtual assistant…
Step Five: Consider expanding your services to earn more money
Getting your first gig will be the toughest part.
Once you've landed your first few jobs, you can get testimonials from your clients that can help you to land more jobs in the future.
You may also want to consider expanding your services. If you're just starting out in this career, you may just be sticking with general admin tasks like answering emails. But why not consider expanding your repertoire?
For example, you could teach yourself how to use WordPress; there are lots of free tutorials online. Then you could offer blog management services as part of your VA business.
This is what makes VA work so great – you can easily expand and diversify your business.
Where to Find Virtual Assistant Jobs
Like I said above, contacting companies directly and pitching your services and advertising your services through your own website and social media accounts is an awesome way to find paying clients.
However, it's not the fastest.  It takes time to get work from contacting people and promoting your services.
If you're looking to earn money from home fast, you may want to consider just applying for virtual assistant jobs.
Thankfully, there are thousands of virtual assistant jobs available. These work from home jobs are usually freelance based.
This is great because it gives you a lot of flexibility. It means that you can work fulltime or parttime, depending on what's best for you.
However, there are some companies looking to hire VAs as fulltime or parttime employees.
Here are the top 15 websites for finding home-based assistant work:
This company is seeking US-based virtual assistants. Simply browse the page linked above to see current job openings. At the time of writing, there were four job openings for virtual assistants listed on the site.
LinkedIn in an awesome place for finding home-based work. You can find more than 12,000 virtual assistant jobs on LinkedIn.
There's a huge range of virtual assistant jobs to be found at VirtualAssistantJobs.com.
On the website, you can find tons of jobs including fulltime, parttime, and flexible positions.
Sites like UpWork are good places to find virtual assistant jobs for beginners. On there, you'll find gigs from a wide range of clients. You can find jobs that pay a fixed rate or an hourly rate.
You can find remote virtual assistant jobs at Virtual Vocations.
On the site, you can find work from home jobs and remote jobs in more than 50 categories, including VA work!
You'll find lots of remote positions on there. You can filter jobs too, which makes it much easier to find the type of job that suits your needs.
On Remote.co, you'll find a range of VA gigs from Executive Assistant to Virtual Administrative Assistant.  There are freelance, parttime, and fulltime remote positions available, so you're sure to be able to find a job that fits your schedule.
Another place that's hiring VAs is Fancy Hands. It was also featured in our post about work at home jobs that pay $15 an hour. Apply for a work from home job on the website.
There are more than 1,000 online assistant jobs available on Indeed. You can filter the results too, so you can easily find a position that suits you.
Time etc is looking for people who have a background as a personal assistant, executive assistant, secretary, or admin assistant.
It offers flexible, parttime, home-based jobs. You must be able to work at least three hours per week and have 8 years of relevant experience.
Another place to find work is on FlexJobs. Here you'll find fulltime, parttime and freelance virtual assistant jobs.  It's a great site for finding remote work. For more details, read my FlexJobs review.
Virtual Assistant USA is hiring remote VAs. It provides services to a range of clients from small startups to Fortune 500 corporations.
You do need at least 10 years of admin experience to work with Virtual Assistant USA, so this opportunity is not ideal for beginners. If you have the experience though, it may be worth applying for a role.
Equivity is looking for virtual assistants who can work part-time and are available from 9 am to 6 pm Monday to Friday. The position is entirely home-based.
It's looking for candidates who are US-based and have a bachelor's degree from four-year college program. It also says that previous experience as an executive assistant or administrative assistant is a bonus.
SimplyHired has a good selection of job openings posted on the site. Have a browse to find work as a virtual assistant.
There are quite a few openings for VAs listed on Monster. So it's definitely worth having a browse of the site for cash paying gigs.
Another place to find work is on PeoplePerHour. There are lots of jobs for online assistants posted on there. It's a good place for beginners to start.
Closing Thoughts
With so many people from website owners to business owners needing help to run their businesses, it's no wonder that there are so many remote work at home jobs out there for assistants nowadays.
That's why I'd highly recommend considering it as a career.
If you've wanted to know how to become a virtual assistant, make sure you follow our step by step guide. And don't forget to check out our list of sites where you can find 1,000s of virtual assistant jobs!