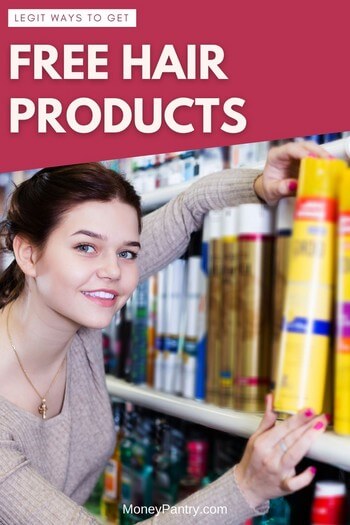 I've gone through a lot of haircare products over the years! From leave-in conditioners to shampoos to hair conditioners and anything else you could think of, it's fair to say that I've spent $1,000s on haircare.
And I don't even buy products from expensive brands! Nope, I get my hair care products from cheaper places like the grocery store or Amazon!
Even though I do shop at stores where the prices are low, I'm still spending cash, right?
Maybe only a little cash, but it's cash all the same. When I'm trying to save money, one of the areas where I like to cut down on is hair and makeup items. And one of the best ways you can save money is by getting free hair samples.
Another reason I like to get samples isn't just because I enjoy getting stuff for free since it saves me money, but it's because I also get to test out the product first.
Why would companies give away free haircare samples?
I've had so many samples of haircare products in the past that have been free!
Need Easy Extra $300+/Month for Free?
KashKick
: Get paid directly into your PayPal for watching videos, surfing, shopping and more.
Join KashKick Now!
InboxDollars
: Paid over $57 Million to members to watch videos, take surveys, shop and more.
Get $5 instantly!
Branded Surveys
: Get $1 instantly just for joining for free. Plus get paid within 48 hours by PayPal!
Join Branded Surveys
First Opinion
: Get paid up to $10 per survey and $300 per virtual focus groups!
Join Now!
Swagbucks
: Get paid to watch videos, shop online, take surveys and more.
Join now & get $10 instantly!
Why would companies do this though, you ask?
Well, it's simple really.
Same reason a lot of places give you a free haircut the first time!
Companies want paying customers.
And they're all competing with each other to get new customers!
Think about how many different brands of shampoo, for example, you see at the supermarket.
It's a lot, right?
I mean there's Garnier, Head & Shoulders, Pantene, Herbal Essences. – the list goes on!
So these companies will do anything they can to bring in new and, hopefully, loyal customers, and this includes giving stuff away for free.
Companies give out free samples to customers, like you, in the hopes that you'll like the sample and then purchase that product and, hopefully, other products from that same company.
What free haircare samples can you get?
Well, it really depends on the place you're getting the samples from and also what particular method you use to get the freebies.
That being said, here's what types of hair samples you can expect to get for free from brands:
Shampoo
Conditioner
Hair masks
Hair detanglers
Hair serums
Hair mouse
Hair oils, like argan oil or jojoba oil
Dry shampoo
So there are lots of different products that you can get.
Places to Get Free Hair Product Samples
I'm going to start out the list with companies that'll basically mail out free stuff to you. This is such an easy way to get samples. Most of the time, you will need to provide feedback on the haircare products that you test out.
Now, the companies below send out all sorts of products for you to try, and this can include hair care products like shampoos and hair masks. It doesn't mean that every box you get will contain haircare products, but many of them will!
Here are some places where you can get haircare samples…
PINCHme is an awesome company for sending out free products. Basically, PINCHme mails out boxes of free stuff. It's pretty awesome, right? And the best part is that you get to choose the samples that you test out.
In the past, I've seen lots of hair samples on offer from PINCHme, like dry shampoo and a detangling spray. You'll find products from well-known brands like L'Oreal and Garnier.
You can get these products shipped to you for free as well. Now, you will need to provide some feedback on the products that you test out. You only need to complete a short profile though so providing your feedback is a quick process.
Next on the list, we have Daily Goodie Box. This company mails free products to you and who doesn't want free stuff in the mail, right?
Okay, so this one is much like PINCHme where you get a box of free stuff mailed to you. There is a difference though. While you simply sign up to PINCHme and request the freebies you want, with Daily Goodie Box, it's not as simple as that. You can't just sign up to the site and immediately get the freebies that you want.
Instead, you have to sign up, and then follow the company's social media accounts. This is because Daily Goodie Box will look at the comments on its Facebook page and it will randomly choose the winners of the box.
If you are chosen to receive a free box, then you will get a reply on your Facebook comment that says "Congrats! You've got a Goodie Box." or something similar to that.
So if you want to get a box of free stuff from Daily Goodie Box, then you will need to follow the company on its social media accounts and leave comments too. You'll often see comment threads that have multiple winners, so it seems like they're sending out lots of free boxes.
Here's where you can follow the company:
The great thing is that not only is the box of stuff free, but shipping is free too.
Daily Goodie Box offers a variety of free products that it'll mail out to you.
While lots of its products are in the food and drink niche, it does offer some haircare products. I've seen a lot of different shampoos be mailed out by the company.
In exchange for this free stuff, you will need to provide a review of the items that you try.
Have a read of my review of Daily Goodie Box here to learn more about getting free stuff from the company.
So, next up, we have SampleSource.com. This site offers products across multiple categories, like health, makeup, and beauty, so you could receive some hair samples from the site.
To get a sample box from SampleSource.com, you'll need to register with the site, complete your profile, and then select the samples that you want to try when they become available.
When samples that match your profile become available, SampleSource.com will email you to let you know. It's important to note that samples from the site are only available in the Spring, Summer, and Fall. You can only request samples once per offer period, and there's a limit of one package per household.
Tryazon offers free products in so many different categories including Beauty & Personal Care, so it can be a great place to try out new hair products.
You can get a TryaBox, which is a box of samples, from the company. Now, these aren't always available, sadly. But do check back often to see if they do become available.
Also, you can  host a party and you'll get a party pack of full samples, which you can share with your friends and family.
So, just sign up for these product sampling opportunities, and the company will send you a party pack or TryaBox
Like with the other options in this section, you will need to offer your feedback on the products you try out.
Shop on Amazon a lot? Well, lots of us do. In fact, Amazon gets more than 200 million visitors a month!
If you often buy stuff on Amazon, like I do, wouldn't it be great to get some stuff from the retailer for free?
Well, with the Amazon Vine program, you can!
Amazon Vine is a review program from Amazon. If you're selected as a reviewer, Amazon will mail free samples right to your doorstep!
Now, it's important to note that Amazon Vine is an invitation-only program, so you won't be able to just apply for this one. There's no application form you can use to join, sadly!
Instead, Amazon chooses trusted reviewers to give their feedback on free products.
Amazon chooses reviewers based on their reviewer rank.
This means that if you want to be selected, you'll need to consistently review stuff, and increase your reviewer rank. For more information on how to do that, read this guide.
If you're selected, you'll need to provide feedback on pre-release and new products.
You'll get free stuff in the mail! Since Amazon sells a multitude of products, there's lots of different stuff you could get for free, including haircare products.
Next on the list, we have the Product Testing Group. This is a really interesting product testing company for getting free stuff. Basically, you sign up for Product Testing Group, and you can get products from Amazon for free or at a large discount.
There are lots of products you can get for free, and this could include things like shampoo and leave-in conditioner.
It's such an easy way to get freebies from Amazon.
Influenster is a website where you can find new products and read product reviews. It offers news stories and tutorials too, and you can even shop on there as well.
The best part about the site though is that it provides you with free full-size samples through its VoxBox.
So, what exactly is a VoxBox?
Well, it's a box of free products and many of them are full-size!
To get this box of free stuff, you'll need to sign up for Influenster. It's important to note that not all members are guaranteed to get one of these boxes. There are, however, a few things that you can do to improve your chances of getting one.
For example, you can follow Influenster on social media and connect your social accounts, and complete your reviewer profile.
Now, if you do receive a VoixBox, then you will need to give your feedback to the brand and share your experience on social media as well. But, hey, you're getting a box of freebies, so it's not a huge deal or anything.
In the VoxBox, the products you get vary but most are in the beauty niche, so that means lots of haircare products for you, or in the food category, so free food too!
Looking for free hair samples near you? Well, then you'll definitely want to take a look at Freeosk. Freeosks are machines that give you free stuff across a multitude of categories.
You can find Freeosks at more than 1300 locations through the country in places like Walmart and Sam's Club. So, it's likely that you have one near you! You can use a Freeosk machine to get stuff for free! And this can include haircare products, as I've seen dry shampoo, for example, offered in the past.
Now, you can just use the Freeosk app to get these freebies as well!
What's great about Freeosk is that there are new samples on offer weekly!
And, you can browse the samples on offer and select the ones that you're interested in.
One of the easiest ways to get free haircare samples is by signing up for the Walmart Beauty Box. It's a really awesome program from Walmart that gives you a box of free beauty products. You'll find products from well-known brands like Garnier and L'Oreal.
Now, the samples on offer vary, as I've seen everything from free lipsticks to free razors featured in previous Walmart Beauty Boxes.
And, I've seen so many hair samples in there!
Now, you can get a free box every season meaning you can get four boxes each year. It's important to note that while the box is free, you will have to pay $5 for shipping.  When you consider that you're getting all these products for free though, that's a pretty great deal!
More Tips for Getting Free Haircare Samples
Okay, so above, I've given you places that mail out free hair samples. Those aren't the only way to get free hair conditioner, dry shampoo, or other skincare products.
There's plenty more you can do to keep your supply of haircare products stocked!
I've used many of these tips myself to get all sorts of haircare products mailed out to me at no cost!
So, here are my tips for getting even more hair samples…
10. Visit brand websites
Do you like a particular haircare brand? I like TRESemmé, particularly its moisturizing shampoo and conditioner. It's an affordable brand and it works well for me. Maybe you have a brand like that you're loyal to?
If so, head on over to the brand's official website, and see if they have any promotions or special offers available where they give away free samples. You may be required to sign up for an email list/newsletter or make a purchase in order to get the freebie.
Or, your favorite haircare brand might just have a page dedicated to free samples!
Two brands that offer free hair samples on their websites are Aveda and Garnier.
So, it's definitely worth taking a look on a brand's website to see if they have any freebies available or at least a discount or deal that can save you some cash.
11. Follow brands on social media
Following brands on social media is another great way to get your hands on some hair products. I've seen so many giveaways of haircare stuff from conditioners, to hairbrushes, to styling tools from brands on social media.
Many brands post not only free product giveaways but also coupons, discount codes and much more on their social media accounts.
So I would highly recommend that you think about your favorite beauty brands and follow them on their social media accounts.
I would also recommend that you not only follow beauty brands like Herbal Essences, but also stores that sell hair related products like Target and CVS as these stores often post on social media about sales and stuff on haircare products. So follow them to make sure that you don't miss out on some great savings.
12. Request samples directly from brands
One of my favorite methods for getting freebies is to contact brands directly. I've mentioned this a lot in my other posts on free stuff and that's because it often works.
Simply get in touch with a brand to ask them if they have any samples that they'd be willing to mail out to you. The thing is that a brand may not have a dedicated page on their site where they offer samples. This doesn't mean that this brand doesn't offer them though. You just need to ask them.
But what do you say exactly?
How to get free hair samples directly from brands
Once you have some companies that you want to contact, you can simply use a template to get in touch with each one.
The best approach when you are contacting companies is to be polite and appreciative. Basically, you want to be complimentary, rather than demanding.
I have a template below that you can use to contact companies:
"Hi,
My name is [your name]
I just wanted to say that I'm a huge fan of your company. I love your [haircare product that you like] and I always recommend them to my friends and family.
As someone who's been a loyal customer for years, I just wanted to say you're doing awesome work!
I was also wondering if you have any samples or coupons you could send to me, because I'd love to try more of your products, and would appreciate anything you could send me.
Thank you so much and have a great day!
[Your name]"
You can use this template to get in touch with a few different brands. If you want to make the message a little more personal, then you could always write a line about your experience with the company's products.
If you take the time to send a more thoughtful message, then you're more likely to get a freebie from the company.
Once you have your message, you can simply copy and paste it into the email or contact form you're using to get in touch.
And, I've found that even if I don't get a complimentary product mailed out to me, I usually still get some sort of deal like a coupon for free shipping or a promo code that gets me a huge discount.
13. Start a blog
Another option to consider is starting a blog. Bloggers create articles and earn money from their content. Now, some brands work with bloggers to create sponsored content.
Sometimes brands will get in touch with a blogger directly and ask to collaborate and sometimes bloggers use a company like Cooperatize to find sponsored content opportunities.
Consider starting a blog about haircare or a broader topic that encompasses haircare, like beauty. Publish content consistently and build up your audience. Then you can start working with brands. Brands will give bloggers products for free, but the blogger has to feature that product in a blog post.
It's not the fastest way to get samples, but if you really love haircare products, and are looking for a way to make money, you should definitely consider starting a blog.
14. Become an Influencer
I see people on Instagram all the time promoting products that brands have given to them for free from shoes to handbags to perfume to, of course, haircare products. So if you have a large following on social media, consider becoming an influencer.
You could work with a company like Socialix or you could get in touch with brands to ask if they have any product promotion opportunities.
15. Visit your local drugstore or department store
Another way to get free haircare products is to visit your local drugstore or department store.
These stores have been known to offer free samples of haircare products:
Sephora
Ulta
Nordstrom
Lush
Macy's
Walgreens
Rite Aid
CVS
Some stores simply offer out samples and others require you to make a purchase first in order to get the free item.
So, next time you visit the drugstore or department store, make sure you check to see if there are any complimentary haircare products on offer from the store.
16. Join testing panels for beauty magazines
Another way to get haircare products is to join beauty product testing panels.
Some panels you can apply for include:
Many beauty companies advertise their products in beauty magazines. Beauty magazines need feedback on the products they recommend so they need people like you test out products.
17. Join store loyalty programs
Okay, so my final tip is one that I've actually used a lot and it's to simply join a store's loyalty program. I've gotten so many samples by doing this. It's so easy too if you are already shopping a lot at a particular store.
Lots of stores have a rewards program that you can join to earn points that you can redeem for free stuff, like hair products.
The thing is if that you're buying stuff anyway, then you may as well earn the points, right? You'll unlock so many freebies.
These programs can offer:
Points you can redeem for free makeup.
Freebies
Promo codes
Coupons
And other deals and offers.
Here are some rewards programs to get you started:
It's definitely worth signing up for these programs because every time you make a purchase, you can earn points towards a free product or at least get a discount!
The best part is that you often get to choose your reward!
Healthy Hair on the Cheap!
I really love to get haircare samples and not just because it saves me money. Sure, getting something for free is great when you're on a budget, but one of the main reasons that I like to get samples is that I can test out a product without having to buy a full-sized version. You know what it's like when you get a new shampoo and it just doesn't work for your hair so then it just sort of sits in the bathroom cabinet taking up space. You know you'll never use it again and eventually you concede and put it in the trash. It's such a waste!
I'm the same way with foundations, which is why I love beauty samples in general. With a sample, you can try out the product to see if you like it and you don't have to waste your money or a huge bottle of a haircare product that just didn't work for you.
So, give these tips a try, and you can test out so many free hair samples!