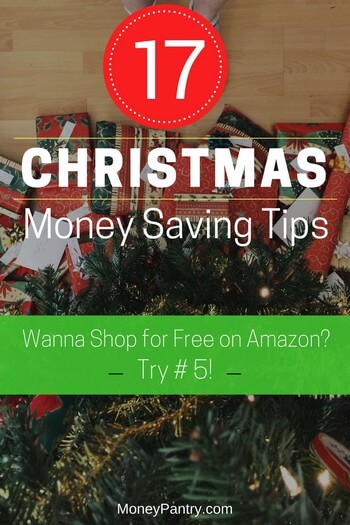 Note: This is another guest post by our cousin, Jessica. As a single mom, she's always coming up with new ways to save money and make extra cash on the side.  These are some of her own experiences with saving extra money around the holidays.

How much do you spend during the holidays?
The Christmas season is one of the most expensive times of the year for most families – gifts, travel, food…
According to the National Retail Federation, citing a 2017 survey by Prosper Insights & Analytics, consumers plan to spend an average of $967.13 during 2017 holiday season.
Of course, that's just an average.
Most of us spend way more than that!
Unfortunately, a lot of us tend to go into debt by overspending and going crazy on our holiday shopping.
Need Easy Extra $300+/Month for Free?
KashKick
: Get paid directly into your PayPal for watching videos, surfing, shopping and more.
Join KashKick Now!
InboxDollars
: Paid over $57 Million to members to watch videos, take surveys, shop and more.
Get $5 instantly!
Branded Surveys
: Get $1 instantly just for joining for free. Plus get paid within 48 hours by PayPal!
Join Branded Surveys
First Opinion
: Get paid up to $10 per survey and $300 per virtual focus groups!
Join Now!
Swagbucks
: Get paid to watch videos, shop online, take surveys and more.
Join now & get $10 instantly!
Needless to say, it's never a good idea to go into debt for the holidays.
The good news is that there are tons of ways you can save money during the holidays.
And we're going to share some of the best and most practical holiday money saving tips with you today.
Here are some helpful holiday tips I have used over the years to not break the bank.
I have had some years with next to nothing for a Christmas budget, but I made it work using these exact strategies.
1. Make a budget
Let's start from the beginning…
Make a budget!
Don't know how?
Use this easy to follow guide to create your first budget.
Making a budget is the number one (and most important) money saving tip that every book, video, blog, and expert gives.
Without setting a budget, you will overspend.
You will go overboard.
And if you don't have the cash to back it up, you'll use credit cards. Unfortunately, that's one of the main reasons why so many people are in debt.
So, before you start your holiday shopping, set a budget.
Write it down!
Don't keep it in your head.
It won't work.
You won't keep yourself accountable if it's not written down.
Once you write something down, you've made that commitment.
The mere acting of writing something down increases your chance of achieving it.
It's scientifically proven!
Write a specific number down and stick to it – whether it's $500, $1000, $1500, or any other number.
For the sake of our example, let's say your Christmas shopping budget is $1500 for all your holiday expenses.
Once you have the overall budget number down, it's time to take the second step…
2. Make a list (and check it twice!)
Ok, now you have your budget.
You know exactly how much you can spend on ALL your holiday related expenses.
Now it's time to break it all down and make a realistic list of your expenses and how much you plan to spend on each item.
Get a piece of paper.
Write down every expense category you can think of.
Food.
Travel.
Gifts.
Entertainment.
Decorations.
Miscellaneous.
Next, assign an exact dollar amount for each category.
For example:
Food: $500
Travel: $300
Gifts: $500
…
Got it?
Good!
Now, take each major category and create a list of potential subcategories.
Need examples?
Food
Thanksgiving dinner
Christmas party food
Snacks
…
Travel
Plane ticket
Taxi
Gas (if you're driving)
…
Do this for every main category you created first.
Done?
Ok good!
Now, take the dollar amount you assigned for each main category and divide it between its subcategories.
Like so:
Gifts
For family members: $250
For friends: $150
For coworkers/neighbors/mailman/etc: $100
Decorations
Christmas tree: $100
Lights: $45
Candles: $20
…
This list will force you to find the best deals on your holiday shopping by giving you exact numbers that you can aim for.
Try to stick with the list and allocated money for each category/subcategory as best as you can.
You don't want to really stress over a few dollars up and down.
After all, you can't exactly predict how much a particular item will cost this season.
This is just to give you a range to shoot for and hold you accountable.
Stick to it as best as you can, while giving yourself some flexibility for things that are out of your hands, like price increases.
3. Use cashback sites
OK, now you have got your budget and your list.
It's time to shop!
But let's shop smart!
How?
Cashback shopping.
No, I am not talking about the traditional cashback/rebate shopping where you buy something from the store, mail in your receipt or a form, and a few weeks later they send you a small percentage of that money back.
Don't get me wrong, that's still a great way to save money.
But I'm talking about using cashback sites to earn cashback, something that I think a lot of people are missing out.
There is the potential of saving hundreds or thousands of dollars depending on how frequently you shop and how much you spend.
How do cashback sites work?
For those unfamiliar, this is how a cashback site like Rakuten works:
Companies cut a deal with Rakuten where for every customer they get from Rakuten, they give Rakuten commission.
In order to send more people to go to those sites and shop, Rakuten shares some of that commission with the shoppers as cashback.
It's really that simple.
It is a win-win for everyone involved:
The businesses get more customers.
Rakuten earns more commissions.
And you, the shopper, earn cashback that otherwise you wouldn't have gotten.
Everything stays the same.
The only difference is that instead of going to the site directly, you access the site through the Rakuten shopping portal instead of going to the site directly.
No, you don't pay more for the same product.
You pay exactly the same amount as you would if you had accessed the site directly.
In fact, you may even pay less because usually Rakuten and other cashback sites get exclusive deals and promo codes from the shopping site to share just with Rakuten members.
So, not only do you get cashback, but you also get exclusive deals that you would have not gotten otherwise.
Now, you see why I think everyone should use a cashback site!
So what are some sites that offer the highest cashback?
There are many actually, depending on what you are trying to buy.
Here are some of the best sites for holiday cashback shopping:
4. Earn rewards when you search for your holiday shopping
Wouldn't it be cool if you could get paid when you search for stuff you're planning to buy?
Well, you can!
Microsoft's Bing search engine is trying hard to catch up with Google search using various strategies.
One of those strategies is rewarding searchers for using Bing through a program known as Microsoft Rewards (formerly known as Bing Rewards.)
Basically, you earn points every time you search for something on Bing.
You can then redeem your points for free gift cards and prizes.
Imagine the possibilities!
Buying a Holiday gift online? Search on Bing!
Comparison shopping? Search on Bing?
Looking for a Thanksgiving recipe? Search on Bing!
Think about it…
There are tons of things you search for during the holiday season.
Turn all those searches into free gift cards and cash.
And that's not it…
… you can also earn rewards for doing offers, answering surveys and more.
Do you play trivia during family gatherings?
You can even earn rewards by playing trivia games through Microsoft Reward's built-in trivia games.
To get the most out of your searches, read our Microsoft Rewards review.
5. Shop for free on Amazon!
If you do a lot of your holiday shopping on Amazon, you can earn free Amazon gift cards by answering simple online surveys.
There are paid survey panels (backed by major market research companies like Nielsen) that pay consumers to participate in studies.
These studies help companies gather feedback from everyday shoppers that they can use to improve their products and create better versions.
Taking surveys for money is fun, exciting, and an easy way to make extra money.
You should be using surveys throughout the year to get rewarded for sharing your opinion on products and services you use in your everyday life, including holiday related stuff.
Even if you don't use 'em throughout the year, you should at least join a few trusted survey sites, then start taking their surveys a few months before Christmas.
By the time the holiday season gets close, you have racked up enough points and rewards that you can redeem for a few free Amazon gift cards (you can also redeem for PayPal cash, check and gift cards for other online and offline stores.)
Here are a few survey sites that pay with Amazon gift cards:
Once you have earned your Amazon gift cards, use these awesome methods to earn cashback on Amazon.com so you can get even more bang for your buck.
6. Get coupons automatically
This is the time of the year when businesses are scrambling to get their remaining inventory sold. This is their last chance to make a profit for the current year.
In order to lure more shoppers in, they offer exclusive deals and discounts and even have discount days like Black Friday and Cyber Monday.
So there are tons of coupons and promo codes out there for almost every store/site you can think of.
Unfortunately, finding them is a time-consuming and tedious task.
Nobody likes searching for codes and entering them one by one just to find out they have expired already.
But you don't have to do that anymore!
Thanks to an app called Honey, you can automate it!
Honey is a browser extension that automatically finds and applies coupon codes at checkout with a single click.
Its system is constantly searching and storing the latest and best coupons and promo codes for hundreds of thousands of online retailers.
Here's how it works:
Install the free extension (Firefox – Chrome –  Opra)
Do your shopping as you'd normally.
When you get to the checkout page, click on the Honey button. Honey will then automatically apply coupon codes to your shopping cart. Choose the one that saves you the most.
It just can't get any easier than this!
This is especially helpful for holiday shopping.
You are busy.
Every second of the day counts.
You don't have time to try dozens of coupons until you find one that actually works.
With Honey, not only do you save money, but you also save precious time.
7. Save money (and have more fun) by taking a Holiday trip
With everything we spend on decorating, baking, and gift giving, why not just go on vacation?
Depending on how much you spend on each this could be a big saving opportunity.
Last year I didn't buy presents for ANY of my immediate family. Instead, I paid for us to go to Branson, MO together.
I got great deals by sitting through a timeshare speech (avoid this one if you are easily persuaded!) and Groupon offers.
This was less than I spent on gifts for them the year before.
Consider renting your home for some extra cash on sites like Airbnb while you are away to help fund your trip.
8. Shop (for the next season) the day after Christmas
My favorite time to shop is the day after Christmas.
I stock up and fill my presents box up with gifts I will use all year long.
All kinds of things go on sale.
I buy:
Toiletry sets
The bath products you use all year long get specially packaged for Christmas.
These tend to be things I use in my household that I score at half off so I stock up.
Toothbrushes/ oral hygiene sets
Personal hygiene/bath sets
Shaving sets
Gift sets
These are the things I give as gifts throughout the year or even use the next holiday season.
Designer fragrance sets
Candle and wax warmer sets
Specialty food sets
Kid bath gift set
Alcohol Sets
Food storage items
These items go on sale if they were designed for holiday use.
Many are made of red or green plastic or molded with wintery patterns.
Airtight containers
Glass jars
Plastic zip baggies
Insulated cups
And other things like:
Wrapping paper (I get mostly solid colors so I can use them all year long.)
Same thing for ribbons.
Holiday Cards for next year
Decorations to be used for next year
Candy (I freeze candies I use in baking projects throughout the year. Plus candy packaged in just red or gold can be used as Valentine's Day gifts.)
9. Black Friday / Small Business Saturday/ Cyber Monday
If you weren't able to start last year don't worry.
There are sales all the time.
Thanksgiving weekend is notorious for great buys. Do your best to research and compare shop on your large items.
Here are some resources to help you find the best deals:
You can also look in local newspapers and online for local deals on those days.
10. Save on Holiday food
Collect your recipes for the season.
Make a master grocery list for all recipes.
Make sure to keep an eye on your local grocery store's sale flyer to get the best deals on your holiday budget.
If you don't have time for comparison shopping, Aldi is your best bet. Not only does Aldi has some of the cheapest foods, but there are also many ways you can save money at Aldi.
If you're making large quantities of food, consider a price club like Sam's Club or Costco.
Also, some foodservice stores such as GFS are open to the public.
11. Buy second-hand items
I often time find brand new, specialty, or one-of-a-kind items.
I find very thoughtful things. Many things such as board games, certain toys, and books make great gifts.
Neat collectibles and trinkets can be very thoughtful if purchased for the right person.
I also find decorations and things to repurpose.
Some places to look are :
Flea Markets
Antique Stores
eBay
Thrift Stores
Estate Sales
Consignment/ Resale Shops
Used book stores
Record Stores
Pawn Shops
Auctions
12. Buy (discounted) Gift Cards
So there is always one person for whom you couldn't find the perfect present.
Maybe you are running out of shopping time.
Either way, gift cards can be great options.
This time of year, many places have special savings on gift cards, especially discount gift card sites.
Often it is something like, "Buy a $25 gift card, get $10 gift card free" or "Buy a $25 gift card, get $25 worth of coupons".
Some of the best places to buy gift cards on sale (sometimes up to 90% off) include:
13. Earn rewards for your holiday shopping
Many stores offer rewards or loyalty cards.
They are all free and it takes you less than 5 minutes to sign up.
It's a no brainer.
Many of these are like the old fashioned punch cards, where after you buy so much, you get so much free.
Others you have to scan to get the advertised savings.
Some are combinations of both.
These are free to sign up for and usually will be linked to a phone number and email address where you can get more money saving coupons.
Here are some of the biggest retailers with rewards/loyalty programs:
Considering that we spend an average of just under $1000 on holiday gifts (according to the American Research Group), you can earn a lot of perks by shopping at stores with loyalty cards/programs.
14. Use Rewards Credit Cards
Many retailers offer credit cards with discounts when you shop in their stores.
I found most of these stores will take payment for the cards in the store.
I buy the items with my credit card to get my discount, then pay off the balance of the card right there too.
I am never charged interest.
I also build credit by having an active credit card where the balance is always paid in full.
I saved $46 last week at Kohl's doing this.
Just remember going into debt for the holidays is never a good idea.
Make sure you are able to pay the balance off in full before you are charged any interest!
Best store rewards credit cards
Here are some of the top stores with worthy rewards credit cards:
1. Amazon Rewards Visa Signature Card
Sample perks:
Get a free $50 Amazon.com gift card upon credit approval.
3% Cashback  at Amazon.com.
2% Cashback at restaurants, gas stations and drug stores
1% Cashback everywhere else.
Sample perks:
Earn $35 when you spend $75 on your first purchase.
3% Cash back on Walmart.com.
2% Cash back on Murphy USA and Walmart gas.
1% Cash back on in-store purchases (at Walmart and anywhere else your card is accepted.)
6% Cashback on purchases during Thanksgiving and Black Friday.
Sample perks:
5% Discount on all Target purchases (online and in-store.)
Free shipping at Target.com.
Early access and exclusive extras
Save at Starbucks (5% – Only for in-store locations.)
Sample perks:
Get 10% off your first in-store purchases.
Earn $10 for every $200 you spend.
Chances to win free giveaways and entry into a $100 gift card sweepstake.
These are some of the store credit cards that offer the most bang for your buck. There are, of course, many other rewards cards out there as well.
So do take advantage of them, but please be sure to pay your balance in full every month.
You don't want interest to offset whatever reward you earn by using the card.
A great rule of thumb for using credit cards (of any kind)…
Only buy something with a credit card when you can actually pay with cash in full if you had to.
This is a smart way to take advantage of the rewards and perks offered, knowing you'll be able to pay off the balance in full at the end of the month so you can avoid paying high interest rates.
15. Do Secret Santa for gift exchanges
It can be quite expensive to buy gifts for everyone you know.
Why not do a Secret Santa gift exchange where you draw names, so you only buy one gift?
Be sure to put a price range on the gifts so everyone is treated fairly.
This works for family, friends, coworkers, and social groups.
16. Shop at the Dollar Store
The best dollar stores are the ones where nothing is over a dollar.
You can get some great holiday buys here, just remember nothing is of superior quality.
Dollar stores are especially great for getting stocking stuffers.
Some things I get are:
Party Supplies
Extra Glassware
Decorations
Stocking Stuffers
Crafting Supplies
Gift bags and tissue paper
Candy
But there are some things to stay away from because of lack of quality.
I'd avoid buying wrapping paper, toys for small children, cosmetics and electronics at dollar stores.
17. Enjoy cheap holiday entertainment
With everything else to buy this time of the year, I cut out almost all entertainment spending in the months leading up to the holidays.
Some ideas for free or inexpensive holiday entertainment for the family are:
Watching holiday movies
Holiday movies and specials are on several channels and streaming on sites like Netflix and Hulu.
Now would be a good time to check out a free trial offer, or use these hacks to get Netflix for free.
You can also google these Redbox Codes for discounted movie and game rentals.
Go See Christmas Lights
Every town has an area known for an exceptional light display.
The only expense is a few dollars on gas.
Turn on some holiday tunes and hit the road.
Go Caroling
As Buddy the elf said, "The best way to spread Christmas cheer, is singing loud for all to hear."
So grab a thermos full of hot chocolate and go caroling around your neighborhood, local retirement communities, and nursing homes.
Go Sledding
Enjoy this winter outdoor activity without breaking the bank.
Chances are you have a sled from previous years, but if not cheap plastic ones can be found for under $15.
Go See Santa
There are several opportunities throughout the holiday season to see Santa Claus.
Be sure to take a camera or snap a picture on your phone.
Mall photos with Santa cost anywhere from $15 up for just one picture and have copyright so you can't make copies.
For extra holiday fun, have the kiddos write a letter to Santa.
Follow the instructions here for them to get a letter back!
All you have to do is provide a self-addressed stamped envelope.
Bonus: Save Money on Decorations and Gifts
Here are a few ways to save money on holiday decorations:
Artificial vs. Real
Real trees are expensive and make a huge mess when the needles fall off.
You can buy a tree after Christmas or second hand for less than one real tree.
The only reason to buy a real tree is if you buy a living tree, with a root ball. These are meant to be planted outside after the holidays are over.
Make something
Crafting can be both entertaining and save you money on Christmas gifts and decorations.
People love DIY Christmas gifts. So not only do you save money, but you can also give unique gifts that everyone will appreciate.
Just make sure you are getting the most supplies for your money.
Always be looking for things to repurpose and upcycle.
Look for things at thrift stores.
Check out Dollar Tree and stores like it.
Shop sales and clearance in craft stores.
Make a holiday scrapbook
Kids love seeing pictures of loved ones.
Why not turn that into a holiday craft project and help them make a scrapbook?
Keep it for your home or make one for grandparents.
If you are not super crafty but techier, do a digital scrapbook.
FreeDigitalScrapbooking and SmileBox.com are no charge options.
Shutterfly offers easy to make printable photo books at a reasonable price and is always having sales or offering introductory offers for new customers.
Baking Holiday Goodies
I do extra fun goodie projects like decorated sugar cookies or a gingerbread house.
This is a few fun holiday hours of activities with the kids and we are making something we would normally buy.
Homemade fudge and peanut brittle are fun, yet quick for homemade holiday gifts.
It is almost always more cost effective to make something than it is to buy it when it comes to holiday treats.
Be sure to check out the holiday baking sales.
Make Wrap
Gift wrapping can be quite expensive.
It is easy to spend $50 just on supplies to wrap for one holiday season.
It is more than double that if you use a gift wrapping service.
One way to save is to make your own gift wrap out of old magazines or comics from the newspaper.
Brown paper grocery bags work well too.
Let the kiddos color and decorate the presents!
Use a cookie cutter and paint to stamp patterns on the paper.
You can also make gift bags out of wrapping paper. I wrote a post about the cheapest places to buy wrapping paper. So check it out to save some money.
Make your own bows.
Check out Pinterest for hundreds of ideas.
Make Cards
If you are one of the few people left who still send out Christmas cards, consider making your own.
You could make handcrafted cards (check out Pinterest for ideas), or you could take a nice family photo and print ones from www.shutterfly.com or at your local photo kiosk.
I personally use Walgreens.
I make sure to go when they are having a bulk discount sale.
Either way, it is more personal than a box of mass produced greeting cards.
Make Decorations
You can save a bundle by making your own decorations.
These also make good gift ideas.
Wreaths, centerpieces, and floral arrangements can be the most costly.
Forgo the florist.
You can use fresh evergreens, but I recommend hitting up a sale at a local craft supply store and going artificial.
You can reuse it for several years.
Also, you can buy pre assembled, but piecing together your own can be more cost effective.
Also, forgo expensive ornaments for handmade ones. Check out ideas on the internet for something that fits your skill level and style.
Pro Tip: Use Stack Hack to Save BIG!
There is a clever way known as "Stack Hack" that you can use to combine the tips we gave you in this post to bring your holiday savings to new heights.
With it, you can double, triple, or even quadruple the amount of money you can save this holiday season.
It's a 5 step process.
The best part…
Every step is designed to save you money!
Here's how to do it:
1st Step saving: Next, go to Raise.com (or any other discount gift card sites we mentioned) and buy gift cards at a discount for those same stores/websites you plan to shop at.
2nd Step saving: Sign up for Microsoft rewards and search for holiday coupons and promo codes, but make sure you are logged in to your Microsoft Rewards account so you can earn credits for those searches.
3rd Step saving: Go to one of the cashback sites and click on the link to the store/site you want to shop at.
4th Step saving: Do your shopping and at the end, use the promo codes or coupons you found earlier. Now, this step may or may not work since some cashback sites may not give you credit if you use coupons.
5th Step saving: When it comes time to pay, use a reward credit card to pay for your purchases.
Voila!
You just saved yourself a ton of money and earned a whole bunch of rewards and cashback!
This truly is an awesome way to make your holiday shopping fun and exciting and not stressful.
This works best with online shopping, but you can also use it when you shop offline.
If you do, you can take this one step further by earning even more rewards by signing up for store loyalty programs. Through store loyalty programs, stores reward you for shopping with them. It's an easy way to get more back.
Happy Holidays
Remember, this time of year is about the memories you make, not how much you spend.
Use these holiday money saving tips and hacks to enjoy this magical time of the year without breaking the bank.