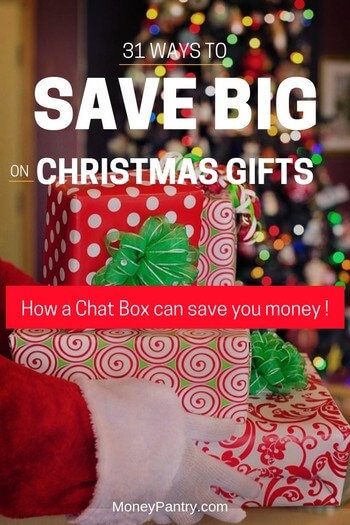 Who doesn't want to save money on Christmas gifts?
Everybody loves Christmas!
But it can get expensive especially when it comes to buying presents for family and friends.
From the dinner to decorations and gifts, we find ourselves emptying our wallets quite often during the holiday season.
According to a 2017 survey by the American Research Group, U.S. shoppers spent an average of $929 during the holidays.
And a big chunk of that goes to, you guessed it, Christmas presents!
Need Easy Extra $300+/Month for Free?
KashKick
: Get paid directly into your PayPal for watching videos, surfing, shopping and more.
Join KashKick Now!
InboxDollars
: Paid over $57 Million to members to watch videos, take surveys, shop and more.
Get $5 instantly!
Branded Surveys
: Get $1 instantly just for joining for free. Plus get paid within 48 hours by PayPal!
Join Branded Surveys
First Opinion
: Get paid up to $10 per survey and $300 per virtual focus groups!
Join Now!
Swagbucks
: Get paid to watch videos, shop online, take surveys and more.
Join now & get $10 instantly!
Whether you only have a few gifts to purchase or have a huge family that you need to buy presents for, the cost of gifts can be a real financial strain.
Fortunately, there are tons of ways you can save money on Christmas gifts this year.
Below, we share the best holiday money saving tips that will help you do Christmas cheap!
From Christmas shopping tips to handy apps and tools that save you money, we cover everything you need to know to buy Christmas presents on a budget.
1. Start by making a budget
We know it can be boring, but making a budget is so important.
Many people end up getting themselves into tons of debt over the holidays and that's definitely a trap that you don't want to fall into.
Before you start your holiday shopping, make sure that you take inventory of your finances.
See how much you have to spend on gifts each month. Doing this will prevent you from overspending and helps you to come up with a plan of action for buying your gifts.
So get a concrete figure for how much you can afford to spend on gifts.
This really is key for doing Christmas on a budget.
Now, it doesn't have to be an exact figure, after all, all good budgets are flexible.
It's just a ballpark figure that helps you to stay on track.
Once you have this total, you need to create a list of the people who you need to buy gifts for and put a dollar amount next to each name.
This list can be written on paper or you can create a list on your computer or phone if you prefer.
Now, when you come to shop, you know how much you can actually afford to spend!
2. Start saving early if you can
If you can, saving and shopping for gifts earlier can be a good idea.
Let's say you plan to spend $300 on gifts.
It's much easier to save $100 a month, for three months, than it is to save $300 in one month.
You can even buy your gifts over a three month period. Shopping for your gifts earlier not only spreads out the cost, but it also means you're super prepared and can avoid the crowded stores!
There are even free Christmas printable charts you can get that help you to save for Christmas. These saving for Christmas charts feature a time-frame, usually between 26 to 52 weeks, and a dollar amount. These charts can help you to keep track of your savings and stay motivated with your savings goals.
These charts can be really useful for saving money for Christmas weekly.
3. Shop through cashback websites
There's a super easy way that you can save 2% to 40% or more when you buy stuff online.
All you need to do is shop through cashback websites.
These websites are basically shopping portals.
A cashback site, like Rakuten for example, partners with a store, like Walmart for example.
When a person visits Rakuten and makes a purchase at Walmart, Walmart will give Rakuten a commission.
Walmart gives this commission because Rakuten sent a paying customer its way.
To reward you, Rakuten gives you a cut of this commission in the form of cashback.
That's basically how these cashback websites work.
Here are a few cashback websites you can shop through:
4. Get money saving coupon codes
Before you buy something online, always check to see if there's a coupon code or promo code available that will save you money.
You'd be surprised at how often you find them.
Coupon codes can save you so much money!
Even if you only save 10%, if your budget for gifts was $500, then you'd only spend $450.
If you're wondering how to do Christmas cheaply, then using coupon codes is a must!
There are tons of coupon and deals websites and apps out there that you can use.
On these coupon and deal websites, you can find coupon codes, promo codes and other deals that save you money when you shop online and in-store.
Here are a few that you might want to check out:
5. Become an Amazon Prime member
We've talked about Amazon Prime here on Money Pantry a few times, because it is such a great tool for saving money.
If you, like millions of other people across the country, often shop at Amazon, then you should definitely consider becoming a Prime member.
Prime offers a multitude of benefits and can actually save you hundreds of dollars a year.
First, there are the perks that come along with membership. Such benefits include access to free music, through Prime Music, free eBooks, through numerous programs, like Prime Reading, and Amazon Prime Video.
This is Amazon's streaming platform. It's like Netflix in that you get access to hundreds of movies, television shows and documentaries; some of them released elsewhere too and some that are exclusive to the platform.
These benefits alone make the $10.99 a month you pay for membership worth it.
That's not all though.
The biggest benefit of Prime and the reason you should join if you're looking to save money on Christmas gifts is that you get free shipping on all items. Sure, there are ways to get free shipping without Amazon Prime, but it's very limited.
And you do not have to meet a minimum spending limit in order to qualify for this free shipping.
As long as an item is Prime eligible and you're a member, you can get it shipped to your home at no additional cost.
It's not just free shipping either; it's fast shipping too. Free shipping options through Prime include one-day, two-day, release-day and same-day shipping.
Over Christmas, if you do much of your shopping online, then you'll know how much shipping costs can eat into your budget. If you plan to spend $30 on a person's gift this Christmas but have to pay $5 for shipping, then that $30 you assigned in your budget soon becomes just $25 or you have to spend more than you planned to.
Since shipping costs can be anywhere from $3 to $11 and more in some cases, being a Prime member significantly lowers the cost of each order you place on Amazon.
We did a full review of Amazon Prime, where we talked about how much it can save you, and how, even if you only order a few items per month from Amazon, Prime still saves you money.
We also cover how you can save $176 a month, over six months with Prime.
6. Buy gifts using discount gift cards
This is such a useful tip that can really make a difference.
You've probably received a gift card at one point or another, from a well-meaning friend or relative, for a store that you don't really shop at or a brand that you don't really like.
A lot of people find themselves in this sort of situation.
So they sell their gift cards online, but at a cheaper price than the gift card is actually worth.
People do this because they'd rather have money that they can actually use, even if it's a smaller amount than a gift card that they'll never use.
This means that you can get a gift card for a much lower price than it's actually worth.
So for example, you might be able to pay just $90 for a gift card that actually has a value of $100.
This means that you pay just $90, but have $100 to spend. This is such a great way to spend less on holiday shopping.
Here are a few places where you can find discount gift cards:
By the way, if you're like most people who are left with a bunch of unwanted or unused gift cards after the holidays, you can use these sites to sell your unwanted Christmas gift cards.
7. Use a cashback credit card and make your money work for you
Using a cashback credit card is a good way to save money on Christmas gifts.
But only if you pay your balance, before you get charged interest, so do keep that in mind when using this method.
Cashback credit cards give you cashback, which can range anywhere from 1% to 5%, or more in some cases.
Check out these cashback credit cards:
You can use these cards to pay for Christmas gifts and then get cashback each and every time that you shop.
8. Don't forget to look for coupons offline as well
Coupon and bargain shopping sites are excellent places to find great discounts on gifts.
However, don't overlook offline coupon sources as well.
There are so many great places where you can find money-saving coupons offline too.
Newspapers
The Sunday paper can often include some coupon inserts and coupons for local stores. So consider buying a few to get your hands on some great discounts.
Also, check out Sunday-Coupons.net.
It's a really handy website that shows you the schedule and preview of the Sunday paper coupon inserts.
So you can see which papers are worth buying.
In-store
Many retailers feature coupons, weekly ads and coupon booklets in-store. Don't forget to check out these store coupons for deals.
Magazines
Just like newspapers, magazines are also a great source of coupons. Some stores actually offer coupons in their magazines.
Also, magazines, in general, are good places to source coupons. For example, in fashion and beauty magazines, you can often find coupons for things like clothing, perfume and makeup.
9. Use the online chat box to get a discount
Most people don't know this, but it's a clever way to get exclusive discounts.
You've probably seen those chat boxes that pop up in the corner of websites.
Well, those can actually be a great tool for getting discounts.
Really.!
Rather than just minimizing or exiting the box, instead, use it to ask if there are any discounts available.
A lot of companies have policies that enable their customer service rep to give out special discounts in order to keep customers satisfied and coming back.
The customer service rep may give you some kind of money-saving deal, whether it's a coupon code for 10% off or a promo code for free shipping.
It's always worth checking with customer service whether there's some kind of discount available. Sometimes, you'll get a great deal.
10. Google for discount codes
Doing a quick internet search for the brand or store you're shopping at or item you're shopping for, followed by the phrase "coupon code" or "promo code" can generate plenty of results.
This is such a good way to find coupons not just for holiday shopping, but any time you're buying something.
11. Shop the sales and look out for deals.
There are tons of sales on offer during the holidays. So shop the sales and stock up. You can find so many items at great value prices.
For example, Amazon, Yankee Candle (read this to learn how to save on Yankee Candle) and Groupon often have items that are available at huge discounts.
Amazon has a great deals section, where you can find Deals of The Day, Lightning Deals and other daily deals and limited-time discounts.
Check out Amazon's deals section here.
On each store website you visit, check to see if there's a "sale" or "deals" tab on there.
When you come across a sale, try to get presents for a few people on your list – you'll save a lot of cash.
12. Track prices on Amazon with CamelCamelCamel
CamelCamelCamel is a tool that you can use to keep track of prices on Amazon.
We all know how often prices on Amazon fluctuate.
I've often found that if I return to my cart the next day, I'll have a little notification from Amazon that tells me that items in my cart have changed price.
These price fluctuations can be annoying, because often you'll find that you buy something on Amazon on one day, and the very next day the price of that item has now dropped, so you miss out on the chance to save money.
Well, that's where CamelCamelCamel comes in handy.
This tool tracks the price history of products on Amazon. The best feature of it is that you can use it to set up price drop alerts for the items that you want to buy.
If you set up a price drop alert, then you'll get a notification when the price of that product drops below a certain amount.
This means that you don't miss out on any great money-saving deals.
If you plan to buy Christmas gifts on Amazon, then you should definitely use CamelCamelCamel.
13. Take a break between purchases
According to a study conducted by Stanford University, when people purchase one item, it gives them the impulse to purchase more items – this is known as the Shopping Momentum Effect.
This means that if you go shopping and buy one thing, then you're more likely to buy more, and, therefore, spend more!
To save money and ensure that you don't get off track with your budget, make sure that you take a break between purchases, even if you are shopping online.
14. Check out Thrift Stores and Yard Sales
Yard sales and thrift stores can be really great places to find Christmas gifts. You'll not only save money, but you're more likely to find unique holiday gifts.
For example, if you're buying a gift for someone that likes fashion, then you might be able to find some great vintage pieces at the thrift store.
Or if you're purchasing a gift for someone who loves books, then you might be able to find some great titles at low prices at yard sales.
So visit your local thrift store or yard sale and see what hidden gems they have.
15. Leave items in your cart when shopping online
One of the most popular tips on our online shopping hacks post is this one. This is something that I do quite often and it's gotten me some great discounts.
Next time you shop online, after you've put the items in your shopping cart, don't go right to the checkout.
Instead, leave the basket.
Just make sure that you are registered with the website you're shopping on, and are logged into your account to ensure that the items remain in your cart.
Because all retailers want to make that final sale, they're willing to give you a discount simply to get you to complete your purchase.
When a retailer sees that you left items in your basket, they know that you are serious about buying, so they'll do what they can to ensure that you actually make the purchase.
So often they'll send you a discount code or promo code or another deal as an incentive to get you to check out.
This code could be for 10% off, for free shipping or for a deal where if you spend a certain amount, you get a certain dollar amount off your order.
By doing this, I've gotten 10% discounts and $10 off promo codes.
It's such an easy way to save money on all your Christmas purchases.
16. Look for items that come with a free gift
This is another trick I've used to save money on holiday gifts. Some retailers will offer Christmas freebie with each purchase. You can then give this free gift to someone for Christmas.
So you basically get two gifts for the price of one.
Many beauty retailers and cosmetic counters at department stores, for example, offer a free gift when you buy something.
17. Use Price Comparison apps
Prices for items vary more than you'd think depending on where you shop.
That's why doing a quick price comparison before you buy anything is such a good idea.
You can ensure that you always get the best price for everything that you buy.
Now, many people don't compare prices for the stuff they want to purchase simply because they think that it's time-consuming.
And yes it certainly would be time-consuming to manually check prices at each store individually.
However, using price comparison apps (like these) allows you to compare prices across multiple stores instantly.
Just enter the item that you're interested in, and you'll be able to view the price for it across a variety of different stores.
Here are a few price comparison apps and websites that you can use to do Christmas gift shopping on a budget:
ShopSavvy
Download ShopSavvy for iOS devices here.
Download ShopSavvy for Android devices here.
Download ShopSavvy for Windows devices here.
BuyVia
Amazon
ScanLife
QuickScan
Price Pirates
Grocery Pal
Walmart Savings Catcher
Google Shopping
Use the desktop version here.
Bing Shopping
Use the desktop version here.
BizRate
Use the desktop version here.
NexTag
Use the desktop version here.
PriceGrabber
Use the desktop version here.
Shopping.com
Use the desktop version here.
Shopzilla
Use the desktop version here.
Yahoo Shopping
Use the desktop version here.
18. Join Rewards Programs/Get Loyalty Cards
Around the holidays any savings you can get are super handy. That's why it's a good idea to use loyalty cards or to join rewards programs for the stores that you shop at.
With rewards programs, you can get points you can redeem for store credit, coupons, cashback and many other great money-saving deals. This can really help you to save money on presents.
Here are a few loyalty cards and rewards programs that you should consider joining this holiday season:
19. Shop using cash
If you don't use a cashback credit card, then consider purchasing your holiday gifts with cash, rather than using a card to pay for them.
Doing this can save you money, according to a number of studies.
When you shop using a credit card or debit card, it's really easy to lose track of how much you've spent. Cash, on the other hand, is much easier to track.
A good tip that will save you even more money is to get an envelope for each person who you plan to buy for and then put the amount of money, in cash, that you plan to spend on them.
Write each person's name on their envelope and then you'll know exactly how much you've spent and how much you have left to spend when you go shopping.
20. Sign up to Email lists
If you plan to shop online, then you should definitely sign up to email lists.
A lot of brands and retailers have an email list that you can sign up for. All you generally need to do is enter a few basic details, like, of course, your email address and name.
Then, you'll receive discounts and special offers via email.
For example, Yankee Candle has an email list you can sign up to here. When you sign up, you get exclusive news and special offers.
Some brands and stores will even give you a discount just for signing up. For example, Macy's gives you 25% off when you sign up for emails, in addition to sending you details about sales and events.
21. Re-gift
At Christmas time, many of us receive gifts we don't really want from well-meaning relatives.
This means that we end up with stuff that simply takes up space in our homes.
Instead of leaving your unwanted gifts to gather dust in the black of a closet, or throwing them out, give them to others for Christmas instead!
The recipient won't know you've re-gifted the item – and you don't have to spend a cent.
Just make sure that you remember who the gift was from originally to avoid giving it back to that person!
22. Use coupons, discounts, promo codes & other deals strategically
A coupon that gives you 10% off is great, but what if you could combine that coupon with a promo code that gets you free shipping?
You'd save even more money!
This is why using codes and deals strategically is such a good idea.
Whenever you can, combine manufacturer coupons with store coupons, and use promo codes and coupon codes together if you can as well.
You'll really maximize your savings!
If you pay using a discount gift card as well, you'll save even more!
23. Use multiple email addresses to get more savings
As we mentioned above, signing up to brands' and retailers' email lists is such an easy way to get your hands on some great discounts.
But there's a way that you can use email lists to save even more money!
Just sign up to these email lists multiple times, with different email addresses.
You can get email addresses so easily, for free as well, from places like Outlook, Yahoo Mail and Gmail.
By signing up using a few different email addresses, you'll multiply the number of discounts, deals, promo codes and coupon codes that you get, and therefore, save more money.
24. Buy gifts after Christmas
A good time to buy Christmas gifts is actually after the holiday is over.
After Christmas, most people's budgets are stretched pretty thinly.
So stores and brands hold sales to entice people to buy.
This means that in January, you can often get some great deals in sales.
You can purchase items in the January sales and then save them until December.
You'll not only be super prepared for next Christmas, but you'll also save yourself a ton of money too.
25. Give baked goods
If you're really tight on cash, consider giving out baked Christmas treats, like Christmas cookies for the holiday. You just need a tin and a few baking supplies and you have a great, budget-friendly Christmas gift.
26. Follow Brands and Stores on Social Media
Many stores and brands give details about sales and discounts on their social media platforms. It's a good idea to follow the social media profiles of the brands and stores you shop at so that you don't miss out on any money-saving deals.
27. Be wary of Buy More, Save More deals
Around the holidays, stores commonly have deals on where if you spend a certain amount, then you save a certain amount.
Like, spend $50, get $10 off.
These deals are certainly good if you plan to spend the amount featured in the deal anyway.
But the problem with these deals is that they can entice you into spending more than you planned to.
And when you spend more on items you didn't really plan to buy, in order to save, then you're not really saving – you're spending more.
Only take advantage of these deals if you actually need the items you are required to buy to get the saving. After all, if you spend $50 to get $10 back when you only planned to spend $20 in a store, then you haven't really spent less.
When you buy less, you spend less. Just stick to the budget you made earlier.
28. Split the Cost of a Gift
If there's a family member who wants a gift that's a bit too expensive for your budget, then consider splitting the cost of it with another family member.
For example, if your mom wants something that costs $200, but you only planned to spend $100, then split the cost with a sibling, and each pay $100. You'll find that most family members are happy to split the cost, as everyone wants to save money over the holidays.
29. Shop alone
When you shop with someone else, then you're more likely to spend less. Sometimes, friends or family members can, well-meaningly, convince you to buy something that you didn't plan to purchase. They might say something, like "you should get it," or "you should definitely buy that."
Since friends and family members can so easily distract you from your budget and shopping plan, it's a good idea to shop alone!
30. Shop at discount and consignment stores
Discount and consignment stores are great places to find items from well-known brands at a low price.
Stores where you can find some great deals include:
Dollar stores
TJ Maxx
Marshalls
Ross Stores
Big Lots
If you shop at one of these stores and use a discount gift card or cashback credit card to pay with, and use coupons too, then you'll save even more!
31. Give DIY Gifts this Year
If you have a pretty tight budget, then consider making some of the products yourself.
Doing this can save you so much money.
And you'd be surprised by how many great DIY Christmas gift ideas there are out there.
We have post that includes 101 DIY Christmas gifts!
If you have a lot of people to buy for, or you don't want to spend a ton of money, then making gifts yourself is such a good option.
Bonus Tip
Whether you're giving a few gifts or a few dozens, you need gift tags.
Thankfully, you don't have to spend a dime on these.
Why?
Because you can use these awesome free printable Christmas gift tags.
Make Extra Cash Easily & Use it to Buy Christmas Gifts
Saving money is great, but making more money is too. By making a little extra cash around the holidays, you can lessen the stress of paying for gifts. You'll have more to spend!
There are two easy ways that we recommend for making a little extra spending money for Christmas:
Joining rewards websites.
Taking surveys.
We recommend these two methods for a few reasons:
Anyone can do them; there are no specific qualifications or experience needed to take surveys or complete tasks. .
They're super easy, requiring little thought or effort.
You can do them anywhere and in your downtime. You don't need to block out huge chunks of time. You can easily take surveys and complete tasks while in bed, during a commercial break or while waiting at the doctor's office.
Let's take a quick look at how you can use survey and rewards websites to earn money for Christmas gifts.
Take surveys
You can easily make money for Christmas gifts by taking surveys.
The key to making money successfully with survey websites is to join a few of them.
The more survey websites you're a member of, the more survey's you'll get.
Having a constant stream of surveys will ensure that there are always ones available that you qualify for.
If you join a few, you can easily make an extra $200 in a month.
Here are a few examples of good survey websites, and how much you can earn:
Join reward websites
With rewards websites, which are sometimes called get paid to (GPT) websites, you earn points or money that can be redeemed for points, for completing easy tasks, like:
Watching videos
Playing games
Completing offers
Shopping online
Browsing the internet
Taking quizzes
Now, what's great about rewards websites is that the tasks they pay you for are probably things that you do anyway.
Most of us play games, watch videos and shop online, so why not get paid for it?
Like with survey websites, the best way to make money with rewards websites is to join a few of them.
If you're completing tasks on multiple rewards websites, then you'll maximize your earnings.
With rewards websites, you can easily earn a couple of hundred extra dollars in a month or so.
You can then put this money towards Christmas gifts.
Here are a few examples of reward websites and how much they pay:
Swagbucks: This is a super popular rewards website, offering a multitude of earnings opportunities. You can make from $30 to $125+ a month, according to people's income reports on Reddit.
Treasure Trooper: You could earn $50 a month. View earnings on TreasureTrooper here.
Closing Thoughts
Christmas certainly is an expensive time of year.
But as you can see, there are plenty of things that you can do to save money on Christmas gifts.
Each year, we all put so much pressure on ourselves to buy tons of gifts for our friends and family. So it's really easy to fall into that trap of overspending, which negatively affects our finances long after the holiday season is over.
That's why budgeting and doing whatever you can to save is so important.
Create a budget, as we suggested above (it really is key to saving money on holiday gifts) and follow our tips.
And finally, don't stress yourself out too much.
Christmas is supposed to be a fun time of year. Don't feel like you need to spend a ton of money on gifts to enjoy it or to please friends and family. Have a happy holiday!