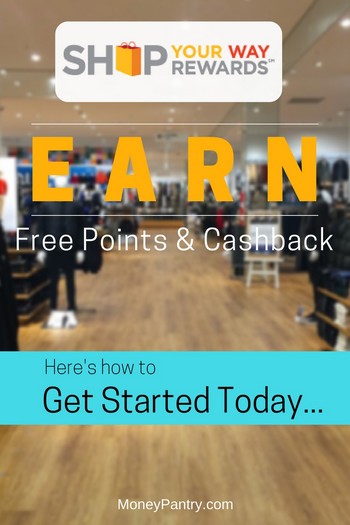 We talk about earning cashback and loyalty/rewards programs on Money Pantry a lot.
Why?
Because both give you cash and other bonuses, just for doing something that you already do anyway.
And, one of the best rewards programs out there is Shop Your Way.
Partnered with big brands, like Sears and Kmart, this program gives you a multitude of ways to save money and earn rewards each and every time you shop.
Today, we're going to tell you exactly how the program works, discuss what types of money-saving offers are available, and let you know how you can get the most out of it.
Need Easy Extra $300+/Month for Free?
Panel Payday
: Earn up to $75 per survey. They also pay up to $50/hr for mystery shopping.
Join Now!
InboxDollars
: Paid over $57 Million to members to watch videos, take surveys, shop and more.
Get $5 instantly!
Opinion OutPost
: Want fun & high paying surveys? This is the survey site for it!
Join Opinion Outpost!
Branded Surveys
: Get $1 instantly just for joining for free. Plus get paid within 48 hours by PayPal!
Join Branded Surveys
Toluna
: Earn PayPal, Amazon & Tango e-vouchers for taking surveys (& product testing!).
Join & get 500 bonus!
Swagbucks
: Get paid to watch videos, shop online, take surveys and more.
Join now & get $5 instantly!
What is Shop Your Way?
Shop Your Way is a program that rewards you when you buy products or services.
It's a lot like Meijer mPerks rewards program.
As a member, each time you buy something, you earn points that you can use for future purchases.
It includes a huge network of retail partners that you can shop with.
In fact, you can shop thousands of brands through the program!
As a member, you also have access to:
Special pricing
Sales
Digital coupons that can be loaded directly into your account.
And much more!
What's great about Shop Your Way Rewards is that you can enjoy the benefits of it, whether you shop online or offline.
It's quite a complex rewards program.
It gives you a huge range of ways to save money when you shop. Plus, access to a ton of other benefits.
How to Get Free Shop Your Way Rewards Points
The main benefit of this program is that it allows you to earn points when you buy stuff.
You can later redeem these points for money off your future purchases.
There are a few ways to earn points with the program:
1. With Sears, Kmart, Lands' End and Mygofer
With the SYW program, you earn points when you buy stuff at:
Sears
Sears Grand
Sears Hometown Stores
Sears Home Appliance Showroom
Sears Hardware
Sears Outlet
Sears Auto Centers
Sears Home Services
Kmart
Lands' End
Mygofer
There are two ways you can earn points with the above retailers:
In-store
Online
In-store
Just shop at a store that participates in the SYW Rewards program, and you can earn points.
When you get to the checkout, all you need to do is give your Member number, email address or phone number.
Then your points are automatically added to your account.
Online
You can also get points when you shop online with SYW.
Points can be earned in the following ways:
Add your Member number to your online profile.
Provide your Member number during the checkout process.
For each dollar that you spend, you earn 10 points.
Once you reach 1,000 points, you can get $1 off a future purchase.
And, you can even earn money on your Kmart prescriptions.
For every qualified prescription you fill or refill at a Kmart pharmacy, you earn 500 points.
2. With the SYW Reward Partners Network
The company has partnered with a plethora of other brands, called Shop Your Way Partners, all of which you can check out on this page.
SYW Partners are merchants, restaurants and service providers which have participated in SYW to allow members to earn points outside of the brands we mentioned above.
This is great because it means that regardless of whether or not you shop at Sears or Kmart, you still have the opportunity to earn points.
All you need to do to earn points with SYW Partners is to be a member – we outline how to do that below – and have a current email address on your membership account.
Once you earn points with the Partners Network, you can redeem them for monetary value at Sears, Kmart, mygofer and Land's End stores.
Earning points with SYW Partners
You can earn points with SYW partners in two ways:
Shop Online: Visit this page. Then, to shop with a partner, click on "View Offer", and then "Shop Now". You can then earn points with this partner.
Shop with participating Card Link Rewards Partners: Visit this page. When you buy something with a Card Link Rewards Partner at one of its physical locations or online at its website, then you can earn points. You need to link your via card to your SYW account to qualify for points. We discuss this a little more below.
Link your card to earn more
As we mentioned above, you can also earn points when you buy something from a Card Link Rewards Partner.
It's fairly simple to do this. All you need to do is link a card to your SYW membership.
Just visit this page, and follow the instructions.
You will need a mobile phone capable of receiving text messages and your 16-digit Visa card number.
You can link up to three cards to your account too, so you don't have to worry about taking the right card out with you – you'll have a few options to choose from.
Once you have done this, when you shop using your linked card at the partner's location, you can earn points on qualifying purchases.
You can redeem points at any store that's within the Sears and Kmart Rewards Partners Network.
How many points can you get with SYW Partners?
With SYW Partners, the amount of points you earn varies from brand to brand.
With all partner brands, however, you earn cashback in the form of points.
Here are a few examples of point offers available at the time of writing:
Banana Republic: 3% cashback.
Barney's New York: 5% cashback.
HBO Store: 8% cashback.
Kiehl's: 6% cashback.
Lenovo: 2% cashback.
Lego: 3% cashback.
Sephora: 5% cashback.
Topshop: 9% cashback.
USA Today: 15% cashback.
Uber: $2 for every ride.
You earn cashback in points (which can later be redeemed for prizes.)
3. With bonus point offers
Every member of this program can earn Base Points on their purchases, as we mentioned above.
But, there's also the opportunity for you to earn Bonus Points when you buy stuff too.
According to SYW, Bonus Points are "specific to items, coupons and offers" and are "inclusive of and not in addition to Base Points earned on a qualifying purchase."
Here's an example of how they work:
Let's say that you spend $100 and you get 1,000 Base Points. If there's a Bonus Points 2x multiplier offer available, then you would earn 2,000 points in total.
1,000 of those points are Base Points, which are valid for 12 months.
The other 1,000 points are Bonus Points, which are valid for 90 days.
If you want to receive Bonus Point offers, then just provide a valid email address.
Then, you become eligible to earn even more points.
What's interesting about SYW is that sometimes, bonus point offers can be combined – meaning you can save even more.
Here's a quick example to illustrate:
You buy a piece of furniture that costs $250.
And, at the time that you make the purchase, there are two bonus offers available.
One gives you 2% in points for purchasing that specific item of furniture, and the second gives you 10x points when you buy any item of furniture.
So, you earn 2,500 Base Points, plus 2,500 Bonus Points.
In total, from one Bonus Points offer, you get 5,000 points.
Then, from the 10x offer, you get 22,500 points.
In total, you've earned 27,500 points – just from one purchase!
Don't forget to provide an email address!
Make sure that you provide SYW with a valid, opted-in email address.
If you do this, you become a Bonus SYW member, which means you're eligible for more opportunities to earn points.
You can check whether or not you're a Bonus SYW member in your account.
Just:
Got to your Account Settings page.
On the left menu, click on "Email Notifications."
Then, make sure the box next to "Send Bonus Offers to my Email" is checked.
If you do that, you ensure that you can earn points in all of the ways we mentioned above.
Other Benefits of Shop Your Way Reward
Earning points you can redeem for store credit is a great bonus of this program.
But, it's not the only benefit.
As a member, you also get access to a plethora of other great bonuses and benefits.
Better returns
It's so annoying when you need to return something but can't find the receipt.
But, with this program, you don't have to worry.
As a member, you can return stuff without a receipt!
Really!
Plus, you also get e-Receipts.
Access to a members-only website
With this website, you can:
Review your purchases.
Get credit for previous purchases.
Manage your account.
Coupons
We briefly touched on coupons in the bonus offers section above.
This is definitely another great benefit of the program.
As a member SYW sends you coupons based on your interests, and what other members like you have enjoyed.
These coupons are for Sears and Kmart. They give you discounts and the chance to earn more points.
And, they're exclusive to members.
You can view coupons, by visiting this page.
Or you can go to the SYW website and then look in the Deals & Coupons category in the Rewards section.
FREECASH in Points
This is another savings opportunity that members get access to.
Sometimes, SYW runs "FREECASH in Points" offers.
With this offer, you receive cash in the form of points when you buy a particular item, shop a particular category or spend a certain amount of money.
The offer might be something, like:
"Redeem $5 in points (5,000) by spending $15 or more on clothing at Sears".
So, if you do buy an item of clothing worth $20 for example, you only pay $15 for it, because you can redeem those points for that purchase.
Sweepstakes
Another great bonus that comes along with SYW rewards is the chance to earn even more points with sweepstakes.
Prizes for sweepstakes include:
Points.
Merchandise.
Trips.
Digital awards and products.
There are specific requirements and limits for each sweepstake.
Membership Tiers and Programs
As we mentioned above, SYW is a complex, multi-faceted rewards program.
There are so many ways to get points and other bonuses.
What's also interesting about the program, is that it has a few different membership tiers and programs within it.
Here are the main two:
VIP Member
What's great about the program is that the more you spend, the more you're rewarded.
This is because it has a VIP Member program, featuring different membership tiers.
As you continue to shop, you work your way through each tier.
As you move through each level, you unlock more bonuses, benefits, savings and earnings opportunities.
Here's a quick outline of the VIP membership levels:
VIP Silver
Spend $800 on 11 purchases within a year and reach Silver status.
At this level, you get access to a whole host of extra benefits, like:
Exclusive deals and offers.
25% off appliance repair.
Early notification of sales.
Personal Shopper,
Free Shop Your Way Max membership (we talk more about this below), which gives you free 2-day shipping on purchases worth $25 or more.
The opportunity to earn 5% in points during your birthday month.
Two oil changes at Sears Auto Centers.
Dedicated customer support.
Automatically get 20% in points on all computer accessories and Alphaline Electronics at Sears and Kmart.
A 5% points special bonus day each quarter.
The average annual VIP savings at this level is $300 in points
VIP Gold
Once you have made 20 purchases totaling $1,500 in a calendar year, you reach Gold status.
At this level, you get all of the benefits you received with the previous tier, plus:
The opportunity to earn 10% in points during your birthday month.
Get three oil changes at a Sears Auto Center.
Get a 10% points special bonus day each quarter.
At this level, the average annual VIP savings is $400 in points.
VIP Platinum
Make 30 purchases totaling $2,000 in a calendar year and you become a platinum member.
You get access to all of the benefits of the previous tier, as well as:
An additional 5% in points with Shop Your Way MAX.
The opportunity to earn 15% in points during your birthday month.
A 15% points special bonus day each quarter.
The average annual VIP saving at this level is $500 in points.
How to become a VIP Member
Each week, the program evaluates your total shopping balance to determine your VIP level.
If you do move up a level, it takes around eight business days to see your new status on your online account.
Within 14 days, SYW will notify you via email about your new membership level.
We outlined above that you have to make a certain number of purchases to qualify for each membership tier.
But, that's not the only way to earn VIP status.
You can also move up tiers solely based on the amount you spend, rather than the number of purchases that you make.
Above, you had to spend a certain amount of money, over a certain number of purchases to qualify. But, if you meet the spending criteria below you can still achieve VIP status.
Here's how to qualify based on spending alone:
Reach VIP Silver status: Spend $2,500 in a calendar year.
Reach VIP Gold status: Spend $5,000 in a calendar year.
Reach VIP Platinum status: Spend $10,000 in a calendar year.
As you can see, when there are no requirements on the number of purchases made, the amount you have to spend is higher.
For example, to reach Platinum status based on the number of purchases you make, you only have to make 30 purchases and spend just $2,000. But, if you want to reach platinum status based solely on how much you spend in a calendar year, then you'd have to spend $10,000.
That's quite the difference!
Maintaining VIP Status
When you first become a VIP or reach a new level, you main that status until December 31 of the following year.
Then, at the start of every following calendar year, your total shopping balance is reset to zero.
So, you will have to meet the shopping criteria to re-qualify for VIP status the next year.
If by December 31 of the year after you become a VIP member, you don't meet the minimum shopping criteria, you lose your VIP status.
Shop Your Way MAX
If you shop at Sears and Kmart a lot, then you might want to check out Shop Your Way MAX.
It's a different type of membership, which gives you access to more benefits than you get as a regular SYW member.
But, you have to pay for it.
An annual membership to the program only costs $39 per year – which is just over $3 per month.
Here's what you get with this membership:
Free shipping
As an SYW MAX member, you get free two-day shipping on qualifying items at Kmart and Sears on orders worth $25 or more.
And, you also get free standard shipping on qualifying Marketplace items.
This is a pretty great deal. The cost of shipping can really add up over time!
Items that qualify for free shipping feature the SYW MAX logo – so look out for that when you're shopping.
Unfortunately, larger items, like furniture, don't qualify for free shipping with the MAX program.
More points
The MAX program gives you the chance to earn more points, which is definitely one of its biggest benefits.
You get 5% cashback in points on qualifying online purchases that you pick up in-store.
There is a cap on this benefit though – you can only earn 50,000 points per calendar year.
This is about $50 in points.
Your points are only valid for 90 days too.
Aside from 5% cashback in points, as a MAX member, you also get double Base Points on qualifying purchases.
And, what's great about this benefit, is that you can earn these points both online and in-store.
So, as a regular member, on a $100 purchase, you'd earn 1,000 Base Points, but as a MAX member, you earn 2,000 points.
But, that's not all…
During the first two weeks of each month, you also get $3 in points, which works out at about 3,000 points to spend.
There's a 90 day free trial period, which is pretty generous.
You don't need a credit card to sign up either – which is always a plus, as it's so easy to forget to cancel subscriptions once the trial period is up.
If you want an annual membership, then you need to join the program before your trial period ends. Don't worry though – SYW sends you reminders to sign up.
Tips for Earning More Points & Rewards
Whether it's for Target, Ulta, or Sears, when it comes to rewards programs, the main question that a lot of people have is:
"how can I earn points faster?"
Here's the deal…
With loyalty programs, you'll get more points, benefits, and bonuses and get them faster the more you shop.
There's no real secret or cheat to gain a bunch of points super fast.
Of course, though, there are a few things that you can do with SYW rewards to ensure that you get as many points as you can, as quickly as you can.
Link your card: This one is a no-brainer. Linking your credit/debit card or multiple cards to your account allows you to take advantage of SYW Reward Partner points instantly!
Don't miss out on extra points: Keep an eye out for any opportunities to earn extra points – after all, SYW sends them out via text, email and sometimes even mail.
Don't forget to enter sweepstakes: This is such a quick and easy way to get extra points. Of course, the points aren't a sure thing, but there's always a chance of winning.
Sign up for Shop Your Way MAX: We really feel that the MAX program is worth it if you're a frequent shopper at Kmart and Sears. You get more points, plus free shipping, both of which more than pay for the annual membership fee.
Do those things and you'll earn your way to free cash to spend much faster, and of course, up your VIP status.
Shop Your Way Credit Card
If you want to earn more points or accumulate them faster, then you might want to check out the Sears Choice MasterCard
As a cardholder, for the first 12 months of your account opening, you receive:
5% in points on eligible purchases at gas stations.
3% in points on eligible purchases at grocery stores.
2% in points on eligible purchases at Sears and Kmart.
1% in points on all other eligible purchases.
But that's not all…
…you also get discounts across tons of different shopping categories.
At the time of writing, you can get 5% off items worth over $399 or no interest if you pay in full within the promotional period.
Here are a few examples of shopping categories offering this deal:
Home Appliances
Furniture
Fine Jewelry
Visit this page to learn more and to sign up for the Sears Choice MasterCard.
How to Sign Up
It's free to join the the program, and signing up for it is super simple.
Here's what you need to do to join right now:
Step 1: Visit https://www.shopyourway.com and click on "Register" (top right corner.)
Step 2: Enter your email address or use your Facebook and hit "continue."
Step 3: At this point, you will get asked whether you are an existing member. Just click on the "No, I need a new free membership" option.
Step 4: Enter your Address and phone number – the company does this to verify your identity and so that it can mail offers to you as well.
Step 5: Click the verification link in your email and you are set to go.
You don't get a card with this program unless you are a VIP member.
Instead, you use a number to earn points.
You can view your number by:
Going into your account.
Clicking on your name, which can be found in the top right corner of the page.
Clicking on "Membership number & PIN."
Shop Your Way app
You'll be glad to know that in addition to its desktop version, SYW is also available on mobile devices.
You can download the app by going to:
Is Shop Your Way Rewards Legit?
Well, it all depends on your shopping habits.
If you love shopping at Sears or often find yourself buying stuff at your local Kmart, then this program is definitely worth your time.
After all, it's free!
And you essentially get to earn a percentage of what you spend at those stores back – albeit in the form of store credit.
If you don't shop with those brands often, then the program obviously won't benefit you that much.
Sure, with the Shop Your Way Reward Partners Network, you get the opportunity to earn points with far more brands that just Kmart, Sears, Land's End, and mygofer.
In fact, there are dozens to choose from – whether it's a laptop brand, like Lenovo or a beauty company like Kheil's.
But, while the SYW program does give you a huge selection of brands to earn points with, you are still restricted when it comes to places to redeem those points.
This means that while you might earn points with Sephora or Forever 21, you still have to redeem them with Sears, Kmart, Land's End, or mygofer.
So again, this program is definitely best suited to those who like to shop with those particular brands.
Even if you don't frequently shop with those brands, if you shop with them at all, it's still worth getting points for what you do spend there – even if it's only a little bit of cash, you still earn something back in return.
Closing Thoughts
Reward programs are great.
Each time you spend money with a brand, you get a percentage of your spending back – and they're totally free to join, so why not?
The program is definitely worth joining if you're a fan of:
Sears
Kmart
Land's End
mygofer
So, to end this review, I'd say Shop Your Way Rewards is a legit program that is highly recommended. So sign up today and earn yourself rewards on your everyday purchases.