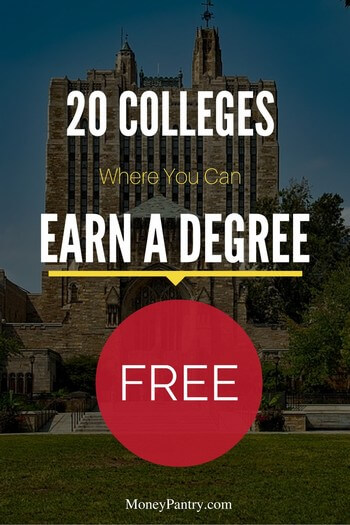 If you're considering your college education, you're probably starting to realize something – college is expensive.
According to statistics, Americans owe almost $1.3 trillion in student loan debt!
The average debt per graduate student is $57,600. And, not everyone can afford, or wants to pay out that amount.
But, did you know that you can actually get a degree or a diploma for free?
Really!
A lot of institutions, programs and organizations in the U.S. and worldwide, offer educational courses for free online and offline.
Need Easy Extra $300+/Month for Free?
KashKick
: Get paid directly into your PayPal for watching videos, surfing, shopping and more.
Join KashKick Now!
InboxDollars
: Paid over $57 Million to members to watch videos, take surveys, shop and more.
Get $5 instantly!
Branded Surveys
: Get $1 instantly just for joining for free. Plus get paid within 48 hours by PayPal!
Join Branded Surveys
First Opinion
: Get paid up to $10 per survey and $300 per virtual focus groups!
Join Now!
Swagbucks
: Get paid to watch videos, shop online, take surveys and more.
Join now & get $10 instantly!
Most of the time, you'll just have to pay a small one-off fee, which is usually a processing or admin fee.
And, that's all.
Most of these places offer a free education to either all students or to those who fit a certain criteria.
So, if you want to avoid drowning yourself in student loan debt, or draining your parent's savings, then consider choosing one of these free options instead.
1. Attend a German University
Did you know that in Germany, college and university students don't have to pay for their education?
It's true.
In a time when the cost of college education in the US has reached record highs, an increasing number of American students have flocked to Germany to take advantage of a tuition-free education.
In 2015, it was reported that there were over 4,600 U.S. students enrolled at German universities – which was a 20% increase over the past three years.
If you do choose to attend a German university, while tuition is free, you might have to pay an annual fee, like a processing fee or a small semester fee. And, you'll also have to pay for your room and board, as well as your textbooks and transportation.
You can find a list of all German universities and their locations on German Academic Exchange Service's website.
Other countries that offer a free education include Norway, Iceland, and Finland.
2. Consider Working for your Education
If you're willing to earn your keep, then you could get a degree from one of these schools.
Some colleges allow students to work for their education, rather than having to pay tuition.
The Webb Institute is a fully-accredited, private engineering college, located in Glen Cove on Long Island. At the college, you can earn a Bachelor of Science degree in naval architecture and marine engineering.
Graduates of the Webb Institute have a 100% job placement rate – which is pretty impressive. Its graduate school placement rate is also high.
The average class size at the Webb Institute is 22 students and the student-to-faculty ratio is 7:1.
The school is tuition-free. So, if you're a successful candidate for admission, you'll get a full-tuition scholarship, for four years.
Practical work experience is a large focus of the school's curriculum. So, as a student at the institute, you'll need to complete an internship period during the winter,
For eight weeks, throughout January and February, you have to complete work in specific fields of the marine industry.
William E. Macaulay Honors College at The City University of New York is a liberal arts college. As a student, you have the option to enroll in one of eight CUNY colleges.
And, each student creates an individualized academic program – you can choose courses from over 200 majors.
Some students at the college receive a full undergraduate tuition scholarship, excluding fees, and a new laptop – but you must meet CUNY NYS residency requirements to be eligible.
As a student at the college, you need to complete a minimum of 10 hours of community service during each of your first three years.
Deep Springs is an accredited two-year liberal arts college. It's incredibly unique it that it's situated on a cattle-ranch and alfalfa farm – which is more than 25 miles from the nearest town.
It only has between 24 to 30 students enrolled each year. All students at the school receive a full-scholarship – this includes room and board. Students need to pay for their own books and travel, as well as incidental expenses. Plus, you need to pay a small damage deposit.
In return for a free education, students at Deep Springs have to work on the college's farm and ranch.
According to the school, you don't need to worry if you've never been on a farm – most of its students have never done farm or ranch work before they arrive at the college.
The college does not accept applications from students over the age of 25 or students that already have a four-year degree.
Located in Berea, Kentucky, Berea is a private liberal arts college that offers degrees in more than 20 fields.
Students at the college are from all fifty states, but most are from Appalachia. The school has a no-tuition promise, which means that all students get a free education.
The school states Berea offers "the best education money can't buy."
In order to enroll at Berea, you must meet the school's pretty stringent academic standards:
Successful applicants average 24.3 composite ACT scores.
54 percent of first-year students ranked in the top fifth of their high school graduating classes.
You might have to pay fees and for your room and board, but some students also get financial aid for those costs.
All students at Berea have to work a minimum of 10 hours per week.
Another college allows you to get a degree for free if you're willing to earn your keep is Alice Lloyd.
According to the college, students from its service area can get a tuition-free education, through the Appalachian Leaders College Scholarship program.
Here are the criteria you must meet to be eligible for this scholarship:
Be a resident of the 108-county service area
Have a 2.25 high school GPA (in core curriculum classes)
Achieve a minimum of 12 core curriculum credits
Have a 17 composite ACT score
As a student at the Alice Lloyd College, you are required to participate in the Student Work Program.
While tuition is free with this program, you will need to pay fees and for your room and board. You'll also need to pay for your own books and transportation.
3. Attend School in your Hometown
Have you ever considered attending college in your hometown?
While many students dream of going across country to attend, staying put and going to a school in your hometown can save you a lot of cash.
If you live in Tulsa, then you could get a free degree through the Tulsa Achieves funding program.
If you are graduating from Tulsa County high school and enroll at Tulsa Community college in the fall after you graduate, then the Tulsa Achieves program pays up to 100 percent of your tuition and fees.
It pays for up to 63 college credits hours, or up to three years of college – whichever one comes first.
So, if you want to take advantage of this opportunity, you'll need to have a 2.0 grade point average and be willing to start college during the fall after your senior year.
In 2007, the Murphy Oil Corporation started offering residents in El Dorado, Arkansas a unique initiative, called the El Dorado Promise.
It allows graduates of any El Dorado public school to earn a college degree from any college in the United States for free.
This opportunity is available to all graduating seniors, regardless of their family income or grades.
It's an amazing initiative, which has received nationwide praise. Since it began, the amount of students from El Dorado enrolled in college has increased.
In order to be eligible for the program, you must:
Graduate from an El Dorado Public School.
Have been a student in an EPS school since at least the ninth grade.
Be admitted to or enrolled at an accredited two- or four-year college or university.
Enroll in at least 12 credit hours per semester, and complete at least 24 credit hours per year.
Plan to acquire a bachelor's or associate's degree.
Maintain a 2.0 cumulative grade point average at a post-secondary institution.
So, with this initiative, you don't even need to stick around in your hometown, but you must attend high school in El Dorado.
Another program that is similar to the El Dorado Promise is the Kalamazoo Promise.
This program pays college tuition for students that graduate from public schools in Kalamazoo, Michigan and attend any of Michigan's state colleges or universities.
Since it began it has increased college enrollment in the area.
In order to be eligible for this program, you:
Must have attended a Kalamazoo Public School.
Need to reside within the boundaries of KPS.
It's a four-year scholarship that allows students to get a bachelor's degree or earn 130 credits, whichever occurs first, for free.
This scholarship covers the cost of tuition and mandatory fees.
You have ten years from the time you graduate high school to make use of the scholarship – and best of all you can start and stop the program at any time.
If you want to get a scholarship through The Kalamazoo Promise, then you need to sign up for the program at the beginning if your senior year.
4. Check out UoPeople and get your Degree Online for Free
UoPeople is an innovative organization. It's the world's first accredited tuition-free online university.
It's an American university, but it's also open to international students too.
Through this online school, you can get an Associate and/or Bachelor degree or participate in an MBA program in the following disciplines:
Business Administration
Computer Science
Health Studies
All classes at UoPeople are conducted online.
It's the university's goal to make education accessible to everyone – which is pretty great.
As a student at the school, you not only get your tuition free, but you also don't have to pay for any course materials or for annual enrollment.
The university states that its unique online model of higher education cuts the overall cost for students.
The only thing that students have to pay is a $60 application processing fee and a $100 exam processing fee for each exam. This exam fee is not expected upfront – instead, you have until the end of each exam period to pay it.
And, for students that can't afford the processing fees of UoPeople, the university offers special scholarships.
If you want to enroll as a student at UoPeople, then you need to meet the following requirements:
Be at least 18 years old
Demonstrate high school completion
Successfully complete the UoPeople Foundations Courses
Are proficient in the English Language, as all of the school's courses are taught entirely in English.
Overall, UoPeople is a great option for students that want to avoid paying tuition – plus, as all of the school's classes are taught online, you can learn from anywhere.
5. Attend a School with Scholarships Based on Family Income
Did you know that many of the country's best, and most well-known colleges offer free degrees to students from middle and low-income families?
Many big colleges and universities make tuition free for students from families with certain incomes.
So, you could potentially get a degree for free from one of the world's best educational institutions.
Through the Parent Contribution Initiative, parents don't have to pay for their child's education at Cornell University.
This Ivy League school is ranked at number 15 in the list of the best colleges and universities in the United States – meaning it's a great place to earn your degree.
Parents with a total family income of less than $60,000 and assets of less than $100,000 do not have to pay tuition.
As a student, you do need to contribute a small amount of money towards your education.
Eligibility for this initiative is determined on a case by case basis.
Duke University is another well-known, private educational institution where students from families with low incomes can get a free degree or pay very little for their education.
It is ranked #8 in the 2017 edition of Best National Universities.
The university requires a family contribution towards tuition – which is split into two parts – one amount from your parent or parents, and one amount from you, the student.
Parents that earn less than $60,000 not have to contribute. The student has to contribute $2,600 in the first year to their education – so it's not technically free, but it's much less than the national tuition average of $32,405 at private colleges.
Harvard University is one of the world's most renowned and respected universities. In fact, it's ranked as the number 1 university in the world.
And, surprisingly, if your family earns less than $65,000 per year, then your parents don't have to pay anything for you to study at Harvard.
The Massachusetts Institute of Technology (MIT) is a research university. It's the second highest ranked university in the world, behind Harvard.
Its courses focus on physical sciences, engineering, biology, economics, linguistics, and management.
Students from families that earn $75,000 or less can get their tuition for free.
Princeton University is the fourth oldest college in the United States, and is one of highest ranked in the country. Most of the school's courses are in the humanities, sciences, and engineering.
Princeton offers financial aid, which for some students will cover the cost of tuition.
In the 2016 to 2017 academic year, the average aid grant covered 100% of tuition for freshman that received financial aid.
Another esteemed university that offers free degrees to students from low or middle-income families is Stanford. Stanford University is a private research university. It offers degrees in a wide range of subjects, from humanities to engineering.
If your parent's total yearly income is less than $125,000, then they won't have to pay for tuition.
And, if your parent's annual income is less than $65,000 per year, in addition to getting your tuition charges covered, your room and board are also free.
Texas A&M University is another place that offers a free education to students from low and middle-income families.
Through the Aggie Assurance program, students with a family income below $60,000 receive scholarships and grants to pay for their tuition.  This does not cover the cost of fees.
Not all students are eligible for the program – to be eligible you must be:
A Texas resident
An entering freshman or undergraduate transfer student.
Admitted and enrolled full-time at Texas A&M University
Maintain a 2.5 GPA and meet Satisfactory Academic Progress requirements.
You can learn more about the eligibility requirements here.
The University of North Carolina at Chapel Hill (UNC) offers a free education for eligible students, through the Carolina Covenant program.
In order to be eligible for this program, your parents' adjusted gross income (AGI) must not exceed 200% of federal poverty guidelines (based on family size). You can find out more about eligibility here.
This program does require you to participate in a work-study program.
Vanderbilt University is a private research university located in Nashville, Tennessee. And, it offers financial assistance to all students.
The cost of tuition and fees at the university is $43,838. Students from lower and middle-income families can get this cost covered through financial gift aid packages.
If your parent's income ranges from $0 to $39,999 per year, then the school awards you $61,658 on average – which is more than enough to cover the cost of tuition.
If your parents earn $40,000 to $59,999  per year, then the university awards you around $59,132. Learn more about income-based aid from Vanderbilt University here.
Yale University is a private, Ivy League research university. It's located in New Haven, Connecticut, and it's the third oldest higher education institution in the United States.
The university meets the full financial need of all admitted students, whose families make less than $200,000 per year, with no loans required. Families whose total gross income is less than $65,000 per year do not have to make a contribution towards their child's Yale education.
6. Check out UniversityNow
UniversityNow is an organization that aims to make quality higher education accessible and affordable for everyone. It's the parent company of Patten University, and it's currently building a network of affordable and accredited universities in the U.S.
And, through its College Works program, it's not only making college more affordable – it's making it completely tuition free for some students.
It's teamed up with the mayors San Francisco, Oakland, and Sacramento, California to create this initiative.
Through the College Works Initiative, workers in these areas can get tuition reimbursement – meaning they can get a college degree for free.
In order to be eligible for the College Works Scholarship Program, you must meet the following requirements:
Live and work in Oakland, Sacramento, or San Francisco, California. You must be able to prove this at the time of enrollment – with documents, like bills.
Qualify for tuition assistance benefits from your employer – in the form of an email/letter from the human resources department.
When you enroll, you pay the tuition costs, and then your employer will reimburse you. If your employer has a limit and can only reimburse you a certain amount annually, then UniversityNow will limit your tuition and cover all remaining costs.
For example, if your employer can only reimburse you for $1500 per year, then UniversityNow limits your tuition to $1000 per year. So, you pay the $1500, your employer will reimburse your tuition, and then the rest of the tuition is paid for by the scholarship.
You don't have to pay for books or fees either.
Bottom Line…
As you can see, there are plenty of ways that you can get an education without crippling your, or your parent's, bank balance
College doesn't always have to land you in a ton of debt.
If you fit the criteria for these organizations, you can often get a degree for free! You just need to be willing to think outside the box a bit.
Consider one of these options if you're thinking about attending college.