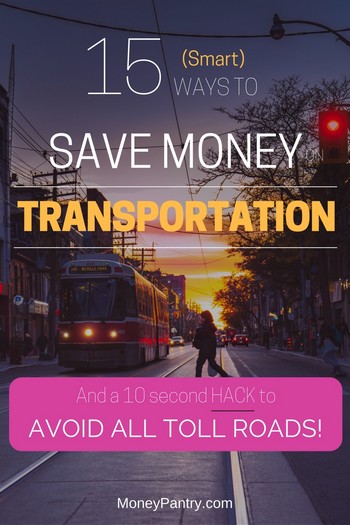 We all have places to go and things to do.
According to a report by the U.S. Department of Labor, Americans spend over $9500 each year on transportation.
And that number rises every year!
Whether you're driving to work, taking a long distance trip or a student going to class, we all spend money on transportation.
Thankfully, there are ways to pay less.
In some cases you can reduce the cost of your road trips and daily commutes by up to 50-70%!
Need Easy Extra $300+/Month for Free?
KashKick
: Get paid directly into your PayPal for watching videos, surfing, shopping and more.
Join KashKick Now!
Panel Payday
: Earn up to $75 per survey. They also pay up to $50/hr for mystery shopping.
Join Now!
InboxDollars
: Paid over $57 Million to members to watch videos, take surveys, shop and more.
Get $5 instantly!
Branded Surveys
: Get $1 instantly just for joining for free. Plus get paid within 48 hours by PayPal!
Join Branded Surveys
First Opinion
: Wanna get paid for every single survey (+ high paying online focus groups) with cash or direct deposit? This is for you!
Join Now!
Swagbucks
: Get paid to watch videos, shop online, take surveys and more.
Join now & get $5 instantly!
Here are 15 easy ways to help you save money on transportation, wherever you need to go.
Save Money on Your Daily Commute
Most of us have a daily commute to and from work.
That counts as one of the biggest transportation related expenses.
Thankfully, there are things you can do to spend less on your daily commute.
1. Spend less on gasoline
There are many ways to save money on your gas budget.
In fact, we have created an entire post dedicated to 30 ways to save money on fuel here.
A few other simple but effective ways to save money at the pump are:
Shop around for the best price. Gas buddy is a great place to start. Gas prices can vary as much as 20 percent within only a few blocks, so make sure you are getting the best deal.
Buy discounted gift cards to use at the gas station.
Drive a hybrid, scooter or an economy car instead of that giant SUV.
Install any of these mobile apps designed to help you save money on gas.
And don't forget to sign up for these free gas station reward programs so you can get some of the money you spend at the pump back.
2. Plan your route wisely
Here are a few things you can do to better plan your daily commute route.
The shortest way isn't always the fastest or the most fuel efficient.
The shorter route could have heavier traffic or more stoplights, resulting in a longer drive (more fuel used).
Use GPS or one of the many free apps to find the best way to get to your destination.
Both Google and Apple maps also have features that allow you t find the quickest route.
Stop at the grocery store on your way home from work, don't make a separate trip out later.
If you have several errands to run, do them all at once instead of making several different trips out of the house.
There are even apps that tell you the best route for multiple stops.
Here are the best ones:
I recommend trying a few apps to find the ones that work best for you.
If the distance traveled or time saved is worth it, take the free route instead.
Most GPS units or apps will allow you to map your route avoiding toll roads.
You can also to…
How to avoid toll roads on Apple Map
Open the Settings app on your apple device.
Tap Maps.
Tap Driving & Navigation.
Toggle on Tolls under Avoid.
That's it! Now anytime you use Apple Map for direction, it will automatically avoid routes with toll roads.
Note: If your  device is running on iOS 9 or earlier, your settings may be a little different.
How to avoid toll roads on Google Map
Open the Google Map app (you can install it for free if you don't already have it.)
Tap Route.
In "From" filed enter your starting address.
Tap the three vertical dots located on the right side of the search boxes.
Select Route Options.
Toggle on Avoid Tolls.
That's it!
You just turned on the function that enables Google Map to avoid any route with toll roads on it.
To get back to the map, simply hit the back arrow button.
3. Carpool
Carpool with other people and share the cost of gasoline.
Take turns driving with others to avoid adding all those extra miles on your car.
If you drive the average U.S. commute (16 miles each way), splitting the cost of gas with just one extra passenger can save you up to $600 per year on gasoline.
Work for a small company?
No problem, you don't necessarily have to carpool with a co-worker. You just need to find someone that works relatively near your office.
Check out CarpoolWorld or eRideShare to help you find other people headed your way no matter where you work.
Carpooling will also allow you to take advantage of the carpool lane on the highway in many cities and save time on your commute.
4. Take public transportation
Every weekday across the U.S., people use public transportation 30 million times.
Join them!
Using public transportation will save you money on gas, parking, car maintenance, insurance, car maintenance and more.
Most cities offer discounts on public transportation if you pay in advance buy purchasing a monthly travel pass.
For example, the Chicago Transit Authority sells one-way train fare for $2.25, but you can get an unlimited 30 day pass for $100.
Most cities also offer extra discounts to teachers, students, seniors and low income families on public transportation.
Also consider the time you will save not stopping at the gas station or driving around looking for a parking space.
You can use the time on the train or bus to catch up on last minute work, take a nap or finally read that book you've been hearing about!
Many insurance companies also offer discounts based on miles (not) driven each month as well.
Some employers even offer incentives to employees that use public transportation, and will reimburse you for money spent on your commute to work.
5. Ride your bicycle
Another way to save money on travel is to leave the gas guzzler in the garage and hop on and go for a ride!
Biking is eco-friendly, easy on your bank account and great for your physical and mental health!
Riding your bicycle to work can save you hundreds every month, take a look at this great savings calculator to see how much you can save!
Advances in bicycle technology have made traveling on a bike more practical and easier than ever.
Check out The Elf, a pedal vehicle with solar assist, an enclosed cab, disc brakes and lockable storage for up to 12 bags of groceries.
As for the price, it is an expensive bike, but it's practical as a commuting vehicle, and you won't spend money on gas.
The Elf is really in a class by itself, but a "regular" bicycle can be purchased for under $100.
If you're worried about the issue of cost and time involved in maintaining your bike, maybe bike sharing is right for you.
Here's a list of cities that currently offer bike share programs.
6. Rent/Share a car
Rent or share a car.
If you need a car from time to time but don't need to drive every day, consider renting or signing up for a car share network.
Zipcar and Enterprise have car share programs where you can rent a car by the day or even by the hour.
This way, you will also avoid regular maintenance and auto repair costs.
7. Buy the right vehicle
Evaluate your needs and decide which vehicle is right for you.
If you are single or have a small family, you probably don't need that 8 passenger SUV or van.
A smaller car will not only be cheaper to purchase, you'll also get much better gas mileage!
Check out this calculator to compare what you'd spend in fuel when comparing different cars to purchase.
If you don't have to get on a major highway to get to work, consider a scooter.
I have a friend that spent $600 on a small scooter, and she spends less than $2 each week on gas!!!
She lives in the Midwest, so she usually drives the scooter from April – November, sometimes even into December.
Her scooter doesn't require her to have tags, insurance or even pay personal property tax.
All this adds up to significant savings each year.
She also saved up for a couple months to purchase the scooter with cash, so there are no finance charges either.
Speaking of finance charges…
When you are evaluating your needs, also consider what you can really afford.
You might really really want that new Benz, and think "I'll figure out a way to swing the payments each month".
But here is the problem:
The more money that you borrow, the more interest you will pay over time, money that could be going into your savings account instead.
And also consider that the insurance will be higher on a luxury car.
The sales tax will be much more.
Property taxes will be higher (if you live in a state that requires you to pay personal property tax.)
And the maintenance costs are higher.
Unless it is a classic, cars do not appreciate in value. Cars lose their value every day with every mile driven.
Buying a used car instead of brand new is generally a much better financial decision.
I found a used car with only 6,300 miles on it and saved $5600 over the same brand new model.
You may have to search for a deal like this, as most people don't trade in cars with less than 10k miles, but they can be found!
Most dealerships have websites that allow you to search their entire inventory from home before you even step foot on the lot.
That's how I found my great deal!
You can also use sites like TrueCar and CarFax to search and find inexpensive low mileage cars in your area.
8. Save on insurance
There are many ways to save money on insurance.
Prices vary greatly by insurance company, so shop around.
Your savings could add up to hundreds of dollars each year.
Shopping around is especially important for young people because their rates can drop as they approach age 25, build up a good credit rating or get married.
Insurance companies offer a multitude of discounts with various qualifiers, see which one fits you.
Some insurance companies offer discounted rates if you have a good credit rating, for students or senior citizens and for a good driving record.
Some companies even offer lower rates for drivers with short commutes.
Ask your insurance agent or company about any discounts they offer and see how many you qualify for!
Re-evaluate your coverage needs.
Drop collision and comprehensive coverage if your car is not worth much.
If you drive a car that is worth less than $2,000 you may pay more to insure it than you would ever collect on a claim.
Dropping collision and comprehensive coverage can reduce your monthly premiums by 30%.
Another way to save on insurance is to raise your deductible. Raising your out-of-pocket cost for an accident from $250 to $1,000 can save you 15 percent or more on your car insurance.
Combine policies. When shopping for auto insurance, check first with the company that provides your homeowner's/renter's insurance, boat or life insurance.
Many insurance carriers offer deep discounts for combining all your policies with the same company.
9. Have good driving habits
Don't be an aggressive driver.
Intense acceleration and sharp stops limit fuel efficiency.
You'll get many more miles to the gallon driving calmly, at a steady speed.
Keep your tires properly inflated. And with so many gas stations with free air near you, it is very easy to do that.
Make sure to keep your tires at the car manufacturer setting, not the tire company's.
The recommended air pressure can usually be found on a sticker in the driver's door or inside the glove compartment.
It is important to follow the car manufacturer's settings because air pressure should be based on the weight of the car.
Take care of your car.
Keeping the oil changed regularly, having a clean air filter, getting a tune up when needed and other basic car maintenance all help your car to run more efficiently, saving you money in gas as well as future repairs.
You will also get more out out of a well maintained car when it comes time to trade it in or sell it.
Clean out your car. Don't drive around with a bunch of junk in the backseat or the trunk. The added weight equal less miles to the gallon, as well as additional wear and tear on the car itself.
10. Telecommute
Working from home can drastically reduce your transportation costs.
You may also save money working from home by not stopping for breakfast or going out to lunch every day.
Many companies today offer telecommuting positions, check with your supervisor or HR director to see if this could be a possibility for you.
11. Look for local transportation incentives.
See if your city offers incentives for residents to carpool, take the bus or train or even to purchase an eco friendly vehicle.
Saving Money on Long Distance Travel
A lot of us do long distance travel as well.
Fortunately, there are many ways to save money on long distance transportation as well.
Whether you are traveling for a vacation, to visit family and friends or for work, use these tips to save some cash on your next trip.
12. Air Travel
Here are a few things you can do to save on air travel:
Buy your tickets at the right time.
Typically, Mondays and Tuesdays are the best days to shop for flights.
Consider multiple routes when booking flights.
Direct flights are typically much more expensive than flights with a stop over or connection. An extra 2 hours of travel time could equal a few hundred dollars in savings on your ticket price.
Landing in a hub city for a particular airline can save you substantial money on your ticket, and may very well be worth renting a car to complete your journey.
Here's a list of major airline hub cities.
Join airline newsletters.
Sign up for email alerts from the airlines and be the first to know when they are offering promotional discounted rates.
Fly into a nearby low market airport.
For example, I just looked at flights to Ft. Lauderdale comparing 2 different airports within 40 miles of each other; St. Louis Lambert Airport, and MidAmerica Airport in Belleville, Illinois.
The smaller airport had a round trip ticket for $175.50, the larger airport's lowest ticket price (for flights on the exact same days) was $428.38!
13. Travel Timing
Choosing to travel during off peak times can save you lots of money!
Taking the red-eye (overnight travel) flight or bus ride is often much cheaper than daytime trips.
The cheapest days to fly are typically Tuesday, Wednesday and Thursday.
Evaluate the season.
Vacation rental homes and hotels typically have the highest rates from Memorial Day through Labor Day.
We take a trip right after Labor Day, and our beach house is half price!
You can also get huge savings on cruises if you're willing to cruise during hurricane season.
The odds of being caught in a hurricane are low, and the gamble can really pay off price wise.
14. Car Rental
Evaluate your needs.
If you're not going to be doing much driving it may be cheaper to rely on cabs or Uber to get you where you need to do.
Be sure to see if your hotel offers a free shuttle service, and take advantage of it if they do!
Many hotels (even mid priced hotels) offer free airport shuttles as well as free shuttle service within a few mile radius of the hotel.
The driver may even be enticed with an extra tip to take you a little further than they generally go!
If you must have a rental car, choose the right location to pick it up.
Car Rentals from non-Airport locations are typically cheaper than those at the airport.
Perhaps your hotel's shuttle service can take you to pick up your car, or have the car delivered to your hotel from a non airport rental office.
Look for online coupons for rental cars. Sites like couponsherpa often have coupons for car rentals.
15. Slow down and save money
Depending on how much time your schedule allows, you can often save money by downgrading your mode of transportation.
For example, if you're planning to fly somewhere, consider driving, or even taking a bus or a train.
Instead of jumping in a taxi, think about a bus or subway instead.
If making use of public transportation is in your plan, see if you can reach your destination on foot or bicycle instead.
This is a great way to get some exercise as well.
Final Thoughts
Taking a moment to plan your trips wisely, whether you're just running out to do your shopping or planning a cross country trip, can really save you money on your transportation costs.
What other methods have you used to save money on transportation?
Leave a comment and let us know!