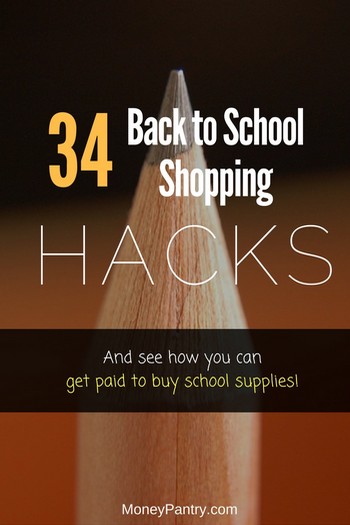 Summer is just about over. Vacations have been had, campfires have been built and all the rainy or "too hot" day activities have been exhausted.
It's time for the kids to go back to school. Thank Goodness. (And by Day Two, we are going to miss them again. Parenthood is weird.)
But wait!
Have you spent too much time soaking up the last bit of summer that you forgot about back-to-school shopping?
You may have seen deals back in July and thought, "It's still summer! I am NOT buying erasers!"
Don't worry – there are still ways to save money on all the essentials for fall.
Need Easy Extra $300+/Month for Free?
KashKick
: Get paid directly into your PayPal for watching videos, surfing, shopping and more.
Join KashKick Now!
InboxDollars
: Paid over $57 Million to members to watch videos, take surveys, shop and more.
Get $5 instantly!
Branded Surveys
: Get $1 instantly just for joining for free. Plus get paid within 48 hours by PayPal!
Join Branded Surveys
First Opinion
: Get paid up to $10 per survey and $300 per virtual focus groups!
Join Now!
Swagbucks
: Get paid to watch videos, shop online, take surveys and more.
Join now & get $10 instantly!
Gone are the days of throwing a couple new #2 pencils in an old backpack and running out the door.
Schools are now requiring a very long and at times very specific list of supplies for their classrooms.
When you lump together all the various supplies, an updated fall wardrobe and school-year activities, it can become an overwhelming expense.
But there are ways to save cash on all these back-to-school essentials.
A. Supplies
School supplies are at the top of any back to school shopping list.
But that doesn't mean you have to break the bank.
Use these tips to save yourself some money while getting the best possible school supplies for your kids.
1. Stick to the List
If you've been given a back to school supply list from the teacher, then try to stick to it as closely as possible.
Don't waste your time or money buying stuff that's not on the list.
Those little extras can add up, and might not even get used anyway.
2. Buy the Basics in Bulk
Buying a single unit always costs more than buying a pack of 5 units – that's just how it works.
So, consider buying the basic essentials, like notepads and pens in bulk.
You might have to pay more upfront, but per unit, you'll pay much less.
3. Shop at a Variety of Stores
Most stores have the tail-end of their supplies sales around mid-August.
Even if you miss the actual advertised sale, they will still have a ton of supplies they need to get out of the way to make room for Halloween (and then Christmas, like a week later).
Your best bet is to hit a few different stores rather than try to get everything at the same place. This method can be a bit time consuming, but definitely saves money.
Stores with the best deals to check out:
Staples
Target
CVS
Rite-Aid
Dollar Tree
Five Below
Bigger stores like Walmart and Target usually offer "supply kits" that seem like a great quick fix.
Don't fall for it!
Most schools have a very specific supply list that you need to follow, and often the supply kit will come up short. That means another shopping trip to get the additional items.
4. Go for Generic Supplies
One more element to consider when fulfilling the school supply list is whether or not brand names matter (either to the teacher/school or your child.)
Obviously, you can save a lot more money if you buy generic supplies, which can often be found at discount stores like Dollar Tree and Five Below. (Five Below even sometimes carries brand name items for cheaper than other stores.)
5. Visit the Dollar Store
The good old fashioned dollar store is still a great place to shop for school supplies.
It's true!
At the dollar store, you can find some amazing deals.
Whether it's a pencil case, a notebook or a binder, at dollar stores, you can often find supplies that are vastly cheaper than they are elsewhere.
Start your shopping early. But, check back at the store frequently, as you never what items will be in stock, and how often they'll remain on the shelves.
Overall, the dollar store is a great place to shop for basic school supplies.
And yes, there are even online dollar stores you can shop from.
6. Avoid Items that Include Animated Characters
A pencil case with Frozen's Elsa on it or Beauty and the Beast's Belle on it, is always going to be more expensive than an item that doesn't feature a well-known cartoon character.
So, if you can, avoid choosing items like backpacks, notepads or lunch bags, that feature well-known characters – Disney items in particular can be pretty expensive.
A good way to incorporate animated characters onto school supplies is to use stickers.
B. Clothes & Shoes
Aside from pencils and notebooks, your kids may need (and certainly will want) new clothes for the school year.
Although you may have some nostalgia surrounding going clothes shopping as a kid, consider taking advantage of major online sales.
7. Find Hot Online Deals
JCPenney, H&M, Old Navy, and American Eagle Outfitters all have excellent online deals.
Allow a couple weeks before school starts so that you have time to complete any necessary returns or exchanges. (Those can be done in-store and they will still honor the online price or deal!)
8. Sign up & Use Coupons
If you have not signed up for the store's email list, do that first because you will often receive a coupon for getting on the list.
And as always, search the internet for promo codes before checking out to earn additional savings or free shipping.
Depending on your location, you may also have the option of outlet shopping. Outlet shopping is a great way to get brand name items for a much more affordable price.
Remember to bring any coupons or have them available on your phone for even more savings.
9. Check out Thrift Stores & Yard Sales
If you are willing to forgo brand new clothes, there are many more options for saving money in the way of thrift stores, consignment sales, offline and online garage sales.
Second-hand stores can be a great way to find "new to you" items in good condition.
Likewise, you can find very inexpensive clothes items at extensive consignment sales and yard sale site on Facebook. In some cases the clothes are brand new with tags still on them!
10. Shop at Off-Price Retailers
Shop at off-price retailers and overstock stores, like TJ Maxx, Ross and Marshalls.
At these stores you can find really great bargains on clothing, shoes and accessories. Often, you can find brand name items that are vastly discounted.
11. Have a Clothing Swap with Friends
If you have young children, then you know how quickly kids can grow out of clothes – most of the time, kids grow so quickly that their clothes are barely worn!
That's why having a clothing swap with friends can be such a good idea.
It's a good way to stock your child's back to school wardrobe, without spending a lot of money.
If there's a particular item that you're looking for, like a coat for example, then consider asking a friend who also has children whether they have one their child no longer fits into or no longer wants.
If you have friends with kids that attend the same school and have to wear a uniform, this is a particularly good idea.
If you can't do a clothing swap with friends, then check out Facebook instead. On Facebook, there are Buy, Sell, and Swap groups where you can exchange clothing with people in your local area.
C. Activities
Camp may be over, but school-year activities abound!
Extracurriculars can be the most costly part of getting back into the swing of things.
Sports, music lessons, art classes and dance can all get pretty expensive, especially when you have more than one child.
While it may seem like there's no way around paying for activities, there are ways to lower or even eliminate the cost.
12. Gifting Activity Fees
Asking grandparents or other family members to gift your child activities is a great way to eliminate the cost for you and avoid clutter in your house! (Double win!)
Instead of more toys or gadgets, asking for "experience" gifts is becoming more and more popular.
Why not ask for the registration or activity fee to be covered for baseball for their birthday or a recital costume for a holiday present?
The gift giver will also know their gift will be used and appreciated.
13. Get in Early & Barter!
Early registration is often an option for a discounted rate.
If you sign up a couple months in advance, you are likely to earn 5-10% off the total price. Sometimes if you pay for the year instead of monthly installments there is also a discounted price.
Asking about scholarship money or sliding scale fees is another way to decrease the costs of your children's activity roster.
Additionally, if you have the time to give, volunteering to help out with the activity may help lower the overall price. Obviously you could coach or assist, but there are other options such as cleaning the facilities or doing other freelance work that the organization may need.
The bottom line is: there are definitely ways to reduce the price point of activities. Just be creative!
D. Meals and Snacks
Getting back into the groove means quick healthy breakfasts, balanced lunches, nutrient-rich snacks and hearty dinners.
The easiest way to waste money is throwing away food that has gone bad.
14. Use Apps and Coupons
Aside from finding some great grocery deals with shopping around, finding great coupon stacks, and using the right apps, you can save significant money on buying groceries.
15. Plan Your Meals
But to truly save money, meal planning and prepping is the other essential part of the formula. Plan your meals (or get an app or outsource it to someone else) to make your list.
After you save all the money you can buying food, prep it and/or freeze it.
Using every last bite of the food you buy will save you hundreds of dollars.
16. Subscribe and Save
Subscribe and Save is a really handy feature from Amazon that can act as a great money-saving tool too!
With this feature, you essentially pick an item, and subscribe to it.
Then, Amazon automatically delivers that item to your home, once a month.
In addition to free shipping, you also save up to 15% on the item!
So, if there are items that you put in your kid's lunch box each day, consider buying them through Amazon instead – you'll save a lot!
E. Back to School Apps
Apps aren't just for watching YouTube videos and playing Pokemon Go.
There are tons of great apps for homework help for all ages and schedules and planners for older kids.
17. Free Homework Help Apps
18. Free Homework and Assignment Scheduler Apps
F. Haircuts
Everyone likes to look their best as they go back to school.
Here are some ways to cut down on that cost:
19. Do It Yourself!
Of course, this only advised if you're experienced.
You can also ask a family member who has experience to do it in exchange for you doing something you're good at for them.
20. Buy Your Haircuts in Bulk!
I know it sounds weird, but some kids salons allow you to buy a bundle of haircuts at once at a discounted rate.
You're going to use them, so why not?
21. Try a Beauty School Student!
They will have deeply discounted rates and their instructor usually supervises so nothing horrendous comes out the other side.
G. Gifts
Small presents have become another staple of school days.
First day of school gifts, birthday gifts, winter holiday gifts, teacher appreciation gifts, etc etc etc.
Time and time again teachers talk about wanting gift cards as gifts. They really don't need another mug.
Thankfully, you can save a lot when it comes to buying gift cards.
22. Buy Discounted Gift Cards
You can't get $20 for $15 – that doesn't make any sense. But, did you know that you can pay much less than $20 for a gift card that's worth $20.
It's true, online you can get gift cards for up to 90% off!
So, that means that you could, hypothetically, get a $100 gift card, for just $90. That's pretty amazing.
And, you can find this discounted gift cards for a huge selection of retailers – it's just knowing where to look.
Here are just a few of the best places to find discounted gift cards:
Also, we did a full post on where to get discount gift cards, so check it out for more resources.
And, if you have a gift card of your own lying around the house, which you don't want, then consider selling it on one of those sites. You'll make a bit of extra cash for school supplies.
H. Tech/Electronics
23. Consider Used and Refurbished Electronics
Whether it's a laptop or a phone, buying new electronics can be really expensive. And, it's a sure fire way to put a huge dent in your back to school budget!
A good way to avoid spending too much of your back to school shopping fund is to look for used and refurbished electronics instead.
These are much cheaper than new electronics. Plus, as school students are always on the go, the likelihood of the device getting dropped is fairly high!
Just make sure that you only purchase from a trustworthy seller.
Here are a few reputable retailers that sell refurbished electronics:
Refurbished electronics work just as well as used ones, the only difference is the price tag!
24. Buy Tech Items Online
One of the biggest expenses associated with back to school shopping is the cost of tech items. Whether it's a tablet or a laptop tech gear can get pretty expensive!
Thankfully, there are a lot of brands that offer great tech deals to students online.
Here are just a few that you should check out:
Through the Best Buy College Student Deals program, college students get access to exclusive deals and sales.
If you're a college student, you can get money off items, like laptops, and Microsoft Office.
Here's how it works:
First, you need to sign up for a My Best Buy Account, if you don't already have one.
Next, sign up for College Student Deals
Then, best buy sends you coupon codes via email that can be redeemed both online and in-store.
The deals and savings on offer change frequently. For example, currently you can get $30 off of Microsoft Office. So, make sure that you keep checking your emails for new savings and exclusive deals.
Another great place to find tech gear that's reasonably priced for students is at Dell University.
The Dell University program offers items, like laptops and tablets to students at a discounted price.
If you want to get access to these exclusive deals, then all you need to do it visit the site and register. You'll have to provide the name of your school.
Apple Products are high quality, easy to use and well designed, but they can also be pretty expensive. Through the Apple Education Pricing program, however, you can get some of Apple's products at a discount.
College students, parents buying for college students, and students accepted to college can all purchase a Mac or an iPad at a discounted price.
Buying tech items through one of the above programs will save you a lot of cash in most cases.
I. Other Back to School Money Saving Tips
Here are a few more tips and hacks that could help you save even more money when it's time for another back to school shopping trip.
25. Join a Rewards Program
Most stores like to keep their current customers loyal and attract new customers. And, one of the main ways that stores do this is through loyalty programs. A lot of retailers allow their customers to sign up to a loyalty program.
Generally, as part of this loyalty program, the customer gets member rewards and benefits, or a card they can use to earn points each time they shop – these points can then be exchanged for things like cash-back and store credit.
So, if you shop at one particular store a lot, then it's a great way to save money.
Here are a few retailers that offer rewards programs:
Dell
With the Dell Advantage Rewards Program, you get access to exclusive deals and promotional codes, like $50 off select $499+ PCs or $100 off select $999+ PCs.
You also get free shipping on every order.
So, if you're looking for tech gear, then consider becoming a member of the Dell Rewards program.
Best Buy
If you often shop at Best Buy, then consider joining the My Best Buy rewards program.
As a member, you get access to exclusive offers and sales. And, you earn points for every purchase that you make.
If you spend more than $1500 annually at the store, you become an elite member and get free two-day shipping on every purchase.
Staples
Do you shop at Staples a lot?
If, so then why not sign up for the Staples Rewards program.
With this program, you earn rewards for everything that you spend at with the retailer.
And, one of the best aspects of the program is that it gives you 5% of everything you spend back. So, you essentially save 5% each time you shop.
Kohl's
With the Kohl's Yes2You Rewards program, you get access to special deals and codes, as well as free shipping.
And you earn 1 point for every dollar you spend – once you reach 100 points, you get a $5 reward.
There are tons of other retailers out there that also offer loyalty programs. So, think about the stores you shop at regularly and check to see if they have one.
26. Shop at the Right Time
Did you know that one of the best times to buy school supplies is after students go back to school in September?
After the summer rush of back to school shopping, many stores hold September clearance sales.
So, if you can hold off until then, you'll find plenty if clearance bins and items on sale.
Often, you can get items on your school supplies list at a much lower price than you would have found them just a month before.
27. Take Advantage of Craigslist
Craigslist is a well-known online marketplace, where you can buy and sell pretty much anything – from writing services to furniture.
But, did you know that it's also a great place for shopping for back to school supplies and clothes?
Really!
On Craigslist, you can find cheap, quality stuff for school. All you need to do is browse the listings in your local area.
And, Craigslist isn't just a great place to find back to school bargains – you can sell stuff on there too.
Why not make some money from the stuff that you have in your home, which you know longer need? Simply create a well-written, accurate description of the product, and post it to the appropriate category in your local area.
It's a great way to raise some extra cash for school supplies.
28. Shop During a Tax Holiday
45 states collect sales tax, and 17 of those have a sales tax holiday weekend. During this period, stores don't charge sales tax on select items.
So, when you purchase items during this weekend you don't have to pay sales tax on any of it!
While not all items will qualify, and many states only allow you to purchase a certain amount, without paying tax, it's still a great way to save a lot of cash on back to school shopping.
When this tax weekend is held varies from state to state. So, make sure that you check out this page to find out when the tax holiday is in your state.
29. Use Social Media
Social networking sites, like Facebook and Twitter, aren't just a place to catch up with friends or to keep up with what your favorite websites are posting.
When used properly, social media can actually be a really great money-saving tool.
Here are a few ways to save money on back to school supplies using social media:
Follow Your Favorite Stores
Nowadays, almost all brands and stores, big or small, little known or well known, have social media profiles.
And, most of them offer coupons, discount codes, exclusive sales, promo codes and a plethora of other money saving deals through their social media accounts.
All you need to do is follow and keep track of your favorite store's on Twitter and Facebook.
And, you'll come across plenty of coupons, upcoming deals, giveaways and exclusive offers.
Here are a few examples of brands that offers these types of money saving deals:
Look out for Coupon Groups
On Facebook, there are dozens of coupon groups that find and share coupons for a range of retailers. Joining one of these groups can save you time searching for coupons yourself.
Here are a few groups that you should consider checking out:
Look out for Freebies
Facebook is also home to a number of freebie pages, which compile tons of opportunities for getting free stuff.
And, when you're trying to save money when back to school shopping, there's nothing better than getting stuff for free!
Here are a few pages you should check out:
You could also try searching for the term "freebies" on Facebook.
Contact Stores Directly
Consider contacting stores directly through Facebook or Twitter. Tell the company that you are planning to buy something from their store, and you were wondering if they have a discount code you could use.
As most stores just want to make a sale – they will often give you the discount. Even, if it's just a free shipping coupon or a discount code for 5% off, you've still saved money.
Sometimes, all you have to do is ask.
30. Ask for a Price Drop Refund
There's nothing more annoying than seeing that an item you purchased the day before is now on sale.
But, did you know that Amazon actually offers price-drop refunds? It's true.
If an item you have purchased through Amazon becomes cheaper, then you can contact Amazon's customer service team and Amazon will refund the difference. You need to request this price-drop refund within seven days from the shipping date.
And, if you use a tool called Paribus (you can read our Paribus review here,) you don't even need to do this yourself.
Paribus checks your Amazon account for price drops on the products you've previously purchased, and it automatically sends a refund request to Amazon for you.
You don't have to do anything, and you get your money back! It's an excellent money-saving tool.
Also, many credit cards, like the Citi Double Cash Card and the World Elite MasterCard, provide price protection – which essentially means that if the price of a product you've recently purchased drops, the bank refunds you the difference.
31. Set up Price Alerts on More Costly Items
When it comes to saving cash when you're shopping for back to school stuff online, timing is a really important factor.
Often, when you decide to purchase an item can have a big effect on how much you pay for it. Prices on sites like Amazon change frequently.
But, trying to keep track of the prices yourself is time consuming and not always possible.
That's where price alert tools can be useful. They monitor price changes on products, and let you know when the price of a product is at its lowest point.
One of the best tools out there is called Camelcamelcamel.com. And, it monitors price fluctuations on Amazon.
It's super easy to use, and it's free too. Just sign up, create a price alert for the produce you're looking and you'll get an email when the price is in your budget.
So consider setting up a price alert for the items on your back to school supply list.  Doing this works best for more expensive items, but you can create alerts for everything if you want.
Then, you can buy the item when it's at its cheapest and save yourself a bit of cash.
32. Ask for a Price-match on Sold out Products
Sometimes you visit a store that offers great supplies at great prices, but when you go to buy something you find it's sold out.
But, that doesn't mean that you need to go elsewhere and pay out more.
For example, if you visit Walmart to buy an item, like a pack of pens or a folder and you find that it's sold out, then visit another store, like Staples or Target, and they will often match the price.
Most do this, as long as they carry the same brand.
And, an item doesn't have to be sold out at another store in order for you to get a price match.
Many stores, like Staples and Best Buy, offer a price match guarantees – which means that if you find a currently available lower price on an item, the store will match it. Some, like Staples will also give you a discount on the item too.
So, before you go shopping, compare the prices at different stores.
It's an excellent way to get all of your school supplies in one place, but at the best price.
Ebates is a cash-back website and shopping portal that also offers a ton of other coupons, deals and promo codes.
The site's shopping gateway allows you to shop at well-known stores, like Walmart, Amazon, and Barnes and Noble.
When you shop through the Ebates shopping portal, you can earn cash-back at more than 2000 retailers.
Here's how it works:
Stores and brands give Ebates commission for sending customers to their sites.
Then, Ebates gives you the customer a percentage of that commission.
So basically, you get paid to buy your kids' school supplies!
Generally, you get between 2 to 6% cash-back. And, sometimes you can even get up to 25% of your spending back.
And, there are always coupons, promo codes and other great deals – like free shipping, on offer at Ebates.
Plus, Ebates regularly offers sign up bonuses too!
So, it's one of the most effective ways you save money on back on back to school shopping. In fact, it can save you hundreds of dollars each year.
34. Buy the Best Quality Item That You Can Afford
You might think that going for the cheaper option every time is the best decision for your wallet. But, that isn't always the case.
For example, a cheap backpack might break easily, and you'll have to replace it – whereas a high-quality backpack may last years and can be handed down.
So, consider making the occasional investment.
Bottom Line
Getting back into a regular routine can be hectic, but it doesn't have to be expensive.
With a little planning and thinking outside the box, the new school year can be affordable for you and your family. Happy fall!
Save