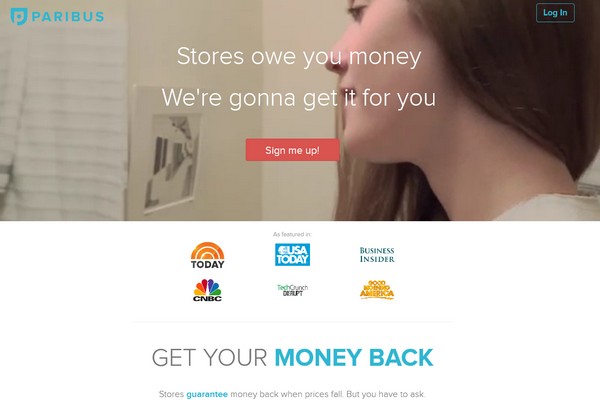 Most people pay a lot of attention to how much they pay for something – I know I do.
When I'm shopping for something like a new TV, I'll pull up the prices of comparable products in different stores, and before buying online I'll also search for discount coupon codes that will reduce the price further.
There are many websites that help with the search for coupons.
But what about after you've bought something?
I am talking about what's known as the "Price Drop Policy."
You may know that many stores such as Macy's, Best Buy, etc. have a best price guarantee policy so that if the price on what you bought drops in a week or two, you can go back and get a refund for the difference. They may also do a price match with competitors.
Need Easy Extra $300+/Month for Free?
InboxDollars
: Paid over $57 Million to members to watch videos, take surveys, shop and more.
Join InboxDollars Now and Get $5 Instantly!
Opinion OutPost
: Join & get your share of over $400,000.00 a month they pay to their survey takers.
Join Opinion Outpost
KashKick
: Get paid directly to your PayPal! KashKick pays you doing fun things online!
Join KashKick Now!
Panda Research
: Earn up to $50 per survey or offer completed.
Join Panda Research Today!
QuickRewards
: Get Paid instantly. No minimum pay out! Play games, shop, take surveys....
Join QuickRewards
Daily Goodie Box
: Want free stuff? DGB will send you a box of free goodies (Free Shipping - No Credit Card).
Get your box now!
RewardFish
: Earn FREE gift cards for things you alreayd do, shop, quizzes, surveys, etc.
Join RewardFish
Swagbucks
: Get paid to watch videos, shop online, take surveys and more.
Join Swagbucks Now & Get a $5 Instantly!
I wonder if you keep track of that for all the things you buy, and if you've ever made a claim.
It's not easy, and it certainly takes a lot of time to keep track of prices diligently, often with no result.
That's why Paribus is an exciting development.
How Does Paribus Work?
When you register with Paribus, it automatically keeps track of all your online purchases and will submit a claim for you if any item you've bought goes on sale or gets discounted and is eligible for a refund.
You literally don't have to do a thing for a claim to be submitted.
What it does is even harder than you might realize.
Retailers change prices all the time, for instance, Amazon has 2 ½ million price changes every day.
And the terms under which retailers will refund part of your purchase price also vary.
If you buy the item on sale, they may well not match it to a future sale price, even if that is less.
And there's only a certain amount of time in which to claim, and that varies between the retailers.
Many stores do price matching if you find the item cheaper at a direct competitor – but how they define direct competitor depends on the retail chain. Target won't match prices from warehouse clubs, such as Costco. Some will only match prices at physical stores, not online.
Paribus takes care of all those details, and will make sure you get the refunds for which you qualify.
Often, you won't even know that you were due a refund, and you'll see a credit to your account come out of nowhere.
How to Start
The website you want to get started is https://paribus.co (note this is not a .com).
You tell Paribus your email account where you make your purchases, then it goes off and sits in the background, monitoring your emails for invoices and making claims whenever you qualify.
Of course, it can only monitor the purchases that you make online and not any that you do in person at a store without going online.
Which Online Retailers Does Paribus Cover?
At the time of writing this review, there are about a dozen or so giant online retailers that Paribue can get you money back when their prices drop.
This includes Amazon, Target, Walmart and many more.
But the company is working to add more retailers to their list of covered online stores.
Is Paribus Safe?
Nowadays you have to be concerned about safety and security of your identity online, and Paribus requires access to your email account in order to function.
Having said that, the company uses the same security encryption as online banking and has all the other security features such as dedicated firewalls in place.
Usually, a store will credit a refund back to your credit card account. Paribus doesn't store your credit card info but uses Stripe, the same processing service used by companies such as Lyft.
What Does It Cost?
You can sign up totally free.
However, whenever they get you a refund, they take 25% as their fee.
If they don't get you any money, you don't pay anything.
To me, that's like getting free money.
And considering that you're probably unlikely to have received the refunds without using it, the maximum of 25% of the refund is not excessive.
It also gives you lots of ways to reduce this percentage, mainly by sharing the service with your friends through Facebook and emails.
It says that users who share usually reduce the percentage it takes to 10%.
Conclusion
I have been using Paribus for about 3 months now, mainly for my Amazon purchases and it has, so far, gotten me about $48.35 back, all without me lifting a finger.
Yeah, $48.35 may not be much, but all I did was initially signing up with Paribus and linking my email to it which took less than 60 seconds. And I never have to do anything else. As long as I shop on Amazon, Paribus will automatically get me money back when the price of an item I buy drops.
If you're comfortable letting a security-conscious company have your personal details, then you have nothing to lose and plenty to gain by signing up for Paribus.
To make the best use of it, you might find that you should shop more online so that the service has access to your bills. The idea is great, and the implementation seamless.
Ready to get some money back from your online shopping?