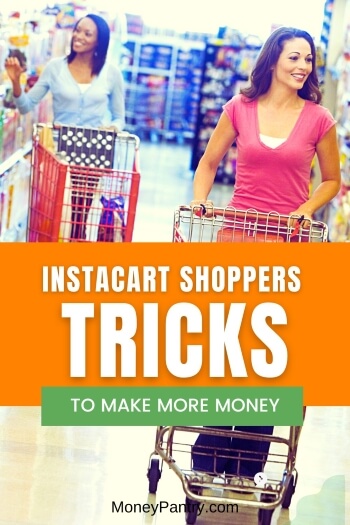 Shopping for and delivering food for Instacart can be a profitable side hustle. Instacart Shoppers can earn up to $32 an hour.
Plsu, it's a job with tips too, so you can earn even more.
If you want to maximize your income on the platform, then you'll want to make sure you know all of the Instacart Shopper tips and tricks. And, that's exactly what today's post is all about.
Instacart Tips for Making More Money
Below, you'll find 21 Instacart tips and tricks! These tips help you to be the best Instacart Shopper and make more money!
1. Be selective with the batches you choose
This is a great Instacart for beginners in particular, but for anyone who's looking to boost their earnings on the platform. And, that's to make sure that you choose batches carefully.
Being more selective with the way that you choose batches can ensure you earn a better hourly rate.
Need Easy Extra $300+/Month for Free?
KashKick
: Get paid directly into your PayPal for watching videos, surfing, shopping and more.
Join KashKick Now!
Panel Payday
: Earn up to $75 per survey. They also pay up to $50/hr for mystery shopping.
Join Now!
InboxDollars
: Paid over $57 Million to members to watch videos, take surveys, shop and more.
Get $5 instantly!
Branded Surveys
: Get $1 instantly just for joining for free. Plus get paid within 48 hours by PayPal!
Join Branded Surveys
iPsos iSay:
: If you have to only sign up for one paid survey site, go with Ipsos (high paying survyes)!
Join iPsos Now!
Swagbucks
: Get paid to watch videos, shop online, take surveys and more.
Join now & get $5 instantly!
Look at the number of items in the order, as this can affect how long shopping will take. And, consider how far you are from the store and how far the store is from the address you're delivering the order to.
You should also consider the traffic and time of day. After all, even a small order can take a while if the grocery store is particularly busy at that time of day and the traffic on the road is bad. And if you regularly shop at grocery stores near you, you probably already know when it's the best time to go shopping.
Of course, it's up to you which batches you accept, but it's best to avoid orders that require you to drive a long way just to complete a small batch. This is because the base pay and tip probably just won't be worth your while.
Really, this is a skill that you'll develop over time as you accept more batches. So, if you are a beginner, I would recommend you start by accepting most batches until you learn which ones are worth your time and which ones aren't.
2. Look for Peak Pay
Another simple Instacart Shopper trick is to look for peak pay bonuses. Peak pay, called Peak Boosts, is extra pay you can get during hours when there's a high demand for Shoppers.
This allows you to earn some extra money for the order you complete.
Instacart shows you an earnings estimate before you accept an order. This can be a good way to get a few higher paying batches.
Also, when selecting batches, you can look at the number of items and the distance to decide whether the Peak Boost makes the order a good option.
When Peak Pay is available, it can enable you to take orders that you otherwise wouldn't. For example, you might decide to take an order that's a little farther away than you would normally travel because the Peak Pay makes it worth your while financially.
3. Consider doing double batch orders
Another tip you should consider is doing double batch orders. Instacart can send out double batches to Shoppers. With these, you complete two deliveries at once. So, you assemble two grocery orders and then make two separate deliveries.
You can qualify for double batches after you have completed 60 deliveries.
Now, doing these double batch orders can help you to boost your hourly income. This is because you can simply shop at a single store for two customers, rather than having to drive to a second store for the second order.
However, they do require a little more effort because you have to ensure that the orders are kept separate.
So, in the Instacart app, I would mark items as found as you add them to your cart. And, make sure you have a system in place for dividing products in the cart and in your car for each customer. Having two different crates or bags can be a good idea, to keep things organized.
4. Familiarize yourself with store layouts
The best way you can increase your earnings is to complete your delivery faster. And, one of the best ways you can do that is to familiarize yourself with the layout of the grocery stores in your area.
The better you know the layout of a store, the faster you will be able to complete batches.
So, it's worth visiting a few stores in your area, before you take any jobs, to get a lay of the land, so to speak. That way, you can complete your shopping trips faster.
You can decide which stores to learn the layout of first, based on the stores you see appearing most often in your Instacart Shopper app.
Go through each aisle to see where things are, and then you'll know where stuff is when you need to get an order from that store.
Also, familiarize yourself with the checkout process. Check to see if there are any self-checkout lanes or express lanes for smaller orders.
5. Purchase a collapsible grocery cart
A good Instacart Shopper hack that many people use is to buy a collapsible grocery cart that you can bring with you for larger batches.
This tip is really handy. Bringing groceries to customers' doors can be one of the hardest parts of an Instacart Shoppers job. Having a collapsible grocery cart makes it so much easier.
Rather than having to make a ton of trips from the car to the customer's home carrying bags of groceries, you can instead put everything in the cart, and use it to carry a lot more groceries, even the entire order, all at once.
You'll be able to make your deliveries faster, and, since you've made fewer trips, you won't be as tired at the end of your shift. It gives your back and shoulders a break too!
You can purchase carts for carrying groceries online on Amazon for cheap.
While the grocery cart is an upfront expense, it definitely pays for itself over time.
6. Bring an insulated food bag
In order to make more money as an Instacart Shopper, you want to provide a good service to your customers. Not only does this improve your overall rating as a Shopper, but it also increases your chances of getting a good tip. More tips means more cash in your pocket.
One really simple trick you can use to provide better customer service is to bring an insulated food bag with you on your shops. An insulated food bag helps to keep hot and cold products at the right temperature.
After all, customers don't want melted ice cream or cold fresh meals that are supposed to be warm. An insulated food bag helps to keep things like frozen pizza, fresh meat, fresh meals, and refrigerated foods at the right temperature.
So, purchase an insulated food bag. You can get them pretty cheap at places like Walmart and Amazon. A cooler box is another option, but they're not as easy to carry around on your grocery deliveries as insulated bags are.
7. Make sure your phone is charged
Having your phone's battery die on you is not what you want when trying to shop for Instacart. So, get into the habit of charging your phone before you start delivering for Instacart. You could also consider purchasing a portable phone charger that you can carry around with you to ensure that your phone doesn't die.
8. Don't forget your Shopper card
Instacart sends you a Shopper card once it approves your background check. You use this card to pay for customer orders.
It's really important that you make sure you have this card with you. Otherwise, you'll have to use your own payment method. Having the Instacart Shopper card with you means that you don't have to worry about paying for orders out of your own pocket.
It makes checking out easier. It's worth keeping the card in your wallet or bag so that you always have it with you. That way, you're less likely to forget the card!
9. Wait near busy areas
When you start working for Instacart, you can be wherever you want to be, like at home watching TV. However, you may want to consider waiting near popular grocery stores in your town.
That way, you don't have to drive into town when you get a batch request. You're already in your car and ready to take orders.
10. Communicate with your customers
A really useful tip for Instacart shoppers is to always communicate with your customers.
By doing so, you can provide a better service to your customer, and, therefore, increase your chances of getting a good tip! And, it can also help to increase your Shopper rating.
Here are some good times to get in touch with customers:
When you start the order
You can send the customer a message through the Instacart app to let them know that you have started working on the order. It can be something simple like, "Hey, I'm your Instacart Shopper and I'm starting shopping for your order. Feel free to let me know if there's anything you need or if you have any questions."
If any replacements are required
Another good time to text the customer is when you have to replace an item. Some customers leave a note about what to do when an item is out of stock. But, you can still go above and beyond to ensure that they get the items they need.
If you're not sure about what to do about a product that's out of stock, it's a good idea to message the customer for clarification to ensure you get the right product.
Ensuring you make good replacements is a great way to get a better tip.
If there are going to be any delays
Another good time to communicate with the customer is when there are going to be any delays with the order.
For example, there may be long lines at the checkout, traffic could be busy, or perhaps there's some construction, so you have to take an alternate route.
Whatever the case, if you know that there's going to be a delay with the order, it's a good idea to get in touch with the customer to let them know.
Overall, communicating with the customer helps you to provide better customer service, get higher tips, and make your job a little easier because you'll ensure your customers are happy!
11. Be quick with replacements
Many Instacart Shoppers make the mistake of spending too much time deciding on replacements.
Try not to spend too much time on replacements, as it can reduce your hourly earnings. If an item isn't available, then use common sense to decide on a good replacement.
Be sure to check the Shopper app to see if the customer has left any notes. Many customers leave specifications about product replacements. For example, they might specify another brand or flavor that they want. So, this can be helpful.
Some customers will say that they don't want a replacement for an item and that you should just leave it off the order.
Instacart does provide some replacement recommendations. But, these aren't always the best.
It's a good idea to send the customer a quick message in the app to ask about a replacement. Just keep shopping while you await their response. If the customer doesn't respond, then look at what alternatives there are at the store and use your common sense to choose one that's good for the customer.
12. If you can't find an item, ask a store employee
If you're struggling to find a particular item at the store, then don't be afraid to ask an employee for help. Employees will likely know the store better than you do. So, you can save time searching for a product yourself. This means that you can complete your delivery faster, and, therefore, increase your earnings.
13. Shop while you wait for the deli
Some of the most difficult orders to fill are often those that include meat and other items fresh from the deli. This is because getting to the deli and getting things packaged and ready to go can take a lot of extra time.
It's ideal if you can make it to the deli while there aren't any other customers there and place your entire order at once. But, as that's not always possible, I would suggest you get the next customer ticket, and then continue shopping for the other items on your list.
Of course, it's important to keep an eye on the deli queue and who the deli is serving, so that you don't miss your slot. But, if you can do some shopping while waiting for the deli, this is a good way to get your shopping done faster.
You avoid wasting time waiting at the deli. And as I said before, the faster you can do your shopping, the more money you'll make on Instacart.
14. Be friendly and polite when making your deliveries
If you want to make more money on Instacart, then you'll want to increase your Shopper rating. So, you'll want to provide quality customer service. I've mentioned a few tips above, like communicating with the customer and bringing an insulated food bag with you so that items stay at the right temperature. But, one really important tip is to make your deliveries with a smile.
People appreciate a friendly, polite, and pleasant demeanor.
Also, be sure to ask where the customer would like their groceries left. And, if the customer is elderly or you're delivering heavy items, then ask the customer if they need any help with anything.
This can help with your rating.
15. Go the extra mile
Going the extra mile is another good tip if you really want to give your Instacart rating a boost.
For example, you could take free samples to the customer or give them a small thank you note where you say that you're grateful for their business, and politely remind them to rate you 5 stars. Of course, taking these extra steps isn't mandatory to be a good Instacart Shopper, but it can help you to boost your rating and the number of tips you get, which can increase your income. So, try to go the extra mile, and see if you get more tips and better ratings. If you do, it can be worth a little extra effort to make more money!
16. Keep your receipts
After you complete an order, you may just want to throw out the receipts, but you shouldn't. When a customer receives their Instacart order, they receive an email receipt, but you should keep receipts too.
Firstly, it's good to have proof of purchase if a customer claims that they haven't received an item.
If you have a receipt, you'll be able to show that you did purchase the item in question.
Secondly, you should keep any receipts you get for your own expenses. This is good for tax purposes.
As an Instacart Shopper, you are an independent contractor. So, be sure to keep receipts for things like gas, car maintenance, and other things that you purchase for Instacart, like a cooler bag, or grocery cart. If you have those receipts, you can write off your expenses on your taxes. This can lower your taxable income.
Finally, keeping your receipts can actually make you money! Yes, really! And, I'll cover this tip in the section below.
17. Use receipt apps
Another really great hack for Instacart Shoppers is to use a receipt scanning app that gives you rewards.
There are apps that will pay you money right to your PayPal account or that give you gift cards just for sharing receipts. Since Instacart Shoppers get way more receipts than most people, and they are not paying for items with their own money, the earning potential can be higher.
Here are some apps that pay you for your receipts:
All you usually need to do is upload a photo of your receipt.
Some apps, like Ibotta and Checkout51, do require you to purchase specific items to earn money. For example, there might be an offer available where you get $1 back when you purchase Bounty paper towels.
So, you would purchase the paper towels, and scan your receipt to show that you've purchased them, and then you'll get a rebate.
Other apps, like Receipt Hog and ReceiptPal, don't require you to buy any specific products and instead just pay you for any itemized receipt.
Using reward apps alongside working for Instacart is a good way to earn even more money!
18. Use a mileage tracking app
If you want to be successful as an Instacart Shopper, then you'll want to treat it like a business and track your expenses. This includes fuel costs and wear and tear on your vehicle.
So, you should use a mileage tracking app to log the miles you drive when out on deliveries.
Using a mileage tracking app can give you a better idea of your hourly earnings after costs.
And, you can also deduct business mileage on your tax return. There are lots of different ones out there that you can try.
One of the best is Stride, as it's free to use!
Here's where you can get the Stride app:
19. Use a rewards credit card
When you drive for delivery apps like Instacart and Shipt, one of your biggest expenses is going to be fuel for your car. You might also purchase stuff like bottled water and snack foods to refuel between deliveries. That's why having a rewards credit card that gives you cashback is such a good idea.
You could earn money back on your purchases. This is another way to earn more. Some credit cards even give bonuses to new customers, So, you get free cash! So, consider getting a rewards credit card. Just make sure that you are able to pay it off before you're charged any interest.
20. Become a member of Cart Star Rewards
Okay, so, another thing to look out for is Cart Star Rewards. Now, this is pretty new to Instacart. In fact, it only launched in July 2022!
Basically, Cart Star Rewards is a rewards program from Instacart that gives Shoppers who maintain a rating of 4.7 or higher extra benefits.
Some of the benefits on offer include:
Cashback for gas
Discounted oil changes
Priority access to batches
This is a tiered membership program, with different levels including:
Gold Cart
Platinum Cart
Diamond Cart
Benefits vary depending on your membership level. You earn points for each delivery you do, and you will move up the membership tiers as you earn more points.
Getting cashback for gas and priority access to batches will help to increase your income. So, try to maintain a 4.7 or higher rating so that you are eligible for Cart Star Rewards.
Many of our tips above, such as communicating with customers and making your deliveries with a smile will all help to provide a positive customer experience and thus increase your Shopper rating.
Like I said before, Cart Star is a pretty new program.
According to Instacart:
"Cart Star will start rolling out on July 11 and will roll out in the US over the next several months as we ensure a great experience for everyone in all regions…Everyone in the US should have it by mid November. The program will launch in Canada in November."
Once Cart Star is available in your area, you will see your reward tier status in your app under your Shopper profile. And, you'll receive an email with your tier status.
21. Use multiple apps
The more deliveries you can make, the more money you'll earn. If the number of Instacart deliveries slows though, this will impact your earnings. That's why it can be a good idea to sign up for a few different delivery apps.
This way, you get access to more delivery orders, meaning you can boost your income.
So, sign up for a few different food delivery apps.
Shipt is a good option. Like Instacart, Shipt pays you to deliver groceries.
Also, you could consider delivering food from restaurants to people's homes.
Places that'll pay you for delivering food from restaurants and other eateries include DoorDash, Uber Eats, and Grubhub.
If Shipt, DoorDash, Uber Eats, and Grubhub are all available in your market, then sign up for them all.
Then, whenever you want to do deliveries, turn on all five apps, and then you will have more deliveries available.
If Instacart is slow, then you can accept orders from a few different apps. Just aim to pick orders that are going in the same general direction.
By using a few different delivery apps, you can increase the number of deliveries you get and can increase your earnings simply by completing more deliveries.
It's a good way to stay busy and keep your income up during those times when Instacart deliveries are fewer.
Make sure you check out my list of the best delivery apps to work for, for more places that pay you to deliver groceries, food from restaurants and other eateries, and other items.
Closing Thoughts
Working as an Instacart Shopper can be a good way to make some extra cash. If you want to make sure you maximize your earnings, then you should follow the tips on our list above. The Instacart Shopper tips and tricks above give you simple ways to increase your shopping rating, get more tips, and earn more!
So, give our tips a try. And, feel free to leave some Instacart tips of your own in the comments section below.