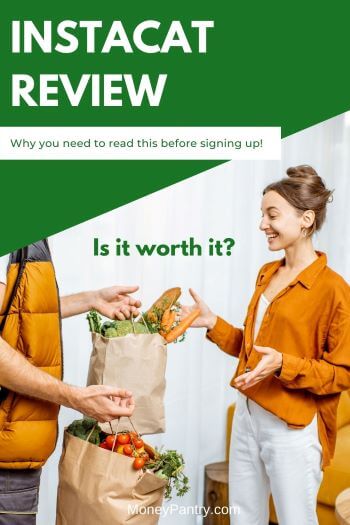 Ordering groceries online can be a whole lot easier than heading out to the store. That's why more and more people are opting for it. One of the most popular grocery delivery apps out there is Instacart.
Many Instacart reviews are positive with customers praising the company's quick and convenient deliveries. Other reviews though aren't so great. That can make it hard to determine whether Instacart is worth it.
In today's post, I'll cover everything you need to know about Instacart, including how much it costs, how it works, and, of course, the pros and cons, so that you can decide if the company is right for you!
What is Instacart?
Instacart is an American on-demand grocery delivery service that's available in more than 5,500 cities across the United States and Canada.
It's partnered with more than 700 national, regional, and local retailers to deliver from more than 65,000 stores in North America.
The company provides its services through a website and mobile app.
Need Easy Extra $300+/Month for Free?
KashKick
: Get paid directly into your PayPal for watching videos, surfing, shopping and more.
Join KashKick Now!
InboxDollars
: Paid over $57 Million to members to watch videos, take surveys, shop and more.
Get $5 instantly!
Branded Surveys
: Get $1 instantly just for joining for free. Plus get paid within 48 hours by PayPal!
Join Branded Surveys
First Opinion
: Get paid up to $10 per survey and $300 per virtual focus groups!
Join Now!
Swagbucks
: Get paid to watch videos, shop online, take surveys and more.
Join now & get $10 instantly!
How Does Instacart Work?
The way the app works is pretty simple. Simply visit the website or app and select the store you want from the list of available retailers in your area.
Then, you simply add items to your cart, checkout, and your groceries will be delivered on the scheduled date.
It's pretty simple.
Below, I'll cover how it works in more detail.
Step One: Sign Up
As I said earlier, the company offers its services through its website and a mobile app.
You can sign up for it on the company's website here.
To get started, you just need to enter your email address, or you can get started with your phone number, Facebook account, or Google account.
Instacart also has an app you can use.
You can download the Instacart app here:
Step Two: Order your groceries
The next step is to order your groceries. You will need to select the store you want to shop with. There were lots of stores available in my area, like Walmart, ALDI, Walgreens, Wegmans, CVS, The Wine Shop, and Costco.
Once you have selected a store, you'll be able to start shopping. Simply browse items and click on the plus symbol to add items to your cart. It's really simple. Once you have added everything you want to your cart, you can checkout.
Follow the checkout process, which includes typical steps like entering your payment information and delivery address.
You will be able to schedule a delivery time that suits you.
Delivery windows start as early as 9 a.m. and run as late as midnight. Delivery hours are subject to store operating hours, which include holidays. So, you will have to check to see the local store operating hours.
You can schedule delivery for as fast as an hour, or for later in the day or week to fit your schedule.
Step Three: Have your groceries delivered
Once you have placed your order, an Instacart Shopper will purchase your groceries and they'll be delivered to you on the scheduled date.
When an item you want is out-of-stock at the store, the shopper will follow your replacement preferences.
You can set item and delivery instructions in advance, and chat directly with your shopper while they shop and deliver your items.
This is so that the proper action can be taken if an item you ordered is out of stock at the store.
You can tell the shopper to:
Find Best Match: So, by default, your shopper will use their best judgement to select a replacement for your item.
Pick Specific Replacement: You can choose a specific alternative for the shopper to purchase if your first choice is out-of-stock.
Don't Replace: If you don't want a replacement for a certain item, you can select "Don't Replace." You will get a refund if the item is out of stock.
You are able to update or cancel your order, provided that the shopper hasn't started shopping. If you do need to make a change after shopping has started, then you can use the app or website to approve replacements or chat with your shopper.
After the shopper has purchased everything, your order will be delivered right to you at the time you chose.
The company also offers a pickup option. So, you can simply shop on the website or app, select a pick up time, and then pick up your groceries at the store. Pickup is available at select locations.
How Much Does Instacart Cost?
The company doesn't charge any membership fees. And, you can even order from warehouse clubs, like Costco, Sam's Club, and BJ's Wholesale Club, without a retailer club membership.
While you don't have to pay a membership fee, Instacart does charge delivery fees.
Here's what you can expect:
Delivery fee: Fees for delivery start at $3.99 for same-day orders over $35. The fees vary for one-hour deliveries, club store deliveries, and deliveries that are under $35. New customers are sometimes eligible for free delivery promotions though.
Pickup fee: You may be charged a pickup fee on your pickup order. This fee is equivalent to a delivery fee for pickup orders.
Service fees: Services fees vary and are subject to change based on things like location, the types of items in your cart, and the number of items you're ordering. Orders that contain alcohol have a separate service fee.
Tip: Tipping is optional, but it's encouraged for delivery orders. 100% of your tip goes directly to the shopper who delivers your order.
Now, if you want to avoid delivery fees and get lower service fees, then you may want to get an Instacart Express membership. With this optional membership, you can get a $0 delivery fee on every order over $35 and lower service fees as well.
You can pay for the Instacart Express membership monthly or annually.
It costs $99 per year, billed annually, and $9.99 a month billed monthly.
What Stores Are Partners with Instacart?
There are more than 40,000 stores featured on Instacart.
The stores available to you will depend on where you live. When you go on the website or app and enter your ZIP code, you will be able to see stores near you that have partnered with the company.
Here are some of the stores that partner with Instacart:
7-Eleven
Albertsons
ALDI
Best Buy
Big Lots
Costco
Cub
CVS
Dillons
Dollar Tree
Duane Reed
Food Lion
Fry's
Gelson's
Giant Food
Hannaford Supermarket
Harris Teeter
H-E-B
Hy-Vee
Jewel-Osco
Key Food
King Soopers
Kroger
Lowe's
Meijer
Michaels
Petco
Piggly Wiggly
Publix
Publix Liquors
Raley's
Ralphs
Randalls
Rite Aid
Safeway
Safeway
Sam's Club
Save A Lot
Save Mart
Schnucks
ShopRite
Target
The Wine Shop
Tops Markets
Total Wine & More
Vons
Walgreens
Walmart
Wegmans
Winn-Dixie
You can see a full list of retailers that partner with Instacart here.
Is Instacart Worth It?
Now that you know how it works, you're probably wondering, "Is Instacart worth it?"
The company does have some good ratings and reviews online:
It has a 4.2-star rating on the Google Play Store
It has a 4.8-star rating on the iOS store.
Sadly, it's not rated very well on many review platforms:
Let's take a look at some pros and cons and some Instacart reviews in more depth, so you can decide whether or not the platform is worth it for you.
Pros
Let's start out with the positives. There are indeed many reasons why you might want to give it a try.
Wide range of stores available
There are 1,000s of stores available on Instacart. This means that your favorite retailer is likely on there.
As you can see from the list of stores earlier, there are lots of retailers that partner with Instacart, like Target, Walmart, Publix, Costco, and Kroger.
It's great that there's such a wide selection of stores available.
Convenient
Heading out to the store can be a real hassle, which is why Instacart is such a convenient option. It allows you to do your grocery shopping right from home and have everything delivered to you at a time that suits you.
One user on the Google Play Store says:
"The app is great. Little expensive but it's a convenience fee. I pay for express that helps with fees."
Another customer says:
"Great service. I tested them by ordering produce. I was skeptical but the person doing the shopping did a great job and I received produce in good condition. Arrived quickly and followed instructions as to where to leave the food. The app is super convenient and not at all confusing to use."
Lots of delivery options available
Instacart offers lots of different delivery options and times to suit you.
Like I said before, delivery windows begin as early as 9 a.m. and run as late as midnight. Delivery hours are, of course, subject to store opening hours, which includes holidays.
With Instacart, you can schedule delivery for as fast as an hour, or for later in the day or week to suit your schedule.
It also has an option for contactless delivery through its Leave at My Door delivery feature. With Leave at My Door delivery, you can have your groceries delivered without having to come to the door or be at home.
You can leave delivery instructions for your shopper at checkout, and they will notify you when your order arrives.
Leave at My Door is now the default setting for all deliveries. So, if you don't want to use this feature, make sure you uncheck the box that says "Leave at my door if I'm not around" at checkout.
Aside from offering home delivery, Instacart also provides in-store pickup. So, if you would prefer to just collect your order from your local store, then you can.
It's great that the company provides so many different delivery options to customers.
No membership fees
As I mentioned earlier, you don't have to pay any membership fees to use Instacart. So, you can simply sign up for free and get items delivered to you.
Cons
Now, let's take a look at some of the downsides to using Instacart. Sadly, it does have many cons. Many of the reviews out there are negative.
Fees can add up
Although Instacart doesn't charge any membership fees, it does charge you a delivery fee and a service fee. So, this can really push up the cost of your groceries.
Sure, you can pay for an Instacart Express membership and get a $0 delivery fee on orders of $35, but the membership fee is another expense on top of your regular grocery bill.
Prices on Instacart can be higher than prices in-store
Even before you factor in those fees that Instacart charges, the price of shopping on the platform is higher than it would be in-store.
On its homepage, Instacart states:
"Retail partners set the prices of items on the Instacart marketplace. While many retailers offer everyday store prices on Instacart, some retailers may set prices on the Instacart platform that are different from in-store prices."
That definitely seems to be the case from the Instacart reviews. When reading through reviews on websites like Trustpilot and Sitejabber, one of the biggest complaints that customers had was the high prices that Instacart charges.
One reviewer on Sitejabber says:
"Anyone using Instacart for ordering grocery online please be aware that they are seriously gouging you. On my last order, they accidentally left the actual store receipt in my bag. I saw that the store check out was for $164 before taxes. Instacart charged me $190 + tips+ service fee + taxes = $226. I tried calling them. Had to hold for over 2 hours. They refused any refund and said I wasn't supposed to get the paper receipt. Be aware."
A reviewer on Trustpilot says:
"The good thing is they get the groceries delivered. However, the charge on the grocery receipt from the store is many times lower than what they charge you, I'm referring to the base charge before taxes, tips, etc. Even after I reached out to customer service, they sent me a long mail with excuses but nowhere did they talk about refunding me the difference. These guys are scammers. They get away with the fact that hardly anyone checks the receipt and get away with extra money."
I saw so many reviews like this that complained about the price of items being much higher than they would cost in-store.
Some people are charged for items they didn't order
When researching this post, I saw some customers complain that Instacart had charged them for items they hadn't ordered.
One reviewer on Trustpilot says:
"Watch your receipts. I have ordered from them twice and both times there were things on my receipt that I did not order that I was charged for."
Items missing from orders
I saw a lot of Instacart reviews where customers said they had items missing from their orders.
Even though these items were missing, customers were still charged, and many people were still waiting on a refund.
One reviewer on Trustpilot says:
"They are scammers stealing people ..they charge a lot for delivery and plus they don't deliver items but charge you for it ..they are basically thief's and no one should use them but instead get this closed ..this company should be closed."
A reviewer on Sitejabber says:
"The first time I ordered they checked everything off as purchased and then one items were missing so, I received a refund. So, I decided to try them again and all items were purchased and 5 freaking items were not in my bad and the shopper stopped responding! They are some freaking rip offs! You might as well go yourself hell because their stealing food from people orders!"
There were so many reports of items being missing and people struggling to get a refund.
Issues when an item is out of stock
Not all items are going to be in stock. If they aren't you may receive a substitute that you don't like.
A reviewer on Sitejabber says:
"This company is AWFUL. The shoppers give you what they can find they substitute anything and everything. Then when your order arrives and it's nothing like what your originally ordered they argue with you tell you wait at least 10 days for a refund and you bring the products back to us! Isn't that ironic if I could go to the store I would have why would I need them? DO NOT BOTHER or waste your time you will be nothing but frustrated by the lack of customer care and customer service."
A reviewer on Trustpilot says:
"In a nutshell I ordered a large pack of portioned chicken which was sold out. However according to the receipt the shopper had replaced with 4 smaller packs of chicken. When my shop arrived there was only one small pack of chicken and I had been overcharged by $24.11. I have been trying since January to get a refund. They say they have refunded me 2 times but to no avail. They blamed it on glitches etc etc. last Wednesday they told me they had refunded me again. I am still waiting. It is now more than 3 months into what should be a simple exercise."
Make sure you check the "Don't Replace" option for any items that you don't want a replacement for. Sadly, if an item is out of stock, and you forgo a replacement, you will have to wait for a refund, which can be annoying.
Bad customer service
Many of the reviews online mentioned how poor Instacart's customer service is.
On Sitejabber, one customer says:
"Quite possibly the worst customer service I've ever dealt with. I had a fairly small problem that should have been an easy fix and the customer service was completely incompetent, rude and unhelpful. I ended up closing my account not even because of the initial problem but because of just how terribly I was treated and how horrible their service was."
Overall Verdict
So, what's the overall verdict? Is Instacart worth it?
Overall, it's a mixed bag. Some people have a great experience shopping through Instacart. The platform offers them so much convenience, it's easy to use, and they are generally happy with the service.
Other people though seem to have a really poor experience with it. Many people complain that items are often missing from their order, they don't get a refund on missing items, and that the company's customer service is really poor.
Because Instacart Shoppers are independent contractors (and this is mostly true for most other jobs like Instacart shopper), it seems like the service the company offers isn't really very consistent.
Some shoppers are great and deliver the items like they're supposed to and provide good substitutions when required. Others miss off items or provide poor replacements.
It really does seem to be hit and miss. Also, the prices that Instacart charges can be really high.
It's not just because of the service fees and delivery fees either. The price you pay for the actual products themselves is higher on Instacart than it is in-store.
If you are looking to save money on your groceries, you'd be better off shopping in-store.
If you want the convenience of online grocery ordering and delivery, then you might want to give Instacart a try. Do keep in mind those issues I mentioned above though, like missing items, issues with refunds, higher prices, and poor customer service.
Do you think Instacart is worth it? Feel free to let us know by leaving your own Instacart review in the comments section below.