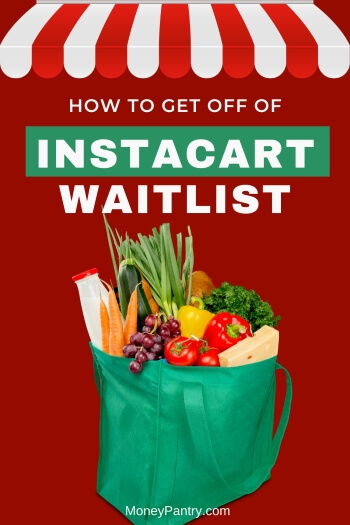 You want to earn extra cash, so you apply to become an Instacart Shopper. But, you're put on the Instacart Waitlist.
It sucks, right?
You're not the only one. A quick look through Reddit and you'll see plenty of people complain about being on the company's Waitlist. If you're looking to earn some extra cash, then this is not ideal.
Thankfully, there are a few options you can try if you've found yourself on the Instacart Waitlist as well as other jobs like Instacart Shopper that you could try while waiting to be approved.
We'll cover these options below, as well as everything you need to know about the Instacart Shopper Waitlist, like what it is and how long you should expect to wait.
What is the Instacart Waitlist?
Since getting paid to be a personal shopper has become very popular, in areas where customer demand is not high enough to support the number of people applying to be Instacart Shoppers, Instacart has a waitlist. This means that if you live in an area where there are a lot of shoppers but not that many people ordering food, then you will likely encounter the Waitlist.
Need Easy Extra $300+/Month for Free?
Panel Payday
: Earn up to $75 per survey. They also pay up to $50/hr for mystery shopping.
Join Now!
InboxDollars
: Paid over $57 Million to members to watch videos, take surveys, shop and more.
Get $5 instantly!
Daily Goodie Box
: Want free stuff? DGB will send you a box of free goodies (Free Shipping - No Credit Card).
Get your box now!
Branded Surveys
: Get $1 instantly just for joining for free. Plus get paid within 48 hours by PayPal!
Join Branded Surveys
Toluna
: Earn PayPal, Amazon & Tango e-vouchers for taking surveys (& product testing!).
Join & get 500 bonus!
Swagbucks
: Get paid to watch videos, shop online, take surveys and more.
Join now & get $5 instantly!
Why is there a waitlist for Instacart?
How Long is the Instacart Waitlist?
The average Instacart Waitlist time is about 2 to 6 months. Some shoppers can get off the Instacart Waitlist in just a couple of weeks though, but others can be waiting for a year or more.
It varies from person to person. Let's take a look at some reports from Reddit from people who have been on the Waitlist:
"The first rule about instacart is you never predict instacart. If it can go wrong it will go wrong. The CEO could call you personally in the next 5 minutes or you may get a letter in the mail in 10 years telling you that you're still on the waitlist."
"I had to wait about 2 months when I was waitlisted. With Shipt I got the approval after 2 days and got my card a week later but I love Shipt so much more than IC."
"Lol I have been on the waitlist for 5 months. Good luck."
"Ive been on the waiting list for over a year and 3 months."
"I've been on list for 3 months now. I'm in Fla."
"I have been on the waitlist for all over a year . . . So definitely don't wait around!"
Reports are from this Reddit thread and this Reddit thread, so check those out if you want to read more.
How to Get Off the Instacart Waitlist
If you've found yourself thinking, "Will I ever get off the Instacart Waitlist?", do not despair! You do actually have options that'll help you out.
Three options actually!
Use a different zip code
A lot of people want to know, "How do I get past the waitlist on Instacart?"
There is a simple trick you can use to skip the Waitlist and start shopping right away. Simply change your zip code.
Every applicant enters their zip code when they apply to be an Instacart shopper. This zip code you enter is usually the zip code for your home.
If you have found yourself on the Waitlist, it's because the market in your area is already saturated with Shoppers, so there's not a need for additional ones.
There many be other zip codes though in your general area that are not saturated, so they don't have a Waitlist.
If you're looking to avoid the Instacart Waitlist, then change your zip code. Just get on a chat with Instacart customer service on the company's website or send an email.
Think about any other zip code areas near you that you'd be willing to shop within. Then, send these zip codes to customer service and see which one goes through.
Once customer service is able to find an area without a Waitlist, your application should be approved within 15 to 20 minutes. This trick doesn't always work of course. Customer service may not allow you to change your zip code, but it's definitely worth a try!
Try Instacart Alternatives to Make Money
If the zip code trick doesn't work for you, or you don't want to change your zip code location, then consider working for another delivery app. There are quite a lot of food delivery apps out there that you can try. They work in a similar way to Instacart where you get paid to deliver food.
If you are on the Instacart Waitlist, then consider signing up for one of these companies instead:
Shipt is actually better reviewed than Instacart is, so it's a great option. Shipt pays you to shop for and deliver groceries to customers homes within a requested timeframe.
Here's why you might want to work for Shipt:
It pays well. You can earn between $16 and $22 an hour.
Shipt offers flexible working hours, so you can work part-time or fulltime, and you get to set your own hours. So, like Instacart, Shipt gives you a lot of flexibility in your schedule.
It pays you weekly. So, you don't have to wait entire month to cash out your earnings. You get paid each Friday by direct deposit.
Shipt is accredited by the Better Business Bureau (BBB). It's been accredited since 2015. It has an impressive A+ rating on there.
Shipt Shoppers praise the company highly on Indeed.
DoorDash is another place that pays you to deliver food. Rather than delivering food from grocery stores like you do with Instacart and Shipt, with DoorDash you deliver food from restaurants and other local eateries to people's homes.
Here's why you should consider working with DoorDash:
It pays well. DoorDash drivers earn $16 an hour on average. They can earn anywhere from $3 to $33 an hour.
Operates in lots of places. This means that you'll likely be able to find delivery work near you. DoorDash is available in 7,000 cities in the U.S., Canada, and Australia.
You can choose your own hours. So, you can work as much or as little as you want to. This means that like Instacart, DoorDash gives you a lot of flexibility in your schedule.
You can boost your earnings. You can earn more money with promotions and tips.
Uber Eats is a popular food delivery company, so if you are having trouble finding work in your area with Instacart, then it's a good alternative.
It's an app that pays you to deliver food from restaurants and other eateries to people's homes. You can use your car, bike, or scooter to make deliveries.
Here's why you might want to consider working with Uber Eats:
It pays really well. Uber Eats has very high earning potential. Uber Eats drivers can earn up to $38 an hour! Pay can range from $6 to $38 an hour with the average pay being $19 an hour.
Get paid fast. Your earnings are automatically transferred to your bank account every week. And, it also has an Instant Pay feature that you can use to cash out your earnings up to 5 times a day. So, if you want to get paid quickly, Uber Eats is a good option.
Offers flexible working hours. You can choose when you want to deliver, whether that's for an hour, at the weekend, or throughout the week.
Get tips as well. Uber Eats customers have the option to tip in the app, and 100% of the tips are yours to keep.
Make sure you check out my list of the best delivery apps for more places that pay you to deliver food, groceries, packages, and other items.
Try Other Gig Apps
Food delivery isn't the only option for making money. There are a few other side hustle apps like Instacart that you can use to make extra cash.
Here are some other options:
Thumbtack Pro is a website where you can find jobs in lots of different fields.
You can choose your line of work, which can include:
Landscaper
Mover
Electrician
Housecleaner
Painter
Handyman
Wellness instructor
Home electronics specialist
Photographer
IT Specialist
Bellhops pays you to help people to move. Pay is up to $21 an hour including tips and bonuses. You get paid weekly.
TaskRabbit pays you to help people with their errands and to-dos.
It pays you for helping people with tasks like:
Furniture assembly
Home repairs
Helping people to move
Cleaning
Mounting
Yard work
Shopping
Delivery
Lifting
And more.
Pay ranges from $3 to $78 an hour.
Closing Thoughts
Most people want to skip the Instacart Waitlist. And this is totally understandable. After all, if you're looking to make extra cash, you don't want to be waiting months before you can start earning.
Try the zip code trick that we mentioned to get off the Instacart Waitlist. And if that doesn't work for you, then remember that there are other food delivery apps and gig apps that you can use to make extra money.