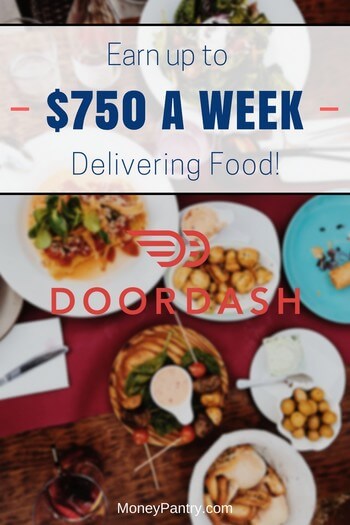 Wanna make money driving?
But don't like the idea of giving rides to strangers?
Working for DoorDash may be just what you're looking for!
Ride-sharing apps like Uber and Lyft are great for making money with your car, but not everybody wants to give rides to strangers.
For those of us that want to use our cars to make money without driving around with strangers in the back seat, there are apps like PostMates (which we already wrote about in our review of working for PostMates as a driver) and DoorDash.
In this post we'll review working for DoorDash as a delivery driver and whether or not you can actually bring home the bacon!
Need Easy Extra $300+/Month for Free?
KashKick
: Get paid directly into your PayPal for watching videos, surfing, shopping and more.
Join KashKick Now!
Panel Payday
: Earn up to $75 per survey. They also pay up to $50/hr for mystery shopping.
Join Now!
InboxDollars
: Paid over $57 Million to members to watch videos, take surveys, shop and more.
Get $5 instantly!
Branded Surveys
: Get $1 instantly just for joining for free. Plus get paid within 48 hours by PayPal!
Join Branded Surveys
iPsos iSay:
: If you have to only sign up for one paid survey site, go with Ipsos (high paying survyes)!
Join iPsos Now!
Swagbucks
: Get paid to watch videos, shop online, take surveys and more.
Join now & get $5 instantly!
First, let's find out what this app actually is and does…
What is Doordash?
DoorDash is an app that transforms people's favorite takeout restaurants into restaurants that deliver.
It really is as simple as that.
It even allows people to order takeout from home if they live outside of typical delivery areas for restaurants that offer limited deliveries.
While it is technically possible to use the app to order other stuff, it is primarily used for food delivery from favorite restaurants and delis.
The company is also working with restaurants, small local restaurants as well as major chain operations to offer delivery of everything from breakfast coffee and fast food to more elaborate box lunches and romantic dinners in.
To provide this valuable service, the company needs drivers, referred to as "Dashers."
Dashers are people like you and me who are looking to earn a few extra dollars each week.
How Does DoorDash Work?
In most cases, the customers order and pay for the food themselves.
Your only role is to pick the food up and deliver it to the customers.
In some instances, DD will place the order and you'll be required to pay for the order with a prepaid credit card the company provides.
On rare occasions, you will be required to do it all.
That means you must:
Place the order.
Wait for the order.
Pay for the order.
Deliver the order.
Those "Dashes" are more time consuming and may cut into your profits a little.
This is especially true during traditionally busy times when you could make considerably more money by handling multiple Dashes in the same span of time.
While restaurant orders are the bread and butter (no pun intended) of deliveries at the moment, the company is exploring opportunities to expand to other types of delivery services.
That means more opportunities for drivers to earn.
What are the requirements to work for DoorDash?
There are a few requirements you must meet to show them you have the "right stuff" to deliver for them.
They have a reputation to build and protect, after all.
These are a few of the requirements you'll need to meet:
You must be age 18 or older.
You cannot have a major violation (DUI, Reckless Driving, Homicide, Assault, Failure to stop or report, Driving with a suspended or expired license) within the past seven years.
You cannot have a record that includes more than three incidents (moving violations or minor accidents) within the past three years.
They also conduct a background check on all Dashers – in accordance with the laws in your state, plus individual assessments outside the scope of the background check.
One thing that sets DoorDash apart from organizations like Uber and Lyft is that you don't have to have a late model vehicle in impeccable condition to work here.
You don't even have to have a car.
In fact, depending on where you live, you can deliver with any of the following:
Car
Truck
SUV
Motorcycle
Scooter
Bicycle
Feet (in some areas you can walk your deliveries)
Keep in mind, though, that the bulk of your income comes from speed and volume so walking and bicycling limits that.
However, there are some parts of larger downtown areas that are nearly impossible to make deliveries without walking of using a bicycle.
How to Become a DoorDash Driver
The first thing you need to do is go through the Dasher signup process.
Step 1: Fill out the application with all the pertinent information.
Step 2: Set up and complete the phone interview.
Step 3: Assuming all goes well, the company will conduct a background check at this point.
Step 4: Complete the in-person interview.
Do this well and you will be trained, at this interview, to meet and exceed the Door Dash standards of excellence.
DoorDash locations
While the app is not yet a nationwide service, it is available in many larger cities throughout the United States and Canada.
Some cities where you might be able to find work through DoorDash include:
Brooklyn
Calgary
Charlotte
Chicago
Cleveland
Columbus
Dallas
Denver
Detroit
Edmonton
Fort Worth
Houston
Indianapolis
Los Angeles
Manhattan
Miami
Milwaukee
Minneapolis
Nashville
Orange County
Phoenix
Salt Lake City
San Antonio
San Diego
San Francisco
San Jose
Seattle
SF East Bay
Silicon Valley
Tampa
Toronto
Vancouver
Washington D.C.
This is just a sample of the cities where you can sign up for work as a Dasher.
Plus, new cities are added all the time.
Be sure to check your city out if you live in a larger city. You never know if your city might be on the list, coming soon, or one that is under consideration.
However, you can only work in one of the areas DoorDash serves.
This means you can't maximize your potential earnings for a shift by working in one area of San Francisco and then moving to San Jose or the East Bay area if things are slow during your scheduled shift.
Or even if you're just interested in a change of scenery.
This helps the company ensure there is adequate coverage for the area and that some areas do not become saturated with too many dashers working a particular shift.
How Much Do DoorDash Drivers Make?
The question on everyone's mind before beginning a venture like Dashing is how much is it going to pay?
No good DoorDash delivery driver review would be complete without this key piece of information.
The company says you can make up to $25 an hour.
But as we know, the answer is always variable.
Dashers get paid a standard fee for deliveries plus they keep 100% of their tips.
The standard fee varies a great deal from one market to the next.
This means that drivers in some markets stand to earn considerably more than drivers in other markets.
However, there is greater competition among drivers in the markets that offer the higher earning potential, so it levels out to some degree.
These are a few samples of "pay per delivery" fees in different cities and how widely they can vary:
San Francisco $12 on orders under $50
Sacramento $10 on orders under $50.
Indianapolis $4 per delivery.
Columbus, Ohio $5 per delivery.
Chicago $5 per delivery.
Phoenix $1 per delivery (plus pay boost which varies from one order to the next).
Denver $1 per delivery (plus pay boost)
These figures, of course, do not include tips.
Tips can improve your "per delivery" earnings drastically and make a world of difference for your bottom line.
Guaranteed pay ($10/hr)
In many locations, DD offers a guaranteed $10/hr minimum per delivery.
What this means is if you do not earn a certain amount of income (it varies from city to city) with the combination of delivery fee and tip for each delivery, DD will make up the difference.
The big question, though, is how does this factor into hourly rates?
The problem is that the numbers are so different from one city to the next.
The bottom line is that you are guaranteed a certain amount of income for deliveries you make as long as you meet the requirements.
In some cities, you must accept a minimum number of offers sent your way and maintain a certain rating from customers to qualify for guaranteed minimums.
Again, all things vary from city to city.
Some Dashers through Reddit claim to earn between $8 and $15 per hour while others boast of earnings well over $20 per hour.
On Redditor says he makes between $600 to $1000 averaging around $750 a week. Keep in mind that he/she drives 4-5 days a week.
How do you get paid?
Dashers are paid via direct deposit for all work completed on the previous Monday through Sunday.
The payments are transferred at midnight Sunday PST and generally appear in driver's accounts within two to three days – usually by Wednesday night.
DoorDash Driver Tips
The fact that DoorDash offers guaranteed minimums helps to boost income for many drivers.
This is especially true for drivers concerned about working "slower shifts."
However, there are other things you can do that will help you earn a little more on your Dashes.
These are tips offered by experienced Dashers to help you get more money for your time and effort.
1. Use fuel efficient cars
Hybrid vehicles and electric cars are perfect choices.
Stop and go traffic really revs them up making deliveries sip fuel and reducing your expenses as a driver.
Electric cars are great choices as well.
Of course, that is assuming you begin your shift with a full charge.
2. Work with multiple platforms
Some drivers combine work with services like Uber and Lyft to help pad their incomes.
Others have learned about other delivery apps and use those to maximize hourly earning potential.
Just remember that you must keep your customers happy on all platforms to maintain a favorable user rating.
DoorDash alternatives:
The more the merrier, as long as you can keep up with all of them without dropping the ball on any of your deliveries.
3. Take advantage of bonuses offered
Many cities will offer new drivers bonuses for completing a certain number of Dashes in a specified period of time.
Think of it as free money and make it a goal you're committed to hitting.
These bonuses can really boost earnings and help you get your new side gig off to a fantastic start!
4. Minimize your miles
The fewer miles you travel to make deliveries, the faster you can move on to the next deliveries.
Look at the app and the location of deliveries and restaurants – along with the offered amount – to determine whether this is a Dash you're willing to take.
5. Avoid complicated deliveries
You make your money by making deliveries.
The more deliveries you make, the more money you make.
You want to avoid deliveries that are going to be more time consuming, including those that do the following:
Require you to order and wait for food.
Have complex delivery instructions.
Located in or near constructions zones known for massive traffic delays.
6. Seek larger orders
Many cities offer larger guaranteed delivery fees based on the size or price of the orders you're delivering.
Seek out those larger orders to boost your earning potential.
7. Meet the requirements in your city for guaranteed minimum payments
Each city has different requirements for Dashers to earn the guaranteed minimum.
In some cities, it is a percentage of accepted orders.
In other cities, you must accept a minimum number of orders.
Other cities require a combination of the two.
You must also be working your scheduled hours in all cities to qualify for the guaranteed minimum, so you can't just pop in and decide to try to make an extra hour or two on a whim.
8. Work holidays
Redditors who worked July 4th were generally happy with the results.
Income reports varied but were generally nice with numbers like:
$115 in 4.6 hours.
$85 in 4.4 hours.
$67.77 in 3.4 hours.
While the sums may not have been earth-shattering, they were far better than the average $8 to $15 hourly rate others claim to earn.
Plus, Dashers were still able to find time to do other things on their holiday having worked fewer than five hours.
Driver Reviews
While researching for this post, I came across a lot of reviews from drivers who have been delivering for DoorDash for some time.
As expected, there were complaints and praises.
Here are some of them:
Pros
Weekly pay is a great thing for people who have existing jobs that pay once or twice per month.
It is possible to earn genuine income on the side delivering restaurant food.
Learn about new, or new to you, restaurants in your community so you can impress your friends or significant other with recommendations.
Flexible scheduling you can set up to six days in advance.
Availability in a growing number of cities – many of which are not yet covered by their competitors.
Cons
One of the big complaints people have about DD is that it doesn't keep them busy enough.
Dashers feel like they must scramble to earn minimum hourly rates.
Some of them are forced to resort to taking less savory Dashes so they can qualify for guaranteed minimum rates per delivery.
It's also a contractor position so you do not get benefits like you might with a traditional 9-to-5 job – including paid time off.
Is DoorDash Worth It?
If you're looking to earn a little extra money on the side DD might be a good choice for you.
And since food delivery services are becoming very popular, it'll get even easier to find gigs like this.
According to this report by CNBC, a survey by Cowen (an Investment firm) the U.S. food delivery market is estimated to grow from $43 billion to $76 billion by 2022.
And that means more food delivery gigs for you.
Sure, apps like this won't probably replace your full-time job – at least not yet. But they make it easy to make some extra cash in your spare time.
Plus, DD is expanding to new marketplaces. They are also investigating other delivery services they can offer in the future.
That means they are exploring new ways to help you earn more income in the process.
If you have a reliable vehicle, the extra time, and the will to be on the road a few extra hours each day, it might be the perfect solution for your money flow woes.
Hopefully, this in-depth DoorDash delivery driver review will help you decide if this is a good match for you.
Have you tried DoorDash?
What was your experience like?