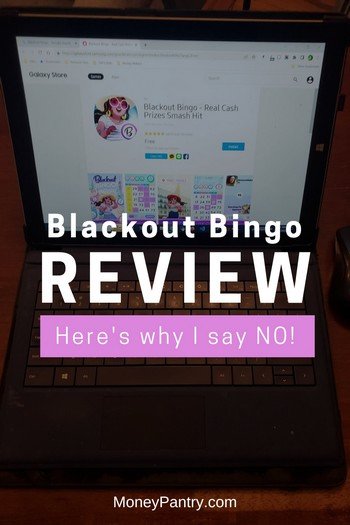 In this Blackout Bingo review, I'll cover how this site works, how much you can earn, and whether or not it's legit.
If you want to make money playing games like bingo, you may have come across apps like Bingo Clash (review) and Blackout Bingo. This app claims that you can win real money just for playing bingo.
Is Blackout Bingo legit though?
Or is Blackout Bingo a scam?
What is Blackout Bingo?
Blackout Bingo is an app developed by Big Run Studios Inc, which offers paid tournaments through the Skillz platform. I did a review of Skillz and, honestly, I'm not a fan. I'll go into why later in the article.
Skillz is a platform that features a bunch of other popular games, such as:
Need Easy Extra $300+/Month for Free?
KashKick
: Get paid directly into your PayPal for watching videos, surfing, shopping and more.
Join KashKick Now!
InboxDollars
: Paid over $57 Million to members to watch videos, take surveys, shop and more.
Get $5 instantly!
Branded Surveys
: Get $1 instantly just for joining for free. Plus get paid within 48 hours by PayPal!
Join Branded Surveys
First Opinion
: Get paid up to $10 per survey and $300 per virtual focus groups!
Join Now!
Swagbucks
: Get paid to watch videos, shop online, take surveys and more.
Join now & get $10 instantly!
Solitaire Cube
Dominoes Gold
Pool Payday
21 Blitz
Spades Cash
Cube Cube
Bubble Cube 2
Spider Solitaire Cube
Pyramid Solitaire Cube
Strike! by Bowlero
Blackout Bingo claims that you can win real world rewards and cash prizes. Just daub fast and use boosts to get as many bingos as possible within a quick two-minute match. According to Blackout Bingo, "It takes concentration, speed and strategy to become a bingo master."
You can play the game for free, but if you want to win cash prizes on Blackout Bingo, you will need to deposit money through Skillz.
How Does Blackout Bingo Work?
Blackout Bingo is an app you can use to play bingo games. There are free and paid games available on there.
Here's how it works:
Sign up
The first step is to get the app. Blackout Bingo is available for iOS devices through the App Store, and for Samsung phones through the Galaxy Store.
Here's where you can get the app:
You can also get the game from the Skillz website here, and all you need to do is scan the QR code on the page.
To be eligible to compete in Skillz games, you must be over the age of 18. It's important to note that cash tournaments are disabled in certain countries and some U.S. states, including:
Arizona
Arkansas
Connecticut
Delaware
Louisiana
Montana
South Carolina
South Dakota
Tennessee
Play bingo
Playing games on Blackout Bingo is pretty simple – even if your bingo experience is limited. Each game is just two minutes, and a new ball is displayed every few seconds.
When a number that you have on your card is called, you tap the card square to daub it.
The app gives you and your opponent the same bingo balls and cards throughout the game. You will need to match the numbers 5 in a row to get BINGO, and you can get bingo multiple times per game. Each time you match numbers or get bingo, you'll get points.
The player with the most points at the end of each round wins. To earn points, you'll need to daub quickly and accurately, get bingos, and use Boosts to get the advantage over your opponent.
Free games vs paid games
As I said earlier, there are both free games and paid games available on Blackout Bingo. You can play free games, called "Practice" games. These require no entry fee. So, if you just want to improve your bingo game skills, then these are a good option.
With these free games, you earn Z coins, which is the app's virtual currency, and Ticketz. You can redeem Ticketz for real life prizes, such as gift cards and merchandize. But, it takes an incredibly long time to earn enough Ticketz to actually redeem a prize.
So, practice games are good for earning a few Z coins and Ticketz.
You can also play paid games. These are cash tournaments where you play against other players to compete for cash prizes.
These tournaments where you compete with other users are through the Skillz platform.
To be able to enter these tournaments, you have to deposit money. Now, there's no guarantee that you will actually win the game, which means you could lose the money that you deposit. That's why I'm not a fan of Skillz and these games like Solitaire Cube and Blackout Bingo that feature on the platform.
How much does Blackout Bingo cost to play?
As I mentioned above, there are free games and paid games available on the platform. So, each game on Blackout Bingo has an entry fee. On the practice game, you can use z coins (the in-game currency) and bonus cash to enter. But, for the cash tournaments, you will need to deposit real money into an account on Skillz.
Entry fees start at $0.60 and have $1 prizes, and there are other price points up to $465 entry fees for $755 prizes.
You'll need to enter your card number or PayPal account information. Once you have made a deposit, you will be able to use that money to enter cash tournaments and have the chance to win real cash prizes.
Get paid
If you win a game, you can withdraw your earnings at any time from your Skillz account.
Just tap Withdraw on the main menu to get started with withdrawing your winnings.
Payment options on Skillz include PayPal, credit card, or check.
Skillz says that players can expect their money in four to six weeks, but in many cases, it is able to process withdrawals much more quickly.
Is Blackout Bingo Legit?
Blackout Bingo is a legit app with tens of thousands of downloads that players can use to play bingo from their phones. However, the app is essentially a gambling app. It's not really possible to earn money consistently with Blackout Bingo unless you risk your own money entering tournaments.
And, even then, you're not guaranteed to win. The app makes earning money seem much easier than it is in reality for many players.
Blackout Bingo Reviews
Below, I'll go into a little more detail about the app and whether it's legit when I dive deeper into the company and online reviews left by users.
The good
Let's start out with the good aspects of Blackout Bingo.
Developer has been around for a few years.
The app is developed by Big Run Studios. According to the Big Run Studios About Us page, the company was established in 2019 and it's headquartered in Oakland, California.
I looked up the website's domain on Whois to see when it was registered, and it was indeed registered in 2019. So, Big Run Studios has been around for a few years.
The app is well-reviewed online
The app is pretty well reviewed.
Here's how Blackout Bingo is reviewed online:
App Store: 5 stars. 84.3k reviews.
Galaxy Store: 5 stars. 8,758 reviews.
So, it seems as though players enjoy using it.
On reviewer on the App Store praised Blackout Bingo saying:
"Fun, addictive, challenging. I do enjoy playing this challenging bingo game. I like that the help center is responsive. They don't really post all the rules so you need to either play to learn, or check-out the modest amount of you tube videos people make, or go to their blog in the help center. Pluses are it's fun, I win real money, and the system is pretty reliable. Negatives are the only real money won is against competitors (bonus money from league and opportunities to win ranked games with multiple entries is fake money and only gives you more playing time to make real money on head-to-head or bracket games)."
The bad
Although Blackout Bingo is a legit app that's well-reviewed, there are some concerns.
Reports of games not being fairly matched
The way that Skillz is able to claim that its games are not gambling is by saying that they are based on skill. According to Skillz, players are matched in games based on their skill level. But, a lot of reviewers think that players are not fairly matched.
In a review of Blackout Bingo on the App Store, one reviewer says:
"Misinformation. I enjoy the game play but it's untrue that you play against your own skill level and I check each match and have proof. Sometimes I play against others who are 5 times my skill level and sometimes I play against others who are so much lower on the skillz level than I am, I feel bad when I win. At first I thought it was just the practice games but it's the same when you play money games. I know that you take a gamble whenever you're playing for money but I think they should stand by their word of playing against your own skill level and that's not the case. But it's a gambling platform, I just don't appreciate the false advertising, call it like it is!"
Some players even think that they're playing against bots. I saw similar complaints about other Skillz games, like Solitaire Cube.
I see this complaint a lot in user reviews.
Claims that the app steals money
One of the most concerning things that I came across while researching Blackout Bingo were claims of money being stolen. This seemed to be a common complaint with Skillz games.
In a review of Blackout Bingo on the App store, one user says:
"Fraud!!! DO NOT USE THIS APP! Disgusting, unethical and illegal!!! I made a couple deposits a month ago with my card, BIG MISTAKE! This company not only illegally and without my approval charged the same card over 48 more times but for an amount totaling almost $3,000. I contacted their "support team" and the responses I've received are comical at this point."
In a Reddit thread about Blackout Bingo and other similar games, one user said:
"I had one of those games when I was broke and desperate for money and my card information got stolen and they tried to steal like $600 from me."
There's a Better Business Bureau (BBB) profile for Skillz, which powers the tournaments on Blackout Bingo, and on there I actually saw a few user reviews that, again, complained about money being stolen.
"I woke up to 5 charges on my card from this company totaling $97 dollars. i have never heard of them until now. No one answers their phone and it goes directly to voicemail even though it states they are open 24 hours a day. So i cant dispute these charges and get my money back. it is unfortunate that i have to leave a star rating for being robbed."
Skillz is poorly reviewed online
Although Blackout Bingo is pretty well-reviewed online, the same can't be said for Skillz.
Skillz is reviewed pretty poorly online, and this is the platform that powers those cash tournaments on Blackout Bingo – so, you know, the way you actually earn any money on Blackout Bingo.
It's the Skillz platform that players will need to use if they actually want to win money.
Here's how Skillz is rated on a few different platforms:
As you can see, Skillz is reviewed badly everywhere aside from on the Galaxy store, and on there, many of the reviews are just people sharing codes, and there are still many complaints from users on there.
Skillz rating on Trustpilot and the BBB is bad, and it has dropped further in the last couple of months when you compare the numbers I listed in my Skillz review to how the company is rated now. On the App Store, Skillz has 3.7 stars, rather than a 1-star rating as it does on Trustpilot, and the BBB, but this is a pretty average rating, which again, has dropped since my Skillz review.
Common complaints I saw in reviews were people saying they didn't get their winnings, that customer service was poor, that when they started winning a lot, their accounts were closed, and that Skillz accused them of having multiple accounts and closed their accounts without allowing them to get their winnings.
There were also a lot of people complaining that the way players are matched on Skillz isn't that fair, because as players win more matches, they are matched with more difficult opponents, making it harder to win.
Skillz charges a maintenance fee
After being inactive for 6 months or more, accounts may incur a $2 per month maintenance fee. No maintenance fee will be collected if your account balance is $0. You can withdraw your remaining real cash balance and request to close your account. It's not great that Skillz charges a maintenance fee, so make sure that you cash out your real cash balance if you plan to stop using your account.
Overall Verdict
Overall, Blackout Bingo is a legit app but for making money there are better options out there. You'll need to deposit money if you want to win real cash on there.
Sure, you can play free games and earn z coins and Ticketz, but it takes a TON of Ticketz to be able to redeem any prizes. So, most of the money-making opportunities come from those paid tournaments. The problem with those is that you have no guarantee of winning. So, you could pay to enter a tournament, lose, and you'll lose the money you deposited.
It's kind of like gambling. You risk losing money and that's not what you want from a money-making app.
I think that apps like Mistplay and Swagbucks are much better options because you get paid to play games, but you don't have to deposit money, and therefore risk, any of your own money.
If you're looking to play bingo for fun, then play those free games on Blackout Bingo. But, if you want to make money, give Blackout Bingo a miss.
Hopefully, this Blackout Bingo review has helped you to decide whether or not to use the app.