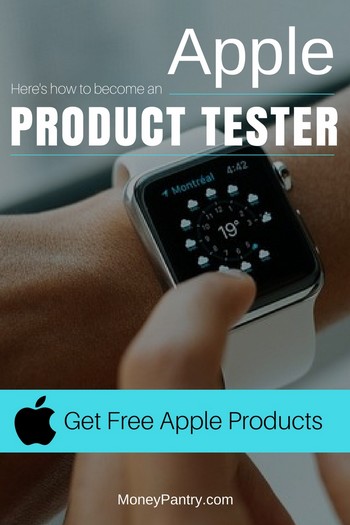 I love product testing; not only you get free stuff, but you also get to voice your opinion and actually help shape the future of the product you are testing.
I have talked about product testing for a few big companies before, mainly Nike and Under Armour. But I have been getting emails from a few of our readers who are interested in becoming a product tester for the tech giant, Apple.
Hmmm… getting a free Apple watch just for testing it sounds great!
I did some digging and found out Apple normally has two different test programs:
one for their hardware
and the other for their software products.
Apple Hardware Product Testing
Apple hardware includes the physical products some of us love and spend a lot of our hard-earned money on–Apple watch, iPhone, iPad, and so on.
Want $5 Free?
Join InboxDollars for free. InboxDollars pays you to watch videos, search, shop, take surveys, and more. They have paid out $57 Million so far!

So can you get an Apple product, say an Apple iPhone, for free as a tester?
Yes you can!
But…
That YOU is normally an Apple employee, or (according to a thread on Apple forum) people living within the Cupertino area (Apple's headquarters).
So, if you don't belong to any of these two groups, seems like you are out of luck when it comes to testing any physical Apple devices, at least for now.
Apple Software Product Testing
The good news is that Apple's software testing program is open to all.
The program is known as the Apple Seed.
Now obviously we are talking about software, so you won't be getting any physical product. You will be testing pre-release software products on your devices, like the software used in your iPhone.
Requirements
There are a few requirements for joining the Apple Seed program.
Here are the requirements according to the company:
Complete a profile
We need to collect some background information about you, your interests, and your computing environment to select the right people for the project.

Customer Seed and Confidentiality Agreement.
Pre-release software is considered Apple confidential property and all participants must view and acknowledge the agreement in order to be considered.

Be selected.
We select participants for specific product seeds based on the profile information you provide and the needs of the product engineering team. We can not guarantee that you will be selected to test a particular software product.

Provide Apple with your feedback.
We expect to hear about your experience with the product. You will be asked to complete engineering questionnaires, fill out bug reports, enhancement requests, and participate in online discussion.
The Application for Apple Product Testing
To get into the program, you will have to join the Apple Seed program by visiting https://appleseed.apple.com/sp/welcome.
Once there, sign up with your AppleID and wait to hear back.
Now signing up doesn't mean you are in. This only gets you into the door where you MIGHT be considered for the actual testing. If they want you, they will send you an invitation.