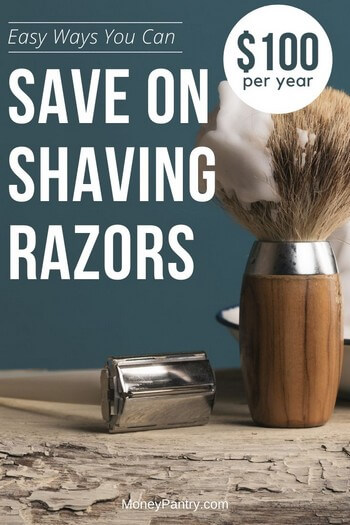 Razors cartridges can cost like $15 to $30 and who wants to pay that?
As it turns out, not many of us!
Keeping a clean-shaven face, leg, underarm or whatever body part you choose to shave, doesn't have to cost you an arm and leg.
Recently, it was reported that Gillette planned to cut the price of its razors, because of the fact that there are now, thankfully, lots of cheaper alternatives and ways to save money on razors and shaving.
In today's post, I'm going to cover some super easy ways that you can spend less on razors and shaving in general.
Because something as simple as shaving shouldn't have to cost a lot!
Need Easy Extra $300+/Month for Free?
KashKick
: Get paid directly into your PayPal for watching videos, surfing, shopping and more.
Join KashKick Now!
InboxDollars
: Paid over $57 Million to members to watch videos, take surveys, shop and more.
Get $5 instantly!
Branded Surveys
: Get $1 instantly just for joining for free. Plus get paid within 48 hours by PayPal!
Join Branded Surveys
First Opinion
: Get paid up to $10 per survey and $300 per virtual focus groups!
Join Now!
Swagbucks
: Get paid to watch videos, shop online, take surveys and more.
Join now & get $10 instantly!
1. Use the old school Double Edge Blades (and get them from Amazon!)
I remember when big brands like Gillette would advertise these fancy razors with 3 blades.
Now, they're advertising some with 5 blades!
Razors can get pretty ridiculous. Do you really need three or five blades?
Or would a simple safety blade do the job?
It certainly would. Those old school safety blades are just as good for shaving as those overpriced fancy razors are from Gillette and other big brands.
This 50 count pack of Feather Double Edge Blades costs just $12.85 on Amazon!
That means that per unit, you're paying like 25 cents!
Once you make the initial investment of the safety razor, buying these double edge blades is so much cheaper than going with your traditional Gillette razor.
This is really the cheapest way to shave for men and women.
2. Buy generic razors
Whether you want to save money on women's razors or men's, buying generic razors is the best way to save big.
You'll save so much money if you switch to store brand razors.
Many stores like CVS sell their own brand of those fancy three-blade and five-blade razors that are a fraction of the cost of those from brands like Gillette and Schick.
I think that store brand razors give just as good a shave as ones from big brands – a razor is a razor after all!
3. Use coupons
I get it: You like the big brand razors, you're used to using those five-blade razor cartridges and you don't want to switch out your favorite one.
If that's the case, then I have good news for you.
There's still a way for you to get razors from your favorite brand and save money in the process!
And it's simple: Use coupons!
Coupons can get you discounts on pretty much everything, including razors.
A good place to start out is with coupon websites like these.
Here are some of my favorite coupon websites:
It's not just coupon websites you should check out for great savings.
Sunday papers have lots of awesome coupons!
There are ways you can get these Sunday paper coupon inserts for free or at a discount:
Check out free local papers.
Look for papers at your local recycling center (find your nearest one at RecyclingCenters.org)
Go to stores on Mondays and ask for their leftover Sunday newspapers.
When you buy newspapers at the dollar store you only pay $1 per paper, rather than $3 to $6!
Get a discounted newspaper subscription from DiscountedNewspapers.com.
Don't forget to check:
In-store for tear-pad coupons.
Catalina coupons – those coupons you get at the register.
Weekly ads – these may offer savings on razors.
The razor brand's website, as some brands will post coupons right on their site. Don't forget to sign up for newsletters for more coupons, or consider contacting the company directly to ask for a coupon.
4. Use rebate apps with coupons to save even more money!
Using coupons is such a good way to get name-brand razors at low prices.
There's a really simple way you can save even more money though.
Use rebate apps!
When you upload a photo of your receipt, rebate apps give you cashback.
Here are some of my favorite receipt apps:
Some of these apps, like ReceiptPal, will pay you for any itemized receipt. Others, like Ibotta, will give you cashback when you purchase specific items that they're currently running rebate offers for.
Use a coupon to buy your favorite razors at a discount, and then upload a photo of your receipt to one of these apps and you'll save even more money.
It's so easy!
5. Check the price per razor
I know how tough it can be to save money when you're bombarded with lots of different prices and pack sizes at the store.
It can seem like a pack of razors is a bargain from the seemingly low list price.
The price per razor though can tell a completely different story.
The amount you pay per razor can be way more than you'd think.
A pack of 8 razors that costs $12 might seem like the better option than a pack of 15 that costs $20.
The 8 pack might cost just $12. Work that out per unit though, and you pay $1.50 per razor, compared to just $0.75 per razor for the $20 pack.
So make sure that you check the price per razor. All you need to do is look at the unit price. It's typically found on a tag on the shelf in front of the product.
By checking the unit price, you can compare the actual cost of each razor and make a more accurate decision about which pack to buy.
6. Buy in Bulk
Talking of price per unit, one of the best ways to keep this low is to buy in bulk.
Yes, buying in bulk usually costs less overall.
Note, I said usually.
It's not always the case. Most of the time though, if you buy in bulk, the cost overall will be lower.
If you can afford the upfront cost in your budget, then buy your razors in bulk.
Sure, you might seemingly be spending a fortune up front, but in the long-run, you'll save money.
Warehouse stores, like Costco, can have good prices. Also, just check the prices of the larger packs where you regularly shop.
Even consider buying from a bulk supply store, like West Coast Shaving that specializes in razors or personal care products.
7. Sign up for the Dollar Shave Club
The Dollar Shave Club (review) is a subscription service where you can get razors and grooming products sent to your house at pretty low prices.
It's not the cheapest shaving option out there, but it still costs much less than buying from brands like Schick and Gillette.
It's also really convenient.
Tell the Dollar Shave Club a little about what you like, and it will build a box for you. It will ship your box of shaving stuff to you for free.
You'll get a Restock Box at the intervals you choose, so this could be four times a year or monthly.
You can add or remove stuff from your box at any time.
There's a 30-day money-back guarantee, which is great.
You can cancel your subscription at any time.
The Dollar Save Club also offers The Handsome Discount. With this discount, the more you buy, the more money you save – so if you add two or more products, you'll unlock bigger savings.
Also, it offers flexible shipments, so you can move your box date if you want to.
There's a starter kit you can order to try out the company's products at a lower price.
Visit the Dollar Shave Club's website here to learn more about the company and to sign up to its subscription service.
7. Dry your razor after every use
A really easy way to spend less on shaving is to dry your razor after every use. This is so easy to do, but it can make a huge difference.
Water can cause blades to rust and it can cause them to become dull quicker too. This is why it's so important to keep your blades as dry as possible.
After you've shaved, dry your razor will a towel or paper towel. You could even blow dry your blades, put them in front of a fan, or hang them upside down to dry. It does take a little time and effort, but drying your blades after every use will make them last longer, saving you money.
Some people say that they can get 12 months of use out of a razor when it's dried after every use!
8. Clean your razor after every use
Water can damage a blade, but another thing that will shorten your razor's lifespan is grime and leftover shaving cream or soap.
That's why cleaning your razor after each use will make it last much longer.
Any easy way to clean it is to scrub it with a toothbrush.
When your razor lasts longer, you don't have to buy them as often, so you save money.
9. Skip expensive extras
Conditioning strips, scented razors, and overly fancy designs are things you don't actually need in a razor.
And it's these fancy extras that can bump up the cost. So skip the fancy razors. You don't need all of those extras. Just stick with your basic blade and you'll save more cash.
10. Stop shaving
Mustache and beards have become super popular in recent years, so why not ditch shaving altogether?
There is even a No-Shave November program that raises money for cancer related causes and charities. As a participant, you stop shaving and grooming for the whole month of November to evoke conversation and raise cancer awareness. It's a great way to
Participating in No-Shave November is a great way to not only save yourself some cash on blades but also help raise cancer awareness and help a great cause.
11. A simple hack to get more out of your razor
A lot of people buy expensive shaving gels and special oils to lubricate their skin before shaving which is good as it can also help you get more use out of your razor blades.
But I personally use a different, cheaper alternative…
Hair conditioner!
Hear me out. I know conditioners are not exactly cheap either but all it takes is a tiny tiny amount of it and it does a fantastic job of lubricating your skin. The blade just gilds on the skin effortlessly. I have been able to get many more uses out of a single blade since I started using this simple hack. You can either use a shaving brush to apply or just use your hand.
There is also another bonus. If you're one of those people with sensitive skin and have to pay for aftershave -another ridiculously overpriced product- to deal with skin irritation and razor burns, you'll like using conditioner.
Every time I use conditioner for shaving, it leaves my skin ultra smooth. I don't get those painful razor burns and skin irritation either.
So stop paying for expensive shaving gels and oils. Use a tiny amount of conditioner instead.
Wanna save even more?
Read this post to learn how to get totally free shampoo and conditioners!
By the way, you can also use coconut oil.
Key Takeaways
I think that most razors are so overpriced and I'm not alone. Lots of people are now looking for cheaper options – that's why Gillette's planning to lower its prices as I said before.
There are plenty of things you can do to save money on blades and shaving, so give our tips a try. I did a rough calculation and using these tips you can easily save $100 or more per year.
Let us know in the comments section below if you have any tips on how to save money on razors and shaving.