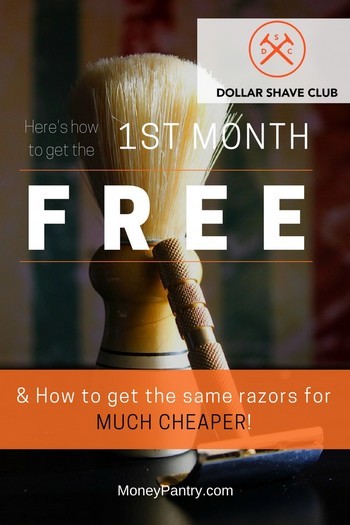 How's your face doing? Invested in it lately?
And your legs or scalp?
Maybe you have seen ads for the Dollar Shave Club and thought about buying in.
Now you're wondering what's the smart choice?
First, guys, if you have any self-doubts about paying good money for what some would call sheer vanity, don't worry. You've got company.
Global Industry Analysts, Inc., estimates that the global market for men's grooming products will exceed $43 billion (in U.S. dollars) by 2020.
Need Easy Extra $300+/Month for Free?
KashKick
: Get paid directly into your PayPal for watching videos, surfing, shopping and more.
Join KashKick Now!
InboxDollars
: Paid over $57 Million to members to watch videos, take surveys, shop and more.
Get $5 instantly!
Branded Surveys
: Get $1 instantly just for joining for free. Plus get paid within 48 hours by PayPal!
Join Branded Surveys
First Opinion
: Get paid up to $10 per survey and $300 per virtual focus groups!
Join Now!
Swagbucks
: Get paid to watch videos, shop online, take surveys and more.
Join now & get $10 instantly!
If you want your face (and body) to contribute to this trend, there are several things for you to know about one of your options: the Dollar Shave Club.
Sidebar: Keep reading to find out how you can get your first month for free!
What exactly is Dollar Shave Club?
At its core, Dollar Shave Club  is a subscription service for male grooming products.
Ahem, they also have products that women like, too.
For a set price and schedule—both of which you can impact based on your needs (See "How much does it cost?" below for details)—you can have basic shaving supplies delivered to your door.
Or you can have more elaborate shaving supplies delivered.
You can also request shaving supplies plus additional toiletries, of interest to both women and men.
But wait!
There is more!
This "shave" club will also send you new (we assume not used!) tooth brushes and peppermint toothpaste if you want to add those to your bag o' goodies.
And shower products like body and facial cleansers, shampoo, hair conditioner, and soap.
They also offer hair styling support, including gel, paste, fiber, pomade, cream, and even clay.
And goods for skin care, like moisturizer, hand cream, and lip balm.
Heck, DSC may have added four more choices since we started writing this! These and other products can be found at https://www.dollarshaveclub.com/our-products/.
How Dollar Shave Club works
You subscribe to regular delivery of a range of product options, like:
Classic (most basic option)
6-bladed executive razor and shave butter, followed by replacement cartridges monthly.
Butter??? Really?
Yep. They don't offer 99¢ cans of lather.
Ultimate Shave
The Classic goodies plus a hydrating aftershave (they call "dew") and a prep scrub (pre-shave), again with monthly cartridge refills.
Daily Essentials
For more than just your face. Yes, you get the razor, shave butter, and monthly refills. But here, you also get a whole-body cleanser for the shower use plus wipes for your armpits and … well, wherever you wipe.
There are blade options besides the 6-blade razor. They will also send you twin-blade and four-blade cartridges if that's what you prefer.
Different faces need different amounts of shaving, so you don't have to receive cartridges every single month.
And you can cancel your membership anytime.
FYI, their website provides more features than described here and can be clever too. For example: their blade comes from the future and lives in outer space.
How much does it cost?
$5. To get started with the Classic, Ultimate, or Essentials options, described above.
Hint: Since you get less with the Classic, you'll get more for your money with one of the other two.
After the first month, it's $9 each month for the various starter kits that they promote the most.
BUT…
But you aren't stuck with those options.
You can SAVE MONEY by setting the level of participation you prefer, in multiple ways.
Do you need twin-blade or four-blade options, instead of six blades?
Need less often than monthly?
Let them know.
And various Trial Kits are available for sampling for $5 to $7.
Dollar Shave Club reviews
Pros and cons abound for the Dollar Shave Club, as well as its competitors. These include long-time fans as well as critics.
Many people consider Consumer Reports to be the gold standard in quality, unbiased reviews of all kinds of products.
Guess what they have reviewed?
CR tested DSC's 2-blade and 6-blade cartridges, Harry's 5-blade, and Gillette's 5-blade. You can guess the 2-blade had the least close shave.
DSC's 6-blade and Harry's ranked Very Good or Good on all measures, and Gillette's 6-blade had the closest shave with Excellent or Very Good on all other measures.
Lots of sites have comments, both praise-worthy and snarky. Comments range from quick one-liner posts to five-minute comparisons on YouTube.
CR reports positive and negative comments from their readers. And to DSC's credit, their website is candid with both high praise and comments blasting them.
Barry M., responding to CR's test, said, "I have spent an enormous amount of money at drug stores & department stores for the best razors & blades from Gillette & Schick and … they did as horrible a job as anyone could get for a close shave. […] I found dollar shave club and was amazed at how much cheaper it was than any store-bought razors & blades."
Mike W., Sr., replied, disagreeing with Barry. "I disagree. I've shaved for 40 years and using the big-name brands and it's fine." He thinks shave clubs are ridiculous.
Meanwhile, over on the DSC website, one lady customer converted from "planned to cancel" to a 5-star rating (the best) because of DSC's customer service.
Abigail shares, "DSC's customer service is tops. My handle broke last week and I've been irritated because I can't get the plastic thing off of the razor. […] I planned on cancelling my subscription but then left some feedback about the situation before we parted ways. […] However, Sarah's customer service has reeled me back in. She went above and beyond even though she could have just written me off."
To see one individual's level-headed comparison between Dollar Shave Club, Harry's razors, and a 20-year-old (the handle, not the blades!) Gillette, check out "Razor Test: Gillette vs. Dollar Shave vs. Harry's".
5 Things you should know about Dollar Shave Club
Here are a few things you should know about DSC before you sign up for it:
1. DSC isn't a shaving company!
DSC is actually a marketing company (albeit a very good one) not a shaving/razor company (more on that later).
2. Get the same razors for far cheaper
DSC doesn't actually make their own razors. They have a factory make it for them. In fact, Dollar Shave Club razors are actually rebranded razors from a company called Dorco.
You can find the exact same razors for much cheaper at Amazon or directly on Dorco's own website.
If you're buying it on Amazon, you can even order on a subscription basis which saves you a little more.
3. Read Reddit for more comprehensive reviews
I personally don't rely on Amazon reviews that much.
One of the best places to get real and honest feedback and reviews from actual users is on related subreddits on Reddit. This goes for anything you want to buy online and not just razors.
You can actually get a more comprehensive picture of the company and its services as well as the pros and cons of using it.
There are a few subreddits where people share their personal experiences, as well as tips and hacks to save more money on razors blades.
I would start with these threads on popular subreddit like Frugal and Shaving:
4. Get the first month free
Now, if you still decide you want to go with DSC, you should know that you can get the first month for free by going to https://try.dollarshaveclub.com/firstmonth/.
All you pay is $1 for shipping.
5. 100% Money back guarantee
Dollar Shave Club offers a 100% money back guarantee. So if you're not happy with it, you can ask for a refund.
Is Dollar Shave Club worth it?
Okay. Santa Claus probably wouldn't save much. He doesn't shave. Maybe Mrs. Claus gives him an annual trim with scissors.
Whether or not DSC is worth it to YOU, depends on how you define "it."
If you define "it" as saving cash only by comparing the cost of the razor, replacement cartridges, shaving butter versus 99¢ cans of lather, etc., then you can beat the DSC price elsewhere.
If, to you, "it" includes convenience of delivery, one less thing to remember when shopping, a desirable line of products, and customer service, then the value is significantly higher for you.
How busy are you?
How forgetful?
How much is your time worth?
REMEMBER: DSC is not simply products. It provides a service. DSC delivers products to your door on a regular schedule. YOU have to decide the value for your lifestyle, however so humble or grand that may be.
The bottom line
You may reap benefits of leisure and peace of mind by receiving the Dollar Shave Club (or a competitor) on-time deliveries of essential bathroom gear that outweigh the pennies difference between them and cheaper products.
In the end, consult your face—or head or legs or wherever.
You already know this. One person's blood-letting may be another person's silky afterglow.
However much you may like their price and customer service (or not), Dollar Shave Club's appeal to you will ultimately depend on this: how your skin and hair respond to what they sell you.