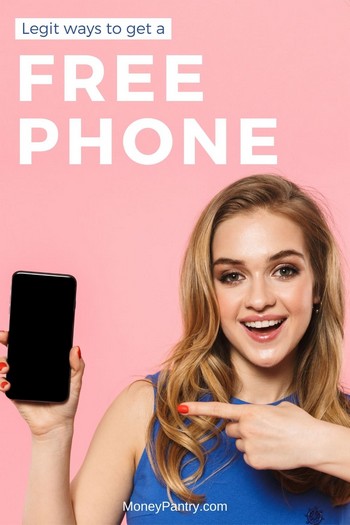 Today's post is all about how to get free phones.
Cell phones can be so expensive, right?
In fact, the average price of a smartphone in the United States was forecast to reach around $580 in 2020.
So, yeah, that's a lot of cash, and I don't know about you, but I just don't enjoy spending that much money on my phone. I mean we drop them, we crack the screen by mistake, and the list really does go on.
If you're looking to save money, or perhaps you literally don't have enough money to afford a phone, you'll be glad to know that there are actually quite a few ways for you to get a phone for free. I mean, I'm not big into phones really, so I don't care about having the latest model or anything, and I have, in fact, gotten 90% of the phones I've ever had in my life for free!
Yup! And today, I'm going to be sharing my secrets and tips with you!
Need Easy Extra $300+/Month for Free?
KashKick
: Get paid directly into your PayPal for watching videos, surfing, shopping and more.
Join KashKick Now!
InboxDollars
: Paid over $57 Million to members to watch videos, take surveys, shop and more.
Get $5 instantly!
Branded Surveys
: Get $1 instantly just for joining for free. Plus get paid within 48 hours by PayPal!
Join Branded Surveys
First Opinion
: Get paid up to $10 per survey and $300 per virtual focus groups!
Join Now!
Swagbucks
: Get paid to watch videos, shop online, take surveys and more.
Join now & get $10 instantly!
I'll cover some great programs and organizations for people who can't afford to buy a phone. These programs and organizations are great because they help out those who're on a low income.
If you're like me and you just don't like having to spend a fortune on a phone, then I'll also give you some simple tips and tricks you can use.
So, without further ado let's get into the list…
Get a Free Phone When You Switch
One of the easiest ways to get a new phone for free or very cheap is by looking out for offers and deals from mobile carriers. Many of them offer free phones. Some also offer free cellphone internet a part of the package.
Boost Mobile, for example, gives you a free phone when you switch.
Verizon will give you a free Android phone when you buy another eligible phone within the same brand with select unlimited plans.
Lots of mobile carriers offer these types of deals.
You can find offers with these mobile providers:
If you do decide to switch from one carrier to another, make sure to ask about contract cancellation fees. Some charge you a fee. Although there are ways to cancel your cellphone contract without paying fees.
Get a Free Cell Phone from the Government
The U.S. government ahs a lot of programs to help low income families offering anything from free laptops and computers to even cell phones.
Here's how to get your free government phone.
5. Assurance Wireless
Assurance Wireless is a federal Lifeline Assistance program. If you don't know, Lifeline is a government assistance program that basically helps people on a low-income to get cell phone service.
Lifeline is a federal program that lowers the monthly cost of phone and internet. With it, those who are eligible can get up to $9.95 toward their bill.
You can learn more about Lifeline Assistance here.
Assurance Wireless is a program from Lifeline Assistance that provides people who're on low-income with free monthly data, unlimited texting and free monthly minutes, and a free phone. You may be able to qualify for the program if you are on certain public assistance programs like Medicaid or Supplemental Nutrition Assistance Program (SNAP).
You can also qualify based on your household income. If you're unemployed, then you can use your Unemployment Benefit Letter as proof of eligibility.
You can learn more about Assurance Wellness here.
6. SafeLink Wireless
SafeLink Wireless is another partner of Lifeline that provides free phones to those who are eligible. SafeLink offers qualified customers a smartphone or SIM card along with free minutes, texts and data each month.
Again, you will need to participate in state, federal support programs, or meet the Income Poverty Guidelines as defined by the U.S. Government.
You can learn more about the SafeLink Wireless program here.
Trade Your Old Devices
Do you have an old tablet or phone that you don't use anymore?
Then consider selling your phone or device.
There are three websites that I would recommend:
7. Buyback Boss
Buyback Boss buys a huge range of devices. The best part about the site is that it actually buys broken devices. So you could get money to put towards a new phone just from selling your broken devices. That's pretty great, right?
Just visit the site, and there you'll be able to get a quote for free stuff. If you like the quote, then you can ship your stuff to Buyback Boss for free! You'll get paid to your PayPal account or by check! The site purchases iPhones, Samsung devices, and more.
8. Gazelle
With Gazelle, you can sell a huge variety of devices, like iPhones, MacBooks, and Google phones.
It's really simple to sell stuff to Gazelle too. Simply visit the Gazelle website to get a quote. If you like the offer you get, then you can ship your stuff to Gazelle for free if it's worth more than $1. You can then get paid by PayPal, check, or Amazon gift card.
You can put the money you get for your old devices toward a new phone.
9. Amazon Trade-In Program
Next, we have the Amazon Trade-In Program. If you would like to purchase a phone on Amazon, then you'll definitely want to get some cash from the Amazon Trade-In program. With it, you can trade a variety of electronics, such as Kindle readers, games consoles, and cell phones, for Amazon gift cards.
Sometimes, the program runs special deals. An example of a deal that I have seen in the past was one where in addition to getting a gift card for your old tech, you could also get 20% off a new Kindle e-reader. And I've seen lots of other deals available as well.
You can use your Amazon gift card to get some electronics for free!
Other Ways to Get a Free Mobile Phone without Contract or Activation Fee
Here are a few more possible ways to score free smartphones.
10. Check on Craigslist
Okay, so I would highly recommend a quick peruse of CL if you're on the hunt for a cell phone. You can get pretty much anything for free on Craigslist from TVs to firewood and phones are no exception. I've seen people giving away phones on there so often, and good phones too like iPhones.
So, have a browse on there.
To find a free phone near you, simply head on over to the "For Sale" section of your city's CL, and you'll be able to see the link to the "Free" section. Click that and you'll see a bunch of freebies. You can even search the free section for the word "cell phone" or "smartphone" to find what you're looking for.
11. Have a look on Freecycle
So next on the list we have Freecycle. This is a website I've mentioned lots before because it's such a great concept. Basically, people use Freecycle to give stuff away and get stuff for free near them. People give away all sorts of stuff on there, so it's certainly worth checking the website to see if you can get a cell phone for free from there.
12. Search on OfferUp
You might have already heard about OfferUp and know it as a website where people can buy and sell stuff locally. Well, while that is the main purpose of the site – buying and selling – OfferUp actually has a whole section devoted to free stuff! Crazy, right?
I've seen people giving away games consoles, TVs and much more on there. So, I would highly recommend that you have a browse of the website to see if there's anyone near you who's giving away a free cell phone.
You can simply browse the "Free" section, which is linked below, but everything is lumped in together, so if you're looking for a specific item, like a phone, then you'll want to filter the results. The best way to find the free stuff you're looking for on OfferUp is to go to the site enter the word "smartphone," "phone" or "cell phone," and then simply hit enter. Next, you'll want to filter the results by "Price: Low to High."
If there's anyone on the site who's giving away a phone near you, then you should be able to see that in the results. And even if you don't see a totally free phone, you'll be able to view the cheapest ones on the site and perhaps get yourself a great deal on a phone.
13. Look on Facebook Marketplace
So Facebook Marketplace is another one of those websites where people can buy and sell stuff to people who live nearby. However, you'll also find people on there who're giving away stuff for free, which can include phones.
Like OfferUp, Facebook Marketplace has a section for free stuff. Have a browse of this free section, and you may be able to find someone near you who's giving away a phone for free!
I've seen lots of freebies near me on the platform, so you could too!
14. Ask someone you know for their old phone when they upgrade
Okay, so this is the method that I've used to get my phones for free in the past, and it's to simply ask your friends or family members for their old phone when they upgrade to a newer model.
This is so useful because that person no longer needs their phone anyway, but it also saves them just throwing it in the trash. This is such an easy way to pick up a new cell phone at no cost.
Many people end up with boxes of old devices that just sit there untouched. Next time someone you know is planning to get a new phone, ask them if you can have their old one. If you're like me and don't need the latest phone model, then give this tip a try.
15 Look out for giveaways
Okay, so a lot of places will actually give phones away. This could be the cell phone brand itself like Samsung. Or it could be a store that sells cell phones. Brands and stores do this through raffles, sweepstakes, and other contests. So search the internet for opportunities to win a free phone as a prize.
I would recommend the following places for finding giveaways and things like that:
Email lists: Lots of brands and stores have email lists/newsletters that you can sign up for. You get sent things like coupons and offers. But, most importantly, many stores and brands send out details of giveaways to their subscribers. So sign up for newsletters.
Official websites: Some mobile phone companies have sections on their websites just for special offers. There, you may be able to find details of giveaways.
Social media: Many brands and stores post details about giveaways to their social media accounts. So, follow brands and stores on social media so that you can stay up to date with giveaways.
16. Get a free phone through your employer
This is one of the most overlooked ways of getting a smartphone without spending a penny on it. A lot of companies actually give their employees free smartphones and even tablets.
Obviously, this doesn't apply to everybody. But if your line of work justifies it, you could ask your employer for a company paid phone. For example, if your work requires you to take calls after hours, you could make a case that the company needs to provide you with a free phone.
Also, it never hurts to ask. Just be polite and state your case on why you think it'd be a good idea for the company to give away free phones.
Earn Free Money & Gift Cards to Pay for a New Phone
Phones can be expensive, right?
Maybe you're not on a low income, so you don't qualify for a program like Assurance Wireless or SafeLink Wireless?
Well, then of course, you can try sites like OfferUp. But maybe you don't want to get a used phone. Perhaps you want a new one, but you want it for free?
Well, I have a super easy solution for you!
Make a little extra cash!
Don't worry – you don't have to put in much effort here. Nope, you can actually make some money doing things you already do, like buying groceries (yes, really!) and even right from your bed or sofa by like playing games and watching videos.
Yup, there are lots of ways to make some extra cash. Will you make enough for the latest iPhone? Probably not. But, you can make $100s which can get you a cheaper phone for free or at least you can get a portion of whatever phone you do want for free.
Who doesn't want to save $100s on a phone, right?
Now, here's how you can earn money to get a phone for free or at the least at a huge discount.
17. Do easy tasks on Swagbucks
Anyone looking for some extra money should definitely take a look at Swagbucks. If you don't know already, Swagbucks is a website and there's an app too, which you can use to earn points that you can redeem for real money and for gift cards as well.
It's a legit site that's paid out millions of dollars to its users over the years. What's great about Swagbucks is that it rewards you for doing really simple tasks many of which you're already doing anyway!
This includes things like:
Playing games
Shopping online
Browsing the internet
Taking surveys
Watching videos
Completing offers
So you get points for doing these tasks. Points are called "Swag Bucks," and you can redeem them for the rewards that you want. And, boy, are there a lot of rewards on offer.
You can redeem points for things like:
Money to your PayPal account
Visa reward cards
Gift cards for places like Amazon, Walmart, Best Buy, and Target. So there are lots of options available here.
So, once you've earned your points, you could redeem them for money right to your PayPal account. Then you can use this free cash to get a free phone or at least one for a fraction of the price!
18. Take surveys
Have an opinion on stuff and don't mind sharing it?
Well, then why not make some money doing surveys? Survey websites pay you for giving your opinion.
Why would anyone pay you for your opinion?
Well, it's simple really! Companies can use your feedback to improve their products and services or to create new ones.
So, your opinion has value!
Now, there are lots of survey websites out there, and not all of them are actually legit. Many are, sadly, scams. So, always do be careful. Don't give out any of your sensitive data, like your SSN or your bank details. Try to use your instincts and if a site seems sketchy then do avoid it.
To get you started, here are some legit survey websites you can make money with:
Joining a few survey websites is such a good idea because it's unlikely that you're actually going to qualify for every survey that a site offers. This is due to the fact that surveys are targeted at certain demographics. So you may not fit the demographic for a particular survey.
By joining a few different survey websites, you can increase the number of surveys that you do actually qualify for!
Use Cashback Earnings
We spend so much money on shopping!
I know that I spend so much money every week just on groceries, and then there's the money I spend on Amazon as well.
If you're anything like me and find yourself spending $100s on groceries and stuff like that, then you'll definitely want to use the apps below.
Basically, they give you money for shopping, then you can spend this money on a phone. It's a good way to get a discount.
Let's say that you earn $100 from shopping apps, and you want to purchase a $300 phone. You could put that $100 toward it and get the phone for just $200.
That's essentially a third off the price of the phone. Since you're shopping anyway, this really is a no-brainer!
Here are some apps to consider:
Ibotta is a website and app that gives you rebates when you buy stuff at the grocery store.
Here's how it works:
Install and open up the Ibotta app.
Browse offers and select the offers you want. For example, this offer could be, "get $1 off Crest toothpaste."
Buy the product or products featured in the offer.
Upload a photo of your receipt.
Ibotta will give you a rebate.
What's great about Ibotta is that the rebates on offer are really good. It's not like you get 20 cents here and there. No, the rebate offers are for $1 to $3. I've even seen ones for $5! There are tons of deals offered on everything from food to beauty products.
Even if you only purchased 10 items and got a $3 rebate for each one, that's $30 you've earned by just going to the grocery store.
If you'd like to learn more about Ibotta, make sure that you check out my review here.
You can put the money that you make from Ibotta towards a new phone.
If you find yourself shopping online a lot, then give Rakuten a try.
Rakuten, which used to be called Ebates, is a website that will give you cashback when you shop online. It's a great site because you can get cashback at more than 2,500 stores!
That's a lot of stores, right?
You can go to the Rakuten website, and find the store that you want to shop at.
Each store has its own cashback rate. So, the cashback percentage rate that you can get varies from store to store. You can get up to 40% cashback, according to Rakuten. But, I've seen a few cashback rates on offer that are even higher than that.
When you browse through stores, you'll be able the view the cashback rate for each store.
Once you've found the store you want to shop at, you can simply click on it and shop there as you normally would.
After you've earned the cashback, you can have it sent right to your PayPal account.
Then, you can put this money towards a new phone!
The best part is that you can get $10 just for signing up!
Drop is an app that you should use if you want to make some money to put towards a new phone. Basically, Drop is an app that works like a loyalty program where you can earn points for shopping that you can later redeem for rewards.
The difference between Drop and other loyalty programs though is that rather than just being able to earn points at one store, you can actually earn points at multiple stores.
Just sign up for Drop, and link your credit cards and debit cards to your Drop account. Then just shop at a participating store and use your credit card or debit card to pay for your purchase. You'll automatically earn points – great, right?
Now, you can redeem your points for gift cards to places like Walmart, and Amazon. You could get an Amazon gift card and put it towards a new phone.
Basically, you get paid for shopping, which you already do anyway. So, it really is a win-win here.
Here's where to get the Drop app:
Enjoy Your Free Phone!
There are so many ways to get a phone for free. Of course, you can't expect to get the latest version of Samsung Galaxy, iPhone or Google Pixel for free, but you can get a decent smartphone that can do all the basics you'd need, like making calls, video chats, browsing the internet, shopping online, checking Facebook, etc.
And, there are options that work for everyone. If you're on a low income or participate in a government assistance program, then you can give Assurance Wireless or SafeLink Wireless a try.
If you're not on a low income or participating in a government assistance program, give one of the other options like Craigslist, OfferUp, or Freecycle a try.
Or you could sell your old devices to a site like Buyback Boss and put the money you make towards a new phone.
And, don't discount the mobile phone providers themselves. Lots of them like T-Mobile and Verizon have deals on where you can get a free phone, and usually it's a good phone like a Samsung device, for example.
Finally, consider making some extra money. That way, you can get the exact phone you want for free, or at least get some money off of it.
So give these tips a try! Oh, and don't forget to check out my post on how to get a free phone charger.
Do you have any tips on how to get free phones? Make sure you share them with us in the comments section below.