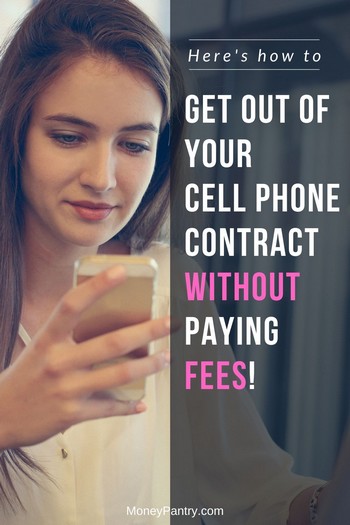 Cancelling your cell phone plan can cost you $100s, depending on who your carrier is.
Sadly though, many of us are unhappy with our current contracts and would like to end them early.
There are many reasons people want to end their cell phone contract early:
You can't afford the cost of service and want to switch to a cheaper cell phone plan
You're unhappy with your service (that's the reason I've wanted to switch carriers in the past, but more on that below!)
You want a new device or carrier
You're planning to relocate
You're not using your phone as much as you thought you would.
You've experienced a change in circumstances/a life change that means you need to alter or cancel your plan.
Unfortunately, many of us are locked into pretty long contracts with early termination fees.
In fact, in one survey, 36% of participants said they had a contract of 24 months!
But, is it possible to get out of a cell phone contract without paying fees?
Need Easy Extra $300+/Month for Free?
KashKick
: Get paid directly into your PayPal for watching videos, surfing, shopping and more.
Join KashKick Now!
InboxDollars
: Paid over $57 Million to members to watch videos, take surveys, shop and more.
Get $5 instantly!
Branded Surveys
: Get $1 instantly just for joining for free. Plus get paid within 48 hours by PayPal!
Join Branded Surveys
First Opinion
: Get paid up to $10 per survey and $300 per virtual focus groups!
Join Now!
Swagbucks
: Get paid to watch videos, shop online, take surveys and more.
Join now & get $10 instantly!
It is!
How to Get Out of Your Cellular Service Contract for Free
I'll level with you here, canceling your cell phone contract isn't without a bit of effort. It is totally possible though.
If you're not happy with your cell phone carrier, paying your way out of your contract isn't your only option.
Here are legal ways to get out of your cell phone contract for free.
1. Switch to a cell phone provider that will pay your ETFs
One of the easiest ways to avoid paying early termination fees is to switch to a cell provider that will pay the fees for you.
This option isn't available with all carriers. But with some, like T-Mobile and Sprint, for example, it is. Certain wireless carriers run promotions that offer to bail you out if you want to end your contract early.
For example, at the time of writing, T-Mobile had a promotion where it will pay off your current phone and service contracts when you get a new phone. It will pay off your contract up to $500 per line or $350 in early termination fees through virtual prepaid card and trade-in credit.
It's certainly worth having a shop around to see which carriers offer this and consider switching over if you do want to stop those ETF fees.
Cell providers that will pay your early termination fee include:
Keep in mind that some of these companies may not "pay" for the early termination fees per se but they give you a few hundred dollars in credit which essentially acts as them covering fees from your old provider.
2. Take advantage of the grace period loophole
Did you know that when you first sign a contract or get a new smartphone, there's a grace period that allows you to assess the quality?
Mobile carriers offer this grace period so you can make sure that your service and device meet your needs and, well, just work as they should!
This means that if you find that, for example, your service isn't as good as you expected, then you can end your contract without having to pay fees.
Just read the fine print to see how long you have to end your contract before you get charged any fees.
Generally, carriers give you at least 14 days to assess the quality of service.
Also make sure you test your phone service in all the places where you will use it, like at home, the office, and grocery stores, etc. You want to take full advantage of the grace period.
Getting out of your contract is much easier in the first few weeks, thanks to this grace period. If you're still within the grace period, just contact your cell phone carrier to explain the issues with your service and ask to end your contract.
3. Capitalize on a change in contract terms
A lot of people don't know that a change in the terms of the contract they signed can actually give them a way out of their contract.
Mobile carriers are supposed to tell customers when they make any changes to the contract. These changes could extend the length or increase the cost of a contract.
Even though carriers do have to let customers know of any changes to their contract terms, they don't necessarily have to make these changes obvious.
They can bury the notice in the fine print of your bill.
That's why you should do some research to see if there were any recent changes to your contract if you're looking to cancel your service.
Scour your last few bills and compare the service charges to see if there have been any changes. Also check all correspondence from your carrier, when you login to your carrier's account – check your inbox too.
You can also do a search online to see if other people have reported they've had new fees or terms on their contracts for the carrier you're with.
A quicker way to find out about changes to your contract is to call the customer service line. Just ask if there have been any recent changes to your contract agreement.
If there have been changes to your contract, you may be able to end it early without having to pay any penalties.
After all, why should you have to uphold the new terms of a contract that you didn't originally agree to?
4. Transfer your contract to someone else
Another way to cancel your contract is to transfer or trade your contract with another person.
For example, you might not get great service where you live, but your friend gets great coverage from that carrier in their area – so your friend might consider taking on your contract.
Just ask friends and family to see if any of them would like to take on your contract. If you call customer service together, this can be done pretty quickly.
You will need to ask to do an Assumption of Liability. This transfers the rest of the contract to the other person. Make sure your bill is current before you transfer the contract.
The other person will receive a copy of the terms and will need to show that they have read them and agree to them. The carrier may need to do a credit check for the other person as well.
5. Talk to customer service
If none of the above works for you, just consider something simple:
Call customer service and ask!
If you're good with negotiations, this could work for you.
Contact customer service and ask them if there's a way to end your contract at no cost.
You'll probably have to escalate your request and provide legitimate reasons you want to end your contract early.
Now, I'll level with you here – this option doesn't always work.
The thing is though, even if you aren't able to cancel the contract without paying fees, you may be offered other benefits.
Carriers want to keep their customers. So, if you tell them you're looking to get out of your contract, they're likely to offer you incentives to keep you on as a customer.
These incentives could be a few dollars taken off your bill or a credit on your next statement.
Another tip is to let them know if you have a better offer from another provider – they may be able to match it!
This works well if you're more than halfway into your cell phone contract since some carriers will negotiate for better offers when a customer's contract is getting close to expiring – after all, as I said above, carriers want to keep their customers!
Here are the links to the contact information for some popular mobile carriers:
If the customer service agent you speak with the first time isn't helpful, hang up and call back to speak to someone else.
This has always worked for me in the past.
I can't tell you how many times I've called up customer service for a company one day to speak with an agent who isn't helpful, only to call up later that day or the next day to get through to someone really helpful who offered me a refund or compensation on my account.
It really depends on who you talk with. So, give customer service a call!
6. Always report any issues with your service
Okay, so at the start of the article, I mentioned that one of the reasons you may want to cancel your contract is because you're unhappy with your service.
This was the case for me. Where I live, a cell phone tower went down, resulting in no coverage – none!
I could not make regular phone calls. If I wanted to make a call, I had to do it over Wi-Fi using WhatsApp. That certainly was not ideal for times that I wanted to make calls to places that didn't use WhatsApp, like my Dr's Office for example.
In the end, I called up and told them I wasn't happy with the poor service. They told me it would be fixed soon. The issue continued for months though. So, I kept contacting customer support. As a result, I've received $100s in credits!
This means that I've essentially gotten free cell service for about three months!
So always report issues with your service!
It's not just credits you can get.
If you have bad service from your provider, this could be a valid way to get out of your contract for free.
Keep track of all instances of things like missed or dropped calls, bad service, calls going straight to voice mail, etc. Call customer service and explain the issues you're having with your phone.
Keep calling to report issues. And call often! This will make the carrier aware of the issues you're having and give you more grounds to get out of your contract early for free.
Just make sure you're polite and explain everything professionally.
If you don't get anywhere with customer service, and you continue to have issues with your cell service, consider reporting the carrier to the BBB or the FTC. Even just mentioning to your carrier that you are planning to report them can be enough to make them listen to you.
7. Ask to cancel your contract when you move out of the service area
In larger metropolitan areas, you'll likely get good coverage from your wireless carrier. When you live in a more rural location though it can affect your service.
So, if you've recently moved out of the service area, you may not get good coverage from your carrier there.
This can be a valid reason to get out of your cell contract without having to pay those early termination fees.
Do keep in mind though that a lot of carriers will give you a mini antenna or tower for your home that will boost your signal.
If you use your phone in places outside of the home – like at school or the office – keep records to show why an antenna or tower won't work.
Also, keep records of your poor service, dropped calls, etc.
All of this can be used to negotiate your way out of your contract!
Also, if you're in the military and you have to deploy for a long period, you may be able to get out of your contract for free. Or the carrier may place your contract on vacation mode.
If you're moving out of the country or to a remote location for an extended period of time, then call to talk to your carrier about your options.
And remember above I mentioned to call back if the first customer service agent isn't helpful – this works here too.
8. Sell your cell phone service
There used to be a site called TradeMyCellular.com where you could sell your cell phone plan to someone else. Unfortunately, that site no longer exists and I couldn't find any other similar sites. But you can use the same idea. See if you can find anyone within your circle of friends and family (look on Facebook) who needs the kind of plan you currently have and sell your plan to them with a discount.
That way you avoid paying early termination fees and the other person gets a plan they wanted without having to pay full price for it.
9. In the Military?
If you are a military member, you should know that according to the Servicemembers Civil Relief Act, military members are entitled to terminate their cell phone contracts if they're deployed.
10. Skip fees altogether
This won't help with your current situation, but if you are in the market for a new phone and plan, skip upgrading with the same phone. Instead buy an unlocked phone outright. You can find unlocked phones with great prices on Amazon and elsewhere. And if you don't use your phone for anything but talk and text and a few videos and pictures here and there, you can get unlocked phones for $100 to $200 that feet the needs of most people in that category.
How Much Will I Owe If I End My Contract Early?
Obviously, it depends on your current provider and the length of your plan. And there is an easy way to figure out how much exactly you'll owe if you get out of your current contract.
MyRatePlan.com has a nice little early termination fee calculator that makes it easy for you to find out how much your fee would be based on the carrier you use.
Closing Thoughts
It doesn't mean that you're stuck paying fees if you want to cancel your cell phone contract.
There are options for getting out of a cell phone contract for free. So, give them a try.
Have you ever canceled a contract early? How did you do it? Let us know in the comments section below.