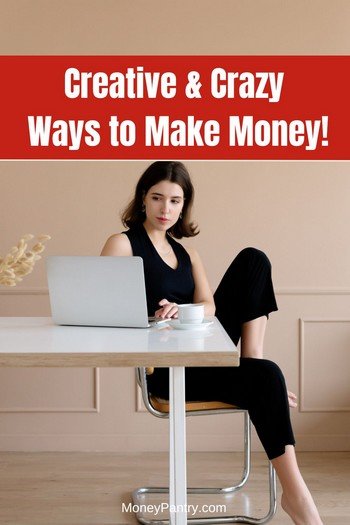 To kick things off here at MoneyPantry.com, I wanted to start with a post outlining a few unique ways to earn extra money.
I am certain many of you are not familiar with most of the ideas I am about to share, which is why I think you will find this post particularly interesting.
Whether you are a stay at home mom looking for ways to make some money from home, a college student looking for small part time jobs to make some pocket cash, trying to save up to pay off your credit cards, lost a job and need a new way to make ends meet, whatever your reason may be, I am sure you will find an idea or two that will appeal to you.
Unique Ways to Make Money
With that said, here are some truly creative and unique money making ideas:
1. Purchase alcohol and aobacco
You want beer money?
Buy beer!
Need Easy Extra $300+/Month for Free?
KashKick
: Get paid directly into your PayPal for watching videos, surfing, shopping and more.
Join KashKick Now!
Panel Payday
: Earn up to $75 per survey. They also pay up to $50/hr for mystery shopping.
Join Now!
InboxDollars
: Paid over $57 Million to members to watch videos, take surveys, shop and more.
Get $5 instantly!
Branded Surveys
: Get $1 instantly just for joining for free. Plus get paid within 48 hours by PayPal!
Join Branded Surveys
iPsos iSay:
: If you have to only sign up for one paid survey site, go with Ipsos (high paying survyes)!
Join iPsos Now!
Swagbucks
: Get paid to watch videos, shop online, take surveys and more.
Join now & get $5 instantly!
Basically, you sign up with a company to help research whether or not stores are following age compliance laws.
The idea, of course, is to make certain you're being asked for identification before being permitted to purchase alcohol or tobacco products.
To find such opportunities you have to go through mystery shopping companies. Two that I know have had the "beer auditing" gig a few times before are Trend Source and Second to None.
2. Become a Telephone Information Broker
Update: Cha Cha has shut down!
If you are skilled at quickly recording a question, finding the answer and responding then you may be able to make extra money as a ChaCha Guide.
If you're unfamiliar, ChaCha is a question-answering service operated by actual people who respond to clients' questions through the use of the Internet and SMS.
Those employed as guides typically earn anywhere from 2 to 20 cents for each question, depending upon their job title.
While that doesn't sound like much, if you're fast enough you can supplement your income while also expanding your intellectual horizons.
3. Use your car as a billboard
Many businesses will pay you on a monthly basis to use your vehicle as a mobile billboard.
It's called Car wrapping.
If you're eligible you can receive money each month for simply driving around town with your car decorated with your favorite brand names.
Check out this post for a list of car wrapping companies.
4. Paint your butt?
I came across the news that pictures of backsides painted with national flags are generating interest in Europe.
If anybody can make a living out of this, why can't you?…
What you need to do is to convince enough people to drop their pants so you can paint on them. Take photos of your artwork and market them on the Internet.
Since people have done national flags, you could try astrological signs or celebrity faces so at least you could claim to be original. Maybe money, and possibly fame, will find you.
5. Dumpster dive
Though it's far from a glamorous profession, searching through others' trash to find items that can be repaired, sold, and recycled can be a profitable venture.
Unfortunately, not all states regard this activity as legal, so be sure to familiarize yourself with the regulations in your area.
6. Selling virginity
I am not at all for this idea but to stay true to the subject of this article, I just have to rub this in at some point.
A few years back, Fox News reported on a case where Natalie Dylan, a made-up name for a real 22-year-old California college grad, was selling her virginity for  $3.7 million.
You can read the story here.
The fact is, some women have been selling their virginity for ages. And the way society works nowadays, some women simply have no qualms whatsoever to advertise that their virginity is for sale.
Again, this is a ladies only game.
7. Offer professional cuddling service
This is yet another trendy activity in modern society. The trend definitely cuts across the world and you can find this professional cuddling service in LA, Tokyo, London and many other cities.
Rumors have it that some are so hot in demand that they easily make $360 a day or more.
A Graduate student named Jacqueline Samuel is charging $60 an hour for cuddling in N.Y. and her business is going so good that she had to hire an additional snuggling professional.
Getting into close proximity with strangers has its own challenges and I would never fancy myself in this position. But if you find comfort in a familiar setup and you are convinced that you are actually doing good to those lonely souls out there, who could berate your effort to make a little more money this way!
8. Get paid to shop as a Mystery Shopper
Though the idea of secret shoppers has been around for quite some time, and the practice of secret shopping is nearly as old, the advent of the internet has made participating in this unique profession far simpler.
Organizations that specialize in arranging for secret shoppers to visit the stores of clients will often pay $20 to $30 per assignment to gain consumer opinions for their customers.
You can find a list of the top 5 Secret Shopping companies here.
9. Sell pet wish rocks
I suppose you have heard of pet rocks but they may not be as big-time as before.
Wish rocks are now all the rage. But really it is all about marketing.
We learn from "The Secret" that a character funds the healthcare of his child by selling river rocks, which are packaged as "gratitude stones".
The idea is a clever marketing message.
Find some really cool natural or rolled stones, and start to think about how you can attach those to a popular theme or fashion of the day. People may get impressed to want to buy them.
10. Party can & bottle collector
I am not referring to full-time rag-and-bone profession. But the principle is the same. You may be one of those avid party-goers or you, at least, hear of the many parties going around your area.
Always offer yourself to clean up the used bottles and cans after the event. You can make extra money recycling cans and bottles.
Instead of these ending up in the dump, they could actually be redeemed for cash.
The current going rate ranges from $0.05 for 8-12 ounce bottles or cans. The larger liquor bottles are more lucrative, going for $0.15 per bottle.
11. Make & rent signs
If you are good with handicrafts, try to take full advantage of your talent. Think of some intricate designs that are going to pique people's minds and transform your idea into some wooden signposts.
Your yard could be a good exhibition ground to display your creativity. Do up flyers or place ads to inform the public that these can be available through rental.
To get to the mass market, you may want to design the signposts with generic events in mind, like those associated with marriage and birth.
12. Make a kissing booth
Usually kissing booths are great for raising money for charities and causes.
Check out this story of dogs kissing booth.
But a kissing booth can also be an interesting way of making money as well.
Of course,  your physical appearance and how far you going to be with every kiss are going to have a big say on the level of your success.
The backyard of your house could be a good place to organize this.
Alternatively, you could set one up at an event (need to get the green light from the event organizer first).
To maximize your earning potential, you may want to target those nerds/geeks oriented events. Check out the ComiCon or DragonCon.
You may further strengthen your appeal by dressing up as a popular character (take note that the above advice is made without any gender discrimination in mind, so guys, as well as girls, are encouraged to try this).
13. Selling your whole life!
Mike Merrill made news recently when he valued himself to be worth $100,000. 100,000 shares were offered to the public at one dollar each.
In return for the investment, the shareholders have complete control over Mike's life.
It will be interesting to see if this arrangement will mimic the working of real world commercial assets like companies, such as short-term benefits over a long-term prospect.
In the meantime, Mike has allowed a number of life decisions under the shareholders' voting, such as a vasectomy, a polyphasic sleep experiment, a change to his hair color (which the shareholders voted against), buying a new car and breaking up with his first major life partner, shareholder number seven.
Mike is letting the shareholders decide on his next love interests, and he is barred from meat dishes (he used to love meat of all sorts)—but the shareholders make a concession on fish.
14. Sell your blood plasma
Blood plasma is a necessary part of the modern healthcare system that clinics and hospitals just never seem to have enough of.
If you need some extra money quickly this is a good place to start.
15. Capitalize on your special gifts
Fiverr.com, a digital marketplace for the sale of custom services allows you to sell your talents starting at just $5 per service rendered. Its founders categorized it as "the world's largest marketplace for small services."
Many are marketing all sorts of products and services ranging from, but not limited to, custom cartoons to birthday jingles written just for you.
It's a great way to quickly capitalize on those hidden talents you've kept a secret for so many years. Fiverr represents many unique ways for kids to make money as well.
16. Get paid for jury duty
Organizations like OnlineVerdict.com that run these online mock trials will bring in participants to take part in and asses the system, as well as generate feedback about the best ways to approach their cases.
Those taking part are required to evaluate the proceedings, by completing a number of questions and providing additional notes, thoughts, or ideas about the material presented.
A standard evaluation process will take anywhere between 20 and 60 minutes and earn you money within the same range.
17. Rent your driveway
Finding parking can become pricey, especially in developed urban sectors. In such places, if you possess an open area great for parking, it's just good sense to make use of it.
You may not be able to rent or sell your parking spot for one million dollars, but you can bet you can get some extra spending money out of it.
Assuming you have the additional space and are located in an area with heavy traffic, renting out that space is an excellent method for obtaining some additional income.
To find interested parties look on Craigslist.com or other similar sites.
18. Rent your stuff
Though you might be wondering what you could possibly have worth renting out, many people make extra cash by renting out cars, electric tools, cooking appliances, and even their pets (as a pet lover, I think that one is just wrong)!
If someone wants it (and there's always someone) you can rent it out for a little spare money.
19. Sell your hair
Assuming you have long hair that's not undergone any chemical treatments you can exchange it for some extra cash online.
Depending on the length, color, quality, and other factors human hair can sell for up to thousands of dollars. As this is the case be sure and have your stylist pack up your hair for you so you can take it home to sell.
For a list of sites where you can sell your hair for cash, read this post.
20. Make and sell arts & crafts
If you have some sort of crafty skill such as sewing or knitting, you may be able to turn a profit by selling these homemade items on a site such as Etsy.com.
Reports from Inc. claim that in 2009 $180.6 million of homemade products were sold. This is a great way to earn money online and from home.
21. Sell your body to science
Participating in clinical research studies can help you earn a little extra cash should you qualify. Often these studies will pay you for your time and participation.
It's important to carefully research what's being tested, though, as experimental drugs and procedures can have some negative side effects.
The Bottom Line
I know not every single method mentioned above is going to be the right fit for you, but if you are in a tight spot and need some extra cash, take advantage of some of these unusual and unique money making opportunities.
Every extra dollar you make gets you one step closer to a better and more stable financial life.