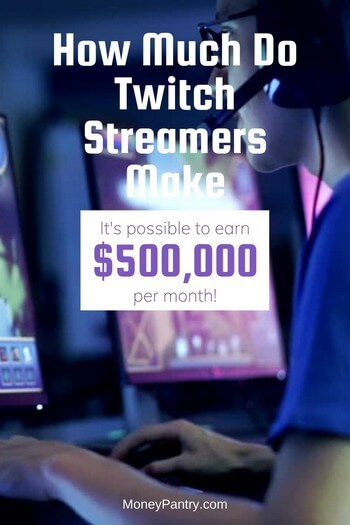 Twitch is a super popular platform for gamers and eSports fans.
People stream various video and online games like:
Grand Theft Auto
Minecraft
Fortnite
Call of Duty
League of Legends
Among us
However, Twitch isn't just for gaming (although that is what it's primarily known for) with channels dedicated to everything from music to art, and even some talk shows.
In 2014, Amazon purchased Twitch for an impressive $970 million.
In 2020, there were about 41.5 million Twitch users in the United States alone. And, this figure is estimated to reach 51.6 million by 2024.
Now that the platform is so popular, it's starting to produce streamers who make money streaming video games on Twitch.
Need Easy Extra $300+/Month for Free?
KashKick
: Get paid directly into your PayPal for watching videos, surfing, shopping and more.
Join KashKick Now!
InboxDollars
: Paid over $57 Million to members to watch videos, take surveys, shop and more.
Get $5 instantly!
Branded Surveys
: Get $1 instantly just for joining for free. Plus get paid within 48 hours by PayPal!
Join Branded Surveys
First Opinion
: Get paid up to $10 per survey and $300 per virtual focus groups!
Join Now!
Swagbucks
: Get paid to watch videos, shop online, take surveys and more.
Join now & get $10 instantly!
But, just how much do Twitch streamers make?
Is this a viable career option?
Can Twitch make you a millionaire, like YouTube can?
Well, in today's post, I'll answer those questions and cover everything you need to know about how Twitch streamers basically make money playing games!
Let's get started.
Who Can Make Money on Twitch?
Twitch is home to 9.52 million active streamers as of February 2021.
Not all broadcasters on the site can make money though.
In order to start making money, streamers have to either be a:
Twitch Partner
Twitch Affiliate
You can't be both a Partner and an Affiliate. But more on that below.
Joining the Twitch Affiliate Program
In order to be an Affiliate, you need to have:
At least 500 total minutes broadcast in the last 30 days.
At least seven unique broadcast days in the last 30 days.
An average of 3 concurrent viewers or more in the last 30 days.
A minimum of 50 followers.
If you meet the criteria, then a few weeks after your channel becomes eligible, Twitch will send you an invitation to your email and in the Notification Area in the upper right corner of Twitch.TV.
The company says that the criteria for Affiliates is likely to change as it develops the program.
Affiliates can earn money from:
Payment options include:
Direct deposit to your bank account
Wire
PayPal
Check
Joining the Twitch Partner Program
In order to join the Twitch Partner Program, you need to complete the Path to Partner achievement or show that you have a large, engaged viewership/following on other services.
The Path to Partner achievement basically helps you to track your progress to being eligible to apply for the Twitch Partner program.
You'll need to earn the following achievements:
Stream for 25 hours.
Stream on 12 different days.
Get an average of 75 viewers (concurrent viewership, which excludes hosts, raids, and embeds).
To be eligible to apply for the Partner program, you need to meet the requirements for the above achievements over a 30-day period.
Being eligible for the program doesn't guarantee Partner status.
When you do become eligible, you will see an "Apply" button, which links to the Partner application form. Applications are reviewed manually by the company's Partnerships team. It usually takes 7 business days to hear back about your application. If your application is declined, then you can apply again in the future.
Aside from completing the Path to Partner achievement, or demonstrating a large, engaged viewership/following on other services, you will also need to:
Create content that conforms to the platform's Community Guidelines, Terms of Service and DMCA Guidelines.
Maintain the criteria outlined in the Path to Partner achievement (if you completed it) on a consistent basis.
As a Twitch Partner, you can earn revenue from:
Channel subscriptions
Emotes
Bits
Ads
When you are part of one of these programs, you can start making money as a streamer.
Here's how…
How Much Do Twitch Streamers Earn?
Once you are a Twitch Affiliate or a Twitch Partner, you can start making money from your channel.
According to CNBC, Twitch streamers make about $3,000 to $5,000 a month.
Income mostly depends on how many followers and subscribers you have, and how many views you get.
Let's go into a little more detail on ways to make money on Twitch and how much you can expect to make.
Ways to Make Money Streaming on Twitch
Here are 7 ways that Twitch streamers make money and how much they get paid:
1. Subscriptions
Subscriptions are the main way people make cash through the platform.
The subscription options are:
$4.99
$9.99
$24.99
Or the Prime Gaming free subscription.
You get 50% of the subscription income. So if you get a $24.99, subscription, you would earn about $12.49.
Let's say that you have 10 subscribers, each paying $4.99. Those 10 subscribers would make you $24.95 a month.
If you got 500 subscribers a month, you would make $1,247.50 from subscriptions.
So, the more subscribers you get and the more views you get, the more you'll earn.
If your channel starts to grow, you could earn $1,000s or even $100,000s from sponsored content.
2. Ads
You can earn a share of the revenue from any ads that are played on your channel. You get about $250 a month in ad revenue for every 100 subscribers. You can determine the length and frequency of mid-roll ads through your dashboard.
Let's say you had 500 subscribers, then you would earn $1,250 in ad revenue,
3. Bits
Bits are another way for viewers to support your channel. Streamers can get a share of the revenue that Twitch gets from Bits that's equal to 1 cent per Bit used to Cheer for them. So you get roughly 1 cent per Bit.
4. Donations
Viewers can also make monetary donations to their favorite channels.
5. Sponsorships
Okay, so one of the biggest income streams for broadcasters on the platform is sponsorships.
Companies pay streamers to promote their games, products, and services. Obviously, you'll need to have a decent sized following for this opportunity.
Streamers are sponsored to play specific games. According to various online reports, streamers can earn anywhere from 1 cent to $1 per viewer per hour.
If you have 10,000 viewers, it means that you could make anywhere from $100 to $10,000 per hour of gameplay.
This can be one of the more lucrative ways for streamers to earn.
Ninja, who is the most followed streamer on Twitch, was paid $1 million to promote EA's "Apex Legends" launch. He got a million for tweeting about the game and for streaming his gameplay on Twitch.
And, they are also sponsored to promote products like headsets, chairs, and keyboards.
6. Merchandise
Streamers can create and sell their own merch once they have a larger following. This can include t-shirts, phone cases, mugs, and much more.
7. Expanding to other platforms
Success on Twitch can also lead to success on other platforms, such as YouTube and Instagram.
Getting your Twitch audience to follow your YouTube channel, for example, could bring you in more money. I've seen people posting Minecraft streams from Twitch onto YouTube where these videos get 1,000s of views and can generate more income. So, Twitch streamers can also earn more as an influencer or brand ambassador on other social media platforms.
How much do small twitch streamers make?
Channels with 100 subscribers could make $249.50 to $1249.50 a month from subscriptions alone.
You could also earn money from ad revenue, which as mentioned above, works out at about $250 per 100 subscribers.
How much do Twitch streamers make from one sub?
You get $2.49, $4.99, or $12.49 per sub.
Top Earning Twitch Streamers
Below, I've listed the top 10 most followed Twitch streamers.
I've included a monthly income for each one unless there are no figures available. This monthly figure is for subscriptions only (for most streamers), so this doesn't factor in donations, sponsorships, and other income streams.
I've also included an estimated net worth for each streamer.
I've listed them in order of follower count.
Before we start on the list, it's important to note that these figures are merely estimates reported online. Most Twitch streamers don't reveal their incomes themselves, so these are only estimated figures.
Here are the top 10 most followed Twitch streamers…
Key stats:
Key stats:
Key stats:
Following: 9.2 million subscribers.
Income: $80,000 a month.
Estimated net worth: $8 to $12 million.
Key stats:
Following: 8.6 million followers
Income: No monthly income reported.
Estimated net worth: $7 million.
Key stats:
Following: 7.9 million followers.
Income: $80,000 a month.
Estimated net worth: $1.5 to $3 million.
Key stats:
Following: 7.8 million followers.
Income: No monthly income reported.
Estimated net worth: $9.9 million.
Key stats:
Following: 7.5 million followers.
Income: $25,000 a month.
Estimated net worth: $1 to $2 million.
Key stats:
Key stats:
Key stats:
By the way, if you want to see what YouTubers make in comparison to Twitch streamers, check out my post on how much do YouTubers make. It's eye-opening to say the least!
Closing Thoughts
Twitch sure can be lucrative!
Knowing the massive potential and just how much Twitch Streamers make, this could be a great way for you to earn money especially if you enjoy playing games.