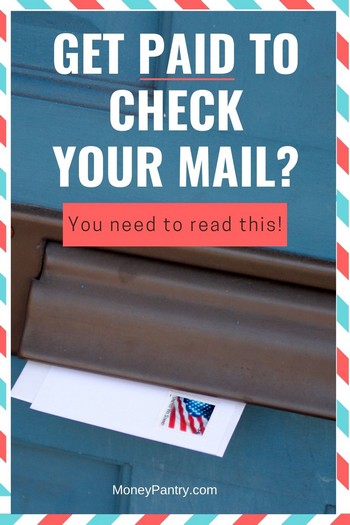 Junk mail is annoying, right?
Not if it makes you money though!
Work as a mail decoy and you'll get paid to receive mail from a variety of companies.
You can do this through US Monitor. It's an interesting company that works with clients to manage quality control and efficiency when it comes to their mail.
It's a little different than getting paid to read emails. Here companies want to make sure their flyers and other mailings arrive on time and in good condition. As a decoy, you'll check for things like whether the mail was torn and report back. It's a win-win for everyone. You're paid and the company knows whether their mail is sent out as it should be.
But how exactly does US monitor work? Is it legit? And most, importantly, how much does it pay?
Need Easy Extra $300+/Month for Free?
KashKick
: Get paid directly into your PayPal for watching videos, surfing, shopping and more.
Join KashKick Now!
InboxDollars
: Paid over $57 Million to members to watch videos, take surveys, shop and more.
Get $5 instantly!
Branded Surveys
: Get $1 instantly just for joining for free. Plus get paid within 48 hours by PayPal!
Join Branded Surveys
First Opinion
: Get paid up to $10 per survey and $300 per virtual focus groups!
Join Now!
Swagbucks
: Get paid to watch videos, shop online, take surveys and more.
Join now & get $10 instantly!
I'll answer all of those questions and more in this US Monitor review.
What is US Monitor?
US Monitor, much like is a company that works with a variety of clients who send mail out to agents (you) to find out:
How long the mail takes to arrive
What condition it arrives in
If there is unauthorized use of their mailing list.
Companies use US Monitor's mail decoy service for lots of different types of mail, like:
Standard mailers
Periodical mailers – like timely articles and editorials and seasonal ads.
First class mailers – like shipping information, invoices, and contracts.
Parcel select mailers
For example, a clothing company might work with US Monitor to make sure that its catalogs arrive on time and that they're in good condition when they do arrive.
US Monitor hires decoys, like you, who go on a client's mailing list to receive whatever it is they're sending out.
Once you're on the list, you'll start to receive items in the mail, such as:
Newsletters
Catalogs
Offers
Flyers
Then you'll have to check the mail and report what condition it was in. You'll be paid for doing this.
Why does US Monitor pay you to check the mail?
I know what you're probably thinking.
Why would a company pay you to check their mail?
Well, despite us living in an ever-increasing digital world where emails, WhatsApp messaging and Zoom calls seem more prevalent than the mail, the good old fashioned US Postal Service is still a go to for many companies who use it for marketing purposes.
Since the postal service is still being used as a marketing tool, companies want to make sure that the items they're sending out are being received at the right time and in the right condition. It's basically like Mystery Shopping where companies (like these legit mystery shopping companies) send decoy shoppers to stores to pose as real shoppers and report back their experience.
For example, a company who sends out coupons that are only valid for the first week of August, will not want those coupons taking until August 15th to arrive in the mail.
And a company who sends out catalogs will not want them to arrive ripped or damaged in any way.
And of course, companies want to make sure that people are actually receiving their mail at all.
A delay in the mail being delivered, materials being missing or mail being damaged can cost a company money. That's why these companies are willing to pay people like you to be mail decoys, so they can make sure that their mail is actually delivered and that it arrives as it should be and at the right time.
How to Make Money at Home as a Mail Decoy
Now you know more about what US Monitor does and why companies hire mail decoy's, let's take a more in-depth look at how US Monitor works.
Step 1: Sign Up
The first step is to sign up to be a mail decoy. US Monitor calls its decoys, "agents."
You'll need to head on over to the website and complete the agent form (link in the next section).
This is an application form that the company will review to see if they have any openings available for decoys in your area.
This is the problem really – there may just not be any openings in your area. If US Monitor already has agents near you, then you likely won't be accepted. This doesn't mean that positions won't be available in the future though.
And if there aren't already any agents near you and you meet the criteria, then you could be accepted as one of US Monitor's mail decoys.
So what exactly does signing up entail?
It's pretty simple.
Start by going to the application form here.
There, you'll need to fill out your basic details, such as your name, email address, country, and address.
It's not just basic details that you'll need to enter though. The company also asks you some questions, like "how many weeks a year do you travel for business or vacation?" and "how long have you been at this residence?"
Who can sign up as an agent for US Monitor?
What's great about this opportunity is that there aren't really any requirements.
Of course, you are asked how often you'll be away, like I mentioned above, meaning it's likely that US Monitor prefers candidates to be home often so they can process mail.
You're also asked if anyone can process mail in your absence, which could also play a factor in whether or not you're accepted as one of the company's decoys.
While no special training is required, you may need to have a scanner and a digital camera, as well as a computer of course. As long as you have a zip code, you should be able to sign up.
On the "Country" drop down menu on the application form, you'll notice that it lists a lot of different countries. This means that you may be able to be hired as a decoy even if you don't live in the United States.
Step 2: Receive Mail
If you're accepted as one of US Monitor's mail decoys, you'll start to receive mail from various companies.
This mail will be addressed to your address, but not to your name. It will have a decoy name, which is a unique name that identifies the client. There will also be a code that identifies the mailing, which is called a keycode.
How much mail you receive varies, but you can get mail six days a week.
Step 3: Process Mail
Each day that you receive mail, you'll need to process it. US Monitor says that it's important that all mail you get is processed on the day it is delivered. The client can view the status of their mailing on the site, where the information is continually updated by US Monitor's mail entry operators and agents, like you.
So when you get mail on behalf of US Monitor, it's important that you process it on that day.
Each piece of mail must be processed, which is, thankfully, pretty easy to do!
Just visit the homepage of US Monitor. Click on the tab that says "login" at the top right of the page.
You'll be taken to the login page – the left side is for clients and the right side is for agents, so that's where you'll need to enter your details.
You'll need to enter your agent ID and password and click the submit button.
When you're logged in, you'll be able to view The Message Center. On this page, you can see all of the general messages that are posted to all of the site's agents, and messages that are specific to you.
Make sure that you have a read of this section when you login to make sure that you don't miss any updated instructions.
Now, to process a piece of mail, you'll need to go to the Mail Entry page.
On this page, you'll need to enter information about the mail that you receive, including:
The receive date: This is the date the mail arrived.
The decoy name: You have to type the decoy name as it appears on the piece of mail. As you get closer to spelling the entire name, you'll see the name you need to select.
Keycode: Just like with the decoy name, start typing the code and select the correct code when it appears. If it isn't in the drop-down list, you can just enter the code you see in the keycode field.
Condition: You need to say what condition the mail was in, like was it damaged, ripped, torn, crumpled or soiled? If it is, then you'll need to select "Poor." You'll only need to complete this for certain mail pieces.
That's it. You'll be able to view any changes before you hit submit.
Once you've processed one piece of mail, you can move onto the next one.
Sometimes, you may need to do additional tasks, such as scanning pieces of mail or taking a photo of a piece of mail.
Step 4: Get Paid
Of course, US Monitor pays you for your time.
To make sure that you receive your money, make sure that all of your personal and billing information is filled out and correct. You can check and update this information in the "My Profile" section of the site once you're logged into your US Monitor account.
Is US Monitor a website that pays you with PayPal?
Sadly, not.
We all like PayPal payments. They're fast and convenient, right? You can get the money in as little as a few hours.
US Monitor doesn't offer PayPal as a payment option though.
Instead, it pays you by check. It's not a surprise really that a business who assists clients with their mail quality and efficiency would pay you with a check in the mail.
How Much Does US Monitor Pay?
So what kind of payment can you expect from US Monitor?
You get paid a fee of $10 a month. That's not all though. US Monitor will also pay you for each piece of mail that you process. You'll get $0.25 per piece of processed mail.
So your earnings will really depend on how much mail you get.
You might only get a few pieces of mail at the start, but you'll start to get more as time goes on.
Let's say you get 50 pieces of mail a month, you'd make $12.50 a month, in addition to that $10 fee. That's about $270 a year.
Obviously, the more mail you get, the more work you have to do processing it.
Of course, there's no guarantee that you'll actually receive any mail at all, so you could only make $10 a month. This works out at an extra $120 a year.
Is US Monitor Worthwhile?
US Mail is a legit company, so if you're approved as a mail decoy, you can receive mailings from the company's clients and you will get paid in return.
Just because it does offer a legit way to make money though, is it actually worth your time?
Let's take a look at some of the pros and cons of using it.
Pros
I'll start out with the positives.
Anyone can sign up
Since there's no experience or qualifications needed for this one, anyone can sign up and start making money. So that's definitely a big bonus.
It's an easy way to make money
All you need to do is login and state what condition the mail was in. So it's not like you have to put too much thought into this opportunity.
Cons
Now let's take a look at some of the downsides of US Monitor.
It's a big commitment
Although it's not particularly challenging being a mail decoy, it is a big commitment. You receive mail every day. And you have to upload it every day.
The site says that its mail decoys spend an hour or less every day processing mail online, except for on Sundays and Holidays.
That means you spend six days a week processing mail.
Since US Monitor says that it's "imperative" that the mail is processed the same day it is received, means you need to stay on top of the items you get.
For the amount of pay you get, this is quite the commitment. You have to spend time opening mail every single day.
Payment is sent by check
Being a mail decoy for US Monitor isn't exactly a quick way to make money. It pays by check, rather than PayPal. This means that you'll have to wait a little longer to get paid.
Not only do you have to wait for the check to arrive in the mail, but you'll also need to take the time to cash it. That's not ideal for everyone.
Pay is too low to make this a full-time gig
Even though you have to process mail every day, being a mail decoy with US Monitor won't make you enough money to be a full-time gig.
Pay is only $10 a month, as well as $0.25 per piece of mail, as I mentioned above. Of course, if you were getting tons of mail each day, you may be able to make a decent amount from this. But that won't always be the case.
You can turn lots of work at home opportunities, like freelance writing or data entry into full time jobs that bring you in a great income. Even sites like Swagbucks can earn you $30 or more each month.
So you won't be able to quit your full-time job or anything.
Overall Verdict
So should you become a mail decoy with US Monitor?
I'd say that it's really up to you.
US Monitor is a legit work at home opportunity allowing you to make money as a mail decoy.
It's a pretty easy way to make some extra spending money.
You get that $10 a month and then you'll receive cash for each piece of mail that you process, so the more mail you get, the more cash you'll earn. You could earn $60 in 4 weeks if you got 10 pieces of mail each day.
There's no guarantee though that you'll receive that much mail. So you may not earn that much.
That's the main issue I have with this opportunity.
It's a commitment each and every day, yet the pay isn't that high.
If you're looking for something to make a little extra money with that's easy and you're home a lot, then this could definitely be the opportunity for you.
On the other hand, if you're looking to make a part-time or a full-time income from home, there are much better opportunities out there. Being a mail decoy is not for everyone.
For me, $10 a month and $0.25 per piece of mail just seem like too little when you have to process mail 6 days a week. It could be the opportunity for you though, so if it sounds ideal for you, then give it a try.
Have you ever worked as a decoy for US Monitor? Let us know about your experience in the comments section below.