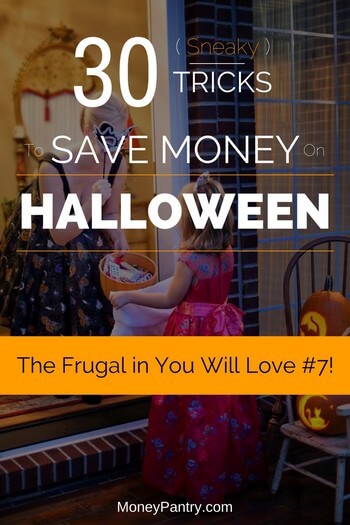 Halloween is right around the corner.
But, it can be expensive.
While we might think of the December holiday season as being the most expensive – the cost of Halloween is surprisingly high.
Halloween is the nation's second-largest holiday, and in 2016, Americans were estimated to spend $8.4 billion on candy, costumes, and decorations.
Below, we've compiled a list of 30 tips and hacks for saving money on Halloween.
It includes tips and hacks on how to save money on everything from the costume you wear to the food you eat this Halloween – and how to get stuff for free this October 31st!
Need Easy Extra $300+/Month for Free?
KashKick
: Get paid directly into your PayPal for watching videos, surfing, shopping and more.
Join KashKick Now!
InboxDollars
: Paid over $57 Million to members to watch videos, take surveys, shop and more.
Get $5 instantly!
Branded Surveys
: Get $1 instantly just for joining for free. Plus get paid within 48 hours by PayPal!
Join Branded Surveys
First Opinion
: Get paid up to $10 per survey and $300 per virtual focus groups!
Join Now!
Swagbucks
: Get paid to watch videos, shop online, take surveys and more.
Join now & get $10 instantly!
So if you want to save money on Halloween, check out our list.
Save money on Halloween Costumes
Next to candy, one of the most important parts of Halloween is your costume!
Whether you want to dress up as a zombie or a character from your favorite TV show, you'll need a costume this Halloween.
But, costumes can be pretty pricey.
So, below, we've put together a list of tips on how you can pay less for yours this year and places where you can get them cheap!
1. Take a look at HalloweenCostumes.com.
We think that the Internet is one of the best places to shop for a costume on a budget.
And, one of the most budget-friendly websites out there is HalloweenCostumes.com.
It features a huge range of discount costumes. You can get anywhere from 20% to 80% off!
There's even a section for pre-owned costumes that are super cheap.
And, at the time of writing, if you enter your email address, you can get 20% off your first order.
2. Visit the thrift store
One of the best ways save money on Halloween is to shop at the thrift store.
The thrift store can have some great outfits and accessories that can work perfectly for Halloween.
Whether it's an old wedding dress for that bride of Frankenstein outfit, or a striped top for the Chucky outfit you want to put together, you can find some great pieces at thrift stores – and they're super cheap.
You can get pieces for as low as $0.99 at Goodwill!
3. Browse Amazon
Amazon.com is known for its affordable prices.
So if you're shopping online, it's definitely a place you should check out.
It's particularly good for cheap accessories – you can find stick-on prosthetics, masks, hats, wigs and more for as little as $0.99.
You can make it even better by using these Amazon cashback methods.
Plus, Amazon has a huge selection of Halloween costumes for under $25.
The best way to find cheap deals on Amazon.com is to do the following:
In the Halloween section, select the appropriate department, such as men's, women's and kid's and then on the left side of the page, where all of the filters are, click "under $25".
Amazon will show you all of the Halloween costumes, masks and other accessories that it has to offer that cost less than $25.
Then, just above the results, on the right side of the screen, there's a filter called "Sort By". Usually, this is set to featured – change it to "Price: Low to High".
Then, you will see all of Amazon's Halloween stuff that's not only under $25 but also the cheapest items within that section.
Don't forget to use thes1 51 Amazon hacks to save even more money on Amazon.
4. Swap out a mask for makeup
Masks can be bought really cheaply on sites like Amazon.
But if you're really looking to cut back this Halloween, and you already own a bit of makeup, then you might want to use makeup to create the look instead.
There are plenty of tutorials out there on how to recreate the looks of characters like Freddy Krueger.
Here are a few examples of good tutorials:
If you have a specific character in mind, just go to YouTube and type in the character's name followed by the term "makeup tutorial".  Like "vampire makeup tutorial", "werewolf makeup tutorial" or "Chucky makeup tutorial".
5. Costume swap
One of the problems with Halloween is that each year, we spend money on a costume, only to wear it once or twice. After all, most of us want to dress up as something new each year.
So, a good way to re-purpose your old costumes, and get a new one for free is to swap costumes with your friends.
Borrowing someone else's costume and lending out one of your own is a great idea and an easy way to save money on Halloween.
So this year, get together with friends and family and see if they'd like to trade a previous years' costume with you.
This is ideal if you have kids because they grow out of stuff so quickly. Ask a friend who also has kids if they have a costume if they want to trade.
6. Visit Costume Discounters
Another cheap place to buy Halloween costumes online is at Costume Discounters.
You can find some great deals on there, and there are tons of costumes to choose from, including horror characters and superheroes.
Plus, they have a price match guarantee in place, so you can ensure you always get the cheapest price when you shop there.
7. Checkout Freecycle
If you want a way to get your Halloween costume for free, then check out Freecycle.
Freecycle is a nonprofit organization that focuses on getting people to reuse things, rather than throwing them out and having them end up sitting in landfills.
It does this by allowing people to give their stuff away for free to other people who need it.
Essentially, it allows people to give stuff and get stuff for free in their area.
Sometimes, people give away Halloween costumes there.
Take a look at the listings at Freecycle and see if anyone is giving away a costume.
You don't always find anything, but it's definitely worth taking a look. You could get your entire costume for free!
Plus, you could simply ask a group and you might find someone with an outfit they don't want.
8. Take a look at Costumes4Less
Another good place to source cheap costumes this Halloween is at Costumes4Less.
Whether it's a superhero outfit or a monster costume, you can find a huge selection of costumes on there.
And, you can get them for up to 80% off!
Plus, when you first visit the website, it gives you a "Wheel of Fortune" pop-up.  If you spin the wheel, you have to chance to get 1% to 5% off on the site's products.
9. Browse Wholesale Halloween Costumes
At Wholesale Halloween Costumes, you can find a huge selection of costumes at wholesale prices.
It's definitely a good place to shop on a budget.
10. Check out eBay
Anyone looking for a budget Halloween costume this year should check out eBay.
On there, at the time of writing, you can find men's, women's and children's costumes for up to 50% off.
11. Make it yourself
One of the best ways to get a cheap Halloween costume is to simply make it yourself.
Homemade Halloween costumes can be a lot of fun!
We've got a post containing 102 homemade Halloween costumes ideas. It features everything from historical figures to couples costumes – so check that out for ideas.
Save money on Halloween Decorations
Another big Halloween expense is the decorations.
It's easy to spend a ton of money on spooky tombstones, pumpkins, and skeletons, but there are ways to limit the cost – and still have your home looking Halloween-ready!
12. Visit the dollar store (and make your own decorations with the supplies!)
At the dollar store, you can find some great stuff to decorate your place with.
In some dollar stores, they have a Halloween section, where you can find decorations for a dollar!
Plus, dollar stores have tons of cheap supplies that you can use to make your own decorations, like construction paper, streamers and art pens.
Making your own decorations at Halloween is a great way to save cash!
You can cut shapes, like bats and ghosts out of construction paper, or buy some orange and black streamers and intertwine them.
The DIY Network has a list of DIY Halloween decorations that you can make for about $5.
Readers Digest also has a list of cheap DIY Halloween decorations.
Also don't forget to check these online dollar stores for some great deals.
13. Print your own
As we mentioned above, going the DIY route is great for saving money on Halloween decorations.
An easy way to make your own Halloween decorations is with printable templates.
Online, there are tons of printable Halloween decorations, like ghosts, bats, black cats and more.
You can print them out and stick them on the walls in your home or put them around your place.
You can even create your own Halloween cards, labels and treat boxes!
Parents.com has a handy list of 19 printable Halloween decorations that you should definitely check out. They are free to use.
It includes things like pop-up pumpkins and Halloween treat labels for jars and bottles.
Another great resource for printable decorations is this list of 41 free printable Halloween templates from HGTV.
This is such a fun way to decorate for Halloween, and it's a good way to get kids involved if you have a family.
14. Check out secondhand stores
Secondhand stores are definitely a great place to shop for decorations.
We mentioned thrift stores are good for finding costumes, but they're also great places to source items that you could re-purpose into Halloween decorations.
For example, you can often find old glass bottles there, which you could add a spooky label to, like the one in the printout section above, for a fun DIY Halloween decoration.
Or you could purchase some candlesticks and candles and spray paint them black.
Or purchase some cheap figurines and transform them into creepy Halloween figures – there's a guide on how to do this here.
Along with dollar stores, secondhand stores are great places to shop for DIY supplies.
15. Get your pumpkin from the grocery store
Pumpkins are a Halloween staple, but they can be pricey!
Skip the traditional pumpkin patch – they often charge an entry fee and pretty high prices for their pumpkins too.
Save money by purchasing yours at the grocery store or superstore in your area.
You can often pick up a pumpkin for half the price!
16. Buy for next year
Just after Halloween is over is the best time to buy decorations and costumes.
Often, stores slash the prices of Halloween decorations by 75% to 90%!
So, once Halloween is over, stock up on decorations and keep them in storage until next year.
This is one of the best things you can do to save money on Halloween.
Last year I went to the grocery store for a couple of things around noon on Halloween day.  I noticed that they had already slashed prices on all their Halloween stock.  I found several scary masks, wigs, hats and makeup for 90% of the original price! (Keep this in mind for all of your holiday decor, Christmas, Thanksgiving, Easter, 4th of July. If you don't mind storing stuff in a closet until next year, you can save a ton of money this way!)
Save money on Halloween Candy and food
Candy and food are another super important, but expensive part of Halloween.
Stocking up for trick or treaters, a Halloween party or just for an evening in with the family can end up costing a lot.
Here are a few ways that you can keep costs down this year, while still enjoying sweet treats and Halloween-themed foods:
17. Buy in bulk
One of the best ways to save money on Halloween candy is to get it wholesale.
Check out your local Costco or Sam's Club for great deals on candy.
At these warehouse clubs, you can often find candy that costs far less per ounce.
18. Bake your own sweet treats
If you really want to cut down on the cost of candy this year, then consider baking your own sweet treats instead.
There are plenty of recipes for Halloween-themed cookies, and other baked goods.
Here are a few that you should check out:
The cost of making your own cookies, cakes and other sweets, rather than purchasing candy at the store, is often much lower – after all, the cost of flour and sugar at your local grocery store isn't much!
You can serve these sweets at a party, if you're hosting or attending one, or hand them out to trick or treaters.
19. Get name-brand candy for a dollar
We've mentioned the dollar store above in the decorations section. But, it's also a great place to shop for candy.
At the dollar store, you can find name-brand candy for a dollar, which is a pretty amazing deal.
20. Make your own Halloween party food
Halloween is more than just candy and sweets. Savory foods are just as important, especially if you're hosting or attending a Halloween party this year.
Whether you're going to a friend's or family members party, or hosting one of your own this October 31st, you might want to make these savory snacks, finger foods and appetizers yourself
It's fun and cheap.
Whether it's fun mummy dogs – which are hot dogs wrapped in baked dough, or cute pumpkin cheeseballs, there are plenty of savory Halloween recipes out there.
Here are a few to check out:
21. Have a bring your own candy rule
The "bring your own" principle doesn't just apply to alcohol. It can be used for candy too!
If you're having a Halloween party, then have a "bring your own candy" policy in place.
Ask guests to bring candy with them – even if it's just one pack.
This is a great way to get a good variety of candy for the evening, and you save yourself some money!
Save money on Halloween Entertainment, Games, Haunted Houses, and more
Candy, decorations, and of course your costume are Halloween essentials.
But, entertainment is also important.
Here are a few ways to enjoy yourself this Halloween, without breaking the bank:
22. Host your own scary movie night
A low cost, fun way to spend Halloween is to host your own scary movie night.
Invite your friends over, prepare some food and drinks, and then stream some scary movies.
Whether it's The Shining, Nightmare on Elm Street, Scream, The Conjuring or the Babadook, playing horror movies on Halloween is a classic way to celebrate the holiday.
Netflix has a good selection of horror movies, as does Amazon Prime – plus, both of them offer a free trial, so you could get your movies for free!
23. Check out local events
Sometimes churches, clubs in your community, local malls and other places hold free or low cost community activities at Halloween.
Check on your local community bulletin board or Facebook page for activities.
And, don't forget to check out the board at your local mall for activities too.
24. Find cheap haunted houses in your area
The price of admission to haunted houses can really vary, with some costing upwards of $60 and others costing just $15 or less.
This is why doing a price comparison is such a good idea. Don't just go with the first haunted house that you see.
There's a handy website called HauntWorld.com. It allows you to search for haunted houses in your area. You can enter your state and city, and decide what radius you want the results to show.
Take a look at the haunted houses in your area, and research the price of each one – this gives you a good idea of what's a good deal and what's not.
The website also has a handy list of the best haunted houses for 2017.
If you're wondering "where can I find haunted houses near me?", then you should definitely check out HauntWorld.com.
25. Visit Groupon for cheap haunted-house tickets
Groupon is an excellent place to find cheap haunted house tickets. On there, you can find some really great bargains.
In fact, you can find discounted tickets for many haunted house attractions across the country.
It's a good idea to use HauntWorld.com, as we mentioned above, first. Then take the name of the haunted house that you're interested in and do a quick search for it on Groupon.
At the time of writing, here are a few cheap haunted house tickets you could get through Groupon:
If you're wondering "where can I find cheap haunted house tickets near me", then you should definitely take a look on Groupon.
26. Check out other discount Halloween activities on Groupon as well
If haunted houses aren't your thing, then you might want to check out some of the other Halloween events that Groupon offers a discount on.
There are Halloween-themed events like bar crawls, balls, scavenger hunts, literary festivals, movie screenings, parties and much more.
To find cheap Halloween events in your area, just go to Groupon, type "Halloween events" into the search bar, enter the area where you live and then hit search.
27. Get some free Halloween games
If you have children, then you should consider downloading these free Halloween games.
They're fun and free! Plus, they give the kids something to do in between trick or treating and eating candy!
Here are a few games that you can print out for free:
Also, this Pinterest page features more than 30 printable Halloween games and activities that are free to use, so you should definitely check that out.
Another website called DLTK, which offers educational and craft activities to children, also has a whole section featuring free printable Halloween games.
General Halloween money-saving money tips & hacks
Okay, so we've covered how to save money on a multitude of Halloween expenses, like candy, costumes and decorations.
But there are also a few general things that you can do to save money, overall, this Halloween:
28. Shop through cashback websites
If you plan to purchase anything online this year, whether it's Halloween candy or a costume, then you should do it through a cashback website.
These websites give you cashback, such as 10% back or $5 back when you spend a certain amount.
They're great because they essentially give you money back when you shop.
Here are a few that you should check out:
29. Don't throw out your receipt – get a rebate for it instead
Whether you're buying beer for your Halloween party or a new costume, you should hang onto your receipt.
There are apps out there that pay you when you upload a photo of your receipt.
This is such a good way to save money on Halloween.
Here are a few apps that pay you for receipts:
30. Check out coupon websites
Coupons aren't just for groceries – you should use them on Halloween purchases too.
For example, popular coupon website RetailMeNot has a plethora of coupons available here for Costumes4Less.com, like 80% off shoes.
Whatever you're buying this Halloween, whether it's food, a costume, crafts to make decorations with or tickets to a Halloween event, make sure that you check to see if there's a coupon available for it first.
Here are a few coupon websites you should check out:
Using coupon websites is a great way to save money on Halloween, as you can get discounts on the things that you buy for the holiday,
Closing Thoughts
As you can see, there are so many ways to save money on Halloween.
These tips and hacks are simple, but they're effective.
You don't have to make drastic cutbacks or miss out on anything to have a budget-friendly Halloween.
You just need to be resourceful and make a few simple changes and you can have a fun-filled, fright-filled Halloween while keeping your budget intact!