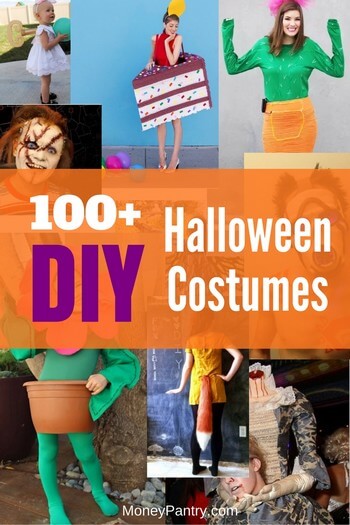 Making your own costume, rather than buying one is usually more affordable, and more fun!
We tend to spend a lot when it comes to celebrating Halloween.
According to the National Retail Federation, Americans will spend a total of $8.4 billion for Halloween 2016.
The same report shows that the average American will spend around $82.93.
Multiply that number by the number of people in your household and you can see how quickly it can get out of hand.
Want $5 Free?
Join InboxDollars for free. InboxDollars pays you to watch videos, search, shop, take surveys, and more. They have paid out $57 Million so far!

The good news is that making homemade customs isn't that hard or expensive depending on what you want to make.
Best of all, when you make your own costume, you can be sure that no one else will be wearing the exact same outfit as you.
That's why we've put together a list of over 100 homemade Halloween costumes that are mostly easy and cheap to make.
In terms of difficulty, the costumes in this list vary.
Some of them are super easy to make and don't even require basic sewing.
On the other hand, some do take a bit of artistic talent and craftsmanship – so pick the one that matches your skill level.
But, don't worry, none of them are too tricky and most include an easy-to-follow, detailed tutorial.
Take a look at these awesome Halloween costume ideas and get some inspiration for this Halloween.
Table of contents
Please use this table to quickly jump to specific sections.