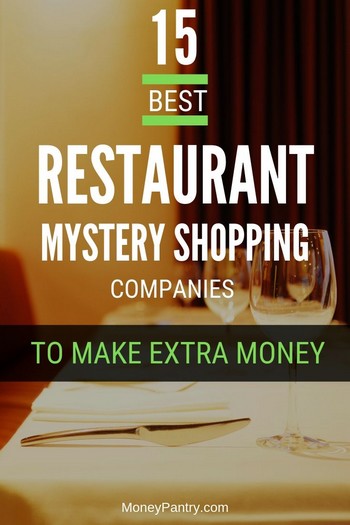 Looking for restaurant mystery shopping jobs?
Mystery shopping is a great way to make some extra cash.
In fact, you could earn hundreds a month doing this!
And, it's not just grocery stores that mystery shoppers visit – it's restaurants too.
From fast food places to sit down restaurants, companies send mystery shoppers to a variety of different eateries.
Need Easy Extra $300+/Month for Free?
KashKick
: Get paid directly into your PayPal for watching videos, surfing, shopping and more.
Join KashKick Now!
InboxDollars
: Paid over $57 Million to members to watch videos, take surveys, shop and more.
Get $5 instantly!
Branded Surveys
: Get $1 instantly just for joining for free. Plus get paid within 48 hours by PayPal!
Join Branded Surveys
First Opinion
: Get paid up to $10 per survey and $300 per virtual focus groups!
Join Now!
Swagbucks
: Get paid to watch videos, shop online, take surveys and more.
Join now & get $10 instantly!
Whether it's you're a Starbucks or Subway mystery shopper, you can get paid for visiting food establishments near you.
Below, we list the best secret shopper companies to work for, ones that offer legit mystery shopper jobs.
What's great about mystery shopping, just like online surveys and paid focus groups, is that it's a super flexible job. So, not only do you get paid or compensated with free stuff, but you can also fit in mystery shopping assignments around your schedule.
And, many of these companies offer jobs in pretty much all states and in other countries, such as Canada and the United Kingdom – just check with the company you're applying to where it offers jobs.
Before we get started on the list though…
What is Restaurant Mystery Shopping?
Mystery shopping jobs involve a company paying you to pretend as though you're a regular customer and then you provide feedback to the company on various aspects of your experience, such as cleanliness, how well the employees treated you, and the quality of a product or service.
When most people think about mystery shopping, the grocery store and other retail stores come to mind.
However, mystery shopping companies often operate across a multitude of industries, from hotels and resorts to, of course, restaurants.
Many mystery shopping companies work with clients in the restaurant industry, meaning you can get paid to eat and drink at:
Sit-down restaurants
Fast food places
Sports bars
Cafes
And more!
If you love a good hamburger, pizza, or a meal at a fine-dining restaurant, then restaurant mystery shopping is definitely the job for you!
You'll visit the eatery and eat there, as a normal patron would. The difference is, you'll then need to give your feedback, on things like how the waiter was, how the food was, and just how good the service and the whole experience was in general.
Each client will likely ask you to comment on different things.
And, some companies will give you restaurant secret shopper checklist.
In exchange for offering your opinion you'll receive compensation. You can get compensation through payment, or with free stuff (reimbursement for your meal).
Some companies will offer both payment and reimbursement for food, whereas others will only offer one type of compensation.
You'll need to make a purchase, and then the company will reimburse you a set dollar amount.
Basically, you help restaurants to improve and provide a better service to customers. Since this is so valuable to companies, they're willing to pay you.
Types of Mystery Shopping
It's important to understand that this is a job and you must follow through with the requirements of the job, so you can get paid.
There are tons of legitimate mystery shopping companies that offer all kinds of mystery shopping jobs.
The specifics will vary from one company to the next.
In some cases, each job will have different and very unique requirements.
Mystery shopping jobs exist in a variety of industries, including:
Cruises
Hotels and Resorts
Resorts
Restaurants
Retail Shops
Spas
You can even find "gigs" that hire you to mystery shopping remotely.
There are even telephone mystery shopping jobs out there that let you do the assignment from anywhere as long as you have a phone with you.
In these positions you may be asked to call catalog companies, call centers, and more.
Your role, as a mystery shopper, is to visit the store (or in some cases, website), make the required transaction(s), and discuss your experience.
You may be required to give feedback about your experience through a web portal, in person, or through phone interviews.
What is Different About Restaurant Mystery Shopping?
Restaurant mystery shopping is a specific type of mystery shopping that involves visiting specific restaurants for the company in question.
While in the restaurant you may be asked to order food, drinks, or a combination of the two.
Some people are required to go alone while others are required to go with friends and/or family.
Each restaurant job is different.
Once your meal is complete and you've returned home, you will be asked for information about your visit.
Questions asked may include things like:
What was the quality of service?
How clean were the restrooms?
Were you greeted when walking in?
How long did it take you to get seated?
Did the wait staff offer you the daily special?
Was the table clean when you arrived?
Did you see the manager during your visit?
The more detailed and informative your answers to the restaurants or the mystery shopping company you work for, the more valuable you are to them.
This means you're likely to get called upon more frequently to work for them.
List of Restaurant Mystery Shopping Companies
Now that you know what the job entails, we're going to cover companies that offer work opportunities.
There are a lot of them out there.
Some mystery shopping jobs are, unfortunately, scams (but more on that below!)
In our list, we've tried our best to only include legit companies.
All of the companies below feature on the MSPA website.
The MSPA, the Mystery Shopping Providers Association, is the professional trade association for the mystery shopping industry. Its members are legit companies.
Many of the companies on our list are also accredited by the BBB and have decades' worth of experience.
Let's take a look at some restaurant mystery shopping jobs.
We've included our top 15 legit companies, so give them a try.
1. Coyle Hospitality
Coyle Hospitality hires Mystery Shopping Evaluators.
The company works across a wide range of industries, such as travel and tourism, luxury retail, hotels and resorts, and of course restaurants.
So you could work as a restaurant and bar mystery shopper.
It only takes 5 to 10 minutes to become an evaluator – once you're approved you can select the jobs that you want. The company's clients are in more than 70 countries. All jobs pay a fee plus fee plus reimbursable expenses.
This is a legit company that has more than 20 years' experience in the industry and is a member of MSPA.
Become a mystery shopper for Coyle Hospitality here.
2. Market Force
Market Force works across a range of industries.
So, you could get paid to visit gas stations, grocery stores, and drug stores. The company also offers restaurant mystery shopping jobs at fast food establishments and sit-down restaurants.
In exchange, you'll get paid and/or reimbursement for purchase or meals.
There's an app available as well so you can take jobs on the go.
Get the iOS app here.
Get the Android app here.
Become a mystery shopper for Market Force here.
3. A Closer Look
A Closer Look is another one to find work with – you'll just need to fill out a shopper application.
The company has been named an Elite Company by MSPA in 2017 and 2018, so it's a legitimate mystery shopping company and one of the best secret shopper companies around.
Become a mystery shopper for A Closer Look here.
4. Reality Based Group
Become a secret shopper with Reality Based Group, and get paid to visit restaurants. You could secret shop at burger places, pizza places, casual and high-end dining venues, theme restaurants, family game centers, steakhouses, and sports bars.
The company has an A+ rating with the BBB, was founded in 1992, and was a founding member of the MSPA – so it's a legit company!
Become a mystery shopper for Reality Based Group here.
5. BestMark
BestMark offers mystery shopper jobs for shoppers and exit interviewers. BestMark has clients in a range of industries, like retail stores, casinos, and, of course, restaurants.
According to the company, each month, it offers more than 10,000 mystery shopping assignments across more than a dozen industries.
It's a BBB accredited company too, so it's a legit place to find restaurant mystery shopping jobs.
Become a mystery shopper for BestMark here.
6. Confero Inc.
This is another company that offers jobs for mystery shoppers. You work with the company as an independent contractor, and then choose the assignments that you want to apply for on the company's job board.
Confero Inc. works with companies in a range of different industries, such as retail, banking, automotive, and of course food service.
The company works with foodservice companies that offer casual dining, quick service and fast food.
Confero Inc. not only offers jobs to shoppers in the United States but also in some places in Canada too.
Become a mystery shopper to Confero Inc. here.
7. Second To None
Second To None offers restaurant mystery shopping jobs to people in the United States and Canada.
For restaurant assignments, you'll get meal, tax, and gratuity reimbursement.
The company has more than 30 years' worth of experience, it's a member of MSPA, and it has an A+ rating from the Better Business Bureau. So it's another legit company you could make money with.
Become a mystery shopper for Second To None here.
8. Sentry Marketing
Become a shopper with Sentry Marketing and get paid. It's looking for field evaluators to carry out mystery shops.
The company works with a wide range of restaurants, such as:
Cafes and coffeehouses
Fast casual
Casual dining
Upscale casual
Fine dining
So, consider signing up and get paid to eat in restaurants.
Become a mystery shopper for Sentry Marketing here.
9. Northwest Loss Prevention Consultants
Become a mystery shopper at Northwest Loss Prevention Consultants, and earn money.
The company serves a wide range of industries, like retail, hotel, and, of course, restaurants.
It's been named as an elite company by MSPA.
Become a mystery shopper for Northwest Loss Prevention Consultants here.
10. Sinclair Customer Metrics
Sinclair Customer Metrics is another company that's featured on the MSPA website.
Just fill out a simple mystery shopper application form and you could become one of the company's mystery shoppers. You'll work as an independent contractor.
Become a mystery shopper for Sinclair Customer Metrics here.
11. IntelliShop
IntelliShop works in lots of different industries, including foodservice and restaurants.
You can sign up to be one of the company's shoppers and get paid in return!.
Also, if you're required to purchase anything, then IntelliShop will reimburse you for the cost.
What's great about IntelliShop is that it provides jobs in tons of different continents, from the Americas to Asia.
The company has been around since 1990, and it's a charter member of MPSA – so it's certainly legit.
Become a mystery shopper for IntelliShop here.
12. About Face
About Face serves a wide range of industries, such as automotive, hospitality, and restaurant.
When you sign up to be a mystery shopper with About Face, you work as an independent contractor.
This makes it a super flexible job, as you can take on as many or as few jobs as you want.
Become a mystery shopper for About Face here.
13. Confidential Consumer
Working with brands like Starbucks and Dunkin' Donuts, Confidential consumer is definitely a company to check out.
It hires mystery shoppers to visit restaurants and other places, like resorts, hotels, banks, car dealerships, and retail outlets.
In return for completing a mystery shop, you get reimbursements for the dinner check. In some cases, you are also paid a fee.
Become a mystery shopper for Confidential Consumer here.
14. Management Consultant Group
Management Consultant Group pays mystery shoppers, called auditors.
In return for a mystery shop, you get paid and are reimbursed for any purchases you made.
The company is an MSPA member, so it's another legit one to consider.
Become a mystery shopper for Management Consultant Group here.
15. Customer Impact
Customer Impact is another MSPA member that offers restaurant mystery shopping work.
Working with the company, you'll get reimbursed for food and drinks – the company does not reimburse for mileage.
When you complete a shopping report, you'll also be a paid a set fee.
Sign up for Customer Impact here.
How Much Do Secret Shoppers Make?
It's unlikely that you'll get rich doing mystery shopping work – but you can actually make a decent side income from it.
Most mystery shopping companies don't state how much they pay.
Secret Shopper is one of the few that does – it says it pays between $12 and $25 per assignment, but that payment differs from place to place.
According to Secret Shopper, the payment you'll receive for some restaurant shops is reimbursement for the cost of your meal.
BestMark reports that general baseline pay for secret shops is between $7 and $20, but that more experienced shoppers have the ability to earn jobs with higher pay rates.
It's tough to give an exact figure for what you'll earn. It depends on which mystery shopping company you work for.
Also, each client that works with a mystery shopping company could pay differently.
So, let's say that you work with Market Force, for example, a pizza place might pay you $20 and reimburse you for your food, whereas a steakhouse might pay you $50 and reimburse you for your food. It really just depends on the company that you work with, and the jobs that you take.
Also, the number of assignments that you take on will affect your income.
How Do You Get Paid?
Well, some companies will simply reimburse you for your meal. So you'll get your meal for free!
Others will also pay you a set fee. This varies from company to company.
Handily enough, most mystery shopping companies, such as IntelliShop, Reality Based Group, and Northwest Loss Prevention Consultants, pay you through PayPal.
This means that you don't have to wait to get a check in the mail, which can be annoying!
Some companies pay by direct deposit.
Most companies will pay you monthly, but others pay more or less frequently than that.
It really varies from company to company.
How to Avoid Mystery Shopping Scams
While a great way to make extra cash, mystery shopping is a target for scams.
It's important to be aware of scams so that you don't become the victim of one.
While we've done our best to include only legit companies in our list, not all mystery shopping opportunities are in fact legit.
Unfortunately, there are a lot of fraudsters out there.
People pretend to have legit mystery shopping jobs, but really they're looking to scam money from you.
Here are some tips to avoid these mystery shopping scams:
Don't Pay to Become a Mystery Shopper
A legitimate company would never ask you to pay a fee to sign up. With legit companies, sign up is free. Mystery shopper jobs have no fee for starting out or participating.
So avoid any company that asks for payment to sign up or participate.
We've talked about scams in detail here on Money Pantry – you can check out our list on common scams for more details.
Be Aware of the Fake Check Scam
We talked about fake check scams in our top scams post, which is linked above.
This is a common scam with mystery shopping.
Basically, you get a letter in the mail and a big check in advance of a mystery shop.
Then you're asked to cash the check by depositing it and wiring funds back to the company for the difference.
The check is fake, and it will bounce.
Mystery shopping jobs will not require you to wire transfer any money to them.
Beware of Unsolicited Emails
If you haven't signed up with a legitimate company directly, then be very wary of unsolicited emails.
Sometimes, these emails claim to be from a legit company, but they have an email coming from a Gmail or Yahoo account, rather than a real company email account.
Always be wary of these types of emails – they are usually a scammer pretending to be a legit company.
Avoid Pay in Advance Scams
Pretty much every legit mystery shopping company will pay you after the mystery shop is complete.
So always be avoid companies that claim to pay you in advance of shop completions.
If the Pay Seems Too Good to Be True, Then It Probably Is
Always be very wary of jobs that claim to offer huge payments and rewards – these are often scams.
Just proceed with caution, and do be aware that scammers will often pretend to be a legit company, even using the company's name and logo in their correspondence.
Make sure that you always go directly to a company's official website to sign up.
For more tips, check out our post on mystery shopping scams.
Closing Thoughts
If you've been wondering, "where can I find mystery shopper jobs near me?" then give some of the above places a try.
And start making money from restaurant mystery shopping!