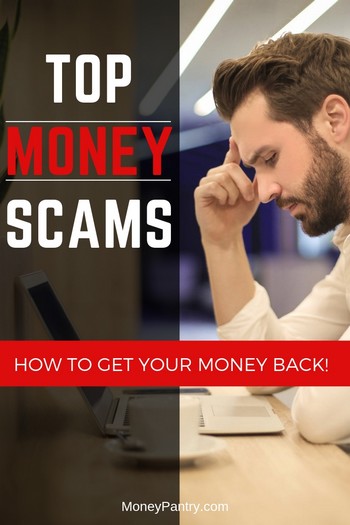 When it comes to making money, investments, saving money, and anything related to money, to be honest, there are a lot of scams out there.
Identity theft, bank fraud and outright robbing you aren't the only way thieves target you. There are tons of other, less assuming, ways fraudsters try to take your money from you illegally. These are the modern day equivalent of pickpocketing.
Knowing the top financial scams and how they work can help you protect yourself from fraudsters.
While in an ideal world, we wouldn't have to deal with scammers trying to steal our money, in the real world, scams are very much alive and well. And, unfortunately, they still defraud people out of thousands of dollars.
Sadly, many of these fraudsters target the most vulnerable people in our society, including the elderly, and people who are lonely, such as widows.
Scamming the elderly online and other vulnerable groups is sadly common, as are scams that take place over the phone, through email, and even in person. That said, no one is immune from scams. In fact, according to a report by the FTC, millennials lost more money to financial scams than seniors in 2017.
Need Easy Extra $300+/Month for Free?
KashKick
: Get paid directly into your PayPal for watching videos, surfing, shopping and more.
Join KashKick Now!
InboxDollars
: Paid over $57 Million to members to watch videos, take surveys, shop and more.
Get $5 instantly!
Branded Surveys
: Get $1 instantly just for joining for free. Plus get paid within 48 hours by PayPal!
Join Branded Surveys
First Opinion
: Get paid up to $10 per survey and $300 per virtual focus groups!
Join Now!
Swagbucks
: Get paid to watch videos, shop online, take surveys and more.
Join now & get $10 instantly!
In this post, we're going to outline some of the biggest and most common financial scams out there.
We cover internet scams, such as email scams, and other scams that can be conducted over the phone or through the mail.
Please take a moment to read this and share it with your friends and family (on Facebook, Twitter, Instagram, etc) so we can all avoid becoming the next money scam victim.
1. The 419 Scam
We're going to start with one of the most popular financial scams out there – it's called the 419 Scam.
The number 419 is a reference to the article of the Nigerian Criminal Code that deals with fraud.
Sometimes, the 419 Scam is known as the "Nigerian Scam" or the "Nigerian Prince Scam."
It's actually a type of scam known as an "advance-fee scam."
And, in 2014, it was reported that victims of this scam had lost $12.7 billion in the year before.
This one has been around for hundreds of years – from the late 18th century in fact – making it one of the biggest financial frauds in history.
The Nigerian Scam – A long history
In the late 18th century, the scam was known as the Spanish Prisoner scam.
Back then, a fraudster would contact a wealthy businessman and claim that they needed help to smuggle someone that's connected to a wealthy family out of a prison in Spain.
Then, in exchange for the businessperson's assistance, the scammer would offer to share the money with the victim.
But, here's how the scammer would extract the cash from their victim – they would ask the businessperson for a small amount of money to bribe the prison guards, in order to get the prisoner out of jail, and thus get their fortune.
Of course, the businessperson would not receive any money, but would instead lose their own.
This scam had many variants at the time and is still prevalent in modern times.
How the 419 Scam works
419 Scams have been around for decades – and started out in the mail. Scammers would send out letters with a story and ask for money, basically.
Now, though, these fraudsters use email.
Here's how 419 scams work:
You get an email from a person who tells you a story.
The story offered by these scammers can vary. Sometimes, they claim that they are a member of a wealthy Nigerian family (sometimes they can claim to be from a family in another West African country).
Sometimes they don't go with the wealthy family bit. These scammers may also claim to be businesspeople, officials, or the surviving spouse of former government leader in Nigeria (or another country) whose money is tied up.
Whatever story the person comes up with, they always have a large amount of money that they need to transfer into your bank account. So they ask to put it right into your bank account (it seems too good to be true because it is).
The amount of money offered is generally in the millions, making it a particularly attractive offer.
Of course, there's a catch. You have to send small payments in order to cover fees or pay the taxes so that the person can get this tied up cash.
You will not receive the money. Instead, the scammers will keep creating hurdles or obstacles that stop them from sharing the money with you, and they'll continue asking for more money to pay fees.
Some scammers will even ask you to share your bank details.
They won't usually take money out of your bank account right away.
Instead, they'll save your bank details, and sell them to other fraudsters.
Then, months later these fraudsters will wipe out funds from these accounts.
These fraudsters may even send you documents that look official – for example, they might appear to contain official government stamps or seals.
How to protect yourself from the 419 Scam
If you get an email like this, do not respond to it.
Instead, report it (we cover how to report 419 scams below).
While this type of scam is commonly referred to as the Nigerian Scam, it's not just this country that's involved.
People who run this scam can also be found in other places around the world, such as the United States, the Netherlands, and the United Kingdom.
Even if they don't claim to be from Nigeria, if anyone offers to transfer money to you in exchange for payment for fees or taxes, don't respond, and report the issue.
How to report 419 Scams
If you've received one of these emails (or have received a similar message in the mail or on the phone, then you can report it.
You can report a 419 scam to your local FBI office. You can find your local office here.
Also, you can report the scam to the FTC, which you can do online here.
2. The Phishing Scam
This is a common scam that again starts right in your inbox.
And, it's one of the biggest online scams around right now.
According to the FBI, email scams resulted in a $5.2 billion loss between October 1, 2013 and December 31, 2016.
How Phishing Scams work
Basically, you get an email from what appears to be a legitimate company or bank that you actually use.
The email might be from the bank that you have an account with or a store that you shop at.
The message contains a link that you need to click on in order to verify your information – usually your login details, so your email address and password, and bank account numbers.
The aim of phishing scams is to basically steal sensitive information, such as usernames, bank account numbers, email addresses, and passwords.
How to protect yourself from a Phishing Scam
You can usually tell when it's a phishing email because the email address it is sent from just looks suspicious.
Often, the email address features a legitimate company name, but it includes lots of numbers and symbols too – like ACME-SUPPORT4453345@gmail.com.
Also, these emails tend to be filled with grammatical errors.
Never click on links that you get in emails that ask you to verify your personal information.
For example, if you get an email that appears to be from your bank asking you to verify details, then do not click the link in the email.
Instead, go right to your bank's website and login to your account that way – you'll see that you, in fact, have no messages from your bank.
As we said, don't click on links in emails that are requesting information from you.
Where to report Phishing Scams
If you get a phishing email, then you can report it in a few different ways:
You can forward phishing emails to the FTC at spam@uce.gov.
Also, you can forward the phishing email to the organization that the scammer impersonated. So if you get a phishing email that claims to be from your bank – then tell your bank about it and forward them the scam email.
You can also report fraudulent emails to the FTC online – just visit this page to report the scam.
Phishing emails can also be reported to the APWG (Anti-Phishing Working Group). It's a coalition designed to fight cybercrime. You can report phishing to the APWG by email at reportphishing@apwg.org.
3. The Pre-Approval Scam
Next on our list is the "you've been pre-approved" scam.
This is another pretty common one that, unfortunately, a small minority of people fall for, especially those who are experiencing financial strain.
How Pre-Approval Scams work
With this one, you get an email that tells you that you have been pre-approved for a credit card or a bank loan.
These scams usually offer appealing credit limits as well.
The catch is that you have to pay a fee upfront when you sign up.
Of course, you haven't been pre-approved, and scammers are just looking to steal money from you.
How to protect yourself from the Pre-Approval Scam
While some credit cards do have an annual fee, a bank does not charge this on sign up.
And, an accredited bank would never pre-approve you for a loan or credit card without an application.
So do not respond to these messages.
How to report a Pre-Approval Scam
You can report this type of scam to the FTC. Just visit the Scams and Rip-Offs section of the website here to file your report – select the "No Match Found" option.
You could also report the pre-approval message as spam on the FTC website here.
Also, you can call the FTC at 1-877-382-4357 if you receive one of these pre-approval emails.
4. The Fake Check and Money Transfer Scam
If you are selling something online, then be particularly wary of this scam.
How the Fake Check and Money Transfer Scam works
This type of scam is also known as the Over Payment Scam.
The scam artist asks you to deposit the check into your bank account, and then wire part of the money back to them.
Scammers target sellers on auction-based websites.
What they do is they offer to pay more than the price stated on the listing.
This seems like a great offer, right?
Who wouldn't want $150, rather than $100?
Well, with this scam, like all of them, the offer is too good to be true.
Not, only do you NOT get the additional money promised, but you actually get no money at all.
What happens is the scammer says they'll pay you via check, but then cons you into sending the difference back to them through a wire transfer.
That's right, when it's time to actually cash your check, the check bounces!
As we mentioned above, wire transfers aren't refundable and often aren't traceable – hence why many scammers use them.
The check then bounces, since it was fake, and you are left with no money and have to pay for the difference anyway.
This scam also happens a lot with money making opportunists and work at home jobs like mystery shopping jobs.
How to protect yourself from the Fake Check and Money Transfer Scam
If you are selling an item online, never accept more than the selling price for the item. This person is attempting to scam you.
Always be wary of offers where you are asked to wire a portion of the funds back to somebody.
These scammers are good at making checks look legitimate and official, so don't trust the appearance of checks!
Most importantly, as we stated above, never accept a check that includes an overpayment and DO NOT wire money to people or companies that you don't know.
How to report Money Transfer/Fake Check Scams
As with all of the scams on this list, you should definitely report it.
There are a few ways that you can report these fake check scams:
If you have received a fake check in the mail, then contact the US Postal Inspection Service here.
You can also report counterfeit checks to the Federal Trade Commission. Visit the Scams and Rip-Offs section of the website here and select the "Counterfeit Checks" option.
You can also contact the FTC about fake check scams by phone at 1-877-382-4357.
5. The Lottery Scam
Winning the lottery is a dream that many people have, so, of course, scammers prey on that.
This is a pretty common scam that cons people out of their money.
How the Lottery Scam works
With this type of scam, you get an email (as you can see from the list so far, the email is a favorite tool of the fraudster), that says you've won a huge amount of money.
Except that you haven't even entered a lottery or any type of sweepstakes.
So, it's a totally bogus offer.
The biggest red flag, aside from this unexpected email for a draw you don't remember entering, is the fact that the email asks you to pay a fee so that your winnings can be processed.
Sometimes, the email doesn't ask you to pay a fee, but instead, says that it requires more information from you – basically, the scammer is trying to get personal information from you!
How to protect yourself from Lottery Scams
Unless you have bought an official lottery ticket, or have entered a legitimate contest, then you won't have won money.
Plus, if you have won the lottery, it's your responsibility to contact the retailer.
State lotteries will publish the results online or will broadcast them on television – not by emailing you directly.
It's the responsibility of the ticket holder to make a claim for the winnings.
Hence why you hear those stories of those unclaimed winnings!
Where to report Lottery Scams
If you have been the victim of a lottery or other prize scam, then contact the Federal Trade Commission.
You can report a lottery scam to the FTC online here.
Or you can give the FTC a call on 1-877-382-4357.
If the scam involves U.S. mail, then you can also contact a postal inspector, which you can do here.
6. The Debt Relief Scam
Scammers are always trying to play on people's emotions – and one of the things they know is that many people are struggling financially.
So they exploit this fact.
How the Debt Relief Scam works
Debt relief scammers call or email people and claim that they can help them to relieve their debts.
They offer to do things like consolidate or settle debts.
But, as usual, this claim is false, and there's a catch:
You have to pay an up-front fee for these services.
If you are already in a financially poor situation, this can be catastrophic for your finances.
In May 2017, the Federal Trade Commission and the State of Florida released a press release regarding a phony debt relief operation.
According to the press release:
"At the request of the Federal Trade Commission and the State of Florida, a federal court has temporarily halted a massive phony debt relief operation that bilked tens of millions of dollars from financially strapped consumers, including the elderly and disabled."
According to the FTC and Florida, through eleven companies, three scammers falsely promised to pay or settle consumer's debts or obtain dismissals of their debts and improve their credit. With these promises, the scammers got people to pay hundreds or thousands of dollars a month.
After a while the victims realized that their debts were still unpaid, their accounts were in default and their credit scores were severely damaged.
Some of the victims were actually sued by their creditors, and others were forced into bankruptcy.
The press release adds
"The defendants then promised consumers guaranteed debt consolidation loans for tens of thousands of dollars with attractive interest rates and significantly lower monthly payments than consumers were paying their creditors."
However, the victims were scammed out of hundreds of dollars each month:
"Once consumers agreed to the purported loan, the defendants almost immediately debited the consumers' bank accounts for an initial loan "repayment" or a processing fee, and then kept debiting consumers' bank accounts each month, in amounts ranging from $200 to $1,000 or more. The FTC and Florida charge that the defendants, despite taking these monthly payments, failed to extend consumers the promised debt consolidation loans."
And, as is the case with many of the scams on this list, the defendants took steps to appear legitimate, according to the press release:
"The FTC and Florida allege that the defendants falsely claimed non-profit status to appear more credible and legitimate."
The defendants even went as far as to contact those who were already seeking assistance with debt relief:
"The defendants also called people who were already enrolled with debt relief providers claiming they were taking over the servicing of those accounts and falsely claiming they would provide the same or similar services. Many of their victims had worked for years with their previous debt relief providers and had saved money in escrow accounts for use in negotiating with creditors. The defendants told these consumers to transfer their escrow money to defendants and then debited up to $1,000 each month from the consumers' bank accounts. Contrary to the defendants' promises, people got little to nothing for their money and ended up in worse financial positions."
As you can see from this one case, this scam can really damage people's lives and even result in bankruptcy.
How to protect yourself from Debt Relief Scams
Of course, if someone phones you saying that they can relieve your debts, it is most likely a scam.
Never give out your personal details or agree to pay any money to a person who claims to be working for a debt relief company.
How to report Debt Relief Scams
If you've been contacted by a scammer claiming to help you with your debts, then contact the FTC to file a report.
You can report a debt relief scam to the FTC online here.
Also, you can call the FTC to report a scam on 1-877-382-4357.
7. The Grandparent Scam
While every scam is sad and unscrupulous, this has to be one of the worst: the Grandparent scam.
It plays on the emotions of senior citizens for financial gain.
How the Grandparent Scam works
With this con, a scammer calls an elderly person and when the person answers, the scammer says something like "Hi Grandma, do you know who this is?"
Since the person is unsuspecting, they'll just think about which grandchild the caller most sounds like and take an educated guess about which grandchild is calling.
The scammer basically falsely identifies as one of the victim's grandchildren.
Then, once they've established their fake identity, the scammer will ask for money.
Money is requested under the guise of an unexpected (AKA fake) financial problem – such as payment for repairs or overdue rent.
The scammer will generally ask for the money to be paid via Western Union or MoneyGram since these don't always require any ID to collect.
In order to keep the con quiet, the scammer will say something like "please don't tell my parents – they'd be so mad."
It's an easy scam that can be used over and over, so it really is one to watch out for.
How to protect yourself from the Grandparent Scam
If someone phones you and asks you who you are, always respond by asking their name first, and never trust a stranger who calls to request money over the phone.
How to report Grandparent Scams
If you get a call like the one we described above, then you can get help.
You can report imposter scams, such as a person posing as a family member or friend over the phone, to the FTC:
You can make your report online here.
Or you can call the FTC at 1-877-382-4357.
8. The Tax Scam
Tax scams are another one to watch out for.
Tax scams are also known as IRS imposter scams because they involve the fraudster pretending to be an IRS agent.
How the Tax Scam works
With this type of scam, a person emails you or calls your home and pretends to be an IRS agent.
There are actually two ways that fraudsters use this type of scam:
In this instance, the caller or emailer claims that you owe taxes and will demand that you pay them immediately.
The caller or emailer may even be quite aggressive – threatening to arrest you if you don't pay this so-called "unpaid tax".
So this is definitely one of the more intimidating scams on the list.
In this situation, the person pretending to be an IRS agent will demand personal information from you.
If the scammer gets in touch via email, then the message will require you to verify your personal information. These messages often contain a link – just like with those phishing scams that we mentioned above.
And if you follow that link, your personal information will be stolen.
How to protect yourself from Tax Scams
Whichever scam it is, do not pay the money and do not give out any personal information.
The IRS would never call you or email you to request payment or to ask for personal information.
If you did owe any taxes, the IRS would send a letter to you in the mail about it.
It's also important to store all of your past tax forms and information safely and securely.
How to report Tax Scams
If you think that an IRS imposter has contacted you here's how to report it:
Contact the Treasury Inspector General for Tax Administration (TIGTA). You can get in touch by phone on 1-800-366-4484. You can also report a scam to TIGTA online – just visit this page.
If you get an email that claims to be from the IRS, then you can report it and forward the fraudulent message to phishing@irs.gov.
9. The Romance Scam
Sometimes known as the "sweetheart scam," the Romance Scam is another one that preys on people's emotions.
And, it's a scam that can be particularly devastating on people's finances, and of course their emotions.
According to the FTC, victims of romance scams lost $143 million.
How the Romance Scam works
This scam is one that the scammer can use to take money from the same people over and over again.
Unscrupulous scammers join dating websites or contact people online in an attempt to extort money from people looking for love.
Basically, the scammer requests money under the guise of a romantic relationship.
It starts out innocently, and money is not even mentioned.
The scammer pretends to be a regular old Joe (or Jolene) looking for love.
The scammer will try to gain the victim's trust and eventually, will start to request money.
These requests can seem realistic, making this one of the more effective tactics for scamming people out of money.
The scammer will come up with an excuse, like "I'd love to see you, but I can't afford a plane ticket," or "my car just broke down, and it needs repairs, but I can't afford them."
Basically, the scammer invents a problem that the victim's money can solve.
The victim's heartstrings are tugged, and they offer to give the money.
Of course, there is no such problem, and the person is just looking to scam the victim out of money.
The scammer will likely continue to extort money from the victim over and over again, until the victim runs out of money, or realizes that the person is a scam artist.
How to protect yourself against Romance Scams
Romance Scams are particularly troubling because they play so much on people's emotions.
And love is a powerful emotion.
Scammers know this and they sure as heck use it.
If you're looking for love, then it's understandable that you don't want to be a complete cynic, but you definitely need to be careful.
Here are a few things that you can do to stay safe:
Take the time to research the person's photo and profile online. By searching for these things online, you can see if the photo and profile have been used elsewhere.
Start the relationship slowly, and take the time to ask the person lots of questions.
If someone seems too perfect, then this is another warning sign.
Also, beware if a person asks you to leave a dating website or social media website to go "offline."
Commonly with these scams, the scammer offers to meet the victim but then bails as the date approaches. If your online suitor keeps coming up with excuses as to why they can't meet you, then it's likely that they are a scam artist.
If someone starts asking for money, especially during the early stages, it's a red flag. And, you should never send money to someone that you don't know personally.
How to report a Romance Scam
The FTC has a section on its website specifically for reporting Romance Scams, which you can find here.
10. The Robocall Scam
This is another type of scam that happens right over the phone.
You know those calls where you pick up the phone only to hear an automated message, rather than a live person talking at the other end of the line?
Well, those types of calls are known as robocalls – and in a lot of cases, they are scams!
And, unfortunately, robocall scams are on the rise.
In 2017, there were more than 4.5 million complaints about robocalls according to the Federal Trade Commission.
In 2015, just two years prior, there were just 2.2 million complaints filed.
So in two years, the number of complaints about robocalls has more than doubled.
This is because they are quick and, just as importantly, cheap for a scammer to implement.
It doesn't take much money or effort to make these robocalls – meaning scammers can call millions of people each day without having to use much effort or money.
A quick note – some robocalls are legal
It's important to note that not all robocalls are illegal.
Some prerecorded messages are allowed.
The legality of these automated calls is dependent on what the message actually contains.
Here's what's allowed
Messages that are purely information are permitted.
So, for example, if you get an automated call to let you know that your flight has been canceled, then it's legal.
Or, if you get a reminder about an appointment or about a delayed school opening that's allowed too.
Other types of prerecorded messages that are allowed include:
Political calls.
Calls from some health care providers. In order to send you prescription refill reminders, some pharmacies may use automated messages.
If banks, telephone carriers, and charities make the calls themselves, then they are exempt from the rules and can make prerecorded calls.
What isn't allowed is any type of promotional messaging
Businesses are not allowed to send out pre-recorded messages that promote the sale of their goods or services.
Also, prerecorded messages from a business that is getting in touch with you to collect a debt are allowed as well.
But, messages that try to sell you services to reduce or relieve your debt are NOT permitted.
So, now that you know what's permitted, let's take a look at how these robocall scams work.
How Robocall Scams work
Basically, you get some sort of promotional call that's automated. So when you answer, a prerecorded message will play.
Now, there are tons of different types of Robocall scams.
Some involve messages that offer you money:
Certain robocalls will say that you have won the lottery or some sort of sweepstake – we mentioned this type of scam separately above.
Some calls will claim to offer you money through free grants (more on that in another section below).
Others will make other false promises such as there's an opportunity to:
Buy products.
Invest your money
Get free product trails.
Receive a limited-time offer just for you.
Some robocalls even call and threaten you with fines, jail or lawsuits if you don't pay them money. For example, the call may appear to be from the IRS and will try to get you to pay taxes – we discussed this particular scam in The Tax Scam section above.
If a robocall is not entirely informational, then it is likely that it is an illegal phone call that someone is using to try to scam you out of money or personal information.
Whatever the message says, as with pretty much all scams, the main aim is to steal your cash or to find out important personal information about you – such as bank details, date of birth, and social security numbers.
How to protect yourself against Robocall Scams
This one is very prevalent in our society right now.
In fact, in February 2019 alone, there were more than 4.9 million robocalls made.
This is according to stats from the Robocall Index from YouMail (this company produces software that blocks robocalls).
The company also reports that almost half of all robocalls are scams.
So this really is a scam that many of us will come across.
That's why it's so important to be aware of it.
When you get an unwanted phone call that just plays an automated message, then hang up.
Do not press any buttons.
Don't ask to speak to someone.
It can be tempting to ask to speak to someone to be taken off of a call list, but it won't help to stop the robocalls.
In fact, any willingness to engage could make you appear to be a good target for these scammers, and they might call you more as a result.
How to report Robocall Scams
Since it is so widespread, there are lots of ways that you can report robocalls, and help organizations to put a stop to these scams.
One place to start is with the National Do Not Call Registry.
It's a registry designed to stop telemarketing calls.
You can register your home number and your mobile phone for free.
It's important to note that since most scammers aren't sticklers for legalities, many of them will still call numbers on the National Do Not Call registry.
It's still a good step to take though – because if you do get an unwanted call you can report the company to the FTC for contacting a number that was on the registry.
But, registering your numbers with the National Do Not Call registry is not the only step that you should take.
Since some robocallers will practice caller ID spoofing, you can report them to the Federal Communications Commission (FCC).
You can get in touch with the FCC online here.
Or you can give them a call at 1-888-225-5322.
Finally, you should report robocalls to the Federal Trade Commission (FTC).
You can do this online here.
Or you can contact the FTC by phone on 1-877-382-4357.
11. The Charity Scam
This is another particularly low scam, even for fraudsters.
These scams take advantage of people's generosity for their own profit.
How Charity Scams work
Scammers set up fake organizations in order to get money out of people.
The victim thinks that they are making a donation to a charitable cause when really they are being scammed out of their money.
Many of these scams take advantage of tragedies and disasters – as we said, this is low even for scam artists.
The scammer will often use a charity name that's similar to a well-known, reputable, and real charity.
And, they will likely try to rush you into making a donation, so that you don't have time to properly research the charitable organization that you're supposedly talking with.
Another thing that some scammers do is they thank you for a donation that you never made in order to trick you into paying them.
How to protect yourself against Charity Scams
Before you donate any money to a charity, you need to check whether or not it is a legitimate organization.
There are a few organizations that you can contact or use to research whether a charity is trustworthy:
There are also some signs of a charity scam that you can watch out for – avoid any charity or fundraiser that:
Refuses to give you detailed information about its identity, costs, and mission.
Won't tell you how your donation will be used.
Will not give you proof that your contribution is tax deductible.
Uses a name that's similar to that of a better-known, reputable organization.
Asks you to pay your donation in cash or by wire transfer.
Thanks you for a pledge/donation that you don't remember making.
Offers you an overnight delivery or courier service in order to collect donation immediately.
Tries to pressure you into donating money quickly, without giving you the time to think about making a donation or do any research into the charity.
Says that in return for the donation, you're guaranteed sweepstakes winnings – by law, you do not have to donate money in order to be eligible to win sweepstakes. Offering winnings in return for a charitable contribution is actually illegal.
The FTC has a great guide on donating to charity and avoiding charity scams.
It includes lots of resources for researching charities and it gives you a charity checklist that includes the steps you should take before making a donation.
Check out the FTC's Before Giving to a Charity Guide here.
How to report a Charity Scam
You can contact your state consumer protection office – it will be able to accept and investigate your complaint. You can contact your state consumer protection office here.
You can file a complaint with the FTC.
Just visit this page of the FTC website.
Then you'll see the "Other Section" area.
At the bottom of this section it says "click here for more options (page 1 of 2) – click on this and you will see a page that includes a link called "charitable solicitations," which you can click to report a charity scam.
If the suspected scam is related to a natural disaster, then contact the National Center for Disaster Fraud here.
12. The Ticket Scam
Ticket scams are another common scam.
Scammers use tickets as bait to steal money from people.
How Ticket Scams work
Scammers put up tickets for sale online – but these tickets are fake.
A consumer, not knowing that the tickets aren't legitimate, pays for them.
Then, the consumer never receives the tickets at all, or the ones they do receive are counterfeit and won't get them into the event that they are supposed to.
Scammers often run ticket scams on events that are sold out and are in high demand.
Ticket scammers know that if an event is popular, people will struggle to get tickets, and they take advantage of this by providing counterfeit tickets.
Much of the time, these scammers use tricks to make their counterfeit tickets appear legitimate.
For example, they will use logos and branding that look official and like those used by real ticket companies. They'll also use forged barcodes from real ticket companies.
Because they know that these tickets are in high demand, scammers will charge prices much higher than the face value of a ticket.
Scammers sell fake tickets for a variety of events, such as:
Conferences
Comedy shows
Concerts
Plays
Sporting events
Other live performances
How to protect yourself against Ticket Scams
There are a few things that you can do to avoid becoming a victim of a ticketing scam:
Buy your tickets at the venue box office – this is a surefire way to know that your tickets are legit.
Only purchase your tickets from authorized brokers and third-party sellers who have verified contact information.
If you are purchasing through a resale ticket seller online, then take the time to check the actual web address of the seller. Scammers will sometimes create fake websites that are very similar to those of authentic ticket company websites. So a quick Google search for the authentic company website can be useful.
Do some research online about the seller. Try to find reviews. You can use the seller's name, email address, and phone number to search for them, alongside the word, "fraud," "scams," and "fake tickets". If there are results about this seller being a fraud, then avoid buying from them.
Check that the seller actually has a physical address and a real phone number. Sometimes scammers post fake addresses – so make sure that you verify their address. Other times the scammer uses a PO Box instead or posts no address at all on their website.
Do not buy tickets before seeing them. Check tickets thoroughly before you buy them. You should verify the date and time that's printed on the tickets. And, you need to ensure that the section and seat numbers listed on the ticket really exist in the venue.
If it's an individual who you're buying the ticket from, then ask to see proof that the seller bought the tickets.
Do not pay for tickets from a third party seller with a wire transfer. Credit cards are the safest way to pay third-party sellers. This is because credit cards offer more protection if you need to dispute a charge.
Also, you can check to see if there are any complaints against a ticket seller with your state's consumer protection agency here.
Sellers that ask you to pay via a prepaid money card should be avoided.
If you are meeting an individual ticket seller in person – always do it in high traffic, public areas.
Don't assume that the ticket sellers that appear in online search results are legit. Just because a website appears on the first page of the search engine, it doesn't mean that it's legitimate. Search results can include scams, sellers that overcharge, and of course ads.
How to report Ticket Scams
You can report ticket scams in a number of ways:
Get in touch with the state consumer protection office here.
Report the scam to the Federal Trade Commission here.
File a local police report. If you have met the scammer in person or have a photograph of the scammer, then talking to the police can be a good option.
Use the Better Business Bureau's Scam Tracker to file a complaint about a ticket company.
If you used a credit card to pay for the tickets, then report the issue to the credit card company. It may be possible to dispute the charge.
13. The Government Grant Scam
There are actually a lot of ways you can get free money from the government, including college scholarships and grants. But sadly, scammers also use this as an opportunity to commit frauds.
As with most of the scams on this list, this one involves the scammer pretending to be someone they aren't in an attempt to steal money from people.
How the Government Grant Scam works
With this scam, a person calls your house and says that they have a free government grant to award to you.
They say this grant is for college, home repairs or other expenses.
The grant is of course fake.
The person asks for your checking account information so that they can deposit the grant money into your account or take out a one-time processing fee.
The scammer just wants to steal your cash and does not have a grant to offer.
The government doesn't really give grants to individuals – most of the time grants are given to state and local governments, universities and other organizations in order to fund research and projects that benefit the public.
So if someone is calling up your house and offering you a grant, then it is likely a scam.
How to protect yourself against Government Grant Scams
Keep these tips in mind if you want to avoid being the victim of a government grant scam.
Beware of ads and calls about free government grants – these are generally scams.
Never give out your bank information.
Do not pay money for a government grant. Government agencies would never ask you to pay a fee for a grant that they've awarded.
Scammers will claim to be from government agencies that sound official, but don't believe them. Research the name of the agency they claim to be from online or in the phone book.
Don't believe that a call is actually coming from the area code that is displayed on your caller ID. Some scammers use technology to disguise their real location, and to make it look like they're calling from Washington, DC.
Learn more about government grants at gov.
How to report a Government Grant Scam
You can file a complaint with the FTC online here.
Also, you can call the FTC to report a government grant scam on 1-877-382-4357.
You can also register with the National Do Not Call Registry, which we mentioned above, and reduce the number of telemarketing calls that you get.
As we said above though, this doesn't mean that you still won't get calls from these scammers.
But, it's totally free to register your home phone and mobile phone numbers with the National Do Not Call Registry.
14. The Pyramid Scheme
Working from home and having your own business is a dream for a lot of people. And while there are tons of legitimate and real work from jobs out there, there are also a lot of scams disguised as real small businesses and work at home jobs.
Pyramid schemes are some of the most well-known scams that unfortunately a lot of people still fall for.
How Pyramid Schemes work
Pyramid schemes disguise themselves as legitimate business opportunities.
But, they are scams and illegal in the US.
Pyramid schemes do not provide any tangible, for-value goods or services. And that's the main difference between Pyramid Schemes and lawful MLMs (although a lot of MLMs border on the side of being a pyramid scheme themselves!)
Instead, they work by recruiting an increasing number of members at different levels.
These schemes promise new recruits that they'll get profits for enrolling other members into the scheme.
New recruits have to pay an upfront cost, and this is where longer-standing members get their money.
These schemes need a constant flow of new participants to stay afloat.
Usually, pyramid schemes are marketed as multi-level marketing programs – and other types of businesses that sound legitimate.
Basically, these schemes require new recruits to make payments and then use new recruit's payments to provide "profits" to members who've been part of the scheme for a longer period.
In order to pay earlier investors, pyramid schemes need to keep recruiting members, so they are always looking for new people to scam.
Pyramid schemes always fail – it's just mathematically guaranteed!
The pyramid may start with just one person who then recruits 10 people to the level below them, and requires them to invest money.
Then, those ten people all need to recruit new members in order to form the next level and get the profits they were promised.
The pyramid grows bigger and bigger, and each level has an exponentially higher number of members.
As long as the lowest level stays bigger and wider than the upper levels, the pyramid will remain stable, but once the lowest level starts to wane in recruits, the whole pyramid collapses.
Pyramid schemes deceive people by promising them that by "investing" their money into the scheme, they will make more money.
But that's not how pyramid schemes work.
These schemes do not actually create any wealth for their members – they don't sell products or services and they don't invest your money into anything that can actually generate returns.
Instead, the scheme relies on getting more and more money from an increasing amount of recruits at the bottom levels of the triangle.
The cycle cannot sustain itself, and most, if not all, of the people in the pyramid, will lose their money. It's the people nearest the bottom of the scheme who are the most vulnerable, as it will be harder for them to find new recruits to get the money they need to pay off the previous level of recruiters.
How to protect yourself against Pyramid Schemes
Here are a few things you can do to ensure that you don't become a victim of a pyramid scheme.
Avoid any business opportunity that asks you to recruit more people in order to increase your profits or to recover your initial investment.
If the company doesn't provide any tangible products or services, then be very wary. It's likely to be a pyramid scheme.
Check with the Better Business Bureau or with your state attorney general to verify the legitimacy of the business that's providing you with the offer.
Ask to see documents that have been audited by a CPA, like financial statements, which show that the company generates revenue from selling its products and services to people outside of the program.
If you see success stories and testimonials of huge earnings, then be skeptical of the so-called business opportunity. Avoid opportunities that say you're guaranteed large profits quickly.
Never invest in a business until you have verified that it is legitimate.
The US Securities and Exchange Commission has an article about the warning signs of a pyramid scheme, which you should check out here.
You should definitely check out the article so that you know what the signs of a pyramid scheme are. A lot of people don't realize that the business opportunity they signed up for is actually a pyramid scheme.
This because many of these scammers make out that they are offering legitimate business opportunities, some of which can seem quite tempting.
But it's a scam and the business will never generate any revenue – instead, a lot of people are scammed out of investing their money into an unsustainable and illegal scheme that will result in financial losses.
How to report a Pyramid Scheme
You can report pyramid schemes to your state consumer protection office.
Also, you can report pyramid schemes to your state attorney general.
15. The Debt Collector Scam
This is one of the more threatening scams on this list.
Basically, the scammer calls you pretending to be from a debt collection agency and tries to steal your money.
How Debt Collector Scams work
With this type of scam, you get a call from what appears to be a debt collector.
The person says that you owe debt on a loan.
This might be for a loan that you've never received or on loans that you did receive, but for amounts you don't owe.
Basically, scam artists pose as debt collectors.
Often, this is a hard scam to detect.
It can be difficult to tell the difference between a legitimate debt collector and a fake one.
In some cases, a fake debt collector might even have some of your personal information, such as your bank account number.
Often, fake debt collectors will try to pressure you into paying, using scare tactics to do so.
They might threaten to have you arrested or threaten to report you to a law enforcement agency.
How to protect yourself against Debt Collector Scams
Like we said before, knowing the difference between a regular debt collector and a fake one can be tough.
There are, fortunately, things you can do to ensure that you stay safe.
Here are a few signs that it's a debt collection scam – the caller:
Asks you to pay a debt for a loan that you don't recognize.
Won't give you a mailing address or phone number.
Asks you for personal information, financial information, or any kind of sensitive information.
Is almost aggressive in their attempts to get you to pay the debt – as we mentioned above, these scammers may threaten you with arrest or police involvement in an attempt to scare you into paying.
Here's what you should do if think that a caller may be a fake debt collector:
Ask the caller to give you their name, street address, company and telephone number.
Tell the caller that you refuse to discuss any debt until you receive a written "validation notice." This notice should include the amount of debt you owe, the name of the creditor that you owe the debt to, and your rights under the Fair Debt Collection Practices Act.
Do not give the caller any financial information or any other sensitive information. This includes things like your Social Security Number, credit card details, or bank account details.
Get in touch with your creditor. Like many people, you may owe some debt. While the debt may be legitimate, you may be unsure whether the collector is legit. So contact your creditor about the calls. Give them the information that you have about the suspicious calls and find out whether the creditor actually authorized anyone to collect the debt.
How to report Debt Collector Scams
You can report debt collector scams to your state attorney general.
Also, you can report debt collection scams to the FTC – you can do this online here.
16. The Tech Scam
Computers do sometimes have viruses or technical issues. That's why we have anti-virus software and computer technicians.
But, scammers, unfortunately, make up computer issues in an effort to steal money from people.
This is one of the most popular scams out there right now – with Microsoft estimating that in 2015, around 3.3 million people (many of them seniors) were the victim of this scam. The victims were estimated to have been conned out of $1.5 billion.
How Tech Scams work
Tech scams are generally conducted in one of two ways:
On the phone
Let's start with how the tech scam works when it's conducted over the phone:
You get a random phone call from a person that claims to be a tech support agent from a tech company like Microsoft or Windows.
The person says that viruses have been detected on your computer. Then the person usually tries to get hold of your personal information and data or extort money from you.
They do this in a couple of different ways.
One way involves the scammer saying that since viruses have been found on your computer, in order to protect your data, you have to visit a certain website and follow its instructions immediately.
When you visit that site, you might even see a fake message on the screen that shows viruses are being detected and removed.
But, this isn't the case.
In reality, malware is being installed on your PC.
Once installed, this malware allows scammers to steal sensitive data, like your usernames and passwords.
The scammer may even hold your data for ransom or use your webcam to spy on you.
Or the scammer might say that you need to give them remote access to your computer in order to fix the problems they've found with your computer.
Then, they ask you to pay to fix a problem that didn't exist in the first place.
Online
Like we said above, tech scams can be conducted over the phone, but they are also rife online.
Online, these tech support scammers may try to get your attention with a pop-up window.
This pop-up just appears on your computer screen and it usually looks like a legitimate error message.
It may even look as though it's from your operating system or anti-virus software.
And, it may include logos from reputable companies and websites.
The message basically warns you that there's a security issue on your computer and you need to call a number to get help.
Or it may say that there's a virus on your computer and to click a link to remove it from your PC.
Both of these are attempts to scam you out of money or to install malware on your PC to steal your personal data.
How to protect yourself against Tech Scams
If you receive a phone call that you weren't expecting from someone who claims to be from a tech company and says that there is a problem with your computer, then hang up.
It is a scam.
Companies like Microsoft do not contact their customers directly about viruses.
If you have a virus on your computer, your anti-virus software is what detects and solves the issue.
An actual agent would never call your house unless you requested them to.
And, pop-ups that you see on websites that tell you that you have a virus or issue on your PC should also be ignored.
Just make sure that you have up to date anti-virus, anti-spyware, and anti-malware software installed on your computer.
And if your computer does have an issue, contact a legitimate company to fix it.
How to report Tech Scams
You can report tech scams to the Federal Trade Commission.
If you want to report a tech scam to the FTC online, then visit this page.
Aside from reporting tech scams online, you can also call the FTC on 1-877-382-4357.
17. The Home Improvement Scam
The last scam on our list is another popular one: the home improvement scam.
How the Home Improvement Scam works
This scam involves a person contacting you – this is usually in-person, right on your doorstep, but it can also happen over the phone – and offering to do home improvement work for you.
They seem legitimate, and like many of us, you might need some work doing on the house, and so you agree.
The person asks you for a deposit, which doesn't seem too strange, but then they never come to do the work.
It was a scam.
These people are not home improvement service providers.
They are scam artists who just want to con people out of money – they have no intention of actually doing any home repairs, maintenance or any work at all.
How to protect yourself against the Home Improvement Scam
Whenever you're going to part with money, you should do some research first.
If someone comes to your door to offer home improvement services, then ask to see their card.
You can then research their company online.
Use websites like the Better Business Bureau, and other trusted platforms to check whether the business is legitimate.
If you are thinking about hiring a contractor, then get written estimates from several places – and keep in mind that the lowest quote may not be the best quote.
Home improvement scammers tend to:
Pressure you into making an immediate decision. After all, they want your money fast, and don't want to give you time to research them and discover that they are a scam artist.
Request that payment be made in cash.
Say that they "just happen" to have materials left over from a previous job.
Not be licensed. In many states, but not all of them, unfortunately, contractors are required to be licensed and/or bonded. To find out about licensing requirements in your area, contact your local building department or consumer protection agency.
If you see any of these signs, then DO NOT work with this contractor.
How to report a Home Improvement Scam
You can report a home improvement scam to the FTC online here.
If you want to speak to someone about it over the phone, then you can call the FTC at 1-877-382-4357.
Tips on How to Avoid Money Scams
Above, we've listed the top scams that are around right now.
The problem is, successful scammers are always coming up with new ways to scam people out of their money (they're inventive like that).
This means that new scams pop up and, unfortunately, fool some unsuspecting people.
That's why it's a good idea to do a few things to keep yourself protected, regardless of what the financial scam is.
Here's what to do to avoid scams in general.
Never pay money in order to get money
Aside from your bank who might ask you to pay an annual fee for your credit card, no other place/person/organization should ever ask you to pay a fee in order to get money.
Have you noticed that while all of the scams we listed above are different, many of them had one thing in common?
They ask you to pay a fee.
Regardless of the back story, many scams are based on a message of "you can have all of this cash if you just pay us this small fee".
It's an admin fee, or a processing fee or a tax fee etc.
So if you ever get an email, a letter, a text, a phone call or any other correspondence that offers you money if you pay a fee, then avoid it.
Don't give out your credit or debit card information
No reputable bank, store, or company would email you or call you to ask you for your credit card or debit card information.
Only provide financial information if you have contacted your bank (using its legitimate/official number) directly.
If something seems too good to be true – it usually is!
Optimism and trust are two important qualities, but when it comes to money, it's better to be a skeptic.
If someone is offering you a ton of money for no reason, then you need to question why?
Why would a stranger offer you money?
The truth is, they probably wouldn't.
As they say, there's no such thing as a free lunch.
And, it's entirely true in matters of money.
Just be aware of offers that seem too good to be true, as they usually are.
Don't give out money or personal information in response to an unexpected request
Many scammers will pretend to be a person that you'd trust, like a government official, a charity, or a company that you do business with.
If you get an unexpected request, whether it is over the phone, in a text or in an email, then do not send money or give out your personal information.
Search Online
While the internet has given con artists more opportunities to scam people, it can actually help you to avoid becoming the victim of a scam.
Open up your favorite search engine, and then type in a company or product name, followed by words like "scam," "complaint" or "review."
This can help you to determine whether something is a scam or not.
You can even search for phone numbers online and see whether other people have reported that these numbers are scams.
Don't believe what's displayed on your Caller ID
Scammers use technology to fake their caller ID information.
This means that the name and location displayed on your caller ID isn't always accurate.
By following these tips, you should keep yourself safe from most of the scams that are out there, regardless of what fresh ones these fraudsters come up with.
What to Do If You've Been Scammed
Above, we've mentioned some of the most common financial scams, and how to protect yourself.
But, what if you've already been scammed out of money?
What do you do?
There's a lot of prevention out there for financial fraud, but victims don't always get restitution. That's not to say, however, that if you have been scammed out of money that you won't be able to get it back.
How to report scams
Our first tip if you suspect that you, or somebody that you know, have been the victim of a financial scam, is to report the crime and seek assistance as soon as possible.
You should not be embarrassed or ashamed to admit that you've been scammed.
These scammers prey on people and exploit their vulnerabilities.
It happens to millions of people, so you aren't alone.
There are, fortunately, many organizations out there that can assist victims of financial fraud.
You will be able to report the fraudster.
Above, we've listed lots of places where you can report common scams.
How to get your money back after a scam?
Places like the FTC use consumer reports to tackle scam artists.
But, most organizations don't work on individual cases.
This means that unfortunately if you have sent any money, depending on the method you used to deliver the funds, you may not be able to recover your money from scammers.
Wire transfers, for example, aren't reversible.
If you sent the money using a credit card, however, then your credit card company may be able to recover the funds.
However, there are places that do help with individual cases and may allow you to get back the money you've been scammed out of.
If you've been scammed and need assistance getting your money back, check out the following resources:
The best place to start is with your state attorney general's office – which you can locate here.
Also your local and state consumer protection agencies can assist you – visit gov and then search for your state consumer protection office.
Consider contacting the police. A local law enforcement agency may be able to assist you.
If you've been scammed and would like to get advice from someone about it, then get in touch with the AARP – it has a dedicated helpline that you can call to speak to fraud counsellors. Call the AARP helpline on 877-908-3360.
Closing Thoughts
Being scammed out of your money is an awful thing and it really can happen to anyone.
And, since scammers are always finding new ways to scam people out of their money, it can be hard to know what to do to keep your cash safe.
As we mentioned above, it's all about being aware of those offers that just don't seem quite right, and it's being knowledgeable about the types of scams that are out there.
We've included the bigger and more common financial scams, but keep in mind that these fraudsters are always coming up with new ways to cheat people out of their money.
So, it's likely that new scams will appear in the coming years.
That's why it's important to keep our tips in mind as well.
And, remember, if you've been a victim of financial fraud – don't be ashamed.
Report the crime.
You may be able to get some of your cash back and you can help the authorities to shut down these scammers – and if you do this you can prevent somebody else from becoming a victim of a money scam.
So avoid these top financial scams, and follow our tips to keep your money safe.
If you have any tips on avoiding scams or want to share your experience with money scams, then please leave a comment below.