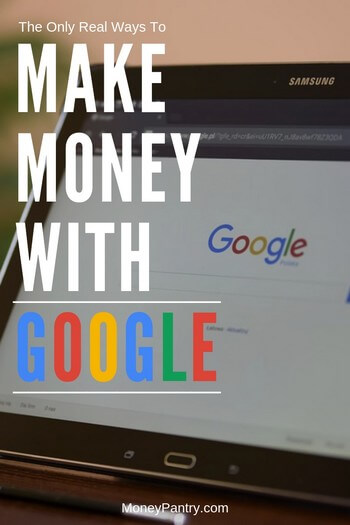 Almost every single internet user in the world uses Google search or one of its many products, but did you know that you can actually make money online with Google?
Whether it's from using their ads, their websites or just appearing first in their search engine results, you can actually earn money online for free using products made by Alphabet (Google's parent company).
Some people have even ended up millionaires!
Real Ways to Earn Money off Google
Google offers many ways to make money, such as through their site YouTube.
The top 10 YouTube stars earned an aggregate $180.5 million this past year, up 42% from 2017, according to Forbes.
Listed below are all the best ways you can earn an income by using Google and its resources.
Need Easy Extra $300+/Month for Free?
KashKick
: Get paid directly into your PayPal for watching videos, surfing, shopping and more.
Join KashKick Now!
InboxDollars
: Paid over $57 Million to members to watch videos, take surveys, shop and more.
Get $5 instantly!
Branded Surveys
: Get $1 instantly just for joining for free. Plus get paid within 48 hours by PayPal!
Join Branded Surveys
First Opinion
: Get paid up to $10 per survey and $300 per virtual focus groups!
Join Now!
Swagbucks
: Get paid to watch videos, shop online, take surveys and more.
Join now & get $10 instantly!
Search Engine Evaluation Jobs
Did you know that when you do a search through Google, those results have been fine-tuned by not only the Google algorithm but also by people?
A search engine evaluator looks at the websites that show up in popular search results and evaluates whether or not they are relevant and helpful. They record that information and engineers use it to fine-tune the search result algorithm.
So what does this gave to do with you?
Well, you can actually get a job to do this fairly easily.
The following companies are what Google uses to fine-tune their search results:
These companies pay around $12 an hour or even more, depending on what you are doing and your experience.
If you have a good understanding of using a computer and know how to navigate the few advanced aspects of Google's search engine, then this is a great job opportunity for you. Considering you found your way to this article probably through search results, then you basically already know how to do the job!
Make Money with Google Surveys
You can get paid for sharing your opinion with Google. With their app, Google Opinion Rewards (review here), you can share your thoughts, answer surveys, and get paid for it.
You'll earn about $1 in Google Play credit for each survey you take part in. Survey topics range from products, hotels, travel locations, food, and more.
Every time a new survey is available to you, you can receive a notification. No need to worry about missing out on an opportunity!
After you earn enough credit, you can buy music, apps, games, and even movies from the Google Play store. Which this isn't much money, it's still good pocket change and can help you get some fun things for just sharing your opinion.
You can get the app on the Google Play store or on the iOS store.
Sell Books on Google Play
We aren't talking about reselling your old books with this one. Believe it or not, you can actually publish books you've written via Google.
Love to write?
This is your chance to make money as a writer.
The Google Books Partner Program occasionally opens its offers to sell your writing on the Google Play store. All you need to do is make an account and upload your work in the correct file type.
As long as your writing doesn't go against the company's standards, you are good to go!
This is also a great way to get a taste of publishing without the painful process that normally comes with standard publishers.
It doesn't just have to be fiction, either. They accept fiction, non-fiction, poetry, and more. You can even set the prices you want on your work.
Get started on it and learn more by clicking here!
Sell Apps on Google Play
Have you ever had a fun idea for a game?
Well, it ends up that Google can help you make money off that. All you need is some skill in coding, which you can easily learn for free on the internet.
Design a few easy, but addicting, games to upload to the Google Play store and you can actually make some nice money off it.
The first step is creating a Google Wallet Merchant account, which you can do here. Sign in, open up the "financial reports" section, and then click "set up merchant account now".
Then, all you need to do is upload your app and monetize it. You can publish it as a paid app and set the cost per download, such as 0.99. You can also set up Google ads within the app to make extra money the more popular your app gets. If you are tech savvy, you can also enable in-app purchases to make even more money.
Of course, you'll need to advertise the app and share it with your friends and family if you want it to become super popular. However, regardless if you get just fifty people to three thousand people downloading it, you can make quite a lot of money!
Here are a few resources for learning how to make a Google Play store app:
Google Work at Home Jobs
You don't need to live in California to work for Google. They actually have some occasional work from home job offers. Usually, the jobs are for engineers and developers, but they also sometimes have administrative positions available.
You can find their available jobs here.
Google is a multi-billion-dollar company, which means that its employees are treated quite well. The company has been ranked #1 of the 100 Best Companies to Work For list in Fortune magazine.
According to Glassdoors, the average salary at Google is over 100k annually for most positions. They have 4.9k job positions available from all over the country.
Some benefits of being an employee for them is:
Free lunch and snacks
Good health insurance
401k Plan
Because it's a tech company, it's also very welcoming to freelancers. They are open to freelancers of any kind, more than just engineers. Just remember to follow up with HR about your job application after the appropriate amount of time.
One warning is when you are trying to find a job with Google, be aware that there are scammers out on the internet that try to pretend to be a job listing in order to gain your personal information.
Make sure you only look at the official google job board in order to avoid scammers.
Make Money with Google Adsense
This way takes a lot of preparation but can definitely be worth the effort if you do it right.
Google Adsense is a publishing service by Google that puts ads on your websites. It pays people billions of dollars every year just for having a few ads on a page.
What does this mean for you?
Well, if you start your own website and gain readers, you can start getting paid too!
The ads are contextual, meaning that they are picked to be related to whatever topic your website is about. If an ad interests a reader, they will click on it and you'll earn money.
Easy, right?
All you need to do is start a website or blog about something you are knowledgeable in. Then write posts on that topic weekly or daily to increase readership. Once you get a lot of readers, register your site for Google Ads and Google AdSense. It's free to join and you'll make a passive income!
You can also connect it to your YouTube account if you make videos on there. In order to do that, however, your account needs at least 10,000 views. However, that doesn't take too long to do if you upload a decent amount of videos.
A few things to note:
This won't work if you have a WordPress account, however, you can use WordAds if you really want to have a WordPress blog instead.
This isn't a get quick rich scheme. You do have to constantly update your website and keep on top of it so that your content is fresh for new readers.
Believe or not, it's possible to make a million dollars off AdSense. There are many bloggers who do make that much. You may not make millions, but with a popular enough blog, you can easily make a few hundred thousand dollars a year.
If you don't know where to host a website for this, you might be interested in using Blogger. Using Blogger is an excellent way to start earning money through blogging.
Blogger is a blogging platform owned by Google. You can use it to monetize traffic coming onto your site. Because it's owned by Google, it's extremely easy to hook up with Adsense to make money with ads. You can also do affiliate marketing and sponsored posts once your blog becomes popular enough.
Google Adwords
While Adwords won't directly make you money, it's still worth looking into.
Here's why…
Google Adwords tells you which keywords are important in a certain topic. This is decided by what is most popularly searched.
If you have a website, you can use this information to figure out which topics you should write about on your site next. Mention those keywords in your posts, and your website will show up in search results more.
How does this make you money?
Well, if you have ads on your site, you could potentially reach thousands of people just by using those Adwords in those posts. That means more people clicking on ads, which gets you more money.
Plus, if you get lots of readers you can do sponsored posts or even sell merchandise for your site.
Google Pay
Do you have an online store or plan on starting one?
Then this can help you earn money.
Google Pay is a payment handling service, like PayPal, that handles the transaction between you and customers.
The idea behind it is that while people may not trust a random website with their information, they do trust Google. So they will be more willing to spend money on your site if they know Google will handle their money and back up their purchase in case something goes wrong.
Make Money with YouTube
Probably everyone in the world has heard of YouTube at this point.
This Google owned video media site is an excellent resource. With millions of users and literally trillions of views sitewide, YouTube still remains a fantastic way to earn a huge income with just a bit of hard work.
Here are the basic steps to earning money with YouTube:
Step 1: start a YouTube channel. You can do so here.
Step 2: Create a video. You can do this with a web camera, mobile device, or screen recording program.
Step 3: Upload your video to YouTube. Create a good title and thumbnail image for it.
Step 4: Repeat this daily until you get a good number of subscribers.
Once you have a decent following, there are lots of possibilities to make money with YouTube. You can apply for Google Adsense, which was discussed earlier in the article. The more viewers you have, the more money you will make off each video.
If you are lucky, you might even go viral and become an internet celebrity. This means you could make sponsored videos for companies and make money off that. You could also sell your own merchandise to your fans.
As we mentioned earlier, the top YouTubers bring in over a hundred million in income in 2017! One of those Youtubers, Markiplier, had an estimated $17.5 million income from Youtube in 2018. The gamer toured North America and signed seven-figures worth of brand deals, according to Forbes.
Google User Experience Research
How would you like to test out Google's new products and projects?
With this legit focus group program, you can do that and even earn some spare cash.
Here's how:
Step 1: Sign up and answer the questionnaire Google will send your email address. Based on your interests, you'll be matched to any studies Google does in the future that you qualify for.
Step 2: Participate in any studies they send you. You'll be given details about time, location, and study methods. Studies can take place all over the world, such as the Google office or even your own home. Many studies can be done through your computer, smartphone, or tablet.
Step 3: Once you are done with the study, you'll be given a small thank-you gift from Google. This can be either a gift card or a donation to your favorite charity of choice. They will always let you know what your award is before you start, so don't worry about being disappointed by the pay.
Interested in doing it? Sign up here!
Final Thoughts
Hopefully, after reading this article, you will be inspired by these many ways you can make money off Google.
Are there any ways you've used that we missed? Have you tried any of these methods before? Let us and our readers know about your experiences in making money with Google in the comments below!