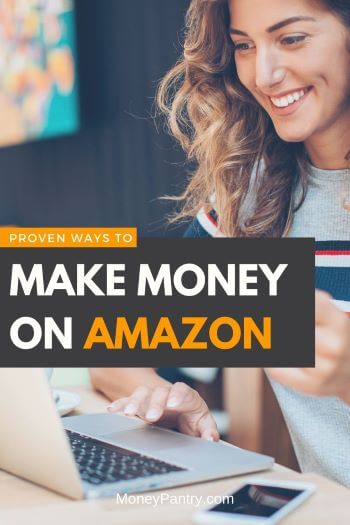 Amazon is a global E-Commerce phenomenon. The online merchant gets more than 2 billion visitors a month and in 2020, the company made close to $386 billion in net sales. I don't think even Jeff Bezos, the former CEO of Amazon, could have predicted when he began selling books out of his garage in 1994.
Crazy, right?
But how does that help you make money on Amazon?
Well, you can leverage Amazon's popularity to make money! While there are many sites like Amazon out there, like Etsy, eBay, Alibaba and others, none enjoy the popularity of Amazon.com.
Yup!
That's what today's post is all about. I'll be covering ways you can make money with "The World's Largest Retailer". This could be anything from selling products on there to delivering packages for the company.
Need Easy Extra $300+/Month for Free?
KashKick
: Get paid directly into your PayPal for watching videos, surfing, shopping and more.
Join KashKick Now!
InboxDollars
: Paid over $57 Million to members to watch videos, take surveys, shop and more.
Get $5 instantly!
Branded Surveys
: Get $1 instantly just for joining for free. Plus get paid within 48 hours by PayPal!
Join Branded Surveys
First Opinion
: Get paid up to $10 per survey and $300 per virtual focus groups!
Join Now!
Swagbucks
: Get paid to watch videos, shop online, take surveys and more.
Join now & get $10 instantly!
Don't worry – selling certainly isn't the only way that you can make money through the platform. There are plenty of different options to suit everybody.
How to Make Money with Amazon
If you've been wondering how to make money on Amazon, try these methods…
1. Sell private label products on Amazon
One of the most popular ways to make money on Amazon is to sell private label products. With this method, you take a pre-existing item and put your own branding and logos on it before selling it to consumers. Private labeling is also sometimes known as brand-creation or white-labeling.
A TON of stores do this. You know all those store-brand products you see at your local grocery stores? Yes, those are basically the same products as the name brands ones but with the store's name and logo on them!
It's a good model because you don't have to manufacture any products yourself, but you still get to label them with your own branding.
Now, once you have the products, you need to decide HOW you want to sell them.
The are two main methods:
FBA
Fulfilment By Amazon (FBA) is the most popular way to sell with 57% of sellers using FBA to sell and 34% using both FBA and FBM, and just 9% using FBM alone.
With FBA, you, or your supplier, send the products directly to Amazon's warehouse, and then Amazon handles everything else, like the shipping, for you.
Here's how it works:
Select a product to sell. You can source items from websites like Alibaba if you want to.
Have your items delivered to an Amazon fulfillment center.
Then, Amazon will handle the rest for you. Amazon will ship your items when they sell and even deal with customer service as well.
For providing these services, Amazon does charge you fulfillment fees.
FBM
With Fulfilment by Merchant (FBM), you list your products on Amazon, and you are responsible for storing inventory, shipping products, and handling customer support, either yourself or through a third party.
Obviously, this requires much more effort on your part. FBA is definitely the easier option, but you do have to keep in mind those fulfillment fees that Amazon charges for providing these services.
How much can you make?
With FBA the sky really is the limit. There are people making tens of $1,000s with this. On the other hand though, others make $100s. It really depends on what it is that you are selling, the profit you make from each sale, and how many units you sell.
If you want something more concrete, let's take a look at some examples from the treasure trove of information that is Reddit!
This Redditor says that they earn $17,000 a month in profits. And, another person on there says that they broke 6 figures in sales in just 9 months.
This Redditor says that they made $1,633.34 in sales in their first month.
So, you can make $1,000s selling products on Amazon.
2. Try retail arbitrage and make money flipping products
Another option is to try flipping store bought products – this is known as retail arbitrage.
Here's how it works:
You purchase an item on sale or as part of a deal. For example, it could be a pair of boots that's on sale for 30% off or it could be a buy one get one free deal on makeup.
Then, you list the item for sale on Amazon for the full price. So, you list the boots for their original price – let's say they were $100 and you got them for $70, so you would put the price back up to $100.
When the item sells, you profit from the difference and get your original investment back.
Basically, retail arbitrage is the process of buying items at a lower price and reselling them for a profit.
You buy discounted items at places like:
The thrift store
The dollar store
Clearance section of any store
TJ MAXX
Marshall's
Ross
Also, you should keep an eye out for sales at any store. And, don't forget to check the clearance section for deals either.
Retail arbitrage does require quite a bit of effort because you can spend the better part of a day or weekend trying to find stuff in retail stores only to come up empty-handed.
Still though, a lot of people start out selling on Amazon using this method, so it's definitely worth a try.
Again, you have two options for selling the stuff – you can either do it through FBA or FBM, whichever works out best for you.
How much can you make?
The amount of money you make depends on what it is you're selling, and the profit you make selling each item. Of course, the number of units you sell also determines your income.
A person on this Reddit thread says they've made 20k from retail arbitrage, and this Redditor says they've made 19k from retail arbitrage.  You may not make that much, but you could at least make $100s if not $1,000s a month with retail arbitrage.
3. Try online arbitrage
Next on the list, we have online arbitrage. This is the same as retail arbitrage, but with one key difference.
Rather than buying stuff in-store from places like Walmart or TJ MAXX, you instead buy discounted items online on sites like eBay. Online arbitrage can often work out better than retail arbitrage because you don't have to drive to a bunch of different stores to try to find great deals.
It can save you a lot of time and effort. So, try online arbitrage instead!
How much can you make?
Like with retail arbitrage, with online arbitrage, the amount of money you earn depends on factors like how many sales you make, and the profit you make on each sale. Again, you could make $100s or $1,000s a month with this.
4. Sell t-shirts and more with Merch by Amazon
Okay, so selling stuff on Amazon is great. But, if you're a creative type, then selling through Merch by Amazon rather than through private label, retail arbitrage, or online arbitrage might be a better option for you.
To start selling T-shirts online via Amazon, you upload a design and it goes onto a t-shirt. You even get to choose the color of the t-shirts that you want to sell your design on. Then, if Amazon approves your design, that t-shirt goes up for sale on the platform.
When a customer buys it, Amazon will print it on demand, and ship it to the customer for you.
So, you aren't having to handle stock, printing, or anything like that. All you need to do is upload the designs. Of course, you will need to do some market research into what sells and write some descriptions for your listings.
Now, you can't just sign up and start posting designs. You have to apply for and be approved for the Merch by Amazon program.
Amazon doesn't really provide much detail on how long its approval process takes. However, according to reports online, it can take anywhere from 4 weeks to 6 months to get approval. But, my husband applied to the program and was approved within just 3 days. So it really seems to vary a lot.
When you first join Merch by Amazon, you can only upload 10 designs. If you upload quality work though, Amazon will eventually upgrade you to the next tier where you can sell 25 t-shirts. And, again, if you keep uploading quality work, you can have 500 listed on there eventually, and it is possible for some designers to get 1,000s of t-shirts listed for sale on the platform.
How much can you make?
What's great about Merch by Amazon is that once you have uploaded the initial designs, it's a passive way to make money.
As I said earlier, my husband sells through the program. He gets paid each month for designs that he uploaded years ago. This means that he can make money even when asleep!
In terms of how much you can make, it really varies.
How much money you earn will depend on how much you sell each t-shirt for, and the number of t-shirts you sell. So the more you sell, the more money you will make.
You get to set your own price for the t-shirt. Amazon takes a cut. But you can view the money you'll get from the sale.
So you can determine how much you want to sell the t-shirts for – within reason of course.
This Redditor says they earn around $626 a month from Merch by Amazon.
You get paid 30 days after the end of the calendar month in which the product was shipped. So, for example, you would get paid for t-shirts that shipped in June at the end of July. Payment is sent to your bank account automatically using an electronic funds transfer (ETF). And, there's no minimum amount that you need to have in your account before you can receive your earnings.
5. Make money as an affiliate with Amazon Associates
One of the most popular ways to make money on Amazon is with the Amazon Associates program. This is one of those ways to make money on Amazon that's great if you want to profit from selling stuff, but you don't want the hassle of actually sourcing any products yourself.
Sure, private labeling is good, as is retail arbitrage. But, these methods require you to find products to sell and either go with the FBA option and get them shipped to Amazon so they can handle your inventory for you (which costs you money) or go with the FBM route and have to handle everything yourself.
With the Amazon Associates program, you can make money selling everything from Nikon cameras to pet food without ever having to source inventory or ship anything yourself.
Amazon Associates is an affiliate program. When people make a purchase on Amazon using your affiliate links, you get a commission.
You can post your links on places like:
Social media
Blogs
Websites
Newsletters
Videos
This means that, as I said, you don't need to worry about finding inventory. Now, this doesn't mean that you don't have to put in any effort at all. If no one sees your affiliate links, then you aren't going to make any sales.
So, you need to promote your links online in order to get people to see them and make sales.
How much can you make?
You can get up to 10% in affiliate commission each time you make a sale. So how many sales you get, the amount of commission you get, and the price of the product you sell will all factor into how much money you earn through affiliate sales.
Let's take a look at a couple of examples:
You post a link for a $400 camera. And you get 10% commission on the sale. For that sale, you would earn $40.
You post a link to a $10 journal. You receive 10% in commission. From that sale, you would earn $1.
If you have lots of links and get a lot of clicks, you could make $100s from affiliate sales each month.
The good thing about the program is that even if the person doesn't purchase the item from your link, you can still get a commission on other stuff they purchase, as long as they followed your affiliate link to get to Amazon.
For example, if you linked to a dog bed. Someone clicks this link on your blog. They are directed to Amazon but they decide not to purchase the dog bed. Instead, they search for a new TV, for example, and they end up purchasing that instead. You would get a commission on that sale.
6. Make money from the Amazon Influencer Program
Next on the list we have the Amazon Influencer Program. This is an extension of the aforementioned Amazon Associates program.
If you qualify for the program, you get your own page on Amazon with a custom URL. You can use this to recommend thousands of products. When a customer shops through your storefront, you will earn money on qualifying purchases.
This program is designed for people who have a qualifying account on the following platforms:
YouTube
Instagram
Twitter
Facebook
Amazon looks at the number of followers that you have and other engagement metrics on these platforms. If you want to join the Amazon Influencer program, then you will need to choose one social media account where you have the largest influence on your followers.
YouTube and Twitter accounts get real-time approval. But, it can take up to 5 days for Facebook and Instagram accounts to be approved.
Now, according to Amazon, if you don't qualify for the Amazon Influencer program now, you can come back in the future because the eligibility requirements may change.
If you do get approved for the program, then you can start curating your page instantly. This is a good program because it allows you to basically create your own affiliate store on Amazon.
How much can you make?
As I said earlier, the Amazon Influencer Program is an extension of the Amazon Associates program. So your income will work in much the same way where you earn a commission on sales.
Like I said before, how much you make from affiliate sales will depend on the commission rate you get, the number of products you sell, and the price of the products sold.
Now, of course, if you have a large following, then that will also increase your sales. If you have a lot of Instagram followers, for example, and you get direct them to your Amazon Influencer storefront, then you could get a lot of sales.
Like with the Amazon Associates program, you could make $100s from this or even $1,000s a month if you make a lot of sales.
7. Get paid to do small tasks with Amazon Mturk
If you're busy and you just want to know how to make money on Amazon in your spare time, then I would recommend Mturk.
Now, Mturk, I'll level with you, doesn't pay great. But it does give you money for doing pretty simple tasks. For anyone that's trying to make some extra money around an at-home job or as a stay-at-home parent, for example, it's a good option to consider.
With Mturk, you get paid to do tasks that computers are unable to do, like:
Tagging objects found in an image.
Verifying restaurant details, such as opening hours or phone numbers
Creating content for websites.
Moderating content by auditing user-uploaded images or videos.
Identifying and classifying objects found in satellite imagery.
Removing duplicate content from business listings.
Helping companies to select a photo that best represents a product.
Completing market research or survey data on a variety of topics.
Editing and transcribing audio content.
Translating content from language to another.
Rating the accuracy of search results.
It's pretty simple really!
How much can you make?
The amount of money you earn varies from task to task. I have seen people making a couple of $100 a month from Mturk. You get paid right to your bank account, which is always handy because who wants to wait for a check, right? You can also choose to have your earnings put on an Amazon gift card instead.
8. Self-publish books with Kindle Direct Publishing
Want something more creative? Then why not consider publishing your own book on Amazon.
With Amazon's Kindle Direct Publishing (KDP), anyone can write and upload a book for sale on Amazon. Through KDP, you can publish both fiction and non-fiction books.
So if you would love to write a novel, you could publish your own fiction book. Or you could go with non-fiction if you'd prefer to write something like a how-to guide or instruction manual.
If you've ever considered writing a book, and want to make money on Amazon, then KDP could be perfect for you.
How much can you make?
You could make a fulltime living with this or you could make a $100 or so extra a month. It really depends on the number of books you sell. It's a good idea to have a large catalog of books up for sale. This is because if a customer likes your first book, then they are likely to check out your other work. If you have more books for them to purchase, you'll increase your income.
With the KDP program, you can earn up to 70% in royalties, which is great! This is way more generous than the royalty rates that are offered by traditional publishing houses.
If you can get a lot of sales, this can be a lucrative career. And, once you put a book up for sale, you can keep making money from it over and over again – even in your sleep! This makes it a great passive income stream. Some authors even make $100,000 a year selling books on Amazon. But, that's not the case for everyone of course.
On Reddit, there are lots of people making $100s a month from KDP. For example, a writer on this Reddit thread makes $300 to $500 a month selling their books through KDP.
Since there are millions of books available on Amazon, you will need to market and promote your books to drive sales and make yourself stand out among the competition. Like I said earlier, having multiple books up for sale is also a good idea.
9. Find a work at home job with Virtual Locations
If you're looking for more traditional work, rather than freelance work or starting your own business like with private labeling, then why not have a browse of Amazon's Virtual Locations section.
Here, you can find virtual, work at home Amazon jobs.
There's work available in lots of different categories, such as:
Customer service
Design
Marketing & PR
Finance & Accounting
Database administration
Operations, IT & support engineering
Solutions architect
Fulfilment and operations management
Sale, Advertising, and Account Management
Software development
Project/Programme/Product Management-NON-TECH
Human resources
Business and merchant development
Project/Programme/Product Management-TECHNICAL
Leadership development & training
Editorial, writing, and content management
Administrative support
In the past, I've seen at-home positions available, like:
Customer service associate
Digital devices and Alexa support associate
Front-end engineer
Customer solutions manager
Software development engineer
How much can you make?
How much you get paid varies from job to job. So do make sure you check the details of the position you want to apply for.
10. Drive for Amazon Flex
As you know, Amazon delivers millions of packages to customers. So it needs drivers to make these deliveries. You can pick up work as an Amazon delivery driver through Amazon Flex.
As I explained in my Amazon Flex Driver review, getting started is very easy. You can open up the Amazon Flex app, search for available delivery blocks near you, and accept the ones you want.
For each job, you'll be able to view your estimated earnings, as well as how long each block is expected to take you to complete.
How much can you make?
With Amazon Flex, you can earn anywhere from $18 to $22 an hour. And, you're paid by direct deposit twice per week. For more details check out my post on Amazon Flex Driver Pay.
11. Be an Amazon Warehouse worker
If you're looking for something that gets you out of the house, and want a job with Amazon, then you might want to try a warehouse job. Amazon offers lots of warehouse work. There are fulltime and part-time warehouse jobs available.
You could work with the:
Fulfillment center
Sort center
Delivery station
Prime Now
Prime Pantry
AmazonFresh
How much can you make?
Pay for warehouse work starts at $15 an hour. So things like how many hours you work and your hourly rate will determine your income.
12. Get paid to Shop for Amazon
Why not get paid to shop?
Amazon offers lots of shopper jobs with flexible, part-time schedules available too!
You'll work as a Prime Now shopper and get paid to shop at Whole Foods.
It's your job to shop for items in the store and then package them for one or two hour delivery.
This job is good if you're looking for a flexible way to make some cash. You can choose flexible hours each week, which mostly includes mornings, evenings, and weekends.
You can choose from 4 to 5 hour shifts and work up to 20 hours a week or as little as four hours per month.
Amazon sends you a message as new hours become available because shifts change due to business needs. You just work in the store and you don't have to deliver groceries.
How much can you make?
You can earn anywhere from $15 to $22.50 an hour as a Prime Now shopper. At the time of writing, it was even offering those who have had the COVID vaccine, a $100 bonus on their first day.
13. Get Amazon cash for your old stuff with Amazon Trade-In
If you're looking for a really easy way to make money on Amazon, then why not sell some of your old stuff?
You can do this through Amazon Trade-In.
With Amazon Trade-In, you can sell a variety of items, like:
Kindle e-readers
Tablets
Streaming media players
Echo
Bluetooth speakers
Headphones
Home security devices
Games consoles
Cell phones
Now, it's important to note that with this program, you don't get cash for your stuff. Instead, you get Amazon gift cards. If you're just looking for some extra money to spend om Amazon though, it's a good idea to trade in your stuff with the company.
How much can you make?
It depends on how many items you have to sell and the amount you get for each one. You could make a few $100 if you have multiple items to sell.
14. Sell through Amazon Handmade
If you enjoy making crafts, then you might want to consider selling them through Amazon Handmade.
It's designed for artisans who want to sell their handcrafted goods online.
You can list your products for free on there, and you just pay a 15% referral fee when your items sell. And, you can even sell in multiple countries.
You do have to apply to join the program and wait for approval before you can start selling stuff with Amazon handmade.
How much can you make?
The amount of money you earn on Amazon Handmade depends on how many items you sell and how much money you make from each sale. There's the potential to earn $100s or even $1,000s a month though.
15. Sell your professional services with Amazon Home Services
You can get paid to assemble and install products with Amazon Home Services.
The service is designed to help customers with products purchased in the Amazon store. So, this can include things like assembly service, home theater services, and appliance installation services.
How much can you make?
Pay varies from job to job.
16. Work for Amazon CamperForce
If you have an RV, then you can find seasonal job opportunities with Amazon CamperForce.
With it, you stay at campsites in your RV, and then you work at nearby fulfillment centers.
Work can involve picking, packing, and shipping customer orders. Just apply, reserve your own campground spot, and then start working. There are fulltime and parttime opportunities available.
How much can you make?
You're paid $15 an hour. CamperForce associates also receive $120 each week to go towards their campground expenses. And, you also get an assignment completion bonus of $.50 for each regular hour worked and $1.00 for each overtime hour worked paid after the assignment ends (overtime varies per state and is not guaranteed).
Medical and prescription coverage is available after 90 days, and there's a 401(k) available too.
17. Join Amazon Vine
Next on the list we have Amazon Vine. So, okay, this isn't a job per se and you don't actually get paid by the program – but hear me out. What you do get is a bunch of free stuff, which means you don't have to buy stuff, so free money right?
So, what exactly is the Amazon Vine program?
Well, it's an invitation only program that gives out free stuff to Amazon reviewers.
Amazon selects trusted reviewers to post their opinions about new and prerelease products. Reviewers who get invited to the program are called Vine Voices.
You might wonder why would Amazon give away free stuff. And well, it has to do with sellers who want to get more sales on their products. You see, Amazon is a competitive place. There are millions of products available on there, so if a seller is launching a new item, then it can be tough for their product to stand out among the competition.
This means that sellers need to do something to get their products noticed. Now, one of the things that I, and most people, look out for when shopping on Amazon is the reviews. The more reviews a product has the better. They can help you to decide whether or not to purchase a product, right?
So, that's where the Vine program comes in. With the program, sellers can get more reviews on their products, and you get a free product. It's a win-win.
As I mentioned earlier, it's an invitation-only program, so how exactly can you get chosen?
There are a few things that Amazon looks for when choosing Vine Voices:
Amazon chooses customers to participate in the program based on their reviewer rank. Every customer who reviews products on Amazon has a reviewer rank, which basically indicates the quality of their reviews and how helpful other customers consider them to be.
You're more likely to be selected for the program if you create helpful reviews consistently.
Also, if you develop a reputation as an expert in specific product categories, then you are more likely to be invited to the program.
If you are invited to participate in the Amazon Vine program, you'll receive free products from participating vendors. And, you'll need to try out these products and leave an honest and unbiased review of them.
How much can you make?
As I said earlier, you don't get paid, but you do get lots of free products. So you could easily get $100s worth of free stuff from the program.
FAQs About Making Money on Amazon
Okay, so in this section, I just wanted to cover some common questions I see from people who want to know how to make money on Amazon.
How can I make money from Amazon at home?
Some of the best ways to make money on Amazon from home include:
Writing books for Amazon KDP.
Working one of Amazon's Virtual Locations jobs.
Making money from affiliate sales with Amazon Associates.
Doing simple jobs on Mturk
And the beauty of these options is that no matter where you live, you can make money with them. Whether you want to make money on Amazon from the U.K., Canada, U.S., Pakistan, India or any other country, you can use these options.
Can you really make money on Amazon?
Yes!
If you're looking to make a lot of money from Amazon, these are the best options:
Selling private label products with FBA.
Flipping products for a profit with retail arbitrage.
Selling books with KDP – if you have multiple books to sell and make a lot of sales.
There are also lots of other great options for making money Amazon, such as:
Selling t-shirts with Merch.
Selling handmade items.
Trading in your old stuff with Amazon Trade-in.
How can I make money on Amazon without selling?
What if you don't want to sell stuff on Amazon? Are there other options for making money on the platform?
There certainly are!
Here's how you can make money on Amazon without selling:
Deliver packages with Amazon Flex.
Shop at Whole Foods as a Prime Now Shopper.
Be an Amazon Warehouse worker.
Do work on Mturk.
Try working a job with Virtual Locations.
How much money do I need to start selling on Amazon?
Okay, so this is one of those questions that really doesn't have a definitive answer. It depends on your business model really. Reports suggest that starting out with about $500 is a good idea. You can use that to purchase inventory. This will give you a decent number of products to sell so that you can start bringing in sales ASAP without having to worry about running out of inventory in your first week.
Again though, it depends on your budget. Don't invest too much upfront if you are on a tight budget. It's best to start out slow and only invest what you can afford to lose. After all, there's no guarantee that your stock will sell and you don't want to end up sitting on too much inventory.
If you are unable to afford much investment, you could try retail arbitrage, as it tends to require a little less money upfront compared with private labeling.
Or, try selling other people's products first as an Amazon Associate. You won't have to invest any money upfront or have to worry about sourcing inventory or shipping or anything like that. You could always start with Amazon Associates and invest the money you make from that into buying inventory for private label selling or retail arbitrage.
Final Thoughts
As you can see, Amazon offers you so many legitimate ways to make money. Like any other job or business, you have to put in work and effort to succeed. So if you want to be successful, whichever option you choose, treat it like a real job or business and before you know it, you'll start to make money as an Amazon entrepreneur.