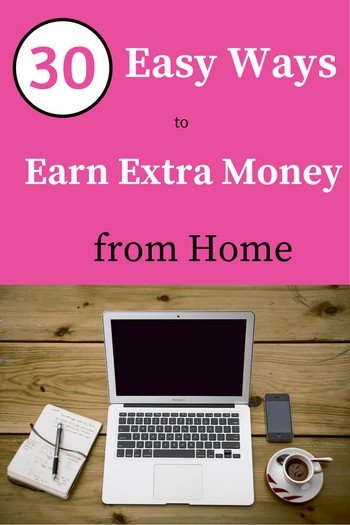 In our current economy, many people are finding that their primary sources of income just aren't enough.
But thanks to the internet there are now tons of ways you can make money from home in your free time.

Below I have compiled over 30 legal and legit ways that you can make extra money from home online.
Some of them, if you succeed, could actually pull in enough money to be primary sources of income.
Some of them, on the other hand, could be used as part-time jobs.
And then there are some that are great sources for earning extra cash on the side in your spare time.
Need Easy Extra $300+/Month for Free?
KashKick
: Get paid directly into your PayPal for watching videos, surfing, shopping and more.
Join KashKick Now!
InboxDollars
: Paid over $57 Million to members to watch videos, take surveys, shop and more.
Get $5 instantly!
Branded Surveys
: Get $1 instantly just for joining for free. Plus get paid within 48 hours by PayPal!
Join Branded Surveys
First Opinion
: Get paid up to $10 per survey and $300 per virtual focus groups!
Join Now!
Swagbucks
: Get paid to watch videos, shop online, take surveys and more.
Join now & get $10 instantly!
Let's get started…
1. Work for Google from home
This one seems like a dream, but it's actually not quite as far fetched as it seems.
As I mentioned in our recent Google work from home jobs post, Google is always looking for talented people who can do a variety of jobs for the giant tech company.
Most of these positions are real, full-time jobs which require relevant previous work experience.
They do, however, offer a few positions that are entry-level. These positions often require simple but necessary work, like proofreading advertisements and similar activities.
As you might expect, these positions get scooped up pretty quickly, but if this is something you're serious about getting in on, you should check every so often.
The job hub is at google.com/about/careers.
2. Take online surveys
Taking online surveys for money is a great way to earn extra cash in your free time.
Unfortunately, finding legit companies that actually pay seems to be hard for a lot of us amid the many paid survey scams that exist.
The best way (and the very first things you should look at) to determine whether a survey site is legit is to see if it's free to join or if it requires a fee. You see, all legitimate survey companies (backed by real market research companies) are 100% free to join.
It just doesn't make sense to pay a site that claims it wants to pay you. After all you are there to make money not to spend it. It would be like an employer saying you have to pay me a fee in order to become an employee of us!
As far as how much money you can make, it depends on many factors.
Generally, the more sites you join, the more survey invites you'll receive which means you have more chances of making more money.
To get you started, here are a few trustworthy survey sites that do pay:
3. Buy & sell used books
I have made so much money with this that it's just ridiculous.
There is a site called BookScouter that makes it so easy to sell used books.
You simply visit the site, put in the ISBN of the book into the provided box, then their search engine looks at over 40 online book buy back sites to find the ones that pay the most for your book.
I initially started with my own used books. But then I expanded it to a side income generating venture.
Whenever I go to a thrift store, yard sale, flea market, or any other kind of place where I can get used books for cheap, I simply pull up BookScouter on my phone, then I check prices for interesting looking books I see.
The most I have made on one book was $25. I bought it for $0.75 from a thrift store and was able to sell it for $25 by using BookScouter.
That's more than $24 profit for just a few seconds of work.
4. Use background apps
It's actually possible to get paid for downloading apps.
These apps run in the background once they're installed and pay either weekly or monthly.
The big two are Google Screenwise and Media Insiders Panel.
You will, of course, need a smartphone to install them, but Google Screenwise can also be installed on your home computer.
How much can you earn?
Here is a quick overview of how much you can expect to make from each of these two programs.
Media Insiders Panel will pay you $5 a month per device you have their app installed on. You can install it on up to 3 devices. That's a tidy $15 a month if you have multiple devices, all made passively. They'll even pay you an extra $5 on the 12th week.
Google Screenwise pays weekly. You can install it on 3 devices – your personal computer, smartphone, and your tablet. They'll pay you $1, $1.50, or $2 a week for the devices you have it installed on, respectively, as well as $8 for signing up.
Now, it's important to note that these dollar amounts are paid out in gift cards, but hey, if you fully utilize both of these services, that's $295 a year in gift cards for doing nothing.
You should know that the way these apps work is by tracking what websites you use, how often you use them, and what type of information you share. They aren't interested in your personal information, so they won't be recording your calls, text messages, or other types of personal information.
These apps are purely for market research.
However, they are still researching your online behaviors, so you have to be willing to have your data monitored for marketing research.
But again, this will be all anonymous. Your identifiable information (your name, address, etc) will not be attached to the data.
5. Help companies pick a brand name
Yes, this is a real way to make money!
NamingForce is a place you can go to submit name suggestions for companies or products based on simple descriptions of the entity in question.
They don't limit you on how much you submit, so feel free to drop all your most clever ideas out there.
If your idea is chosen, you'll get paid for it, easy as that.
There are stories of large corporations dropping big multi-hundred-dollar rewards for certain naming projects, so this is definitely among the best ones on the list to get involved with casually.
6. Teach language online
As globalization increases, the demand for international languages like English increases as well.
And that means you can make good money teaching English or other languages online.
There are freelance English teaching sites like Italki where you can set your own prices and make money teaching English.
You can make any where from $10 an hour up to $30 an hour depending on your skills and experience.
7. Be a Writer and/or a Proofreader
There are many websites like About.com which are looking for skilled writers and editors to do professional-quality work.
A site like About.com is on the high-end and requires a lot of experience and a good resume.
But if you are just getting started, there are tons of other sites that pay you to write as well that don't require an impressive resume or years of experience.
As far as how much you can make, it really depends on your skills as a writer. Most beginners earn anywhere from $0.05 per word up to 1$ per word.
As your skill level and experience increases, you can earn few dollars per word.
Content focused sites like HubPages are also a great venue for writing for pay. Self-submitted articles can earn $1.50 per 1000 page views. It sounds like peanuts, but you write 10 articles that get a fair amount of views a month, and now you're making over $100 dollars passively.
8. Be an at home Nurse
OK, so this one is only for currently registered nurses, and you must have at least 3 years experience in the field.
So, it is another professionals-only opportunity, but the pay is quite good.
The company is called Fonemed, and they will pay you to be the triage nurse when doctor's offices are closed.
Because of this, the hours are usually limited to weekends, nights, and similar time slots. T
hey have a particular availability for people with pediatric experience.
Working for Fonemed, you get paid an hourly wage for all the time you spend on-call, as well as a "commission" of sorts for every call you take.
A highly active Fonemed nurse will be able to earn traditional benefits like paid leave once they gain some seniority.
The expected rate of pay is an average $20-30 an hour, according to the owners of the company. That's a great paycheck for working out of your living room!
9. Work as a Customer Service Representative
LiveOps is a website where you can work as an independently contracted employee -that is to say, you choose your own hours.
Getting in is rigorous, the application process involves a written application, a background check, a phone interview, and a skills exam.
However, the pay is pretty nice at $10 to $15 an hour, and again, you can work for as long as you're able.
Websites like Working Solutions hire at-home workers for more scheduled work and will give you full or part time hours.
You'll take calls on behalf of companies that have contracted their customer service to Working Solutions.
Pay is about $9 an hour, increasing all the way to $13 with time, and there are incentives which become available occasionally.
Since this is technically a formal employment, you can work towards health, dental, or 401k plans.
Another company which offers this type of employment is Alpine Access.
10. Get paid to search
If you've been a reader of MoneyPantry for a while, by now you probably have heard us talk about Swagbucks a few times.
I even wrote a detailed Swagbucks review a while back where I shared a simple strategy for you to earn an extra $758.25 a year with Swagbucks.
Swagbucks is an online rewards program where you can earn cash and gift cards for doing mostly thing you already do online – watching videos, shopping, searching, playing games, taking surveys and more.
One of the ways you can earn with Swagbucks is by doing your normal online searches using their search engine.
You basically visit the site and login to your account, then use their search bar to perform a search as you would on Google or any other search engine site.
However, to make things easier for you, the company has created a free toolbar that you can install on your browser to search directly from there. So instead of visiting the site and logging in, you simply type in your search term in the toolbar and hit search.
It's a really easy way to earn free gift cards and cash for doing what you already do online.
As if this wasn't already great, they also give you a free $5 sign up bonus just for joining the site.
Use this link to get your free $5 bonus.
11. Do simple/short tasks on mTurk
Human Intelligence Tasks are small microtasks provided by a hub website which you can do for small rewards, anywhere from a few cents to a few dollars.
Far and above, the most popular site for this is Amazon Mechanical Turk, accessible through mturk.com, which hosts hundreds of thousands of HITs every day.
The pay on most of these HITs are very low, sometimes down to a few pennies, but they also don't take that long – 10-30 seconds at most.
12. Sell stock photos
Whether you are a professional camera man or just an amateur like me who likes taking pictures in his free time, you can still make some money by selling your photos through stock image sites.
This is how it works:
You join the site(s).
Upload your image.
Set the price.
Every time someone downloads your image, you get paid!
Of course, the details differ from site to site, but that's the gist of how it all works.
There are tons of stock photography sites out there.
And normally, the more sites you join, the more money you can make – since you increase the chances of your images being seen by more potential buyers.
Some of the most well-known stock image sites are:
13. Grow and sell produce
If you have a green thumb or extra space on your property for gardening (even a small yard will do,) you might want to consider planting produce that you intend to sell.
If you can grow a sizable amount, you can even take your harvest down to a farmer's market and try to sell the produce in larger quantities.
If you can only grow a small amount, you can still sell that to family, friends, or even acquaintances that you know from your community.
Not only is it a classic way to make money, "fresh" is in and people are more interested than ever in eating healthy.
14. Get paid to rate music
Are you a music fan?
Better yet, are you well-informed about music?
Maybe you're a musician or a full-on aficionado.
Regardless of your level of experience, if you're capable of giving a useful review of a song, you should check out SlicethePie.
The way it works is that you listen to a 90-second clip of a song and write a little review so bands and people who market bands can understand how people feel about the song.
When you're new, the rate is pretty harsh: 2¢ a review.
Not the best pay for 90 seconds of your time.
Luckily, actively participating and leaving good reviews will allow you to "rank up," in a sense.
After you get a little bit of recognition, you can be earning 20¢ a review, and that's a lot more like it.
Whenever your account has $10 or more dollars in it, you're allowed to cash it out to your PayPal.
This is a more recreational way to make money than some of the others, but also not the best pay.
Check out this post for a list of sites that pay to listen to music.
15. Wrap your car in ads
This one's a little unexpected– you can sell the exterior of your car as advertising space.
If you've ever seen a car driving around town with a full-chassis decal, that's what is going on – they've sold the space on their car for advertising.
It's a good idea for everybody involved, really, but the selection process is highly specific.
These car wrapping companies themselves care about where you live, what you drive, how well you take care of it, and even how new your car is.
So, there is certainly a barrier of entry on this, but there is an upside…
A full decal can earn you several hundred dollars a month!
The best cases report a profit of $500 a month!
Of course, you can always apply to get a smaller decal, placed in your window or somewhere similar.
This type of advertisement will net you about a 1/10th of the profit, somewhere below $100 a month. But if you aren't comfortable driving an advertisement around town, this smaller decal might be a good option.
One final thing to remember, if you're going to get your car "wrapped" as they call it, make sure you research the company thoroughly. There are some scammers in this field.
16. Rent out the extra room
It's not at all uncommon to rent a room out in a house if you have more space than you need.
If you have a personality that doesn't mind having someone you don't know well living in your house, this is an excellent long-term solution for making money.
Moreover, if you're willing to put some effort into it, you can always host travelers short-term in your house by running a bed and breakfast.
Such an option would require more effort on your part, but also potentially provide a higher profit margin – even if you priced competitively against hotels in your area, you'd still be making a nice earning compared to the money you make from long-term renting.
Check out AirBnB, a website for directing travelers to your little bed and breakfast, if you're interested in that option.
17. Use Fiverr
Fiverr.com is a website that allows to sell all kinds of services just for 5 bucks.
And when I say "services", I mean anything you can think of, no matter how bizarre.
Here are a few examples:
I will prank call your grandma!
I will be crazy in love with you in a prank video.
I will send a glitter bomb anywhere in the world.
I will write a 500 word article for you.
I will create a logo for your business.
I will do voice over work fro you.
Now, if you want to offer additional services past your basic service, you are allowed to put options on your page for services that you will perform for a denomination over $5.
So, for the voice-over example above, you could have an additional option that says "I will narrate product reviews for your company" and you can charge a larger amount for that, $10 or whatever price you post.
So that $5 is just the base price. You can charge much more than that for additional services.
Ideally, this would be a task that you could perform with quality on a fairly regular basis, and quickly. Those $5's have to add up, after all!
This is not just a way to earn extra money. There are stories of people who have been making 6 figures on Fiverr.
18. Rent your stuff out for cash
Even if you can't sell your stuff, it might still be worth renting some of them out for some extra cash.
It can be as practical as tools and appliances, to as abstract as your jewelry.
You'd be surprised the kind of things people need to get ahold of for short periods of time.
A good website for this type of business is RentyThing.
Of course, they have trust systems in place, so there is a form of insurance for your goods.
19. Get paid for your knowledge
Oh yeah, what you know can make you money!
JustAnswer.com is a website for people to ask questions for a small fee in return for expert feedback.
More specifically, customers register and ask a question with a price attached, usually about $10, all the way up to $40.
An expert appears and submits a response to the question. The customer must first accept the response.
Once the customer accepts a response, the fee is paid, and the expert earns somewhere from 25% to 50% of the earnings (the rest is paid in intermediary fees to the website.)
Some popular fields that people ask questions for are legal fields, financial fields, and medical fields, though there is also demand for things like real estate or mechanical expertise.
The application process is designed for filtration of all but the most valid candidates, so be prepared to furnish evidence of your work history, education, and any degrees or certifications you have in your field.
They take the term "expert" very seriously!
20. Work as a Transcriptionist
For some, transcription is grueling work, and for others it is something that is easy to tune into and work within a groove on.
Regardless of which way you feel, transcription is one of the quintessential work-from-home jobs.
The only musts for transcription are a working computer with internet, and strong typing abilities.
If you can type quickly and accurately, then transcription is actually a valid path for income.
Many sites offer this service, such as TranscribeMe and Virtualbee.com.
Normally they will require a small entry test, like typing up a transcript for a 3 or 4 minute recording.
For a list of legitimate companies that offer this kind of jobs, check out our "work at home transcription jobs" post.
21. Sell cardboard boxes
Selling cardboard boxes is an easy way to make a few bucks once in a while.
If you have empty boxes sitting around your place, or you know somewhere to go get cardboard boxes, you can sell them through a website called BoxCycle.
You can't sell soiled, ripped, or bent boxes– this is a reseller for boxes in good quality only.
You can make about 50¢ to $2 per box, depending on size and quality.
It isn't totally unheard of to ask the stores in your area for their spare boxes.
If you can work out a situation where you get some from them weekly, or even daily, you might be looking at a really good way to assist your income.
Work out a route where you pick up boxes from several places around town and this could practically be a part time job!
22. Rent out your car
For some people, this option sounds as questionable as renting out your pets!
But this is actually a good way to make money with your car when you aren't using it.
Using a service like RelayRides, you put your car up for renting on a daily or a weekly basis.
You set your rate by day, usually, but you can also set a weekly rate.
Some people ask for a very low daily rate, like $30, and some people shoot much higher, like $90.
It depends on what you drive, where you live, and what you think the car is worth.
If you have a really nice car that you don't particularly need to use, this can be pretty juicy money, with some people earning over $1000 in a week.
For peace of mind, you should know that RelayRides takes the trust portion of this very seriously, and they will completely cover damages incurred while another person drives you car.
You're also allowed to screen potential renters, just in case you get any suspicious impressions.
23. Sell handmade stuff
If you have the ability to make any types of wares, and it really could be anything (glassware, clothes, accessories, tapestries, even woodworking) you can sell it on Etsy.com, (and other similar sites), which is a very popular website for selling one's handmade wares.
Etsy can be anything from a full-time job to a small-time hobby, depending on the volume of business you're doing.
Another option is to go through a website like Origami Owl.
Origami Owl is a website where you order a jewelry package, design the jewelry yourself from the materials provided, and then sell it.
The level of success with this one is totally up in the air, because it completely depends on you, your ability to design, and most importantly, your ability to sell.
There is a startup cost on this one– between $150 and $200, depending on what package you buy.
It isn't the most cut and dry way to make money at home, but if you have a knack for design or sales, this might be right up your alley. It helps if you know people who like jewelry, of course.
24. Sell your old clothes
A classic option!
If you have clothes that you don't need or want anymore, why not sell them at a consignment store?
ThredUp is a very popular online consignment store, as is Plato's Closet.
Plato's Closet is a consignment store that has a website, but asks you to come in to sell the clothes, while ThredUp is a website that will send you a bag to sell the clothes (which means you can do it from your house.)
ThredUp will cover the shipping costs and all, leaving you with only profit from the exchange.
For Plato's Closet, of course, you'll need to do some Googling to see if there is one near you.
25. Be a tutor
Tutoring is an ages-old method for making money, whether you're 16 or 60.
The aptly named Tutor.com is a hub for doing paid tutor work online if you have skills in English, social studies, math or science.
You'll be contracted independently and you can expect $10 to $14 an hour, roughly, based on a few variables.
You will need to have a college degree, or at least be currently enrolled in college, if you want to participate.
Now, a person who does this tutoring regularly might be able to make a whole second job's worth of extra income, so this is no gig to scoff at.
You should be aware that there are many qualified tutors out there, though, so you should be prepared to provide very high quality service to fight the competition.
26. Cash in your bilingualism skill
Bilingualism is one of the most valuable business assets in the modern world.
If you can read and write more than one language proficiently, there is a definite demand for you in the online work force.
Any of the "major" languages will be good, like Chinese, Spanish, English, French, or German, but there is also plenty of work for more region-specific languages like Russian or Greek.
There is great money to be made for translating, from anywhere like $10 an hour on the low end, increasing all the way to $50 an hour on the high-end.
You might need to put in a lot of work on these types of projects, but if you can, you'll be looking at the potential to score some serious money for your skilled labor.
Check out TranslatorsTown.com and Proz.com for paid translation opportunities.
For a list of more sites, check out our "online translation jobs" post.
27. Do random gigs
Various websites like TaskRabbit and Zaarly allow you to sign up and get paid for doing odd jobs for people.
Something like going on a coffee run, or watching a pet, or maybe even giving an instruction on something.
These services are only for people 21 and up though, so unfortunately our younger readers can't take advantage of them.
It's also important to note that Zaarly only caters to two areas: The San Francisco Bay Area, and the Kansas City area.
But hey, if you live in either of those areas, these are practically legitimized Craigslist gig listings.
28. Use your smartphone to make money
There are a variety of ways you can make money using apps downloaded to your smartphone (and it's different than the apps we talked about before!)
These apps are things you use actively.
Two of the same type are Juno Wallet and CheckPoints.
These websites operate like the Swagbucks website mentioned above– earn points towards gift cards for doing simple tasks like taking surveys, playing games, and other such low-investment activities.
These are more or less the same deal as the others, but worth checking out if you get a lot of benefit from that type of site.
The other one is a different type of app. It is called Gigwalk and it's something like the Task Rabbit site we talked about.
Gigwalk puts little blips of a map of your area, and you go there to perform a little task using your phone and get paid for it. This would entail a task that says something like, "Photograph the Snickers display in Walmart on 4th Street." You go there, do the task, and get paid after it is submitted.
Some of these tasks pay you a pretty penny (Like $5 or so dollars for taking a few pictures) and they can rack up nicely if you do many of them in a row.
You should know that Gigwalk is mainly geared towards people who live in cities, so don't expect to see too many gigs popping up in your rural town.
29. Become a Website Tester
If you have a working familiarity with computers, you might be able to serve as a "test customer" for developers who are working on websites, via UserTesting.com.
You'll need to have some devcies for recording your voice so you can narrate as you go through the site, and you will have to download the company's software so they can track your mouse movements.
You can make $10 to $15 for reviewing a site in this way and answering a few questions afterward.
The company has outright stated that they have too many testers for the amount of work available, though, so this is another opportunity for making money infrequently. Although there are a few other user testing sites you can try as well.
30. Get paid to shop as a secret shopper
Mystery shopping is like paid surveys, except here instead of answering surveys online, you visit actual places, shop while pretending to be a real customer, then report back your experience.
Mystery Shopping is used by many companies, from McDonald's and Wendy's to Target, Walmart, and more.
It helps these companies evaluate the services provided by their employees, and overall experience of their customers. The then use this information to improve things.
I have listed a few legit and trusted Mystery shopping companies you can join for free to get shopping assignments, here.
Final Thoughts
As you can see, there are many, many options when it comes to making money on the Internet, you just have to know where to look.
By the way, be sure to bookmark this post as I will be updating it with more work from home opportunities that will enable you to make extra money from the comfort of your own home.
And, if you like this post, please take a moment to share it on your favorite social media networks.