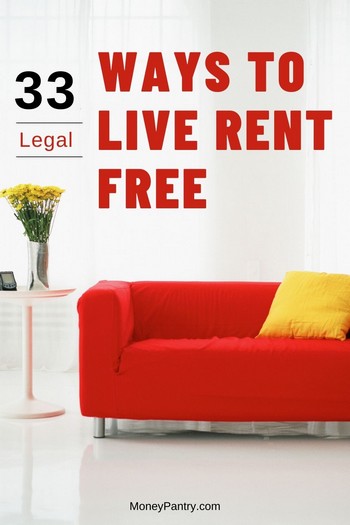 Most people are supersized to learn that you can actually live completely rent free and mortgage free in a home or apartment.
The cost of rent is crazy high, especially in bigger and more densely populated areas like New York City, San Francisco and Los Angeles, and it really puts a huge dent in your budget.
Unfortunately, while there are cheap housing options out there, not everyone will qualify for such options.
But unlike paying taxes that can't be avoided, you can live rent free in America and other countries.
Why Live Rent Free?
To see just how much of our money renting takes up, we just need to look at the statistics.
According to statistics from the United States Census Bureau, the median household income was $63,179 in 2018.
Need Easy Extra $300+/Month for Free?
KashKick
: Get paid directly into your PayPal for watching videos, surfing, shopping and more.
Join KashKick Now!
InboxDollars
: Paid over $57 Million to members to watch videos, take surveys, shop and more.
Get $5 instantly!
Branded Surveys
: Get $1 instantly just for joining for free. Plus get paid within 48 hours by PayPal!
Join Branded Surveys
First Opinion
: Get paid up to $10 per survey and $300 per virtual focus groups!
Join Now!
Swagbucks
: Get paid to watch videos, shop online, take surveys and more.
Join now & get $10 instantly!
In that same year, average rent prices were $1,429 a month, according to figures from Statista.
That means we spend more than 27% of our income on rent alone!
Crazy, right?
It's no wonder that people want to know if there's a way to live without paying rent!
Thankfully, there are options for everyone, from living overseas to alternative types of housing. And no, we're not talking about illegal ways to live somewhere without paying for rent!
So let's get started on the list…
Legal Ways to Avoid Paying Rent
Here are 33 ways you can live somewhere without paying a lease:
1. Get free rent from the government
What can you do if you can't afford your rent?
Well, one of the best options is getting free money from the government to cover your rent. Sometimes people need government assistance in their time of need and thankfully the government is there to offer it.
The U.S. Department of Housing and Urban Development (HUD) helps people to pay their rent through the House Choice Voucher Program.
You can use these vouchers to pay for part or all of your rent. So if you're wondering how to get an apartment with no money, the government may be able to help you out.
You'll need to be on a low income to qualify for assistance though.
Visit this page to learn more about getting help with rental and housing costs.
2. Housesit long-term
Housesitting is an awesome job because you get to live in other people's homes for free.
Really!
Here's the deal.
People go away all the time, whether it's on vacation or out of town for work.
This means their homes are unoccupied. Most people don't want their homes to be vacant because, well, the mail needs bringing in, the plants need watering, and of course, people just want it to look like someone is home, understandably.
So they hire a house-sitter to live in their property while they're away.
You get free accommodation! You could housesit long term. Sure there might be gaps in bookings, but that's what the other options on this list are for.
How do you find house-sitting gigs, you ask?
Well, nowadays, that's easy.
Websites like Housesitters.com and TrustedHouseSitters.com have tons of jobs available for house-sitters. Have a browse of the listings and start living in other people's homes for free! You get the privacy of your own place, without having to pay for it.
3. Become a live-in caretaker
Being a live-in caretaker is definitely something to consider if you don't want to pay a lease.
However, you should only want to pick up care work if it's actually a field that you're interested in.
Sometimes caregivers are required to live in the same place as their patients.
Caregivers may also get their meals for free as well.
You can find care work on sites like Indeed and Simply Hired, as well as at Care.com.
If you have any caretaking experience or a background in nursing, this could be a good option for you.
4. Be a live-in Airbnb property manager
A lot of people rent out their homes on Airbnb. Since many Airbnb hosts like to travel themselves though, they need someone to manage their property while they're away.
Property managers can handle the turnover process and tend to the property.
Some Airbnb property managers live in one area of the property for a discounted Airbnb price or even for free.
Plus, you get paid! Browse Indeed for Airbnb property manager jobs.
5. Be a Pet-Sitter
Pet-sitting is a super fun job if you love animals. While some people only need a pet-sitter when they go out to work, others need them on a more long-term basis for when they travel.
Whether it's a weekend away on a business trip or a week away on vacation, pet owners need someone to look after their pets while they're away.
This means you could score some free accommodation. For pet sitting jobs, check out PetterSitter.com and Rover.com.
6. Volunteer with AmeriCorps
One of the main ways you can do rent free living is through working as a volunteer. AmeriCorps has a variety of programs available to volunteers who mentor and tutor kids, rebuild communities after a disaster, help veterans and more.
Some of AmeriCorps' programs provide you with free accommodation.
The AmeriCorps NCCC program and the AmeriCorps NCCC FEMA program both provide housing.
The AmeriCorps NCCC program helps to strengthen communities by doing things like clearing trails for a national park and building homes for families in need. Learn more about the program here.
The FEMA program helps to support disaster preparedness and response. You'll do things like administrative tasks in an office setting or go door-to-door to help disaster survivors apply for assistance Learn more about the program here.
While each program is different, you volunteer for between 10 and 12 months. So this isn't a way to live for free in the long-term. But a year's worth of free rent is pretty good.
All of the programs provide you with a living allowance as well. It even provides Education Awards in some cases, which can help you to pay for college and other types of higher education, including your student loan or current educational expenses.
Visit this page to learn more about volunteering with AmeriCorps. If you scroll down the page, there's a list of topics that provides details on volunteering with the organization.
7. Buy a duplex or triplex
If you don't want to pay rent, but still want a traditional type of housing, I'd highly recommend purchasing a duplex or triplex.
There's a reason for this.
You can live in one unit and rent out the other. Then you can use the rental income to pay down your mortgage.
Great, right?
You get your own living space as you would in a regular house, but the cost is much cheaper and you can make that income from renting out the other unit.
8. Live in a Truck
If you're looking for a way to live rent free without having to share a property or get a job that comes with free accommodation, then you might want to consider living in a truck.
It's way cheaper than renting somewhere or paying a mortgage. Brandon who owns the website FromInsideTheBox.com has lived in a truck for four years!
Sure, living in a truck isn't for everyone, but it's a freeing way to live that doesn't cost you a lot either.
9. Volunteer abroad with a host family
Interested in traveling?
You might want to consider living abroad with a host family. You'll work as a volunteer.
If you don't have a job tying you down, then this could be a good way for you to live without paying rent.
One way to find volunteering jobs abroad is through Workaway.  The website matches travelers with 1,000s of families, individuals and other hosts in 170 countries.
You get to stay in the host's home for free in exchange for a couple hours of work each day.
It's a great way to learn about a new culture while living rent-free.
Of course, volunteering abroad isn't for everyone. It's better for single people or couples without kids and those who don't have a job keeping them here. If you're not a fan of traveling often though, this might not be for you.
Workaway can be a great option though if you love to travel.
10. Live in an RV
Did you know that about 1 million Americans live in RVs full time?
Crazy, right?
Living in an RV can be incredibly affordable, especially if you don't move around too much or if you can find free places to park.
In fact, the cost of it can be far less than paying rent. According to Bob Wells who runs CheapRVLiving.com, you can live in an RV for under $1,000 a month!
What's great about living in an RV is that you can travel whenever you want to, which is great! And if you already have a work from home job, you can still do your work anywhere you go as long as you have your laptop and internet connection.
11. Volunteer with Peace Corps
Another way to live rent free and help out others is through the Peace Corps.
It's like AmeriCorps accept it involves you volunteering internationally.
While AmeriCorps only requires you to volunteer for around a year, with Peace Corps, you volunteer for two years.
You get housing and living stipend. But that's not all. When you complete your two years of service, you get more than $10,000 (pre-tax) to help you with the transition to life back at home and you can use the money as you want to.
While it's a big commitment, and certainly not for everyone, volunteering with the Peace Corps could be for you.
You can volunteer for Peace Corps here.
12. Live in a Fixer Upper
One of the best ways to live rent free is to buy your own place. However, not everyone can afford the down payment on a house. It's just not possible.
What is possible for many though is buying a cheaper house that needs fixing up.
People usually buy a fixer upper so that they can fix up the house and flip it for a profit in the future.
But, who says that you can't live in your fixer upper long-term?
You get a super cheap house that you can make your own over the years.
And if you do decide to sell it in the future, you can make a profit.
According to the IRS, if you live in a home for at least two years, you can sell it without paying tax on the capital gain, up to $250,000!
Then you could always purchase another fixer-upper and repeat the process.
13. Get a Habitat for Humanity House
Like I said earlier, one of the easiest ways to avoid paying rent is to purchase your own home. Again though, that's not always possible.
A good way to get an affordable home of your own is through Habitat for humanity.
Low income families can get a Habitat for Humanity home. If you qualify, the organization can help you to build and purchase your home. Habitat homes are basic homes with an interest free mortgage, so they're super affordable.
As the home is built by you and volunteers, the price you pay for the place (the construction cost) is generally far less than the value of the finished home.
To learn more about being a Habitat homeowner, visit this page.
14. Buy a Houseboat
If you don't want to pay for an apartment or get a mortgage, then get a houseboat!
Depending on how you go about it, living on a houseboat can be pretty cheap. Since houseboats aren't too expensive to buy compared to purchasing a traditional home or renting an apartment, this can be a good option.
In fact, some states don't even have sales tax on or property tax on houseboats! Renting a slip isn't too expensive either.
If you want to buy a houseboat, then visit Boat Trader.
15. Live in a Commune
I have to level with you here, living in a commune sounds like my nightmare, but that's just because I'm not a particularly social person and I like my own space.
If you're a sociable person who loves spending time with others, then commune living would be a dream for you.
Communes are essentially a community of people who live together. Usually they share common values, interests and beliefs.
In many communes, you not only share the property but possessions, resources and sometimes even work, income or assets.
This keeps the housing costs down, meaning you pay much less to stay in a commune than you would renting a place.
To find a commune near you, just open up Google and search for the keywords "commune living near me," or "communes near me."
I've seen so many people online rave about commune living, so it's definitely an option to consider.
16. Live in a Hostels
Hostels are so popular. Every time I go to a city, they're always bustling. I've never stayed in one, but I know many people who've had great experiences with them.
They're a very cheap form of accommodation. In a hostel, you usually rent a bed in a room with others. You can pay a little more though to stay in a private room at some hostels, although you still have to share other living spaces like the kitchen and maybe the bathroom.
Some people live in hostels long-term, sometimes for months or even years. If you want to save yourself some money on rent, consider staying in a hostel for a while. It will be far cheaper.
You can find hostels at Hostel World, Booking.com, and Hostelbookers.
17. Couch surf
Couch surfing can be a great alternative to renting if you're single.
If you don't already know, couch surfing is the practice of sleeping on people's couches.
You could see if there's a generous friend or family member who would be willing to offer up their couch to you.
Or you could use CouchSurfing.com to find places to stay.
Now, with couch surfing, it's best not to overstay your welcome. So don't impose on one person for more than a couple of weeks.
Move around from couch to couch and make sure to help out with chores when you can.
Couch surfing isn't really a long-term option. It is something you can do in the short-term though to save up money for more a more long-term form of accommodation. It's not for everyone, but if you're looking to travel and to save some money, it's a good option.
18. Get enough roommates to cover your rent
Again, if you're a social butterfly, consider getting some roommates. You can rent out the extra bedrooms in your house or apartment. Depending on how many extra bedrooms you have, you could earn enough money each month to cover the cost of your rent.
If your rent is $1,400 a month and you have three roommates each paying $500 a month, that's $1,500 a month you're getting, which more than covers the cost of your rent. So you're living rent free!
And your roommates are paying less than they would if they were to rent their own place, so everybody wins.
19. Manage an apartment
Many apartment buildings need a manager to do everything from handling repair requests from tenants to answering phone calls.
Often apartment building managers are given an apartment in the building as a place to live for free in exchange for managing the property.
You need to be available by phone for tenants to contact. You may be able to work your regular job on the side though.
Some apartment companies may require you to stay home though. But those types of jobs generally come with a paycheck in addition to a free apartment.
Each apartment management company will have its own rules for apartment managers, so just check thoroughly to see if the rules fit your current schedule.
20. Be a live-in nanny or au pair
If you're interested in rent-free living, you may want to work as a live-in nanny for au pair. This could be a good option for you if you like kids and have good caregiving or teaching skills.
Many parents need someone to live-in to help them look after the children.
Not only do you get a free place to stay but you get a paycheck as well.
If you're looking for work as a live-in nanny, check out these websites:
Jobs vary in terms of what's expected with some jobs just involving childcare and others involving additional tasks, like housekeeping. Just read the job description beforehand so you know what to expect.
It's a good way to live rent free!
21. Work at an inn, hotel, or hostel
Some hotels, hostels, and inns may give you a free room in exchange for part of your compensation for working there.
This tends to be the case with places that are privately owned, rather than larger chains.
All you have to do is ask.
With inns, there's often a separate home on the property for the inn manager to sleep so that there's always someone on the premises.
While these positions can be difficult to get, if you can get one, it's a good way to live rent free at a steady location.
You could call and ask local hostels, hotels or inns if they have any live-in positions available.
Or you could do a quick search on Google for keywords, like:
"Live in hotel jobs"
"Live in hostel jobs"
"Live in inn jobs"
You can also use those keywords but replace the word "jobs" with the word "work" or "positions."
You'll likely get plenty of results.
22. Be a resident assistant at a college
If you're in college and don't have much cash (like many college students), you may want to consider becoming the resident assistant at your dorm.
Resident assistants, also known as resident advisors, are responsible for helping students with any issues they have and just for keeping the place in order. In exchange for doing this, you usually get a free room.
If you don't mind dealing with the responsibility of being a resident assistant, then ask your college how to become one.
23. Move in with your parents
Both my spouse and I have lived with our parents and in-laws at one time or another.
And according to statistics, we're not the only ones.
40 percent of young adults live with their parents, according to data. And this is actually the highest level in 75 years.
It's no surprise with rent costs being as high as they are that people are opting to move back home, or not move out in the first place in many cases.
If you get along well with your parents, it can be fun. Just make sure that you do contribute to the household by doing things like cooking, cleaning, and purchasing your own food.
You could save up for a mortgage and down-payment on a house of your own while you live with your parents.
24. Live on a cruise ship
You can get a free place to stay when you work on a cruise ship.
Cruise ships have lots of positions available onboard, such as:
Waiter
Cruise Director
Housekeeper
IT Officer
Maintenance worker
Store assistant
Security Officer
So if you have the right experience, you may be able to get a job working on a cruise ship. Since you're working onboard, you get free living quarters.
25. Teach English in another country
Teaching English abroad is another job that often comes along with free accommodation, meaning you can live rent free.
Here are a few examples:
Angloville: Teach English with Angloville and you can stay in one of the company's places in Poland, Hungary, Romania, Czech Republic, Ireland, England or Malta for 3 to 10 days. All you need to do is help the company's clients improve their English through a series of conversations and activities. You must be ready to talk 12 hours a day. It's free to stay there. Your stay with full board is covered!
Teach Away Explore Program: This program hires people to teach English in Chines students. You're offered a competitive salary and benefits, including flights, bonuses, and, of course, housing.
The English Program in Korea: With this program, you teach English in Korea. Some of the jobs offer free housing in addition to paying you.
26. Live in a van
Don't want to pay rent? Then live in a van!
There's tons of information online about van life with many people living in their vans long-term.
Read this van life how-to guide from Gnomad.com to learn more.
Living in a van can be a good short-term living arrangement while you save up cash. Or if you enjoy it, you could stay in your van long-term.
27. Go camping
Camping can be free or cheap depending on how you do it. If you camp out behind a friend's home, it's totally free or if you camp at a nearby campsite it's super affordable then as well.
Of course, camping in the cold winter months is tough, making this more of a seasonal housing strategy. So you could live in a tent for a portion of the year and then use the other options on this list during the colder months.
Doing this can give you some time to save up for a more practical and long-term living situation.
Check out our post on how to find camping near you which contains a huge list of local campsites and how to find campsites anywhere.
28. Pay cash for a house
One of the best ways to live rent free is to own your own property.
But then you still have to pay the mortgage. And mortgage payments can put a big dent in the old budget as well.
That's why if it's possible in the future, you should consider purchasing a house in cash. Pay for it outright.
You'll have no rent payment and no mortgage payments.
It's not easy to do; I know. Let's say you live rent free for a while though, you could start saving.
Start saving for a cash home and then search for one that's not too expensive. The house will likely increase in value over the years, meaning you can sell it for more than you originally paid for it and keep the difference!
While this option isn't possible for everyone, investing in a home is definitely something to consider.
29. Build your own non-traditional home
Buying a home is expensive, right? So if you're unable to afford it, consider building your own home instead. I'm not talking about a traditional home here – that's expensive too.
No, I'm talking about building a non-traditional home. There are tons of different homes out there that you can build at an affordable price.
Here are some examples:
Cob house
Earth berm
Shipping container home
Tiny home
Shack home
Earthship
Hemp concrete home
Once you've built your home, you won't have any rent to pay and no mortgage payments to contend with either.
30. Work on a farm
Another job that comes with housing is working on a farm. There's an organization called Worldwide Opportunities on Organic Farms (WWOOF) that offers farm work and free accommodation.
While the organization can help you to find work overseas, it also has a website just for farm work in the United States. It's called WWOOF USA, and you can check out the website here.
The organization connects you with more than 1,500 organic farms across the United States. You spend about half of each day helping out on a farm and get free room and board in exchange.
31. Live in a Yurt
Yurts have been used for 3,000 years, originally by nomads who would pack from the up so they could travel from place to place.
Many people nowadays use yurts as a place to live rent free. Since they're sturdier than a tent, yurts make a great alternative.
Sure, living in a yurt might not be a great long-term option, but it's one to consider while you save up some cash.
If you do want to live in a yurt full-time, then read this handy guide from OffGridPermacultre.com.
32. Get a job that offers housing
Above, I mentioned a few jobs like being an au pair or apartment building manager that come with accommodation. But there are plenty of other opportunities that offer a free place to stay as part of the job.
Here are some more examples:
Self-storage resident manager
Campground host
Park ranger. Some positions in the national parks offer accommodation.
Flight attendant
Groundskeeper
You can find a whole host of jobs that provide free housing on Indeed and SimplyHired. Also doing a quick Google search for the term "jobs that provide housing" can yield plenty of results.
CoolWorks is another great site where you can find seasonal jobs, many of which come with free accommodation.
33. Bonus tip: Sublet but only if your landlord allows it
I've seen so many people recommending that you sublet if you want to live rent free. In an ideal world, this is a good option as you can rent out your place and find a cheaper place to live or a free one like the options above and keep the profits.
But, subletting isn't possible for everyone. Some contracts specifically say that tenants are not allowed to sublet.
If your contract doesn't mention subletting, then you may want to consider it. You should still ask your landlord for permission though even if your contract doesn't disallow subletting.
If you are going to sublet, ask your landlord. If they agree, you can rent out your place.
Closing Thoughts
Rent free living is a dream for many of us. The cost of leasing a place can be really high, taking up much of our earnings. It doesn't have to be that way though. Thankfully, there are plenty of legal ways you can live rent free, whether it's getting a job that comes with accommodation or moving back in with your parents.
Let us know your tips on how to live rent free in the comments section below.