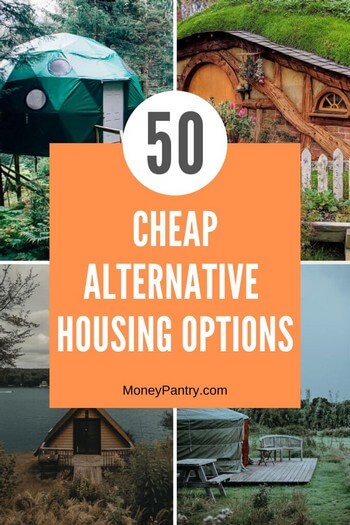 Do you want to find some cheap housing options?
Well, you're not the only one.
Houses don't come cheap, leaving many people unable to buy their own home. It also takes a long time to save money for a house that is exactly what you want, which is why most of us live in our first starter houses for just a few years.
It's particularly tough for younger generations, with just over third of adults under 35 years of age owning a property.
If you're struggling to afford a traditional home, or you have just decided that you don't want to spend a ton of money on housing, then there are lots of alternatives.
There are so many different types of housing that are a lot cheaper than your traditional house.
Need Easy Extra $300+/Month for Free?
KashKick
: Get paid directly into your PayPal for watching videos, surfing, shopping and more.
Join KashKick Now!
InboxDollars
: Paid over $57 Million to members to watch videos, take surveys, shop and more.
Get $5 instantly!
Branded Surveys
: Get $1 instantly just for joining for free. Plus get paid within 48 hours by PayPal!
Join Branded Surveys
First Opinion
: Get paid up to $10 per survey and $300 per virtual focus groups!
Join Now!
Swagbucks
: Get paid to watch videos, shop online, take surveys and more.
Join now & get $10 instantly!
Low Cost Housing Options & Alternative Housing Ideas
Here are 50 cheap housing options as well as realistic and inexpensive alternative housing ideas.
1. Manufactured housing
If you're looking for something more traditional, but don't want the cost of an average home, consider purchasing a manufactured home instead. Yes, they're not as cheap as some of the other options on the list, but they're certainly cheaper than the average home. Manufactured housing is a good cheap housing option for large families.
2. Cob House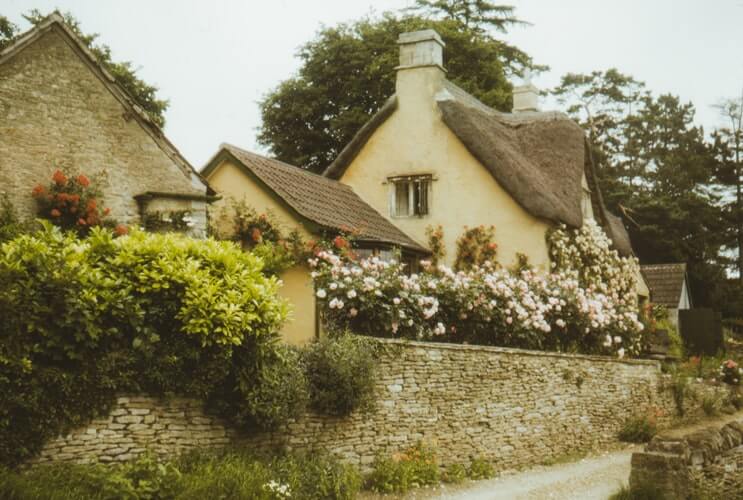 I think cob houses are really cute!
Cob is a natural building material that's made from subsoil, water, a fibrous organic material like straw, and sometimes lime.
Since the contents of subsoil naturally vary, if it does not contain the right mixture it can be modified with sand or clay.
It's also a very robust material, which is why it's a popular building material for homes. Cob is fireproof, resistant to seismic activity and uses low-cost materials! It is very labor intensive though.
Cob can withstand long periods of rain without weakening. It's a sustainable material. Overall, cob houses look great, they're affordable, and they are a great alternative housing option.
3. Rent a mobile home
If renting a regular house is out of your budget, you may want to consider renting a mobile home instead. You may get the same amount of living space for substantially less rent depending on where you live.
4. Housesit long-term
People work out of town, they go on vacation, etc., meaning their homes are left unoccupied.
This is why many people choose to hire a house-sitter to take care of their place. A house-sitter lives in someone's home while they're away and takes care of things like watering the plants, taking in the mail, and just making sure that the place looks occupied while the owner is away.
This is a good way to score some free accommodation. If you have times between homes where you can't find a gig, you can always give the other options on the list a try, like renting a hotel room.
Check out Housesitters.com and TrustedHouseSitters.com to find house-sitting jobs.
5. Bus home
There are tons of people choosing to live in a bus home – with school buses being a super popular choice.
Jeff and Missy Miller lived on a school bus for years and have a useful blog you should check out here to learn more about living on a bus.
6. Purchase a condo
Condos are cheaper than houses in most places, making them one of the best low cost housing solutions. You can often buy a condo for half of what a house would cost. That's why you should consider it as an alternative housing option.
Sure you may have to pay monthly fees for the HOA. But the maintenance costs, insurance cost, and property taxes are usually lower, again making condos cheaper to live in than regular housing.
7. Shed Home
Shed homes, or "shomes" as they are sometimes known are becoming a trendy, and affordable housing option.
Kate LeMessurier is a self-confessed shedaholic who has been building and creating ShedHomes for the last 8 years! She runs a website all about it, aptly called theSHEDaholic.
Read this article from Country Living to learn more about shed homes. They can be so much cheaper if you don't mind a small living space.
8. Buy a duplex or triple
If you want a more traditional type of house, then I'd recommend you buy a duplex or a triple. You still get your own personal living space and a similar property to a traditional house, but it's much cheaper.
You can get some great deals on a multi-family property. The thing with duplex properties is that you can live in one unit and rent out the other one. Then you can use the rental income to pay down the mortgage.
9. Geodesic dome home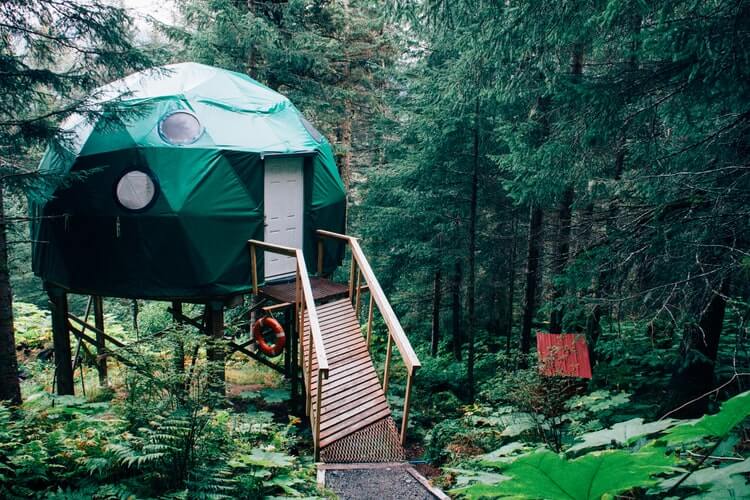 These homes not only look awesome and unique, but they are also very energy efficient, making them more economical to run. You can even by them in kits.
The kits are pretty cheap compared to what the average person spends on a home.
10. Purchase a Co-Op Unit
With co-op housing, you buy shares in the entire building, rather than the individual unit you live in.
It's similar to a condo, but the key difference is that while a condo owner owns a unit, a co-op owner does not.
They are an affordable type of housing. However, they are not common and can be difficult to sell.
If you can get together the cash to buy one though, you'll likely save thousands of dollars a year compared to renting, even after paying the monthly co-op fee.
11. Hotel
Apartment rentals in my area are pretty expensive, especially when you factor in the cost of electricity, taxes, internet, and all the other bills that come along with renting an apartment.
While researching this post, I compared the cost of staying in a hotel to renting an apartment nearby.
I had a peruse of hotels – you'd think expensive right?
But, when I factored in there were no taxes to pay, no electricity fee to pay, no direct debits for the internet, the cost of staying in a hotel was actually cheaper than renting an apartment in the suburbs. I was pretty shocked!
So, yes, it does seem like renting a hotel room, in some cases, can work out cheaper than the cost of renting an apartment. Or of paying a mortgage, taxes, and bills on a home.
A woman called Joy Bricker stayed in a hotel in Virginia for 10 years! It was cheaper than the price of many apartment rentals in the Washington metro area and had the added bonus of Wi-Fi, daily room cleaning, and round-the-clock security.
While you don't get a lot of space, you have a bed to sleep in and a bathroom of your very own, making this a tempting cheap housing option. Plus, you can save up for a home while you're staying in a hotel.
Of course, not all hotels will work out cheaper, but many of them do. So go online and start researching. Oh, and keep in mind that the best room rates are usually offered from the hotels themselves, rather than on sites like Booking.com and TripAdvisor.
This is because most hotels have a Best Rate Guarantee, where they give the best rates to customers who book directly.
12. Move in with your parents
According to data, 40 percent of young adults live with their parents. This is the highest level in 75 years. This makes sense since low wages, student debt, and rising renting costs have all diminished people's ability to afford their own home.
My husband and I have lived with our parents and in-laws in the past. It's a good way to save up some money for your own place. Plus, if you get along well with your parents, it can be a lot of fun too.
It also gives you the chance to save for a business or career as well, because you may not have to work as many hours as you would if you had your own place. Of course, doing things like paying for your own food, or contributing to the bills is ideal if you're living with relatives, but it's still much cheaper than renting your own place.
13. Truck home
If you're looking for the cheapest way to live on your own, you may want to try living in a truck.
It can work out much cheaper than traditional housing. Brandon who runs FromInsideTheBox.com has lived in a truck for four years!
Truck life isn't for everyone, but it's a cheap way to live.
14. Rent a motel room
Renting a motel room can be cheaper than renting an apartment in some places. If you're not sure how long you want to stay in a particular town for, this can be a good option, as you won't be stuck in an apartment lease.
Plus, living in a motel room gives you an affordable place to live while you look for the best long-term arrangement.
15. Rent a room at someone's house or apartment
Renting a room at someone's house or apartment is an affordable living arrangement. My sister actually did this when she was single and needed a place to live.
Since your utilities are often included this is such a good option if you're strapped for cash. A quick search online for "rent a room" will generate lots of sites with rooms to let.
16. Sailboat
Living on a sailboat sounds pretty fun and it's affordable too. Sure, it's not for everyone, but you can buy a sailboat at a much lower cost than a home.
Read this Reddit thread for advice on how to live on a sailboat.
17. Earth bag home
Just as its name suggests, earthbag homes are made from bags filled with dirt or soil that are stacked together like bricks to make a house.
Often, they look like large beehives once they're finished, but you can make them in other shapes too.
Check out this guide on earthbag homes to learn more.
18. Van Home
If you're looking for a short-term living arrangement that doesn't cost a whole lot, then consider living in a van. There are tons of blogs offering van-living advice though if you do want to do it long-term!
19. Go camping
Camp out behind a friend's home or at a free campsite near you. Sure, this isn't a long-term living arrangement and it's certainly not for everyone. But it's way cheaper than renting somewhere or paying for a mortgage.
Camping in winter can be rough, so consider using a seasonal housing strategy, where you live in a tent for a portion of the year, and rent an apartment, motel, or hotel in the colder months.
This can give you some time to save up for more practical and long-term living arrangements.
20. Tipi
If you do decide to go camping, you may choose to live in a tipi. Living in a tipi isn't a long-term housing option for most people. It does, however, give you a cheap place to live for a while.
Surprisingly, there are lots of stories online from people who live in tipis full-time.
You can make them pretty comfortable, and all you need then is a place to put the teepee, and an outhouse!
21. Silo Home
Silo homes look awesome! They are so interesting. Basically, they're homes made from a converted silo! Learn how to make one of these homes here, and read this post from Business Insider on a couple who built their own silo house.
They're not too costly to build and they look great too.
22. Become a live-in caretaker
If you are looking to get into care work or would like to be a caretaker, then this career path could actually get you free housing.
Sometimes, caregivers are required to live-in with their patients. In addition to getting a free room, some caregivers also get their meals for free too.
Visiting Care.com is a good place to start looking for work.
If you have a nursing background or some caretaker experience, being a live-in-caretaker would be a good option for you.
23. RV
RV living can be affordable. Around one million Americans live in RVs fulltime!
If you don't move around too much or you can find free places to park, it can be a great option.
Bob Wells of CheapRVLiving.com claims you can live in a van for less than $1,000 a month.
And if you want to you can travel, which is awesome.
24. Fixer Upper
Buying a cheaper house that needs fixing up can be a good idea. A lot of people buy cheap houses to flip them for a profit.
You could flip your house down the line, but why not live in your fixer upper long-term?
Plus if you live in a home for at least two years, you can sell it without paying tax on the capital gain (up to $250,000), according to the IRS.
You could then buy another fixer-upper and repeat the process.
You could turn a fixer-upper into a nice home for you and your family.
25. Buy a mobile home that comes with land
Consider buying a mobile home that comes with land. In some areas, these homes cost less than half of what a stick-built house of a similar size costs.
Take a look at this guide to buying a used mobile home in a park.
26. Tiny home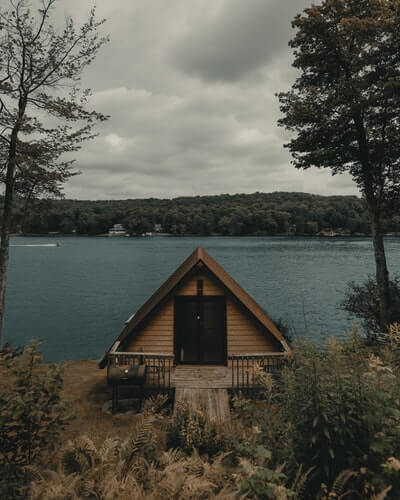 Tiny houses have become incredibly popular in recent years. It's now its own movement with people who are fed up with paying extortionate amounts of money for large, traditional housing choosing to downsize and live a simpler, happier and cheaper lifestyle!
So, build or buy a tiny house if you want to save money.
If you don't mind the smaller living space, it can be a good option.
27. Pay cash for a house
If you can, purchase a house in cash. This gives you no mortgage payments, keeping your living costs down. It's not easy, and this option certainly isn't for everyone.
If you can, start saving for an eventual cash home and then look for one that's not too pricey.
The thing is, your house will likely increase in value over the years, meaning you'll be able to sell it for more than you originally paid for it and pocket the difference. Investing in a house can be a good option, and it's often less risky than investing in stocks, usually yielding more money than savings accounts do as well.
28. Tree house
Living in a treehouse sounds super fun (that is if you don't mind heights!) If you can buy some cheap land or find a friend who's willing to let you use their land, then you could have yourself a nice treehouse home. Use recycled materials where possible to keep costs down and keep the space simple. Treehouses can get pricey if you go for the luxury-style ones, but you can make simper ones that cost far less.
29. Habitat for Humanity House
If you don't earn a lot, you may be able to get a Habitat for Humanity home. The organization can help you build and buy your home. These are basic houses, but the mortgage is interest-free making it an affordable housing option.
Since the house will be built by you and volunteers, the price you pay for it (construction cost) is usually much less than what the finished home is worth.
You can visit this page to learn more about applying to be a Habitat homeowner.
30. Shack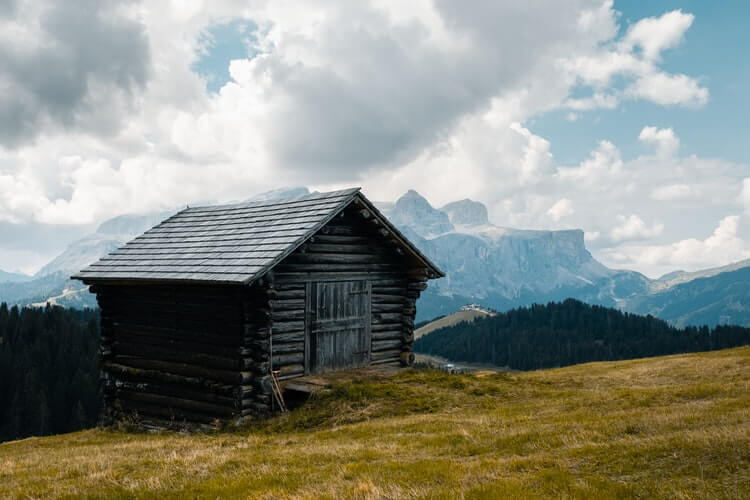 A shack doesn't sound like the most appealing of housing options. But, you'd be surprised at how nice some of them actually look!
Browse Pinterest for ideas and links to tutorials and advice on building a shack to live in. A quick Google search also offers plenty of results on how to build shack homes. Since you pay cash as you build it, you won't have rent or mortgage payments to worry about.
31. Houseboat
Houseboats are another housing option that can be expensive or cheap depending on how you go about it. Some houseboats are not too expensive to buy – especially compared to a traditional house!
In some states, there's no sales tax on houseboats and no property tax. The cost to rent a slip isn't too high either!
Check out Boat Trader if you're considering purchasing a boat.
32. Straw Bale Home
Straw bale homes look great and are pretty cheap to build as well.
Michele and Dale Doucette built a 3,200 square-foot straw bale home set on 22 acres in Wilmington, Vermont. It allows them to live sustainably.
While the initial building of the home can be on the pricier side, StrawBale.com says that people who salvage materials, like their windows and doors, have finished their home for less than $15 per square foot. Using your own labor and making smart material choices also lowers the cost of the build.
Plus once the house is set up, it's a very energy-efficient, saving you money in the long-term.
33. Get a job that offers housing
Some jobs are live-in, so they come with accommodation. Many jobs, like hotel manager, apartment building manager, self-storage resident manager, campground host, and some positions in the national parks provide accommodation.
Check out sites like Indeed and SimplyHired for gigs. And also searching Google will yield plenty of results.
34. Commune
If you're a social person, then living in a commune could be a great option for you. Communes are a community of people who live together. They often share common interests, values, and beliefs. In some communes, as well as sharing the property, people also share their possessions, resources, and even work, income or assets in some cases.
This can keep housing costs minimal. So you'll generally pay far less to stay in a commune than you would to rent an apartment or for a mortgage on a house.
There's an interesting article from The Guardian on commune living, which you can read here. And to get started with finding a commune to live in, just open up Google!
Search for "commune living near me," or "communes near me."
35. Hostels
I've never been a hostel type of person, but I know that many people love them. There was one near the hotel I stayed at in Germany and it was always so busy.
Hostels can be a very cheap form of housing. In a hostel, you typically rent a bed in a room with others, but there are more expensive hostels where you can stay in a private room for a little extra cash. You'd still have to share other living space though, like the kitchen and maybe the bathroom.
Some people use hostels as a long-term housing option, staying in them for months or even years. So you could consider staying in hostels to save yourself some money.
To find hostels, visit Hostel World, Booking.com, and Hostelbookers.
36. Become a digital nomad
Digital nomads are people who do jobs online that allow them to move as often as they want to.
This could include freelance writing, web design, virtual assistant work, or blogging. Whatever it is, if you have a job that you can do from anywhere, then you could become a digital nomad.
Forbes reports that 7.3 million Americans describe themselves as digital nomads.
The benefit of it is that because you can move wherever you want to, you can go wherever the rent is cheaper.
37. Couch surf
Sleeping on a couch is a cheap way to live if you're single. There are lots of websites that you can use to find a couch to lay your head on.
Visit CouchSurfing.com to find places to stay.
Or you could see if there's a generous friend or family member who doesn't mind you staying on their couch. Keep in mind though that you shouldn't impose on one person for more than a couple of weeks.
Instead, you'll need to move around from couch to couch. Just don't over-stay your welcome and help out with chores where you can.
It can save you money, but it's definitely not for everyone. If you want to travel it could be ideal for you. It's more of a short-term option though unless you plan to travel a lot. Otherwise, save up cash for more long-term accommodation while you couch-surf.
38. Shipping container home
Shipping container homes are pretty popular nowadays, and they don't cost that much compared to a traditional home.
There are some prefabricated shipping container houses that sell for as little as $15,000!
However, lots of them sell for between $30,000 and $60,000, and you can find ones that reach into the $100,000 plus range.
Of course, you can choose how cheap or expensive you want to make your shipping container home. There are luxury ones that do cost a lot! But, if you're looking for something simple, then you can get a home at a really affordable price.
Searching for "prefabricated shipping container homes" on Google will generate plenty of results.
If you want to keep it as cheap as possible though, you'll need to convert a shipping container into a house yourself. You can find examples of shipping container homes built for less than $10,000, but you'll also need land and a septic system in place, which ups the cost a little.
39. Yurt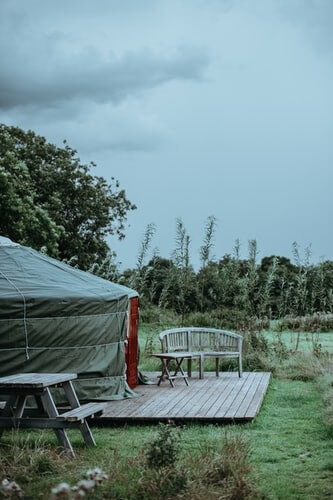 Yurts have been around for about 3,000 years, used by nomads who would pack them up and travel with them from place to place.
Now, though, modern yurts can stay put and people choose to live in them as an alternative form of housing.
You can do some great things with the décor! They're sturdier than a tent and a good option to consider.
40. Unfinished space
Whether it's a commercial space or an unfinished home, moving into an unfinished space and turning it into a home can be an awesome and affordable housing option. You could look for a home or space in your area that's selling for around $10,000 to $20,000. This will give you a reasonable budget to be able to remodel the place until you have your ideal home at a low cost!
41. Buy a mobile home in a park
Renting an apartment can often work out more costly than purchasing a mobile home in a park.
So, consider this as an alternative housing option.
Read this guide to buying a mobile home in a park.
42. Be a live-in Airbnb property manager
Some people rent out their places on Airbnb. But some hosts like to travel themselves, so they want someone else to handle the turnover process and tend to their property for them.
This is why some hosts hire a live-in Airbnb property manager. You can often live in one area of the property for a discounted price, in exchange for managing the guests and the property.
Check out Indeed for Airbnb property manager jobs.
43. Pallet Home
Pallet homes are homes made from pallets!
You can build a little pallet home pretty cheaply. The only thing is, they're probably not going to be super long-lasting, but they're a fun idea. And it will give you a place to live until you can save up some cash for a more long-term housing option.
Take a look at these pallet house plans on Pinterest.
44. Earthship
An Earthship home is a sustainable home that's eco-friendly and ideal if you're looking to live off-the-grid.
These homes have minimal reliance on public utilities and fossil fuels.
They are constructed to use available natural resources, particularly energy from the sun and rainwater.
It's not for everyone.
But if it sounds good to you, then give it a try.
Earthships are not particularly cheap to build or to purchase. But it's in the long-term where you'll save money because you won't have to pay electricity bills! They are incredibly cheap to run, and one of the most effective types of green alternative housing.
Read this article about a couple who built an Earthship home for $55,000, and visit EarthshipGlobal for lots of information on these homes.
45. Hemp concrete home
If you're wondering "what is the cheapest type of house to build?" then you might want to check out hemp concrete houses.
Since the legalization of marijuana in many states, hemp is now staging a comeback as a building material. It's one of the oldest and most sustainable building materials, and many people are choosing to use hemp concrete, or hempcrete, to build their homes.
If you're looking for an alternative housing option, this could be the solution for you.
46. Box car home
A converted boxcar can make an awesome home. So, you could find a boxcar and make it your house. You have more real estate than a bus or RV, and it offers a little more permanence as well because you likely won't have to move it as often as an RV or bus home.
47. Modular Igloo
Imagine an igloo made from Styrofoam? Well, that's basically what a modular igloo home is. They're built out of thick Styrofoam, which is sturdy and extreme weather resistant. If you've ever wanted to live in an igloo, without the cold, then a modular igloo could be for you.
48. Earth berm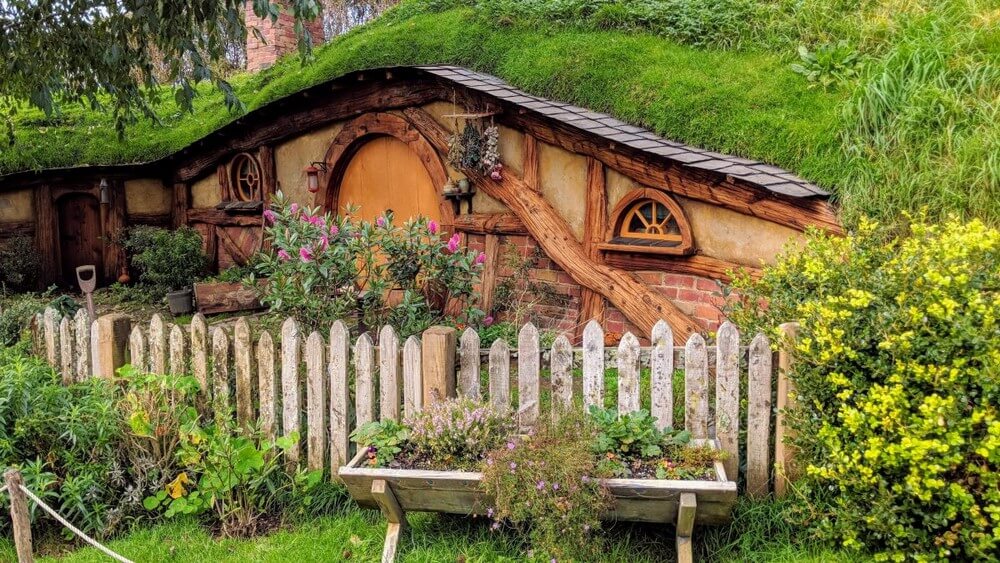 Think hobbit-hole from Lord of the Rings and that's pretty much what an earth berm house is. They're built into the ground, and only really the front entrance of the home is in view.
If you're looking for off-the-grid-living, it's a great idea. Plus, since it's partially underground, keeping temperature levels comfortable at all times is easy, and it shields you from the elements. It's not for everyone but it's a fun, alternative housing idea.
49. Stay in Airbnb's long-term
Depending on where you live, it may be cheaper to rent a place from Airbnb. Since utilities are included in the cost, the overall cost of living in an Airbnb can work out cheaper than renting an apartment.
Sure, there are tons of luxury places on Airbnb now. But you can still find some bargains.
Plus, you can choose whether you rent just a room or the whole place, and what type of place you want to rent, from apartments to treehouses!
My husband and I lived in an Airbnb for three months and found it to be not much different cost-wise to what we paid for our apartment rental back home. We found that since utilities were factored into the cost of the Airbnb, it actually worked out cheaper than our apartment!
What's great about staying in Airbnb's long-term is that it allows you to travel and stay in new cities, if you want to.
Get started on Airbnb here.
50. Be a Pet-Sitter
Some people need a person to care for their pets while they go out of town on business or go on vacation. This means that they hire pet sitters to live in their home and look after their pets while they're away.
So being a pet sitter could score you some free accommodation. If you love animals, this could be a great job for you, and you get a place to stay for free too.
Visit PetterSitter.com and Rover.com to find pet-sitting jobs.
Give These Cheap Housing Alternatives a Try
There are so many alternative housing options available nowadays. So if you're looking for something more affordable than traditional housing, give these cheap housing options a try.