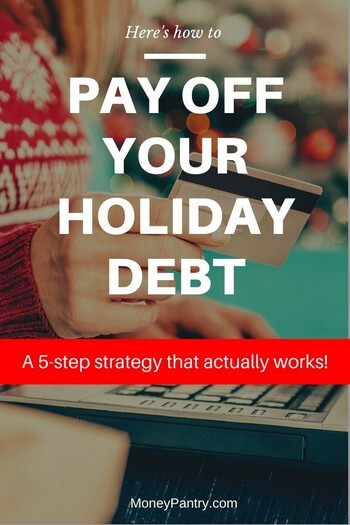 Shocked at your bank balance this New Year?
The holidays sure are fun, but they certainly don't come cheap. From the gifts to the food, the booze and whatever else you have to spend money on, it seems like we're consistently opening our wallets to pay for stuff during the holiday period.
According to a recent Holiday Debt Poll by CreditCard.com, 61% of people with existing credit card debt and 30% of people with no debt will go into debt to meet their holiday shopping demands.
By January, our bank balances have taken quite the hit!
This can leave us feeling stressed, rather than excited about the year ahead.
So, what can you do?
Need Easy Extra $300+/Month for Free?
KashKick
: Get paid directly into your PayPal for watching videos, surfing, shopping and more.
Join KashKick Now!
InboxDollars
: Paid over $57 Million to members to watch videos, take surveys, shop and more.
Get $5 instantly!
Branded Surveys
: Get $1 instantly just for joining for free. Plus get paid within 48 hours by PayPal!
Join Branded Surveys
First Opinion
: Get paid up to $10 per survey and $300 per virtual focus groups!
Join Now!
Swagbucks
: Get paid to watch videos, shop online, take surveys and more.
Join now & get $10 instantly!
You'll be glad to know that there are plenty of things that you can do to pay down holiday debt.
And these things are easy to do as well.
Below, I tell you exactly how to pay off holiday debt – in a stress-free, achievable way!
I give you a five-step plan for paying your debts down!
So if you went a little overboard with the spending over the holidays, follow our plan to become debt-free.
Recovering from Holiday Debt
Okay, so paying off your holiday debts is possible.
I'm going to give you some easy steps for doing so.
Now, I'm not going to say that these tips will make you debt free in one month, or two months, or three months, etc.
Since everyone's different when it comes to their income and outgoings, giving an exact timeframe for when you can pay off your debts just isn't realistic.
These tips will allow you to pay down your debts quickly.
But, while one person may have the financial means to pay off their debts within just two months, it might take another person four months, and for some people, it might take six months or more.
This plan will work for everyone. Just don't beat yourself up about how long it takes to become debt-free.
Now, onto the plan!
Step 1: Plan & Prepare
The first step to becoming debt-free is to come up with a good plan of action. If you go into this process without any planning or preparation, you're likely to fall at the first hurdle.
Create goals
You're probably sick of hearing about goals for 2020 already.
But, when it comes to finances, they really do work.
This is because goals help to keep you on track.
Write down how much debt you owe.
Then, write down when you'd like to pay it down by.
It's so important to break large goals down into smaller ones.
Paying off $2,000 in debt seems like a huge number. Break that down into $500 a month though, and that goal doesn't seem quite so huge.
Be realistic
If you have $3,000 worth of debt to pay down, trying to do that by January 31st likely isn't possible – especially if you earn close to what you spend.
Be realistic with your financial goals.
Doing this allows you to better stay on track.
When you know that you only need to pay down $500, rather than $3,000 by the end of January, that seems more achievable. So, you're more likely to stick with your plan.
Take stock of your finances
Doing a little financial inventory is the best place to start when paying off debt.
Just make a list of all of your expenses,
Make sure that you go through your bank account to include small expenses, like coffee, as well as those big expenses, like mortgage or rent payments.
Know exactly how much you spend each month.
Next, write down how much money you bring in each month.
When you know your income and exactly how much money goes out of your account monthly, you'll know how much money you have leftover to pay your debts.
Now, this might be a decent amount that allows you to pay off a good chunk of your debt each month. Or your income and your outgoings could be very similar, leaving you with little cash left over to service debts.
If that's the case, then don't worry. There are things you can do to reduce your expenses, without making yourself miserable, and there are plenty of ways to increase your income.
Below, I'll cover ways you can increase your income, and cut your spending.
Create a budget (but make sure you can stick to it)
Now that you know exactly how much you currently spend and earn, you can create a budget.
Creating a budget is one of the best things you can do for your finances.
Having a budget keeps you on track for your financial goals.
Now, your budget shouldn't be too stringent.
I know that sounds counterproductive, but a budget that allows for flexibility actually works out better in the long term.
Give yourself a set amount to spend on each category.
Of course, things like car payments, and mortgage payments may be set, so you have to pay a certain amount to those.
You can cut back in other areas, like groceries, for example.
So, put a dollar amount next to each category that tells you exactly how much you can afford to spend each month.
When putting dollar amounts next to things, make sure you don't create a budget that's too restrictive.
If you spend $800 on groceries each month, allocating just $400 to groceries isn't a good idea. Sure, we'd all like to cut our bills in half, but ask yourself, is that really possible?
A good budget is one that's flexible.
Step 2: Consolidate or Transfer Your Debts
The next step is to restructure your debts.
You can do this in a couple of ways:
Consider a balance transfer
If you racked up quite a bit of credit card debt during the holidays, then consider transferring your balance onto a zero-interest card.
This will save you money on interest charges.
When you transfer your balance to a card with zero-interest, you're not adding more interest charges onto the debt that you already owe.
This can make a huge difference.
You could save yourself $100s in interest charges.
When you're paying off debts, any time you can save money you should jump at the opportunity.
Consolidate your debt
If you have lots of different debts, having to make multiple payments can be quite difficult.
Making just one payment each month is much easier.
Firstly, you only have to factor in one payment for the month.
Secondly, you won't have additional minimum payments to make each month. This means that your money won't be tied up.
You can use this freed up cash to pay down just one debt.
It basically enables you to focus all the money you have on paying down a single debt.
This can make the whole process a lot less complicated and much less stressful!
Step 3: Save Money (Doable Tip Below!)
Now you have your goals, a budget, and you may have considered restructuring your debts to make them easier to pay down.
Next, it's time to focus on saving money.
Saving is something we should all be doing, yet many of us avoid it.
When it comes to paying off debts, the more money you have to allocate to them, the quicker it's going to be.
That's why saving money by making a few small changes to your spending habits can be really useful.
It frees up more of your cash to put towards debts.
So, below, I'm going to give you some tips for saving more money.
See where you could cut back without making yourself miserable
If you're making a similar amount to what you spend, then you aren't going to have much left over to tackle your holiday debt.
So, if that's the case, you need to see if there's anywhere you could cut back.
For example:
You could cancel cable and subscribe to Netflix instead and potentially save $56.42 a month.
You could take a packed lunch to work with you, instead of ordering out. If you spend $7 on lunch out 5 days a week, that's $140 a month you're spending!
Instead of paying for a super expensive cell phone plan, you could switch to a cheaper one, or a free cell phone plan, like FreedomPop, and save $148 a month!
Use Trim to find and cancel subscriptions for you that you no longer use. This could save you $120 a year! Read our review of Trim here.
Ditch Starbucks for homemade coffee! If you spend just $5 a day there, that's $150 a month!
Cancel the gym membership and workout at home. You could save $54 a month on the gym!
You might have to change your spending habits a little to improve your finances.
Of course, you don't want to make yourself miserable by cutting out everything that you enjoy.
So, just pick a couple of things that you could cut back on, and it could make a big difference.
Leave the credit cards at home
If you're racked up a lot of holiday debt, you need to take steps to stop yourself from accumulating more debt.
One of the easiest ways to do this is to simply leave your credit cards at home when you go shopping.
Take them out of your wallet, and leave them at home.
Instead, use your debit card or cash when you do spend money.
You can always pick your credit cards back up when you've paid off your debts.
Just use them wisely! You don't want to get yourself back into debt again.
Delete your card details from online stores
Having your card information stored with online retailers makes shopping a whole lot easier.
I know, it's so convenient!
But it's that convenience that makes it easier to spend money.
When you only have to click a button during the online checkout to spend cash instantly, it's easy to spend money that you might not have otherwise.
When you have to manually enter your card details, you have more time to decide if you actually need the product or service you're planning to buy.
So, delete your card information from online stores.
It's such an easy way to cut spending!
Use coupons and cashback sites
Okay, so when you're trying to save money, you should be cutting down on purchases.
But, we all have to buy things, even if we are on a budget.
If you are going to spend money though, do it the smart way:
Use coupons and cashback websites!
Coupon sites
Coupon websites list coupons for online retailers, and many provide you with printable coupons as well.
If you're planning to buy something, make sure you check out these awesome couponing sites:
You could easily save yourself money by using these sites.
Cashback sites
Coupons can save you money, but cashback sites can get you money back!
So, we'd highly recommend using both, where possible.
Many sites offer cashback and coupons, which is handy.
Here are some great cashback sites:
For a bigger list, check out this list of the top cashback websites.
These sites give you anywhere from 1% to 70% cashback – you can get higher rates occasionally.
Some sites will give you a dollar amount back instead, like get $10 back when you spend $50, for example.
Rebate apps
If you shop in-store a lot, then rebate apps are your friend.
Some great rebate apps include:
Some of these apps, like ReceiptPal will pay you for any itemized receipt.
Others, like Ibotta, will give you a rebate when you buy specific items.
Now, what's great about these apps is that you can upload your receipt to all of these apps and get paid multiple times.
Browser extensions
Coupon websites, cashback websites, and apps that offer coupons and rebates are awesome.
But another way to save cash that's so easy is by using browser extensions, like:
These extensions automatically search for coupons online, and apply the best ones to your order.
What I like about extensions like Wikibuy is that they find coupons that actually work!
You have no idea how time-saving that is.
I know how time-consuming it is trying lots of different coupon codes to find one that actually works, which is why these browser extensions are so awesome.
Now, coupons aren't all these extensions have to offer.
Some extensions, like Extrabux, for example, also give you cashback automatically!
Step 4: Increase Your Income (you can do it even if you work full-time!)
Decreasing your outgoings is great for your financial health.
But I know it's just not possible for everyone.
Often, you've cut back as much as you can, so you can't really free up any more of your income to put towards your debts.
If you're on a low income, cutting back just isn't possible.
That's why I'd recommend making extra cash to anyone who's looking to get in better financial shape.
Increasing your income gives you more money to put towards your debts.
Not only that but putting a little more cash into your bank account just gives you some more breathing room in your budget in general.
In this section, I'm going to cover a few ways you can bring in a little extra cash.
Now, I'm not going to go into too much for each one, because we do have some great posts on making money, which I'll link to below.
Here are some ways you could bring in some extra cash:
Sell stuff
Okay, so this isn't a way to make a consistent income, but it can free up some cash quickly.
After the holidays, we usually have a lot of new stuff. So, by selling stuff, you can make room for new things, while making some money to put towards paying off your holiday debt.
You can sell lots of things online.
Here are a few places that are great for selling stuff in general and for local sales:
Here are a some places where you can sell old DVDs:
Here are some great sites for selling your clothes:
Here are some awesome places to sell used electronics:
Here are some great sites for selling books:
Be a data entry clerk
Work as a data entry clerk, and you could earn anywhere from $9 to $17 an hour! The average income for a data entry clerk is $12 an hour.
This gig is pretty simple and can be done from home!
Just enter data into documents, spreadsheets, databases, etc.
Here are some places you can find data entry work:
Drive for Amazon Flex
Amazon will pay you to deliver its packages. You can take on as few or as many deliveries as you want to. Pay ranges from $18 to $25 an hour.
I did a full review of being an Amazon Flex driver, which you can read here.
Pick up and deliver groceries
Shipt will pay you to pick up and deliver groceries. You earn up to $22 an hour!
This is another gig where you can take on as little or as much work as you want to.
Contribute to blogs
Many blog owners are looking for articles to add to their site. So, they accept submission from guest writers.
There are blogs about everything from parenting to travel that will pay you to write for them.
Here are some examples:
Tutor people online
You could get paid to tutor people online. You can make money teaching students about a range of topics.
This is another at-home gig making it a flexible way to earn cash. Online tutors earn $19 an hour on average, but they can earn anywhere from $15 to $20 or more per hour.
Here are some places to find work as an online tutor:
Drive for Lyft or Uber
Make money giving people lifts as an Uber or Lyft driver. You can pick up work when you want to, making this an easy gig to fit into your schedule.
Pay varies depending on which company you're driving for, and other factors, like how many rides you give, and where you live.
Uber drivers say they earn $15 an hour. Lyft drivers say they earn about $16 an hour, but they can make anywhere from $5 to $43 an hour.
Here's where to sign up:
Rent out your car
If your car often sits in the driveway, consider renting it out. You could earn about $6,000 a year. How much money you'll make depends on the market value of your car, how many days of the month you rent it out, and what company you rent it out through.
Here are some places to rent out your car:
Do some transcription work
If you're a good typist, you could make money as a transcriptionist. All you need to do is listen to audio, then type or transcribe what you hear. Once you deliver the transcription to the client, you'll get paid.
Here are a few places where you can find transcription work:
Transcriptionists make $16 an hour on average. But, you can earn more or less than that, depending on the company you work with.
For example:
1-888-TYPE-IT-UP pays you $30 to $180 per audio hour.
TranscribeMe pays you $15 to $22 per audio hour.
Scribie pays $5 to $25 per audio hour.
Be a virtual assistant
Assistant work isn't just for brick-and-mortar offices anymore.
Now, many people hire virtual assistants.
So, you could get paid to work as an assistant online.
Virtual assistants do all of the tasks that a regular assistant would do, like making phone calls, scheduling appointments, organizing meetings, and other administrative and organizational tasks.
The only difference is that they do all of their work online.
Here are a few websites where you can find virtual assistant work:
Virtual assistants earn anywhere from $10 to $29 an hour, and they earn an average of $15 an hour.
Be a freelance writer
Freelance writers make money writing everything from blog posts to books.
With freelance writing, you can take on as much or as little work as you want to – making this a flexible gig.
You can write for content sites. With these, you apply to the site, and if you're approved, you can choose from a pool of articles.
Or you can work with private clients.
Private clients post jobs online that freelancers can apply to. If you apply to a job and are accepted, you work directly with the private client.
Here's where you can find freelance writing work:
Freelance writing income varies.
It can pay per word, per hour, or per project.
According to PayScale, Freelance writers say they earn $23 an hour, and that their income can range from $10 to $55 an hour.
For per word pay, you could earn as little as $0.001 a word or as much as $0.06 per word or more in some cases.
For per project pay, this can range anywhere from $5 per article, to $500 per article.
Ultimately, how much money you make from freelance writing will depend on the client or website that you work with.
Read these posts for more ways to make money
Above, I mentioned that we have a lot of posts on making cash.
Here are some articles to read for even more ways to make money:
Step 5: Choose a Method to Tackle Debt that Works for You
Okay, so now you should have started saving, and maybe you've increased your income a bit.
Once you've freed up some cash to put towards your debts, you can start paying them off.
Now, there are tons of different methods out there for tackling debt.
I'm going to cover two of the main ones, which are:
Snowball method
Avalanche method
Really, it all comes down to what suits you.
Let's take a look at these debt tackling methods and see which one best suits your needs.
The Snowball Method (good for keeping motivation high!)
With the Snowball method, you write down all of your debts in order of smallest to largest.
Let's say you have $2,000 worth debt across three credit cards. Here's what your list would look like:
Credit card one: $200
Credit card two: $400
Credit card three: $1,400
With the Snowball Method, you focus on paying off the smallest debt first.
This doesn't mean totally ignoring your other debts though.
You still must continue to make the minimum payment on your balances for all your debts.
You just focus on paying more to the first, smallest debt.
Once you've paid off the smallest debt, then you move onto the next one.
You take the money you were using to pay the first debt and add it to the minimum payment towards the second debt.
So, to use the example above, once you'd paid off the $200 debt, you'd move onto paying off the $400 debt, and put that money you were paying on the first debt towards paying off that second debt.
This creates a snowball effect, hence the name!
Why the Snowball Method?
Now, the Snowball Method is good for anyone who struggles to maintain motivation to pay off their debts.
It's all about those small wins. Paying off a $200 debt is much quicker, and it seems like much less of a challenge than paying off a $1,400 debt.
Paying off the $200 debt seems achievable.
Plus, once you've paid off that first debt, you'll know that you're more than capable of paying off the rest of them.
The Avalanche Method (good for saving money on interest payments!)
Next up, we have the Avalanche Method.
With this method, you focus on paying off the debts that have the highest interest rate first. In the long run, this saves you a lot of money on interest charges.
For this method, you need to list your debts in order of their APR. So, you list the one with the highest APR first, and the one with the lowest APR last.
You then use the money that you've assigned to paying off your debts to pay off the debt that has the highest APR.
Once you've paid off the first debt on your list, you take the money you used the pay that one, and put it towards the next one, and focus on paying that off – just like with the Snowball Method.
Why the Avalanche Method?
The Avalanche Method will save you more money in the long run than the Snowball Method will because you're getting rid of those high-interest debts first.
However, it can be tougher to maintain motivation with this method. With the Snowball Method, you get those little wins, and you can see progress quicker.
So which method is better?
It really just depends on which method works best for you. If your main goal is to avoid paying tons of interest, then the Avalanche Method is for you.
If you feel like you need a little more motivation and like to feel as though you're making quick progress, then the Snowball Method will work better for you.
Tips for Paying Down Debt Accrued During Holiday
Above, I've given you a five-step plan for paying off your holiday debts.
In this section, I'm going to cover a few tips that'll help you on your journey to becoming debt-free!
Make minimum payments on time for all of your debts
I briefly mentioned above how important it is that you continue to make the minimum payments on all of your debts.,
Whether you chose the Snowball Method or the Avalanche Method, this is so important.
If you miss your minimum payments, it will not only hurt your credit score, but you'll likely incur late fees as well.
You don't want to owe even more money on your debts.
This means that if you are focusing on paying one debt first, don't forget to make the minimum payments on all of your other debts.
Avoiding late fees isn't the only reason you should keep up with minimum payments.
If you miss minimum payments:
Your credit score could drop: When you miss your minimum payments, it can negatively affect your credit score. This can affect your ability to obtain new credit in the future.
Your interest rate may increase: If your payment becomes 60 days past due, many creditors will increase your interest rate to the penalty rate. This is the highest interest rate on your credit card. When you've made six months' worth of on-time payments, you should get your pre-penalty rate back.
That's why it's so important that you don't miss the minimum payments on any of your debts.
Use Mint to make paying off debts easier
Mint is an app that allows you to:
Manage your money
Organize your finances
Create a budget
Check your credit score
Get alerts about upcoming bills
Schedule payments.
Overall, it's a great tool for managing your finances, and it makes paying off debts much easier.
Avoid quick fixes like Payday Loans
Avoid payday loans if you can.
They might seem tempting, but they only end up getting you in more debt.
According to Pew Research, 12 million Americans take out payday loans each year, with many of them struggling to afford repayments.
The average payday loan requires a lump-sum repayment of $430.
This takes about 36% of the average borrower's gross paycheck, even though research shows that most borrowers can actually only afford no more than 5% while still covering their basic expenses.
This means that most borrowers have to renew or re-borrow the loans.
The CFPC found that 80% of payday loans are taken out within two weeks of repayment of a previous payday loan.
Basically, a payday loan might seem like an easy fix at the time, but in the long run, it costs you far more than its worth.
If you can, avoid payday loans.
One More Super Important Thing…Be Flexible!
One of the biggest reasons why people fail with paying off holiday debt is that they're not willing to be flexible.
Sometimes, you create a budget, allocate money to your debts, and you plan to pay them off.
Then, life happens.
Your car breaks, or you realize that the 50% cut your\ made to your grocery budget was just too much, and you're making yourself miserable.
Don't strain yourself too much.
Don't put too much pressure on yourself.
If you restrict yourself too much, you're likely to fail and give up altogether.
So, if something in your plan isn't working, adjust it, and try again.
Maybe you can cut your grocery budget by 25% instead of 50%.
Maybe, you'll have to put $400 towards your debts each month instead of $500.
Be willing to make changes to your plans.
Your financial plan shouldn't be set in stone.
It should help you, not make you feel restricted.
So, adjust and go again, and don't beat yourself up about it.
Key Takeaways
Okay, so I've given you a five-step plan to follow.
Let's recap:
Step 1: Plan and Prepare: Set realistic goals, take inventory of your current outgoings and income, and create a budget that works for you.
Step 2: Consolidate or transfer your debts: Restructuring your debts a little can make them easier to tackle. So, consider transferring your balance to a zero-interest card, or consolidating your debts.
Step 3: Save money: Make some small changes to your spending habits. See where you can make cutbacks.
Step 4: Increase your income: If you don't have much cash left over to service your debts, you might have to bring in some extra cash. This is possible, even if you have a full-time job, and you don't need to leave the house to do it.
Step 5: Choose a method to tackle debt that works for you: Doing this gives you a concrete plan for paying down your holiday debt.
That's it!
Paying off debts doesn't have to be complicated. All you need to do is have a plan, free up some cash in your budget, and pick a method of paying off your debts that works for you!
Did you rack up debt over the holidays? What did you do to get rid of it? Let us know in the comments section below how you paid off your holiday debt.