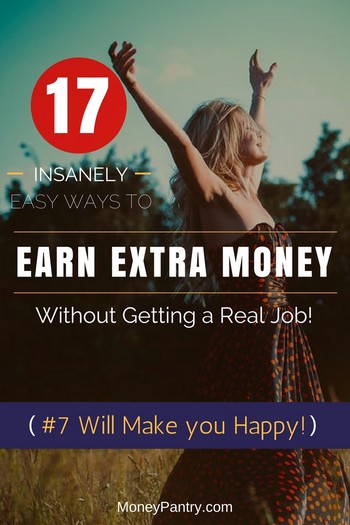 "I have a full-time job, but I'm making minimum wage. How do I make extra money on the side, preferably from home without getting another full time job?"
Browse any money related forum and you'll see this kind of question over and over again.
Most of us have a traditional full time 9 to 5 job where we work 40 hours a week.
But with wages being so low – according to the Pew Research Center nearly 20.6 million people are "near-minimum-wage" workers. – most of us still struggle when it comes to our monthly bills and day to day expenses.
Unfortunately, even if you wanted to get another job, the 4.2% national unemployment rate won't make it easy.
So you are kind of stuck with your low paying job.
Need Easy Extra $300+/Month for Free?
KashKick
: Get paid directly into your PayPal for watching videos, surfing, shopping and more.
Join KashKick Now!
Panel Payday
: Earn up to $75 per survey. They also pay up to $50/hr for mystery shopping.
Join Now!
InboxDollars
: Paid over $57 Million to members to watch videos, take surveys, shop and more.
Get $5 instantly!
Branded Surveys
: Get $1 instantly just for joining for free. Plus get paid within 48 hours by PayPal!
Join Branded Surveys
iPsos iSay:
: If you have to only sign up for one paid survey site, go with Ipsos (high paying survyes)!
Join iPsos Now!
Swagbucks
: Get paid to watch videos, shop online, take surveys and more.
Join now & get $5 instantly!
But there is some good news…
…you can make extra money on the side while working a full-time job.
Heck, there are even ways to earn money without a job.
And today, we're going to show you some of those options.
You wanna know the best part?
Some of these will earn you more money than your current 9 to 5 job!
And at the very least, you'll be able to earn enough to cover a few monthly bills.
Ready to make some money?
Let's get started…
Good side hustles to make extra money from home
When you work a full-time job, the last thing you want to do when you get home from a hard day's work is to leave again.
But to make that extra money you have to, right?
Wrong!
You don't even have to leave your living room!
There are tons of ways to make money from your couch.
All you need is the internet and your internet-connected device.
1. Evaluate Web sites
How many websites a day do you visit?
Do any of them pay you for using them?
Of course not!
But what if I told you there are sites that pay you to test them?
Hard to believe, huh?
But it's real…
… there are companies that pay people for spending a few minute on their site, browsing around.
It's all part of what's known as "user testing."
Why?
So they can get feedback and improve their site, that's why.
Getting direct feedback from the average everyday user and implementing them is a proven way of making your site a better, more user-friendly site that ultimately gets you more customers and more sales.
The only problem is that it would be way too time-consuming for each company to find willing participants one by one and set them up for website testing.
That problem has been solved with the introduction of website testing platforms that connect webmasters with visitors.
These platforms act as the middleman between webmasters who want to conduct user testing, with visitors who are looking to make extra cash as a site tester.
Interested?
Here are the sites you want to use:
Here are some of the best user testing sites:
2. Get paid to listen to phone calls
How many times a day do you listen to voicemails and recorded messages on your phone?
If you're like most people, at least a few, I'd say.
But you never get paid for listening to your voicemails, do you?
Of course not!
What if I told you there is a way to make money listening to voicemails?
It's true!
There is one downside though…
They are not your voicemails!
In fact, they are not really voicemails, they are recorded calls.
You know how when you call a company sometimes the operator says something like "this call is being recorded?"
You know why they record them?
For a few reasons, actually, but for our purposes, it's so that they can listen to them later and review the performance of their customer service representatives.
That's how they improve their over-the-phone customer service.
But what does it have to do with you?
You can make money listening and reviewing those same calls.
How?
Through a company called Humanatic.
Humanatic helps hundreds of companies review their recorded calls by hiring freelance reviewers.
To get started, all you need to do is:
Sign up for free.
Link your PayPal account to your account (so you can get paid.)
Then apply for available review jobs that interest you.
Get paid once a week.
Companies you should use:
What I love about working with this company is that you can create your own schedule and you get paid weekly.
3. Run virtual errands
Remember when you were a kid and people would give you a little bit of money to do errands for them?
Remember how much you made?
Whatever it was, it was awesome, wasn't it?
Well, you can now do the same thing!
But there is one huge difference…
…you don't have to leave your house!
You get paid to do errands online.
But how do you do errands from your couch?
Simple, you do digital errands!
It's basically you, working as an online virtual assistant.
And the good news is that you don't have to go looking for clients.
There are already platforms where clients and VAs can find each other.
You can do all kinds of simple tasks and get paid for 'em.
For example:
Making calls to service providers
Scheduling appointments
Buying tickets for events and travel
Reserving a hotel room
You get paid per task starting at $3 all the way to a few hundred dollars or more depending on the task.
Some of these platforms will pay you via PayPal and some with a check.
You can actually make good money doing this.
Interested?
Here are the sites you want to use:
4. Get paid for being opinionated
How many times have you bought a product or a service that you thought could use some improvement and you knew how to actually improve it?
Probably more often than you can remember.
Wouldn't it be nice if these companies paid you for telling them what's wrong with their products and services?
They do!
Yes, there companies that pay you for your opinion.
Why?
Because it helps them improve their products and even develop new and better products.
That's the whole idea behind market research and the studies and surveys they conduct.
But conducting surveys and finding individuals who are willing to give their opinion can be time-consuming and expensive for companies and manufacturers to do on their own.
That's why they go through market research firms.
These firms get paid a lot of money to conduct surveys on behalf of these companies.
And to entice consumers to participate, they give some of that money to the participants as a reward for their time and feedback.
Some reward the panelists with free gift cards, some with cash, some with checks, and others with various prizes and freebies.
To join, you simply sign up with these survey panels for free, fill out your profile, then whenever there is a survey that matches your profile (for example, a manufacturer may be wanting to get feedback just from 20 to 30 year olds earning under $40,000 a year) you get an invitation.
How much do you get paid?
These surveys can last anywhere from 1-2 minutes to an hour or more. The average is somewhere around 10 minutes.
The pay depends on the length and the importance of the survey. Usually, the longer it takes, the more you are paid.
You can expect anywhere from $0.50 all the way to $50 per survey, with the average being somewhere around $5 for a 15 minute survey.
You know the best part?
You can take these surveys from anywhere and anytime.
You can be in the doctor's waiting room, at an airport waiting for your flight, on the couch watching TV, it can be 2 o'clock in the morning, 1 o'clock in the afternoon, it just doesn't matter. As long as you have an internet connected device, you are good to go.
Here are the sites you want to use:
5. Get paid for searching
How many times a day do you Google something?
10, 20, 50, 100?
Does Google pay you for them?
I don't know of anyone who has gotten a single dollar from Google because they used Google to search.
But I do know of many people who Microsoft pays for searching on Bing!
Yes, you can get paid for searching the web.
I know it sounds like it's too good to be true, but it is real.
It's through a Microsoft program known as the Microsoft Rewards.
"But why would Microsoft pay me for searching?"
What is the number one search engine in the world?
Google!
Google has more than 60% of the search market (which makes them billions of dollars every year.)
Microsoft, on the other hand, has only about 20% of that market.
And Microsoft doesn't like that!
So, in order to entice you to choose their search engine, Bing, over their giant competitor, Google, they came up with their loyalty program, Microsoft Rewards.
Here's how it works:
You sign up for the program for free with your email (Hotmail, Outlook or any other Microsoft owned email service.)
Then search as you normally would, but on Bing instead of Google.
For every search you do, you earn points.
Once you have enough points, you can redeem them for gift cards, cash and other prizes.
That's the basics of it.
There are, of course, ways to earn more rewards faster and easier. We shared a few tips for earning more Bing rewards points in our detailed review of Microsoft Rewards.
Where to sign up:
6. Get paid for shopping online
If you're anything like me, you probably do a good portion of your shopping online.
But did you know you can actually get paid for buying what you already were going to buy anyway?
This is possible through cashback sites.
"But why would cashback sites pay me for buying what I was going to buy anyway?"
To make money!
Yes, cashback sites actually make money by paying you to shop online.
You know how some companies pay you for referring your friends and family? Maybe even the company you work for pays you for referring a new worker.
Online retailers do the same thing…
…to get more customers and sales, they pay people/websites for sending them new customers.
It is known as "Affiliate Marketing."
Cashback sites, in return, share some of what they get paid for online retailers with shoppers to entice them to go through their cashback portal.
"Yeah, but don't I end up paying more for the same product(s)?"
No!
Nothing changes for you. You pay the exact same price as you would have had you visited the retailer's site directly.
In fact, in some cases, you may even pay less. Cashback portals can actually negotiate exclusive deals and discounts for their members that you can not find anywhere else.
So, not only do you get paid for shopping, but you also save some money thanks to the exclusive deals and discounts provided by the cashback site.
Interested?
Here are some of the…
Best cashback sites you should use:
7. Make money writing jokes
Ever got paid for telling a joke?
Now you can!
There is a site that pays you for sending them new jokes.
It's called Cracked.com and it is one of the most popular comedy sites.
They publish all kinds of comedic stuff from videos to blog posts and everything in between.
They accept jokes and funny stuff in a few different forms:
Featured Articles: These are funny list-style articles (like 26 Sexy Halloween Costumes That Shouldn't Exist.)
Infographics: These are "bite-sized comedy" that are accompanied with charts/infographics which are very popular these days.
Photoplasty Contest: If you like manipulating pictures in humorous ways, you can enter this contest to win cash.
Videos: Capture funny stuff you and your friends do (pranks, sketch comedy, etc) and get paid.
They pay between $50 to $200 for any form of funny content.
Here's how to get started:
This is perfect for you if you are the one making friends and family laugh all the time.
8. Start a blog about your favorite hobby
How much do you spend on your hobby?
Most of us never make any money with our hobbies.
Some of us do manage to turn our interests into money-making hobbies.
Most of us though, only spend money on our hobbies and interests.
Are you one of them?
Wouldn't it be nice if you could make some money with your hobby too?
Well, you can…
All it takes is sharing it with the world!
These days creating a blog is really easy, thanks to free blogging platforms like WordPress.com.
You don't even need to know coding to do this. There are pre-made templates, plugins, step by step guides, and online forums that make it easy for anyone to start a blog.
Now, starting a blog is easy, but making money with it isn't that easy.
To make money with your blog you have to promote it.
And promoting a blog takes hard work and dedication.
Thankfully, there is no shortage of ways to promote your blog.
Social media, especially, make it very easy to get your content in front of interested people.
If what you write is interesting, people will start coming to your blog. It won't happen overnight, it will be slow, but it will happen.
And when that happens (you start to receive decent traffic to your blog) you can think about monetizing your site.
You can place ads.
You can do affiliate marketing.
You can create and sell your own eBooks (for example: "10 Easy DIY Woodworking Projects.")
Etc.
The best part is that you don't have to spend a dime to get started.
Start a blog for free with free blogging sites like Tumblr or WordPress.com. In fact, many famous blogs were started on blogging platforms like Tumblr.
Once you start to receive some traffic, you can buy your own domain name (for less than $10 a year) and a hosting account (for about $60 a year) that you can host your blog on.
This is not just for hobbies, anyone can do this. There are tons of successful mom bloggers that started just like that. Check out the Mom Bloggers Club for help, inspirations, and ideas.
If you've ever wondered "how to make money without working for someone," blogging is your answer!
Sites you should use:
Blogspot (Blogger)
9. Get paid to evaluate search engines
This is a fairly easy gig.
All you need is your computer and an internet connection.
Your job will be to test and rate search engines and how they function.
Companies like Google spend millions of dollars on improving their search results.
And one way they do that is by using search engine evaluators.
As a search engine evaluator, your job is to search for given queries and observe the results that show up, then provide feedback on whether or not the sites shown as the results for that specific search term provided information that clearly answered the query.
You can earn up to $15 an hour for doing that.
Sites you should use:
Awesome side hustles to make extra money without getting a second job
Don't mind leaving the house to make that extra dough?
Check out these ideas…
10. Do errands
Remember we talked about doing errands online?
What if you like getting out of the house once in a while?
Can you still make money doing errands just like when you were a kid?
Yes, you can!
But you don't need to do errands for your dad or your auntie anymore.
There are tons of people who can use your help.
How do you find them?
You don't have to – somebody else has already done that for you.
All you have to do is install a free app and pick the task you want to do.
This is all possible thanks to a few apps that basically act as platforms for you (the tasker) and clients (the people who need somebody to do small talks for them) to find each other.
What kind of tasks, you ask?
Almost anything you can think of.
Let me give you a few examples:
From simple things like:
Waiting in line
Doing laundry
Ironing clothes
Confirming reservations
…
To more traditional gigs like:
Yardwork
Cleaning
Delivery
Pet sitting
…
The best part about using these apps is that you can set your own schedule.
Whenever you have a few free minutes and feel like making some quick cash, open the app, find a task near you, accept it, get it done and get paid.
Simple as that!
Apps you should use:
11. Get paid to shop, eat, and explore your city
Like hitting the town on the weekends?
Enjoy shopping and dining after a hard day's work?
Wanna do all of those things and make money at the same time?
We've got you covered!
There are actually apps and sites that will pay you for shopping, dining out, and even exploring your own city.
Let me explain…
Restaurants, bars, and retailers often like to do audits of their business.
These audits help them fix potential issues and improve the overall quality of their business.
In order to do that, they like to hire everyday shoppers and diners to go out and observe things.
The tasks include, for example, checking sale prices, or reviewing available promotions.
You often will be taking pictures of whatever product that is requested.
The best part about this is that you don't have to go far. These apps will display only tasks that are near you.
And you can do them while out and about.
Sometimes you may even get audit requests of places that you often go to, like your favorite restaurants, bars, or clothing stores.
Sites you should use:
12. Get paid for walking around your town
Wouldn't that be a dream come true – you getting paid for exercising and getting healthier?
Well, it's no dream…
…you can actually get paid for walking!
Ok, maybe not for the actual walking part, but it is very close.
Let me explain…
There is an app called GigWalk that is very similar to some of the apps I mentioned above.
There are two sides to this apps and how it works:
People who need small tasks done but don't have the time to do it themselves, go on GigWalk, post their tasks and how much they are willing to pay someone to get it done for them.
On the other hand, people who are looking to earn a little pocket money, review these tasks and offer to do the ones they are interested in.
Once it's all done, the client pays and the "walker" gets paid.
It is as simple as that!
App you should use:
13. Make money as a Secret Shopper
If you enjoy shopping, this is right up your alley.
One of the most practical and effective ways companies improve things that affect their bottom line – store displays, employees interacting with customers, cleanliness of the store, etc – is through Mystery Shopping conducted by random people that the store employees don't know.
No, instead of spending a lot of time and money trying to find secret shoppers on their own, businesses go through research firms that conduct mystery shopping on their behalf.
These firms usually have a panel with a list of available mystery shopping jobs where "agents" can sign up for free and make a little money doing various available secret shopping assignments.
Here's how it works:
You walk into the store posing as a real shopper while gathering information required for the assignment.
Once the assignment is over, you are asked to answer some questions related to your experience.
You get paid.
The assignments vary.
You may be asked to look at things like:
The quality of customer service.
Whether or not the employees were helpful and friendly.
Did the product displays entice you to buy something.
Was the store clean.
…
Now, some companies will pay you for doing the assignment.
Some will pay for your expenses and let you keep whatever you bought, for free.
All of them though will cover your expenses and reimburse whatever you spend – whether it was on the gas, food, or whatever else related to the assignment.
Interested?
Companies you should use:
Scam warning
There is one big issue that you need to be aware of.
Mystery shopping scams!
Unfortunately, the mystery shopping industry is plagued by scams.
There are scammers who take advantage of people interested in mystery shopping.
The main scam is the "Western Union Check" scam.
This is how it works:
You get a call, email or even mail from a company claiming they are a market research firm, conducting a mystery shopping assignment.
They then tell you that they usually pay most or all of the pay before you even start the assignment.
They then send you a check via Western Union for x amount (let's say $600.)
They ask you to deposit the check in your bank account and send a small portion of it back to them (let's say $200.)
You can' believe it. You just got paid $600 without even doing anything yet. So you happily withdraw $200 from your bank and wire it to the person via Western Union.
Here's where it gets dark…
A few days later, your bank notifies you that the check has bounced.
You think to yourself, "I knew it was too good to be true, but that's OK, I didn't lose anything but a little time communicating back and forth with these guys."
Here's the shocker…
You did lose something…
…$200 + bounced check fees from your bank!
Yeah, even though the check has bounced, the $200 you wired to them came from your own money, not the bounced check.
There are, of course, other scams as well. But this is one of the biggest ones.
So please be careful and keep in mind that no legitimate mystery shopping company will ever pay you beforehand nor will they ever send you money via Western Union and ask you to wire some of it back to them.
14. Watch movies at the Theater for free and get paid
This is very similar to mystery shopping, but instead of shopping and dining, you go watch movies at the theater.
Movie theaters, like stores and restaurants, use secret shoppers to evaluate their theaters and their employee's performance.
It works exactly the same way as store or restaurant mystery shopping – you walk into the theater posing as a real movie goer and gather information that the assignment asked for.
Here are a few things you could be doing:
Checking movie trailers that are shown before the main movie.
Checking on-screen ads.
Secretly or openly (depending on what the assignment asks for) counting the number of people at the theater.
Checking how many people are watching the "sneak preview" of a movie that's not out yet.
Checking the lobby, how clean it is, promotional materials, etc.
Gauging the reaction of other movie goers to specific trailers.
Buying a ticket and watching the movie, then providing feedback on your experience.
Sounds like it could be a lot of fun, right?
It is actually fun.
Companies you should use:
By the way, for more details and legitimate movie mystery shopping companies, check out our Movie Mystery Shopping post.
15. Earn cash delivering groceries
Do you like roaming the grocery aisles and filling up your cart?
Then this is the perfect gig for you!
There are companies now that offer to deliver groceries for shoppers.
Of course, to make this a viable business, they have to have local people who can deliver groceries fast.
So, they have set up platforms where you (the delivery person) can sign up for free and earn extra money in their free time delivering groceries.
Here's how the whole thing works:
Shoppers install the free app.
They then choose the items they want and submit their order.
You (the delivery person) gets notified immediately of any new available delivery gig in your area.
If you accept the job, you hit the store, fill up the cart with the items listed in the shopper's virtual grocery list.
The next step is delivering the groceries to the buyer and getting paid.
How much can I make?
It really depends on the company you choose to work with.
For example, Shipt pays you $5 flat per delivery, plus 7.5% of the order total.
This is especially perfect for stay at home moms and dads, workers with layoffs, students looking to make extra money or anyone who has free time and wants to turn that free time into cash, really.
Companies you should use:
16. Get paid to deliver packages for Amazon
Let's stay with the "delivery" theme a little longer.
Did you know that you can make money delivering for Amazon in your neighborhood?
Yes, it's real!
Amazon recently introduced Amazon Flex, a service that outsources the delivery part.
Here's how you can get started:Visit Amazon Flex.
Choose what city you want to deliver in (they currently only operate in a few dozen big cities but are expanding rapidly.)
Then answer a few questions (like what kind of phone you have, how old you are, what kind of car you have, etc.)
Then you'll be directed to install the free Amazon Flex app.
From that point on you'll be interacting with the app.
As far as how much you can make, Amazon says drivers can earn between $18 to $25 an hour.
You know what the best thing about delivering for Amazon is?
You can build your own schedule and work any day of the week you like.
You can schedule ahead or pick up any available block of time. That way, you'll know exactly what day and what time during that day you'll be delivering.
Where to apply:
17. Make money with your car
No, we're not talking about the same old "driver for Uber" (which we actually covered in our "how to make money driving for Uber" post) that everybody and their mother seems to be doing.
We're talking about becoming a Brand Ambassador.
There are companies that pay you for the real estate on your car.
Have you ever noticed those Monster trucks or Red Bull cars?
The ones with pretty and "in your face" kind of pictures on the side or back?
The owners of those cars are getting paid for driving around in their car.
Companies and business use "Car Wrapping" to get the word out and draw attention to their products.
And it works amazingly as it is evident by the success of products like RedBull and Monster.
Here's how it works:
Visit one of the sites (linked below) and apply for free.
This will add your details to their database.
Then whenever there is an ad campaign that is a good fit based on your profile (your demographic, geographic and psychographic details,) you'll be notified.
They will then send installers to your house to wrap your car with (usually vinyl decal that won't damage your car and come off easily when it's time,) the ad.
Here's the thing…
You don't have to change anything about your driving habits or routes.
You do your normal daily commute as usual. The only difference is that your car acts as a mobile billboard.
How much can you make?
Depends on your car, your daily commute and the advertiser, of course.
But you can expect around $400 a month at the very least. If you have a big truck or van with a daily commute on a very busy route, you can make way more money.
Companies you should use:
Final words
As you can see, in today's technology driven world, you don't even need a traditional 9-5 job to make a living.
There are so many ways you can make money that won't require you to have an actual job.
We haven't even scratched the surface.
I am sure you probably have a strategy or two as well.
Please share your strategies in the comments section below.
I'd love to hear how you make extra money without a "real" job.