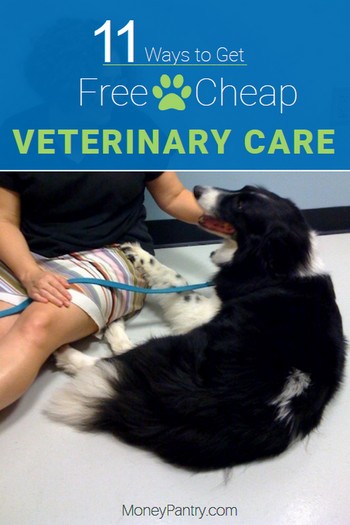 "Are there any free or low-cost veterinary care services near me?"
When your pet gets sick you want to do everything you can to care for them and restore their health.
But vet care can be very costly, and if you're unemployed, living on a low income, or just going through a tough phase financially, affording it can be difficult, if not impossible.
Sure, there are ways you can save money on vet bills, but there are also many wonderful organizations and charities that offer low cost and even no-cost veterinary services for dogs, cats and other pets.
Free Vet Care
Getting completely free veterinary care for your pet can be tough, but there are a few organizations out there that offer financial assistance, including:
1. PAWS
PAWS is an organization that helps people to pay for vet care.
It also offers a variety of no-cost veterinary services, like vaccinations and microchipping. PAWS offers this free veterinary care to pet owners that are living on a low income.
If you want to get help from PAWs, visit the link below.
2. AVMF's Veterinary Care Charitable Fund
The American Veterinary Medical Foundation (AVMF) offers a program called the Veterinary Care Charitable Fund.
It helps veterinarians to provide low cost and free veterinary care for low-income pet owners, disabled veterans, and victims of domestic violence.
You can learn more about the fund on their site.
The program is open to current clients of AVMA member veterinarians who are enrolled with the AVMF.
Ask your personal veterinarian if they are enrolled. If not, your veterinarian can contact AVMF for more information on participating in the program.
The Prince Chunk Emergency Veterinary Care Assistance Program provides free emergency vet care to pet owners that are struggling financially.
What's great about this program is that you can pre-apply for it. So, even if your pet is healthy now, you can apply for funding for future emergency care, should your pet need it.
Then, if an emergency does occur, the program will pre-approve your application and keep it on file, and then your pet can get care as quickly as possible.
So, whether you're living on a low income or are looking for free vet care for unemployed pet owners, you should definitely take a look at the Emergency Veterinary Care Assistance Program
You can find out if you are eligible for the program, by reading the "Maximum Family Income Eligibility" Document. All the documents you need, contact numbers and more information about the program can all be found on the page below.
4. First Coast No More Homeless Pets (FCNMHP)
FCNMHP is an organization that offers free, discounted and low-cost veterinary services. It offers free services in certain areas, like spaying/neutering. If you want to learn about which free vet services are available, then visit the "Free, Discounted, and Low-Cost Veterinary Services" (link below) page of the FCNMHP website.
The organization also provides a plethora of low-cost vet services. Since 2009, the FCNMHP has provided more than 60,000 pets with state-of-the-art medical care at 40 percent less than the cost of most veterinary clinics.
5. Local clinics near you
A lot of local clinics offer free veterinary care. At these clinics, you can get treatments and medical care for your pet.
These clinics generally provide free or low-cost spaying/neutering, but sometimes they offer other basic services.
If you're wondering "how can I find free vet clinics near me?", then you should check out the links below.
On the pages linked below, you can search for clinics in your area:
How to Find Low Cost Vet Care Near Me!
Unfortunately, there aren't that many organizations and animal hospitals out there that provide completely free veterinary care, but there are many that offer low-cost vet care.
This can be really helpful if you're struggling financially.
Here are a few organizations and resources you should check out.
6. SpayUSA
The aim of SpayUSA is to provide low-cost spaying and neutering services to pet owners. It acts as a referral service that connects pet owners in need of financial assistance to over 1,500 low-cost clinics and sterilization programs.
For more information on the program, visit SpayUSA.org.
7. Shakespeare Animal Fund
The Shakespeare Animal Fund provides financial assistance to pet owners who can't afford to pay for veterinary care.
It assists pet owners who have a fixed income or earn below $35,000 per year. The organization offers one-time grants.
You can learn more about eligibility requirements and how the organization can help you by visiting ShakespeareAnimalFund.org.
8. Visit a veterinary school or college near you
Many veterinary schools offer the same services that veterinary clinics do, but at a much lower cost.
All of the procedures and treatments performed by students are supervised by a vet too.
If you want to find an accredited veterinary college near you, then check out the Accredited Veterinary Colleges list from the American Veterinary Medical Association.
9. Local animal welfare groups and charities
A lot of local animal shelters, animal welfare organizations and rescue groups provide low cost vet care. They usually offer routine care and services like spaying/neutering.
If you want to find a welfare group, charity or organization in your area, then check out this list from Petfinder.com or this list from The Humane Society.
10. Compare prices for prescriptions
Pet medication can be pricey. And as far as I know, there aren't any prescription discount cards or programs like there are for humans, for animal prescriptions. That said, if you do a little research, you might be able to find it at a lower cost.
Take the time to compare the prices of medication from places like:
You might find that the prices at your vet's are cheaper or more expensive, but it's always good to do a bit of comparison shopping.
Always be careful when you're buying medications for your pet. Only buy from reputable, well-reviewed sites. You don't want to put your pet's health at risk.
There's a useful guide from the USFDA that offers advice and safety tips for buying pet meds online. Check it out here.
11. Check out our list of organizations that help with vet bills
We recently published an in-depth post that lists more than 20 organizations that help with vet bills.
You should definitely check it out for more resources.
Bottom Line
Paying for your pet's care can be tough when you're already struggling financially. Whether you're unemployed, living on a low income or are just going through a tough financial phase right now, these free and/or low cost vet care services can be tremendously helpful.