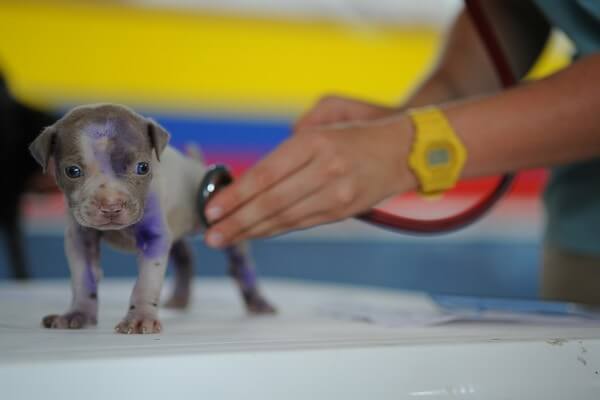 I love my dog to death!
I would give my life for her (and that's not just an empty statement, I truly mean it!)
I would spend every last dime I have to get her medical help if she needed it.
And sometimes, it does seem like you're spending all your savings paying vet bills. According to the APPA, Americans spent $15.42 billion on vet care in 2015.
That's a pretty substantial amount.
As I said, I love my dog so much that I would empty out my life savings if I had to. And I know most pet owners would do the same for their furry friends.
But the reality is that no matter how much you love your pet, for a lot of families, it's not a matter of having the money and not wanting to spend it, it's a matter of not having the money in the first place.
So being able to lower the cost of veterinarian visits and medications is essential for a lot of families.
If you're wondering how to save money on vet bills, check out our handy guide. It will help you to lessen the financial impact of being a pet owner.
1. Keep Pets a Healthy Weight
If you want to lower vet bills, then make sure to maintain a healthy lifestyle for your pet. Many of the health problems that affect pets, like cats and dogs, are caused by them being overweight or even obese.
Dogs, cats, and other pets that are on the heavier side are at a higher risk of issues like diabetes, high blood pressure, and arthritis.
So, make sure that you don't overfeed your pet and that they get plenty of exercise – this will not only save you money on vet bills, but also on food!
Ask your vet for advice on how much your pet should be eating.
You can also find a lot of info online about how much to feed certain pets.
Here are a few great resources:
2. Take Your Pet for Checkups
While it might seem pricey up front to take your pet for regular checkups, it can actually save you money in the long run.
When you take your pet for a physical examination, the vet can detect issues early on, before they turn into a more complicated and expensive problem – essentially, you can save yourself a ton on medical bills just by taking your pet for checkups.
Dogs and cats, depending on their age and breed, require a checkup once to twice per year – ask your vet how often your pet requires a checkup.
3. Use the Right Supplements
Using nutritional supplements can have a really positive impact on your furry friends' health.
Many of them can help boost your pet's immune system, and improve their overall health. But, be careful not to get caught up in the marketing hype when choosing supplements – many supplements are unnecessary.
Instead, ask your vet about which ones your pet would actually benefit from.
When you give your pet supplements, it keeps them healthy and prevents future trips to the vet.
Here are a few resources for you to check out:
4. Look Around for the Best Deal
Did you know that fees for treatments and procedures can vary significantly from one vet to the next?
Really!
One vet might charge significantly less than another for checkups.
Or you might find that one facility charges much more for an ultrasound than another one does.
So, take the time to shop around for services and call to get a few quotes – when you do this, you can often save yourself a lot of money on vet bills.
5. Consider Veterinary Colleges
Veterinary colleges are one of the best places to find cheap pet care services.
At vet colleges, students looking for practical experience offer services like checkups and vaccinations. Some also offer basic procedures too.
And, most of these services and procedures are overseen by an experienced vet.
So, if you're really struggling, then it's definitely worth contacting a local vet college.
Check out this page to find accredited veterinary colleges.
6. Pick up Medications and Treatments Elsewhere
Some vets markup treatments and medications they prescribe, meaning you can end up paying more than you really need to.
So, if your pet is prescribed a particular medication, then don't automatically buy it from your vet.
Instead, ask for a written prescription and then call and ask around for the price of that medication at other vet facilities – you might find that you can get the prescription filled for less elsewhere or you'll find that your vet does, in fact, offer the best price.
7. Stay up to Date with Vaccinations and Treatments
Staying up to date with vaccinations and treatments can save you a lot of money on vet bills in the long run.
When you stay up to date with your pet's treatments and vaccinations, it prevents them from developing health issues that are more expensive to treat.
For example, treating heartworms is much more expensive, than simply preventing them.
So, ask your vet for advice on what vaccines and treatments your pet needs.
8. Reach out to Organizations That Help with Vet Bills
There are many organizations out there, like the ASPCA and The Humane Society, that want to ensure that low-cost pet care is available to everyone. So, these organizations often provide discounted services.
They often hold events throughout the year where they provide vaccinations, spay/neuter procedures and other treatments and services. So, contact them and ask about any discounted services and other resources in your area.
Also, if you're really struggling, as your pet needs a treatment that you can't afford, then consider contacting an animal welfare charity.
Take a look at this page for animal charities.
9. Ask About a Payment Plan
Did you know that some vets give you the option to set up a payment plan, rather than paying for treatments and procedures upfront?
If there's a particularly expensive treatment or procedure that your pet needs, then ask your vet if you can set up a payment plan and pay it off slowly over time.
10. Consider Pet Insurance
Getting pet insurance can be a good option financially – particularly when it comes to expensive or unexpected treatments and procedures.
It can save you thousands on vet bills.
So, it's definitely worth considering. Just make sure that you shop around to get the best deal.
To get a quick estimate on how much ensuring your pet will cost, use ASPCA's Pet Insurance quote tool.
If you don't want to get pet insurance, then consider setting up a savings account for your pet – each month you can deposit money into the account. Then, if your pet ever does need an expensive procedure, then you'll have the money there.
Final Word
Having a pet is wonderful, but it can also get pretty costly. So, if you want to lessen the financial burden a bit, then make sure that you follow these tips.