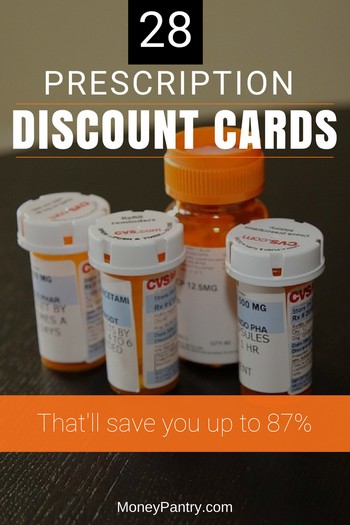 Want to save nearly 90% on your prescriptions each month?
Prescription discount cards can help!
Many are free to download and some can be mailed to your home.
They work a lot like coupons.
Carry them with you and show them to your pharmacist at checkout to save on your prescription costs.
Up to 45% of Americans have trouble paying for their subscriptions, according to GoodRx, which offers one of the best prescription savings apps as well as digital or physical discount cards.
Need Easy Extra $300+/Month for Free?
KashKick
: Get paid directly into your PayPal for watching videos, surfing, shopping and more.
Join KashKick Now!
InboxDollars
: Paid over $57 Million to members to watch videos, take surveys, shop and more.
Get $5 instantly!
Branded Surveys
: Get $1 instantly just for joining for free. Plus get paid within 48 hours by PayPal!
Join Branded Surveys
First Opinion
: Get paid up to $10 per survey and $300 per virtual focus groups!
Join Now!
Swagbucks
: Get paid to watch videos, shop online, take surveys and more.
Join now & get $10 instantly!
Not only that, according to the 2013 National Health Interview Survey by the NCHS, to save money on medication, almost 8% of U.S. adults don't take their medication as prescribed.
Thankfully,  there are things you can do to save money on your prescription costs including using prescriptions or pharmacy savings cards.
In this post, you're going to find some of the best cards that will save you up to 87%.
But first…
How do prescription discount cards work?
A prescription discount card, also known as "Rx cash card" is a product developed by companies known as "Pharmacy Benefits Managers".
To begin with, a PBM has to set up a network of participating pharmacies that agree to accept their card.
Then the PBM has to negotiate a discount (based on a percentage of the price of the drug) with each participating pharmacy.
Once they have that in place, they start marketing their card so you and I can find it.
The PBM makes its money from the fees that the pharmacy pays them.
But why would a pharmacy accept to sell their drugs for cheaper?
Because accepting a drug saving cards gets them more customers, perhaps new customers that otherwise might not have filled their prescription with them.
And believe it or not, even after all the discounts, the pharmacy still makes a ton of profit.
There are, of course, details that vary from card to card, but that, in a nutshell, is how a pharmacy discount card works.
Now, on to the list of best drug savings cards…
1. GoodRx
GoodRx is a mobile app and totally free prescription discount card that can save you up to 80% on your prescriptions each month, even if you have insurance or Medicare.
You only need one for the entire family – even pets!
Visit the GoodRx website and fill out a simple form to get one in the mail, or look for the cards in your local clinic or doctor's office.
Present them the next time you check out from your pharmacy and see instant savings!
Read our detailed review of GoodRx prescription discount for more details and how to get the most out of it.
2. FamilyWize Prescription Savings Card
Whether you're insured or uninsured, you can use the FamilyWize prescription discount card to get the lowest possible price for your medications at major chains & independent pharmacies nationwide.
The card's claim to fame is helping more than 10 million people save more than $1 billion since 2005.
You can start saving on your prescription medications today – just go to the website and click "Discount Card."
You can have yours texted, emailed or sent to you via snail mail. You can even download your card instantly.
Before you go to the store, use FamilyWize's Drug Price Lookup Tool. You'll be able to see your prescriptions' retail cost, and how much you can expect to save.
Make sure you present your card and ask for the lowest price.
3. SingleCare
The SingleCard can save you money on your prescriptions, dental, vision, and video doctor visits. The more you use it, the more savings you can access.
The app and website can help you find the best prices in your area, and then access savings once you get there.
To get started, visit the website and click "Get your free card." Fill out the basic form information, including your name, gender, and birthdate, add an email address, create a password.
Here are some examples of drug and procedure costs with SingleCare savings:
Generic Lipitor: Average price $97, with SingleCare $16
Cavity filling: Average price $192, with SingleCare $98
Eye exam: Average price $97, with SingleCare $62
Video doctor visit: Average price $49, with SingleCare $45
4. HelpRx
HelpRx is a mobile discount card and app that claims to save users an average of 50% on their prescription medications, around $150 cash.
Saving is easy and instant – right at the cash register. All you have to do is download the app, search for your medication, retrieve a coupon and show the coupon to your pharmacist.
The card, a completely free service, gives you access to more than 50,000 discounts.
Users have reported getting four prescriptions for the price of one, paying only $13 for a $36 prescription, and $15 for a $60 prescription.
5. LowestMed (now RetailMeNot RxSaver)
LowestMed is now the RetailMeNot RxSaver.
It's a mobile app available for Android or iOS, which provides a prescription medication search.
Either open the app or visit the website and search using the name of the drug and your zip code. RxSaver will show you the prices for brand name and generic drugs in your vicinity.
Click "Get Coupon" to show a coupon you can use at the register. Click "print coupon" or show the digital coupon to your pharmacist at checkout to save.
It's free!
The coupons never expire and can be used an unlimited amount of times.
That's one of the many awesome features of RetailMeNot that you can find in our RetailMeNot guide.
6. Easy Drug Card
This free discount drug card works like a coupon and can save you as much as 80% on your prescriptions.
Just go to the website and download the ready-to-use card by clicking "Get My Card Now."
You can also download the card via the mobile app.
You can use it whether or not you have insurance at more than 60,000 pharmacies nationwide.
7. RxCut Savings Card
There are no membership fees to reap the benefits of the RxCut prescription drug card.
Click "get your free card now" on the website to get started.
Your new savings card can be texted or emailed to you, printed from the website, snail mailed or downloaded directly to your phone.
When the Group and Bin number from the card are entered into the pharmacy's system, you'll unlock discounts based on the pharmacy's agreement with RxCut.
The program is completely free and can save you up to 87% on generic and up to 25% on brand name medications.
8. AARP Prescription Discounts (OptumRx)
The OptumRx card can help AARP members save an average of 61% on all FDA-approved prescription drugs when they're not covered by primary insurance or Medicare Part D.
It's free to sign up online or by calling 1-877-422-7718.
To get your card, sign into aarppharmacy.com or call to receive it by mail. Then, just show the card at more than 66,000 pharmacies nationwide to save.
9. SlashRx
SlashRx can save you up to 87% off retail prices at most major retail chains and independent pharmacies nationwide.
In some cases, the price may be lower than your insurance.
The program is free to use, does not require signup, works whether you're insured or not and never expires.
Just click "Get Your Card" on the website to get started. You can have it texted or emailed to you, printed from the website, snail mailed or downloaded directly to your phone.
Use the ScriptDiscount.com savings finder to search prescription savings near you.
10. America's Drug Card
America's Drug Card claims to help save users an average of 55% on generic, 15% on brand name prescriptions and 80% on international brand name mail orders.
Pricing info available is available at www.MedAffordGlobal.com/1card.
No sign up is required. Simply visit the website and print the card.
According to testimonials on the site, one woman said she purchased anti-seizure medication that typically cost her $385 monthly for only $15.
11. FreeRXPlus
FreeRxPlus is a free drug savings cards you can download and print right now – straight from their website.
You can also fill out a quick form to have one mailed to your home.
According to testimonials on the website, the card saved one user more than $300 on a single prescription at Sam's Club when it wasn't covered by insurance.
Another person claimed to save $188.
12. NeedyMeds
The free NeedyMeds Drug Discount Card claims to have saved users more than $242,940,000 and counting.
To get started, download the card in PDF form from the website.
If you want plastic cards (up to five) mailed to you, you must fill out a simple form and then send a self-addressed envelope and suggested donation to help defray costs. One card can be shared with friends and family.
The card claims to save users up to 80% at over 65,000 pharmacies.
Warning: This card is not valid with other government-sponsored insurance plans, including Medicare and Medicaid.
13. eSun Patient Card
The eSun Patient Card is a free discount card from the Partnership for Prescription Assistance.
To participate, you must apply at https://www.pparx.org/gethelp.
14. PharmacyCard.org
PharmacyCard.org's Prescription Savings Card claims to be the nation's leading drug discount card in average savings.
With 10-75% saved, the card nets 62% on average at the user's point of purchase.
Print the free pharmacy card from the website. All you have to do is fill out a quick form before doing so.
PharmacyCard.org receives a small fee from the pharmacy every time their card is used to help them offset operation costs, which translates to no fee for users!
The site vows to keep user information private and includes a pharmacy finder tool that's also free to use.
15. RxCareCard
RxCareCard is a free prescription discount drug card that can save you up to 80% on prescriptions for the whole family – including pets.
You can print your card straight from the website.
One testimonial on the website says a woman brought her prescription costs from $166 a month to $332, adding up to a savings of $1,608 in a year.
The card is accepted at more than 67,000 pharmacies nationwide.
16. SuperRxCard.com
The SuperRxCard can save you and your family up to 75% on prescriptions – with an average user savings of 30%.
The pre-activated card can be printed, saved, emailed or texted to you straight from the website and used at more than 68,000 pharmacies nationwide.
Use it as your primary plan if you don't have insurance or on prescriptions not covered by your insurance.
17. TrueRxSavings
TrueRxSavings is free and can save the whole family up to 80% off prescription costs.
One card may be used for the whole family – no application required.
It works at more than 65,000 pharmacies nationwide.
Even if your insurance covers prescriptions, not all drugs are covered, or you may not save very much. Use this card to access even more savings.
18. Discount Drug Network
Get your free prescription discount card at Discount Drug Network to save up to 85% on medications you use daily.
The site also includes a drug pricing tool to help you access information about your prescriptions.
You don't pay for the service because the pharmacies do – they agree to let members access discounted pricing to get their business.
Some of the prices accessed are the same ones typically reserved for large insurance companies.
Any FDA-approved medications are available, but savings can vary. You can typically save more on generic drugs than brand named ones.
19. Mobile Rx Card
Mobile Rx is a mobile prescription discount card that provides 10-85% savings on brand name and generic prescriptions, diabetes supplies and smoking cessation aids at more than 60,000 pharmacies nationwide.
It's free to participate. Just show any card image from the website or mobile app (printed or digital) at your pharmacy to access savings.
The average amount of savings reported by users is around 47%.
20. HealthTrans
Join more than 2.3 million people who have saved on prescription drug costs with the HealthTrans Access Prescription Drug Discount Program.
The program is totally free and open to anyone.
And there's no waiting period – you can print your card from the website, have it texted to you, or even write down your code to begin saving.
The card works at more than 60,000 pharmacies, saving users an average of 55% on generic drugs and 15% on brand name drugs.
21. Paramount Rx
Paramount Rx is a fully-integrated direct-to-consumer prescription discount program.
Customers can go to the website and download a card instantly.
It comes ready for the whole family to use.
Savings can be as high as 20% on brand name drugs and 70% on generics, with an average savings of about 35%.
To check out the cost of a prescription before heading to the pharmacy, click on the drug pricing link on the website or call the member service phone number at (800) 928-4301.
22. FreeRxPlus
FreeRxPlus helps members access prescription savings as well as low-cost discount benefit plan options for dental, vision, chiropractic and pet care, among others.
Save up to 85% with this free program, whether you're insured, uninsured or underinsured.
For more information, visit the website or contact 1-888-412-0869.
Groups and organizations can receive discount cards in bulk just by filling out a form on the website.
23. Agility Rx
It's free to print your pre-activated Agility Rx Card.
It never expires and can be used by the whole family for savings of up to 75% at more than 63,000 pharmacies.
It's also available on your phone or tablet, in addition to the web, which also features an easy-to-use pharmacy calculator and drug pricing tool.
Total member savings as of now (at time of writing this post) total approximately $1,530,372,613.91.
24. UNA Rx Card
UNA Rx Card works at pharmacies in all 50 states, the U.S. Virgin Islands, Puerto Rico and Guam.
In 2015, the program claimed to have saved members an estimated $1.58 billion.
Thanks to the pharmacy discount card, drugs are more affordable to the uninsured and the underinsured.
There is no restriction on the card's use.
There are no enrollment forms or eligibility requirements to begin saving up to 75% at more than 68,000 pharmacies.
25. Simple Savings Card
Simple Savings Card generates users an average savings of $20 on each of their prescriptions.
The card is applicable at more than 60,000 independent and major retail pharmacies nationwide.
It's simple to get started. Click "Get a Card" on the website to download one today, then start presenting it when you check out at any pharmacy.
You can also text "SAVINGS" to 84464 to receive your card via text message.
Card users report saving an average of 40% and up to 80% on some prescription purchases.
26. WellDyne Wellcard
WellCard can help members access up to 50% savings on:
Prescriptions – up to 50% at over 59,000 pharmacies nationwide
Dental Care – up to 45% on all dental services at over 150,000 provider locations nationwide
Lab Savings
MRI & Imaging
Vision Care – up to 50% at over 11,000 OUTLOOK Vision providers nationwide
Hearing Care – up to 15% at 1,500 Beltone locations nationwide, and receive free hearing tests
All you need is one card.
To get it, visit the website and fill out a free prescription and health care discount card registration form.
After you register, you will be able to print your card immediately.
27. BetterRxCard
Better Rx helps users, especially the uninsured and underinsured, avoid paying the full cash price for prescription medications.
More than 63,000 pharmacies accept BetterRxCard.
To find out whether yours is one of them, check out the prescription calculation tool on the website.
Users automatically qualify! There are no exclusions or limitations. You can print the same card for all the members of your family.
After printing your card, simply present it at your local pharmacy and they will take care of the rest.
28. Refill Wise
Show your RefillWise card to your pharmacist to save up to 80% on your prescriptions.
You can print it or send the card to your email, where you can access it conveniently, keep track of savings, and earn cash rewards.
Just present your card at the pharmacy checkout to save. Anyone living in the United States, regardless of insurance coverage, is eligible.
The bottom line
Drugs are expensive and it seems the prices keep rising.
Unfortunately, there is not much we can do about that (besides pushing our representatives and lawmakers to do something about it), but thankfully there are things you can do to reduce your overall cost.
Take advantage of these free discount drug cards.
Talk to your pharmacy and find out if they offer pharmacy discount cards.
If you fill your prescription online, opt for online pharmacies like Phil pharmacy that offer free prescription delivery.
Ask your doctor to prescribe generic versions of your drug.
Also, don't forget to join pharmacy rewards programs. They may not save you thousands, but you'll get some cash back and exclusive deals and discounts that will definitely help you save some money.
Combined with the savings from these prescription discount cards, you'll be able to save $100s and even $1000s on your drug costs.