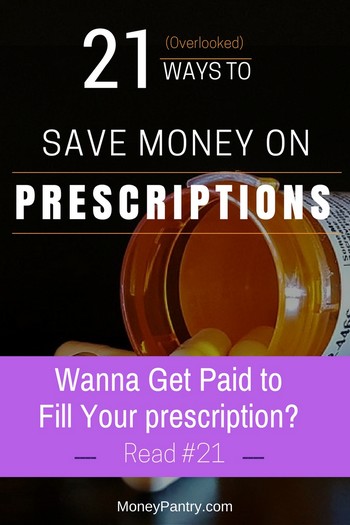 Prescriptions are expensive.
A study by Express Scripts has shown that in 2014 the average American spent $1370 on medications alone.
And that number keeps rising every year!
We all have so many things to worry about these days, being able to afford our medicine should not be one of them.
If you've ever thought:
"How will I pay for my prescriptions?",
"How can I save money on prescription drugs?",
"I can't afford to pay for my medication.",
…,
then this post is for you!
Need Easy Extra $300+/Month for Free?
KashKick
: Get paid directly into your PayPal for watching videos, surfing, shopping and more.
Join KashKick Now!
InboxDollars
: Paid over $57 Million to members to watch videos, take surveys, shop and more.
Get $5 instantly!
Branded Surveys
: Get $1 instantly just for joining for free. Plus get paid within 48 hours by PayPal!
Join Branded Surveys
First Opinion
: Get paid up to $10 per survey and $300 per virtual focus groups!
Join Now!
Swagbucks
: Get paid to watch videos, shop online, take surveys and more.
Join now & get $10 instantly!
Check out this list of 21 ways you can save money the next time you fill out your prescription.
1. Apply for a NACo Card
I want to start with one of the best prescription savings programs out there that not many people even know about.
The NACo Card, a program operated by CVS Caremark.
The NACo card is basically a free prescription discount program that caters to anyone who lives on one of the participating counties in the United States.
Who can apply?
If you don't have insurance or have insurance but your drug isn't covered you can apply.
According to the program, the card saves an average card holder around 24%.
Applying is very easy.
Here's how:
Visit nacorx.org
Fill out the submission form.
Next, put in your zip code to see if it's available where you live.
If so, congratulations, you'll receive your NACO card in a few days or so by mail.
Yes, it really is as simple as that!
2. Compare prices & get coupons
Goodrx is the best place to compare prices and find coupons and discount codes to save even more.
Prices can vary considerably depending on the pharmacy.
Make sure you are filling your prescriptions at the cheapest rate!
3. Get drug-specific coupons from manufacturers
Most drug makers offer coupons and discounts. The trick is knowing how to find 'em.
The good news is we found an easy way for you to locate such coupons.
There is a great site called InternetDrugCoupons.com that lists coupons offered by drug manufacturers.
Here's how you can use it:
Visit InternetDrugCoupons.com.
Enter the name of your drug and hit Search.
You'll be presented with a list of coupons for that drug.
Click on "Get Coupon" to print out yours.
It is as simple as that!
4. Go for generic drugs
Don't pay for brand names, pay for the ingredients.
And generic drugs have the exact same ingredients as their counterparts, but cost way less.
Be sure to ask your doctor if there is a generic option, these can be much cheaper.
5. Ask for an alternative if yours isn't covered
Check the formulary for your insurance company's favorites. (The list of medications that a prescription plan will cover is called a formulary.)
Show your doctor your formulary list and ask if there's another drug in a lower price tier that would work just as well for you.
Most health insurance companies have dedicated pages on their site where they list the covered prescription drugs. We included a few for some of the top health insurance companies below.
Prescription Drug List (Formulary) for:
6. Look for Pharmaceutical Assistance Programs
If you are enrolled in Medicare Part D, you may qualify to participate in a Pharmaceutical Assistance Program for the drugs you take.
To find out whether or not your drug is covered, check out this page on medicare.gov.
7. Use the Costco Member Prescription program
If you have a Costco membership, you can enjoy lower prices on all medications.
Here's how Costco explains the program:
The Costco Member Prescription Program is NOT insurance. The program is a value added benefit of a Costco membership that provides eligible Costco members and their eligible dependents with the ability to obtain lower prices on all medications.
You can learn more about it at Costco's official website at Costco Member Prescription Program.
8. Take advantage of AARP Prescription Discounts
Like Costco, AARP also offers a prescription discount card for its members known as the AARP Prescription Discounts.
AARP's Prescription Discounts is provided by OptumRx.
It gives you access to free exclusive discounts on prescriptions.
According to the AARP, you can "save an average of 61% on FDA-approved generic, brand name, or specialty drugs, not covered by your current prescription insurance or Medicare Part D plan."
You can learn more about it on AARP's official site.
9. Ask and you shall receive
Ask your pharmacist about deals or promotions that may not be advertised.
A very simple way to save more money on drugs.
10. Opt for Mail Order
Choose mail order vs in-pharmacy for filling prescriptions.
Mail order drugs are usually cheaper, and you save yourself a trip to the store!
11. Get a 90 day supply instead of 30
Companies often offer large discounts for filling a larger supply at once.
12. Take advantage of free samples
Free samples are often an option. Most drug companies provide free samples of medications to doctor's offices.
Talk with your doctor and be sure to let them know if you're struggling to pay, they usually have free samples available in the doctor's office.
You can also check the official websites of the drug makers for free samples.
13. Look into the Extra Help program
Learn about the Extra Help program.
Medicare beneficiaries with limited income may qualify for Extra Help, a government program that helps seniors with costs of a Medicare prescription-drug plan, including monthly premiums, annual deductibles, and prescription co-payments.
Extra Help can save you up to $4,000 per year.
14. Consider splitting higher-dose pills
There is often very little difference in price when it comes to different dosages of pills.
A 50mg pill will often cost almost the same price as the same pill in a 25mg dose.
Find out from your pharmacist if the medication you are using comes in different doses and if it is safe to split the larger-dose pills or not.
Please note that some pills are not safe to split, but your doctor and pharmacist will be able to give you reliable advice in this regard.
15. Charity programs that help pay for prescriptions
There are also non-profits and charities that focus exclusively on helping people pay for their medication.
One such an organization is the Patient Access Network Foundation (PAN).
PAN offers assistance to insured patients at certain income levels
If you are insured yet can not afford your medication, PAN has assistance programs to help you pay for your drugs.
The main qualifying criteria is that you need to be at a certain income level.
Here's how you can apply for PAN:
Click the "Apply Now" button.
Then fill out the application from which should take about 5-10 minutes or so.
If your application is approved, you will be provided with a monetary grant
More charities
PAN isn't the only charity doing such a great work either. There are many more out there.
Here are a few:
16. Maintain a healthy weight and lifestyle
By staying healthy, you will minimize your risk of getting sick and requiring medication.
Maintaining a healthy weight is also very important because there are many diseases which can be linked to obesity, including diabetes and high blood pressure.
Once diagnosed, both of these diseases often require a lifelong commitment to using prescription medications to manage and treat them.
17. Take advantage of FSAs and HSAs
Many employers offer Flexible Spending Account (FSAs) or Health Savings Account (HSAs) to employees.
These allow consumers to pay for medical expenses, including prescriptions, with pre-tax earnings.
It's important to note that while FSAs and HSAs provide the same opportunities to save money on prescriptions and medical care, their rules differ slightly.
However, unlike HSAs, FSAs don't roll over at the end of the year, so if you don't use your money, you lose it.
18. Offer to process the prescription without going through insurance
This may sound crazy, but an analysis revealed that many retail pharmacy chains offer common generics at prices as low as $4 for a 30-day supply and $10 for a 90-day supply for patients willing to pay out of pocket.
Obviously, money spent on prescriptions this way will not count towards your annual deductible.
It is also important to make sure patients are aware that they may not be eligible for discount programs if they receive coverage through Medicare, Medicaid, or Tricare.
19. Look for Patient Assistance Programs
Patient assistance programs provide free or lower-cost medications to people who cannot afford to buy their medicine.
Many pharmaceutical companies have patient assistance programs listed on their website.
You can also contact RxAssist or NeedyMeds – websites that offer resources and assistance for low-income families. They may also offer discount cards.
20. Tell your doctor you can't afford it
According to the Centers for Disease Control and Prevention (CDC), one in five prescriptions are never filled!
And one of the main reasons is the high cost. Patients simply can't afford their medication.
If you can't afford a drug your doctor is about to prescribe, just let him/her know.
Sure, for many of us it's a touchy subject that we don't like to discuss, but by letting your doctor know, you can work out an alternative solution that could ultimately help you save money.
21. Join a pharmacy reward program
This may not directly lower the amount you pay for your prescription at the time, but the reward you earn from buying it can be used to pay for your next one.
Most pharmacies have sort of loyalty program that rewards you for being a loyal customer.
Here are a few:
Warning: Please beware of online pharmacy scams
Be careful with online drugstores.
Many of the "Canadian pharmacies" you will find on the Internet are fraudulent, according to a Government Accountability Office report—which also noted that some drugs ordered online contained "dangerous contaminants, such as toxic yellow highway paint, heavy metals, and rat poison."
You can be sure a web pharmacy is safe if its domain name ends with ".pharmacy," which means the site has been approved by the National Association of Boards of Pharmacy and meets the regulatory requirements.
You can also check the safety by searching for the site's name on LegitScript.com to confirm that it is a real pharmacy
Final thoughts
Staying healthy is a priority.
No one should ever have to sacrifice their health due to financial difficulty.
We hope this list has helped you or someone you know!
Please feel free to leave a comment if you've found any other creative ways to save money on prescriptions.