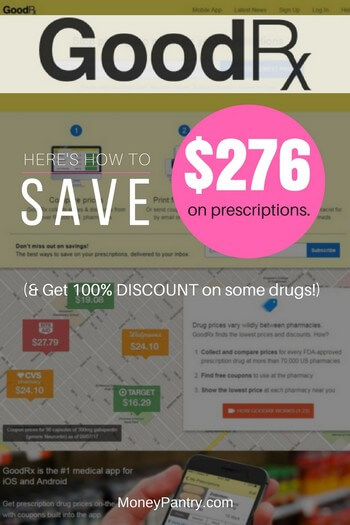 How many prescriptions do you take in a single day?
How much are you spending on those prescriptions every month?
If you're like 55% of the current U.S. population – you average about four pills per day.
With drug prices soaring over the past several years, and with insurance companies and Medicare dropping coverage for some of that – it's no wonder people are scrambling for ways to save on prescription costs.
There are a number of prescription discount apps out there that claim to do just that, but one stands above the rest – GoodRx.
It's the No. 1 medical app for Android and iOS. It's also a robust website.
Need Easy Extra $300+/Month for Free?
KashKick
: Get paid directly into your PayPal for watching videos, surfing, shopping and more.
Join KashKick Now!
InboxDollars
: Paid over $57 Million to members to watch videos, take surveys, shop and more.
Get $5 instantly!
Branded Surveys
: Get $1 instantly just for joining for free. Plus get paid within 48 hours by PayPal!
Join Branded Surveys
First Opinion
: Get paid up to $10 per survey and $300 per virtual focus groups!
Join Now!
Swagbucks
: Get paid to watch videos, shop online, take surveys and more.
Join now & get $10 instantly!
And it's so cool.
You don't even have to have insurance to use it.
If you haven't installed the app yet, you should.
Here's all you need to know to save the most money on your prescription refills with GoodRx (and save an average of $276!)…
What is GoodRx?
GoodRX is a free website and mobile app that helps make comparing drug prices at various pharmacies easy.
By providing cash and sales prices, along with coupons and savings opportunities, the app can save users 80% on their prescription drug costs.
GoodRx includes 1 million prices for more than 6,000 drugs at all major U.S. retailers.
You can even find some prescriptions that cost you nothing.
It can be used for the whole family – even your pets!
The base service is free and you don't even need an account to use it.
There's also a paid version called GoodRx Gold. It claims to unlock even more savings, exclusive to members.
The scoop on GoodRx Gold
GoodRx Gold is a paid version of the GoodRx service.
It costs $9.99 a month and provides exclusive access to more discounts on prescriptions and healthcare services for up to six family members.
With more than 1,000 prescriptions costing less than $10 each, users can save up to 90%, instead of the standard 80%.
If you use CVS as your pharmacy, you'll reap extra savings.
Gold users can even access physician consultations for just $10.
Try it risk-free for 30 days. Cancel anytime if it's not for you.
Example savings with Gold GoodRx membership
Wellbutrin SR (150mg, 60 tablets) which is used to treat depression, is listed as having an average retail price of $84.67.
The lowest GoodRx price is $17.35 if you buy online from HealthWarehouse at a 79% discount.
If you sign up for GoodRx Gold, the lowest price drops to $14.47.
That said, the free version is good enough for most people. So you don't actually have to upgrade to the paid version.
How to get started
I knew you couldn't resist. I couldn't either.
Luckily, it's super easy to get started (and will be well worth the effort – trust me):
On the web
Step 1: Visit www.goodrx.com and type in your drug's name in the search field and click the "Find the Lowest Price" button.
Step 2: Select the "GET FREE COUPON" or "GET FREE DISCOUNT" button next to your preferred pharmacy. Then print, email or text the coupon to yourself.
On the next page, you'll see a list of pharmacies and coupons for each. Select "Get Free Coupons" or "Get Free Discounts" for the pharmacy of your choice.
Step 3: Next, print, email or text the coupon to yourself.
Step 4:  When you visit the pharmacy, present your coupon to the pharmacist and enjoy your savings.
On your mobile device
Here's how you can install the GoodRx app:
Step 1: Download the app from either Google Play (for Android) or the App Store App Store for iPhone.
Step 2: Search for your drug(s).
Step 3: Click "Find the Lowest Price" to see a list of vendors and prices.
Step 4: Save the coupon/discount code for your drug so you can present it to your pharmacist.
The benefit of using the app is that there's nothing to print – savings are right there on your mobile device. Just show the discount coupons to your pharmacist to save at the register.
Why sign up
Now, signing up isn't required. But it has some benefits.
The benefits include:
Price Alerts: You get the best prices right in your inbox.
New Coupons: When they have hard-to-find coupons and discounts for your prescription, they'll send it right to your inbox.
Multiple Prescriptions?: If you have multiple prescription, they will find the pharmacy with the lowest prices for all of them.
Updates: From time to time they'll email you updates on side effects, recalls and more.
You can also set your location so next time, you search, it will automatically bring up retailers near you.
Another benefit of signing up is that you can bookmark drugs that you have monthly refills so you can easily access them next time you need a refill.
When you log in for the first time, you'll be amazed at the wealth of helpful information available at your fingertips.
I couldn't stop myself from looking up drugs I don't even take – just to see what they would cost.
You can also use GoodRx to:
Find a pharmacy near you.
Use the site's pill identifier to identify medications by shape, color and other characteristics
Learn about Medicare prescription coverage.
Read the latest news regarding medicine, savings, community, data and the GoodRx company itself.
Scroll down the page to see other retailers and prices, as well as coupons and other discounts available.
Along the left-hand side of the screen, click the various tabs to learn:
Whether or not Medicare covers the drug, and how much it will cost you.
Tips for saving even more (i.e. purchase a 90-day supply to save; look into low-cost alternatives)
Drug info, including but not limited to proper use, dosing, storage, allergies, precautions, etc.
Side effects
Photos
Latest news about the drug
How much can you really save?
According to the website, GoodRx saves more than 2,000,000 Americans more than $197 million each month through free discounts and coupons.
The average GoodRx customer saves approximately $276 per year on prescriptions.
App users have reported hundreds of dollars in savings – as much as $1,700 on an $1,800 prescription.
Several prescriptions can be found for free – a 100% discount. You just can't beat that.
Where is GoodRx accepted?
GoodRx works with tons of pharmacies nationwide, but only lists those that are approved by a nationally recognized professional organization to ensure patient safety.
According to the company, GoodRx is accepted at virtually every one of the 70,000+ retail pharmacies in the US.
Some of these major GoodRx accepted participating pharmacies include:
Albertsons
Costco
CVS
Kroger
Rite Aid
Safeway
Target (CVS)
Walgreens
Walmart
Unfortunately, for those of us who love shopping and saving at Sam's Club and Publix, these two retailers aren't in the GoodRx discount network.
Of course, you can always transfer your prescription to a participating pharmacy which includes most U.S. pharmacies.
These are the top 20 cities with the most pharmacies on GoodRx:
Houston, TX – 324
Chicago, IL – 310
New York, NY – 258
Miami, FL – 220
San Antonio, TX – 205
Philadelphia, PA – 191
Las Vegas, NV – 185
Phoenix, AZ – 164
Orlando, FL – 154
Brooklyn, NY – 151
Indianapolis, IN – 150
Atlanta, GA – 142
Dallas, TX – 141
Tucson, AZ – 137
Charlotte, NC – 133
Los Angeles, CA – 129
Jacksonville, FL – 127
Louisville, KY – 125
Fort Lauderdale, FL – 122
Austin, TX – 118
Other ways to save on prescription drugs with GoodRx
The app and website aren't the only ways to save with GoodRx.
Check out these options:
1. GoodRx Pharmacy Discount Card
The GoodRx Pharmacy Discount Card is totally free and can save you as much as 80% on your prescriptions.
You only need one card to save for the whole family. There are no quantity limits or hidden fees.
To sign up:
Fill out the form with your name, street address, city, state, zip code and email address.
Check the box if you want to receive newsletters in your email.
Click "Send My Discount Card."
Once you submit the form, your card is automatically activated. You'll be taken to a screen where you can print a temporary card while you wait for yours to come in the mail (it takes about 4 weeks).
2. GoodRx/Inside Rx Brand Discount Program
GoodRx and Inside Rx partnered with major drug companies to offer more than 100 brand name drugs for an average 34% off.
There are no fees or sign-ups necessary.
Just visit their official page to access more than $1,600 in savings per year from major drug brands.
Participating brands include (as of 3/27/18 – check back often as more are added!):
Here are a few examples of heath conditions and pharmaceutical companies behind popular brands of drugs for those conditions:
Acne
Absorica
Epiduo Gel
Clobex
Anti-fungal
Anti-inflammatory Eye
Anti-itch
Allergy
Asthma
Advair Diskus
Advair HFA
Airduo Respiclick
COPD
Advair Diskus
Anoro Ellipta
Breo Ellipta
Striverdi
Depression
Erectile Dysfunction
Flu
Gastrointestinal
Dandruff
Diabetes
Apidra
Humulin N
Jentadueto
Lantus
Novolin N
Tradjenta
Gastrointestinal
Enteragam
Gout
Colcrys
Uloric
Growth Hormone Deficiency
Heart Health
Crestor
Tricor
Trilipix
Psoriasis
Clobex
Skin Discoloration
Triluma
Topical Steroids
Halog
Rosacea
Oracea
Soolantra
Metrolotion
Weight Loss
For a complete list of brands and drugs and to access discount codes for each, visit their official page at goodrx.com/brand.
Saving with GoodRx coupons
There are tons of examples of how much a person can save using the deals on GoodRx.
Some of the most commonly prescribed medications and savings with GoodRx include:
Atorvastatin (generic Lipitor, 30 tablets 40mg)
Used for lowering cholesterol and triglycerides – average retail price $14.21, lowest GoodRx price $7.84 = 45% savings
Cialis (30 tablets 5mg)
Used for treating erection problems in men – average retail price $386.40, lowest GoodRx price $348.16 = 10% saving
Gabapentin (generic Neurontin, 90 capsules 300mg)
Used for controlling epileptic seizures in adults – average retail price $58.03, lowest GoodRx price $11.15 = 81% saving
Omeprazole (generic Prilosec, 30 capsules 20mg)
Used for treating stomach ulcers and gastrointestinal reflex – average retail price $23.88, lowest GoodRx price $8.00 = 67% saving
Vicodin, Xodol (hydrocodone/acetaminophen)
Used to treat moderate to severe pain – average retail price $51.77, lowest GoodRx price $14.70 = 71% savings
Synthroid (levothyroxine, 50mcg 30 tablets)
Used to treat hypothyroidism – average retail price $16.96, lowest GoodRx price $9.37 = 44% savings
Delasone (prednisone)
Used to treat arthritis, asthma and allergies – average retail price $11.31, lowest GoodRx price $3.28 – 71% savings
Amoxil (amoxicillin, 500mg 30 capsules)
Used to treat bacterial infections – average retail price $15.14, free with no coupon on GoodRx = 100% savings
Neurontin (gabapentin, 300mg 90 capsules)
Used to treat seizures and nerve pain – average retail price $76.05, lowest GoodRx price $11.03 = 85% savings
Prinivil, Zestril (lisinopril, 10mg 30 tablets)
Used to treat high blood pressure – average retail price $19.32, Lowest GoodRx price $3.99 = 79% savings
Lipitor (atorvastatin, 40mg 30 tablets)
Used to treat high cholesterol – average retail price $129.13, free, no coupon necessary on GoodRx = 100% savings
Glucophage (metformin, 500mg 60 tablets)
Used to treat diabetes – average retail price $27.16,  free with no coupon necessary on GoodRx = 100% savings
Zofran (ondansetron, 4mg 30 tablets)
Used to prevent nausea – average retail price $196.44, lowest GoodRx price $9.39 = 95% savings
Motrin (ibuprofen, 800mg, 90 tablets)
Used to treat fever and inflammation – average retail price $39.29, lowest GoodRx price $7.14 = 81% savings
How do savings apply with my insurance?
When you pay with GoodRx, you're paying without insurance.
The good news is – many times, the prices on GoodRx are better and lower than most Americans' insurance co-pays.
What you can do is ask your insurer for reimbursement or to apply what you purchased to your deductible.
Nothing is guaranteed, but here's how to give it a shot:
Save your receipts.
Fill out your insurer's prescription reimbursement form (find yours on the GoodRx website.)
Mail the form and your receipts to the insurance company.
Wait and see. Policies vary by insurer.
Dropped drugs
As some of you may know, each year, prescription coverage – known as the "formulary" – changes.
According to GoodRx, Express Scripts and Caremark, the two giants in the insurance industry that handle pharmacy benefits for over 200 million Americans, removed over 80 prescription medications from their formularies at the end of 2017.
The good news is, this doesn't have to mean you can't afford them. GoodRx can save you up to 100% of the cost of several prescriptions dropped by insurance companies in 2018.
The following are a few examples of more than 80 dropped drugs:
Adderall
Androgel (1%)
Cymbalta
Effexor XR
epinephrine/Epipen
Lexapro
Lunesta
Prozac
Valium
Xanax
Zoloft
Example
Plavix, dropped by Express Scripts, prevents heart attack, stroke or other events in high-risk people. You may not be able to afford to pay the average retail cost of $131.05 out of pocket, but even without insurance, you can get it for a cool $7.51 with GoodRx. That's a 94% savings, and likely lower than your insurance co-pay would have been anyway.
For a full list of drugs no longer covered by insurance, check out GoodRx's official Dropped Drugs page.
What should I do if my medication is dropped from my drug plan?
If, your drug is listed there, don't panic. First, check GoodRx to see if you can afford to pay out of pocket.
If not, there are still a few things you can do to lower your cost even on those drugs.
For example, you can talk to your doctor to see if he/she can prescribe an alternative drug that is covered.
If switching isn't an option, see if you can find a patient assistance program to cover all or some of the costs.
Here's the shocker…
You may actually end up saving much more!
How?
Well, some of the brands that are being dropped are actually being replaced buy their generic, less-expensive versions.
For example, out of 64 drugs that Express Scripts has excluded, 46 have a cheaper generic alternative that are still covered.
This also applies to 5 of the drugs dropped by Caremark.
This, happily, means that you end up paying way less for the same drug which is essentially the exact same thing, made with the exact same ingredients, but with a different brand name on the label.
GoodRx app reviews from other users
More than 140,000 doctors recommend GoodRx.
It turns out, most users do too.
One Reddit user whose prescription cost went from $170 to $67 with GoodRx said, "this free internet coupon was more beneficial than the insurance I pay for every month through my employer. You don't even need to be insured for the discount rate to apply."
Another said she got a prescription with a retail cost of $304 – for $46 at Walmart.
Other users claim that they've had trouble getting Walgreens to accept the card, but the incidents seem isolated. If you have similar issues, contact help@goodrx.com.
Some feedback from other recent reviewers:
"I use this for prescriptions that aren't covered by insurance. Every time I get an estimated price, it's exactly correct. Some of my meds are 50% or MORE off. INCREDIBLE! I only go to Walgreens and never have had any problems whatsoever, so I don't know if other pharmacies accept this or not."
"GoodRx has saved me hundreds of dollars. This app told me that my prescription be $60 and I was being charged $90. Come to find out, I was being charged the higher price because it was being submitted to the insurance company. The pharmacy had to stop submitting it and I got a huge refund."
"We went to the doctor and asked them to use GoodRx to find comparable prescriptions to switch us to and we saved over $1,000 a month! I would recommend this app to anyone who has lost their insurance or has high co-pays this app is amazing and I wouldn't use any other prescription discount card! There's nothing like it!"
"This app literally saved me over $100 the first time I used it! No joke! I had to go to another pharmacy but it wasn't a problem."
For medical professionals
Doctors can even utilize GoodRx to help patients save on prescriptions.
If you're a medical professional, visit www.goodrx.com/doctors to download a GoodRx Savings kit, which consists of a countertop display with pre-activated cards that can save patients up to 80% on prescription costs.
GoodRx alternatives
GoodRx isn't the only prescription coupons and discount app.
There are actually a bunch more out there.
Some of the best prescription discount apps and cards include:
Final thoughts
Why pay hundreds of dollars more for your prescriptions each month when saving is as easy as downloading an app?
GoodRx is totally legit, and a can't miss – especially if you are uninsured or underinsured.
Don't wait another moment – sign up today and start saving money on your prescriptions with GoodRx.