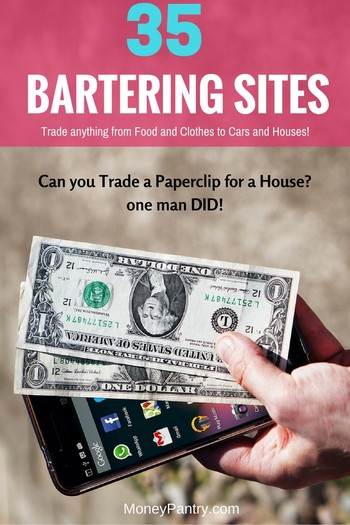 Bartering is an ancient tradition that goes back to the times before money even existed.
These days, thanks to the internet, there are many websites dedicated to making ti easy for anyone to buy, sell and trade stuff online.
Turns out that you can trade nearly anything online – from high-value items like cars and houses to smaller things like DVDs and CDs.
We went on the hunt to find good places where you can swap and barter a wide variety of items. And we found some of the best ones that let you trade practically anything.
Ready to make some deals?
Check out these sites…

Need Easy Extra $300+/Month for Free?
KashKick
: Get paid directly into your PayPal for watching videos, surfing, shopping and more.
Join KashKick Now!
InboxDollars
: Paid over $57 Million to members to watch videos, take surveys, shop and more.
Get $5 instantly!
Branded Surveys
: Get $1 instantly just for joining for free. Plus get paid within 48 hours by PayPal!
Join Branded Surveys
First Opinion
: Get paid up to $10 per survey and $300 per virtual focus groups!
Join Now!
Swagbucks
: Get paid to watch videos, shop online, take surveys and more.
Join now & get $10 instantly!
Top Online Barter Communities
We've categorized this list to make it easier for you to find the kind of trading/bartering site that you need.
Trading Sites for General Stuff
Stuff!
It's a broad term, but that's exactly what you'll find on these sites – A variety of general items. If you can think of it, you'll probably find it over here.
BarterOnly offers a massive variety of items up for trade, and it's a site like Craigslist for the bartering market!
You need to create a free account to post on BarterOnly, which usually cuts down on the number of scammers and spam you'll get from posting on classified's.
Three items or less on the site are free, more than four postings are charged at $4. Posting a service is charged a $5 fee.
You can also sign up for their unlimited packages, charged per month:
$10 for items
$15 for services
$20 for both
Or, you can choose to take out a featured ad ($5) or a top ad ($10).
SwapTreasures is free to use.
Again, all you have to do is make an account. From there, browse through their library of ads or post whatever you have to offer.
If you trade regularly or want to set up shop, SwapTreasures lets you create an online shop for your deals.
Link your shop to Facebook, Twitter, and e-mail through what's called their social media tool.
It seems like items are given a point value, which have a cash value (and you get $10 in points for signing up).
TradeAway is free-to-use, and you can narrow your search down by state.
No trading for those outside of the US, unfortunately.
Their website has a really diverse catalog, and you can get almost everything you can possibly think of on offer.
Some of the categories to check out include Cars, Jewelry, Food & Beverages and even ATV/UTV/Snow.
BarterQuest specializes in "luxury items" like cars, timeshare and real estate – and they cover services, too.
The site is advertised as "trade what you HAVE for what you WANT", so why not go and check it out?
Swapz is another UK based online marketplace that allows you to swap, trade and sell just about anything.
Through the site, you can swap and trade stuff with people locally and nationwide.
There are tons of different categories on the site, like Antiques, Cars, DVDs and much, much more.
So, if there's a particular item you're looking to trade, then you're sure to find it at Swapz.
The site is entirely free to join too!
Swap Ace offers a really diverse catalog. Books, cars, clothes, games – if you can name it, then you'll probably find it there!
This swap site provides an electronic bartering and negotiating system that's super easy to use too.
If you're looking for an item, in particular, you can place an advertisement for items wanted.
Or, you can check out the advertisements from other people looking to exchange their stuff.
Plus, you can trade on a worldwide scale – that's pretty handy!
A really cool company called Shared Earth connects people who have land, with people who don't have land that want to farm or garden.
It's an awesome concept.
So, if you're a farmer in need of a space to grow crops, then you get access to land for free – as long as you're willing to exchange a bit of your produce with the landowner.
Or, perhaps you're a landowner willing to trade some of your lands in return for some extra produce?
Either way, it's a unique swap site that's really beneficial if you're a farmer or gardener!
On the site, which describes itself as the largest community garden on the planet, you can easily search listings and communicate with nearby landowners or gardeners.
The Freecycle Network, which describes itself as a grassroots, non-profit movement of people, you can exchange stuff with people in your area.
It's the sites aim to get people to reuse stuff, rather than putting it in a landfill – it's a great cause.
Whether it's clothes, books or CDs, you really can trade anything on the site.
Essentially, it's like one big garage sale, with one exception: Everything is free!
And, it's free to be a member too. All you need to do is find a group in your area. You can do this by clicking on 'Browse Groups' above the search box.
All local groups are moderated by local volunteers.
Another organization that encourages sharing in the local community is NeighborGoods.
Essentially, with the site, you can share stuff with your neighbors and friends.
Need a ladder for the afternoon? Borrow it from your neighbor!
U-Exchange offers a super diverse selection of products and services – you can get almost anything you can possibly think of through the site.
And, the best part: Listings are available from all over the world! You can use the site's search feature to narrow the results by keywords.
Plus, you can search by country and by region, meaning it's really easy to exchange great stuff in your local area.
The site is free to join and place listings.
I have talked about this site before in a post titled "How to get almost anything for free". It's an auction site that allows you to bid on the stuff you want – for free.
With this online marketplace, you can give away stuff you no longer want and get the stuff you do want in return.
It's easy to use the site, and you bid on stuff using credits you earn, rather than money. The highest bidder on an item wins it – just like with a regular auction. It's free to become a member too.
The ReUseIt Network encourages people to make use of items that would have otherwise been discarded. It's a pretty cool concept. It describes itself as an online forum that helps to "get things from people who have them, but don't want them, to people who want them, but don't have them."
Simply visit the site, then find and join your local group.
And, if there isn't a group in your area, then contact the site and they can help you to establish one.
Ever heard the expression, "one man's junk is another man's treasure"? Well, that's pretty much the idea behind Junk for You.
This website helps you to get rid of the stuff you no longer want, by exchanging it for stuff you do want.
Have you got an old bookcase you never use cluttering up the garage?
Or a stack of movies in the basement that you don't watch anymore?
If, so try exchanging your unwanted stuff for something you can put to use.
All you need to do is sign up for an account!
Sites for Trading Services
Swapping services instead?
No problem! Here's where you can find (and offer) almost any kind of service, from babysitting to fixing someone's car – and you could get just what you need in return! Go check them out.
SwapRight offers, exclusively, services – and unlike taking out an old-school ad in the newspaper, it won't cost you anything.
Their list of categories include services like automotive, health & beauty, childcare and "any other service or product you need or provide".
You can see a running counter of recent offers as they're posted on the site: Handy!
SkillsBarter has a pretty straight-forward website, except there's one major drawback: The site promises to be completely anonymous. Is that really a good thing?
An anonymous approach with any kind of product or service could just open a way up to scammers. Be careful when you're browsing around on this one.
SwapaSkill has 70, 720 registered items and skills on offer at the time of writing: Add to it or browse to find what you're looking for. Categories include things like Online Services, Languages, DIY and Cars & Sitting
Sites for Trading Books, Video Games, CDs and DVDs
Are you an avid reader or a huge movie, music or game fan?
Time to indulge your inner bookworm, or love of movies, music, and video games, and you don't have to drive to that store halfway across town anymore!
Of course, there are sites where you can sell used video games, movies, and DVDs.
But if you'd rather trade them have a look at these websites where you can trade or sell your used books, audio books, movies, music, video games and any other form of media.
Got any books, DVDs or CDs you no longer want? Check out Title Trader. As a member of this website, you can trade used books, DVDs, CDs with other members from anywhere in the world.
There are tons of titles on there. And its inventory is constantly expanding – so maybe you'll find a movie you've been after and maybe you have a movie someone else wants to add to their collection?
Signing up to the site is free, so check it out!
BookMooch was founded in 2006, and they're free to join.
The best thing: They allow users to trade books internationally. You can check out what's available already, or you can look at wish-lists to see what other people out there are looking for.
Maybe you have what someone needs in your collection. Maybe they want to trade. Find out!
Why waste those video games, books, DVDs and CDs you have cluttering up your home when you can trade them for stuff you actually want on Switch Planet?
Its mission is to reduce environmental waste while helping others and supporting arts and culture: that's a pretty great mission!
Much like BookMooch, SwitchPlanet works on a points system – this helps to build the site's community.
Don't let the name fool you: Paperback Swap isn't limited to just paperbacks.
You can trade audiobooks, hardcovers, paperbacks and even textbooks.
The site reports over five million offers up for trade and claims that it's the largest online book community in the world. Not bad!
Game Trading Zone, as its name suggests, is a platform where you can trade video games. The site's been around since 1997, so it's got a lot of experience.
You can easily keep track of the games you want in the site's extensive database. And, if there's a particular game that you're after, you can use the search box on the homepage to find it.
Books, movies, and music can also be exchanged through the platform.
Plus, the site has a pretty useful reputation system in place to make sure that you don't get scammed.
There are no fees involved in trading games.
What's on my Bookshelf was also founded in 2006.
Trading seems to be based on a point system. For every five books listed, you receive one credit. Books on the site are assigned a point value.
So, some books on the site are worth more points than others, and you can put the points you get towards the book you're looking for.
Their book dated is guaranteed to be accurate, according to their site, and is updated from either Amazon.com or the Library of Congress. One handy feature is categorizing books by tags, so you can find "that book with that scene in it" when you need to.
Those based in the UK can check out Readitswapit.co.uk – and like most of the options on the list, it's free to sign up and post your books.
Need more? Check out the best places to sell books online for cash on MoneyPantry.
Do you have CDs you no longer listen to? And, would you like to get some new stuff to listen to in return? If so, then check out Swap a CD. This site specializes solely in the exchange of CDs.
So, check it out if you'd like to clear and refresh your music collection.
Swap a DVD is the same as Swap a CD, except it's focused on DVDs instead. It's like an online movie club, where you can swap, trade and exchange DVDs.
There are tons of genres on the site too, like comedy, romance, and action. So, check it out. You never know, someone might have a movie that you really want!
Another good DVD trading platform is Flickflop. Through the site, you can update your movie collection and get rid of some of the films and TV shows you don't watch anymore.
PlayNSwap is another good platform for trading video games. Through the platform, you can easily trade in your old video games for new ones.
When you trade-in a video game at a retail store, you get close to nothing back – which is why platforms like this and Game Trading Zone are so refreshing.
You don't get pennies back in return for your games – you get more games! It's a much better deal that you get at traditional retailers.
To trade games on PlayNSwap, all you need to do is add games to your game tower. If you're in search of a particular game, then you simply add it to your wish list, and the site automatically contacts you when it becomes available for trade.
It's a super easy to use and convenient platform for trading games.
House Swapping Sites
Just what is home swapping?
Simply, it's the concept of trading your house!
It doesn't have to be forever – that's the cool thing about it. You can trade for however long suits both of you!
If you want to see the world, why not trade houses for a while?
HomeExchange covers over 65, 000 listings in 150 countries, so you're sure to find the right place. The site works in co-operation with Tripadvisor.
For those with safety questions, there's a guide on the site called Is Home Swapping Safe? explaining how they do things. Personal information like phone numbers and social media accounts are verified and connected to HomeExchange profiles as an extra safety measure.
LoveHomeSwap calls themselves the biggest home trading site out there, and it's not hard to see why: There are 95, 000 homes on offer for this site, and they cover more than 190 countries – including top destinations like New York, Hawaii, and Paris.
According to their website, this one lays claim to being the original home swapping site with a successful span of trading houses around for over sixty years.
Like most home trading sites, you have to create an account first. Intervac has its own site for those based in Canada, which you can find here.
Another great house swapping platform is GuesttoGuest. It's been around for more than two decades, which is pretty impressive, and it offers a simple concept: You stay at someone else's home, while they stay at yours.
You can trade your home for short or long stays, so it's a flexible platform.
It's a great money-saving system, as you don't have to pay for your accommodation on your trip!
The site's social network helps you to find members that are similar to you, and the points system increases the number of exchanges you can make through the platform.
Sites to Trade Clothes
Got clothes to swap instead?
No problem. With these sites, you can take the clothes you don't really wear – and according to statistics that's 80% of your wardrobe! – and swap them for stuff you do actually want.
Swap Style is an online fashion swap marketplace. Conveniently enough, you can trade with women from all around the world.
Up for grabs on the site are stylish, fashionable pieces, from boots to jeans. You can find some really on trend items on there.
And, best of all, on Swap Style, you can often find pieces from designer brands, like Calvin Klein, DKNY, Dolce & Gabbana, Jimmy Choo, and Dior.
It's completely free to join, plus it has a great community of fashion lovers.
A pretty cool company called Rehash Clothes makes it easier for you to declutter and refresh your closet.
When it first began in 2007, Rehash Clothes aimed to design clothing using recycled clothes. But, the site evolved into a platform for trading clothes, so this became its primary aim instead.
Now, it's a great place for swapping clothes.  Plus, it also acts as a pretty great social platform too – you can post in the forums, share advice, join groups and even participate in live swap events.
So, if you've got a blouse you haven't worn in years that's in okay condition, then you could exchange it for something you'll actually wear!
Membership is completely free too.
Got a pair of jeans you don't wear anymore, or a pair of shoes you don't like? Trade them on Vinted.
Vinted is a website and app that you can use to buy, sell or swap clothes and accessories. It's easy to use too – and you can swap from your phone which is pretty handy!
Sports Equipment Bartering Sites
Maybe you used to be hockey kind of guy or gal, and now you're more into basketball?
Or maybe you've hung up your running shoes for a yoga mat?
Whatever the case, if you're looking to get rid of some old sports equipment you no longer want and you're on the hunt for some new stuff, you should definitely check out SwapMeSports
It's a website with a really diverse selection of sports equipment. It's super easy to navigate the site, so finding what you need is easy.
There are equipment and gear available for tons of sports, from hockey to soccer.
It's free to sign up.
So, if you want to donate or trade some athletic gear or sports equipment, this is definitely the website for you.
Trading one red paperclip for a house!
Why should you trade?
Meet Kyle MacDonald who decided to trade up. That is trade items of higher value every time.
Kyle started his trade with one red paperclip and later traded it for a fish-shaped pen.
Here's the cool part: It ended with a house!
Read more about it at his blog One Red Paperclip.
Final Thoughts
Have you bartered your way to something bigger and better?
Use the comments to tell us what cool stuff you've swapped/traded.