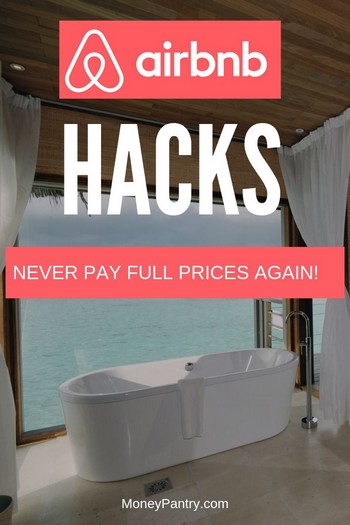 Getting a discount on Airbnb rentals isn't as hard as you may think it is. There are so many Airbnb deals, coupons and promo codes out there. You just need to know where to look for 'em.
In the past couple of years, thanks to the increasing popularity of the sharing economy, Airbnb has become incredibly popular, with more and more people forgoing traditional hotel stays in favor of an Airbnb rental.
Rentals from Airbnb and its competitors like VRBO, often feel more homey and you get access to more amenities, like free Wi-Fi and a kitchen.
But most importantly, with Airbnb you can usually get much more for your money.
Airbnb Vs Hotels
The price for Airbnb rentals and hotels varies, depending on the city or country that you're visiting.
But overall, staying in an Airbnb rental tends to be much cheaper than staying in a hotel.
Need Easy Extra $300+/Month for Free?
KashKick
: Get paid directly into your PayPal for watching videos, surfing, shopping and more.
Join KashKick Now!
InboxDollars
: Paid over $57 Million to members to watch videos, take surveys, shop and more.
Get $5 instantly!
Branded Surveys
: Get $1 instantly just for joining for free. Plus get paid within 48 hours by PayPal!
Join Branded Surveys
First Opinion
: Get paid up to $10 per survey and $300 per virtual focus groups!
Join Now!
Swagbucks
: Get paid to watch videos, shop online, take surveys and more.
Join now & get $10 instantly!
Priceonomics did some in-depth research into the cost of Airbnb vs hotels. It found that hotels were more expensive.
In its research, the site looked at all major cities in the U.S. It compared the cost of a hotel to the cost of renting an apartment from Airbnb. On average, Airbnb apartment rentals cost 21.2% less than staying at a hotel.
And, if you only rent a private room from Airbnb, it costs 49.5% less.
So, with Airbnb, you can you rent an entire apartment for less than the cost of a hotel!
But, if you know what you're doing you can save even more. I've used Airbnb many times to book accommodation, mostly in major cities.
And, these are some of the things I've found that can save you a lot of money on your vacation.
1. Extend Your Stay
The best thing you can do to save money with Airbnb is to stay in the rental for as long as you can.
Generally speaking, Airbnb hosts charge less for longer stays because they offer a weekly or monthly discount.
For example, when I booked a trip to Berlin, I got a 38% discount on my rental because I chose to stay for a month.
And, it's the same for other cities too.
Here's a breakdown of the costs if you stay for a week (six nights) at this rental in New York City in January:
Accommodation: $142 x 6 nights : $854
Cleaning fee: $60
Service fee: $158
Total: $1072
That's about $178.66 per night.
And, the costs for the same rental, but for a two-week-long (thirteen nights) stay:
Accommodation $144 x 13 nights: $1867
10% weekly price discount: -$187
Cleaning fee: $60
Service fee: $242
Total: $1982
That's about $152.46 per night, which is already much less than the cost of a one-week stay.
To take advantage of the weekly price discount, you don't even need to stay for the whole 13 nights. If you extend your trip by just one day and stay for seven nights, rather than six, you still get the discount.
And, finally here's a breakdown of the costs if you stay for a month (30 nights) at this rental:
Accommodation: $4331
25% monthly price discount: -$1083
Cleaning fee: $60
Service fee: $298
Total: $3606
That's, just $120.30 per night.
Obviously, your job and other commitments will dictate how long you're able to stay.
But, if you can, always opt for a stay that's longer than six nights.
2. Book Early
Unlike a hotel, where there are often hundreds of identical rooms, Airbnb listings are one of a kind. So, as each listing is unique, and rented for specific dates, you only get a small window of opportunity to rent it.
That's why booking your rental early is always recommended. But, that's not the only reason.
Booking early can also save you cash. This is one of the main ways you can also save money on flights.
You might think that all apartments in a major city like New York City or Paris, or all beachfront properties in Thailand might all be a similar price.
But, that's not the case. Some hosts offer their apartments and houses out at a much lower rate than others – even when it's in a similar location with similar amenities.
And, these awesome places that have awesome prices go first!
So, book early and you're more likely to get the best prices.
3. Be Flexible with Your Trip Dates
When I was planning my last trip on Airbnb, I was pretty flexible with the dates – and that turned out to be a very good thing for my budget.
Initially, I wanted to stay from the 1st of the month to the end of the month. But, when changed my dates to the 2nd of the month to the end of the month, I saved hundreds.
Tip: Using the calendar on Airbnb, try adjusting your days slightly. For example, if you were planning to fly out on a Saturday, change it to a Monday.
See if making adjustments to when you arrive and/or leave makes a difference to the price you pay. Often it will! You'd be surprised at how much money you can save by just being a bit more flexible with your trip dates.
4. Consider All the Costs
On Airbnb, all of the prices are set by the host. And, many of them, in addition to charging a nightly fee for staying at their property, also charge other fees.
Most commonly hosts charge extra for two things:
Cleaning
Additional guests
Many hosts charge a cleaning fee – and this isn't regulated by Airbnb. So, this means that it can be any amount, within reason of course, that the host wants to charge.
And, this is the same for additional guests. If you have friends, for example, coming out to stay with you for a couple of nights during your stay, then some hosts will charge you extra for this.
So, when you look for an apartment, consider all of the costs involved.
Fortunately, on Airbnb, the listing price shown includes all costs – so the site is pretty upfront with fees and you don't have to worry about hidden costs.
How to See Airbnb Cost per Night (including all the fees)
To see a full breakdown of the costs, you need to visit the page for each rental.
Cleaning Fees
On the right of the page, you'll see a breakdown of all of the costs involved with the rental.
Here's an example of an entire apartment rental in New York City, again for a month in January.
Accommodation: $3450
Cleaning fee : $150
Service fee: $324
Total: $3924
But, not all hosts charge cleaning fees and charge extra for additional guests. You just need to do a bit of searching through the listings.
I tend to look for rentals that don't charge a cleaning fee or if they do, it's low.
For example, this apartment, also in New York City, has a much smaller cleaning fee than the one above:
Accommodation: $3150
14% monthly price discount: -$441
Cleaning fee: $50
Service fee: $249
Total: $3008
Other Fees
Other extra costs, like fees for additional guests and for pets, aren't listed in the box on the right.
So, you'll need to read the full description of the property.
If you don't plan to have extra guests stay at your apartment or pets, then these fees won't matter.
But, if you do, then you'll need to compare costs.
If you take the time to look at the extra costs in detail and compare them across different rentals, you can save yourself a lot of money.
5. Consider Sharing One Rental
If you're going on vacation with a few couples or a few families are going together, then it's often cheaper to rent one large property between the group.
The cost of each family or couple finding their own accommodation is often greater:
For example, for an apartment in Brooklyn that accommodates three guests, it costs $1731 for a two-week stay.
On the other hand, for a big apartment in Brooklyn that accommodates 16 guests, it costs $2944 for a two-week stay.
That's much lower.
So, consider splitting the lodging costs between you. All living under the same roof can also make your trip more fun and memorable!
6. Use a Discount Code
A really easy way to save money on Airbnb is to use a discount code.
Online, you can find tons of coupons and promo codes that get you discounts of up to $100!
There are also codes that give you a certain percentage, like 25%, off your rental.
Do a quick Google search for the term "Airbnb discount code" and you'll get plenty of results.
7. Consider a Private Room
Having a whole apartment to yourself is great and it's definitely the option I choose on Airbnb.
But if you don't mind just having a single room, then consider a private room rental.
Many hosts on Airbnb don't rent out their whole home. Instead, they rent out just a single room.
If you don't think that you need the space of a whole apartment, then a private room is a good option.
And, best of all, it can save you a lot of money!
For example, here are the average prices for a month-long stay in New York City, in January:
Entire Home: $5393
Private Room: $2418
This is a huge difference.
Here's how to find private rooms:
Enter the location you want to visit and the dates of your stay. Then, Airbnb generates a list of rentals.
Check the box that says "private room" and uncheck the box that says "entire home". Then, the site only displays private room rentals.
So, if you're willing to have just a private room, you can save yourself a lot of cash – otherwise, stick with the full apartment.
What Not to Do When Renting with Airbnb
It's great to save money on Airbnb, but here are two things you should never do in the pursuit of a cheaper rental.
Bad Idea #1
A lot of people recommend choosing rentals that have either few or no reviews.
But from my experience, that's a pretty bad idea.
All of the properties on Airbnb are from individual hosts and it's these, hosts, not Airbnb, that are responsible for writing the description of their property.
And while most hosts are honest and respectable, there are a few hosts that might lie.
That's why reviews are so useful. From reviews, you can get a better idea of what a rental is really like, as well as useful information, like how loud or quiet the neighborhood is, which many hosts might forget to mention.
If a property hasn't got any reviews, then you can't really know for sure whether it's as described by the host in the listing.
After all, it's not worth staying in a property that turns out to be a complete mess just to save yourself a bit of cash.
Bad  Idea #2
Some people also recommend contacting the host outside the Airbnb platform in order to avoid paying service fees.
This is a bad idea!
First of all, it's prohibited by the site. Airbnb blocks phone numbers, email addresses, and other personal information from being exchanged in their messaging system until the reservation request has been accepted. They do this to prevent people from making transactions outside of the site (although some people still find a way to contact hosts.)
Secondly, it's not safe to personally deal with people you don't know without going through the proper procedures. Airbnb provides both the host and the guest with a more secure and safe experience. The website takes steps to protect your information and prevent you from being a victim of fraud or other security issues.
Final Words
Airbnb is one of the best places nowadays to find accommodation that's reasonably priced.
Staying at a rental from Airbnb is almost always cheaper than staying in a hotel anyway. But if you follow these tips, you can save even more money on your next trip and get a better discount for your next Airbnb stay.