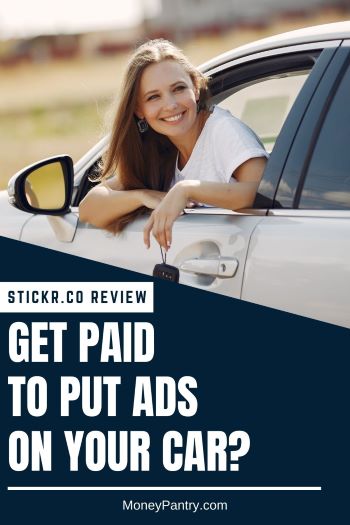 In this Stickr.co review, you'll find out if it's legit company that pays you to advertise on your car.
Whether it's driving for Uber, delivering food with DoorDash, or shopping for groceries with Instacart, there are plenty of ways to make money with your car.
One of the easiest has to be advertising on your car. Brands want to promote themselves, right? That's why they're willing to pay people, like you, just for having a sticker on their car.
Basically, you put a sticker on your car, drive as you normally would, and you'll earn money.  Essentially you get paid to wrap your car with ads.
The brand gets more visibility, and you get paid, so it's a win-win. Wrapify is one company that offers this, and another is Stickr.co.
Stickr.co will pay you each month for having a decal on your car. It sounds like a pretty simple way to make money, and, well, in theory, it is.
Need Easy Extra $300+/Month for Free?
KashKick
: Get paid directly into your PayPal for watching videos, surfing, shopping and more.
Join KashKick Now!
InboxDollars
: Paid over $57 Million to members to watch videos, take surveys, shop and more.
Get $5 instantly!
Branded Surveys
: Get $1 instantly just for joining for free. Plus get paid within 48 hours by PayPal!
Join Branded Surveys
First Opinion
: Get paid up to $10 per survey and $300 per virtual focus groups!
Join Now!
Swagbucks
: Get paid to watch videos, shop online, take surveys and more.
Join now & get $10 instantly!
Is Stickr.co worth your time though? Or is it just a scam? In today's Stickr.co review, I'll cover everything there is to know about this company, from how it works to whether or not it's legit.
Let's get started on the review.
What is Stickr.co?
Stickr.co is a company that will pay you to have a decal on your car. The company is headquartered in Las Vegas, Nevada, but it operates in all 50 states.
So, there's plenty of opportunity.
How it Works
Here's how making money with the company works:
Step One: Sign up
The first step is to sign up on the website. Simply click on the blue "Become a Driver" button, and you will start the process. You'll need to enter your zip code and some other information, but the whole process doesn't take too long.
In order to make money with Stickr.co, you will need to be at least 18 years of age.
You may need to pay a one-time service fee which ranges from $1 to $5 at the time you enroll.
The fee is visible on the order summary page before you checkout.
Now, you also need to pay a monthly membership fee of $9.99 until your membership is canceled. And, this fee is charged automatically on the same day of each month that you completed your membership registration.
This membership fee is refunded, but more on that below.
Step Two: Select a campaign and get your decal
Once you're signed up, you'll be able to view campaigns and select the ones you want. You can accept or reject any available campaign.
The company will mail you a decal. Usually, the decal is shipped to you within 24 hours of you completing your registration, unless that day falls on the weekend or a holiday, in which case it will be shipped the next business day.
You'll need to properly install the decal within 30 days of receiving it.
The sticker must be placed on the outside of the car's rear window, and it must, unless otherwise stated for your specific campaign, also be centered and straight on the window.
To earn with the program, you must verify that you have put the sticker on your car properly.
You can verify that you've installed the decal properly by submitting a photo of it on your car. Simply go to the site and click "Verify Decal Installation."
The day that Stickr.co approves your photo verification is the day that your campaign officially begins.
Stickr.co will refund the $9.99 amount you paid for your membership once you have verified that your decal is properly installed.
Step Three: Get paid
The company will pay you for having the decal installed.
There are a few payment options offered by the website, including:
PayPal payments
Money via direct deposit
Gift cards for Restaurant.com
How Much Does Stickr.co Pay?
On its homepage, Stickr.co says it can pay $2,300 a year in cash and gift cards. That would work out to be about $191 a month.
That's not what I've seen people report online though. From reviews from people who've actually worked with the company, it seems as though people generally earn $1 to $10 a month in actual PayPal cash with Stickr.co.
Of course, you can earn gift cards too. According to online reports, you can earn up to $50 a month in Restaurant.com gift cards.
Sadly, these gift cards function more like coupons. Great if you're after coupons, not if you're looking for cash. Also, many people complain that Restaurant.com gift cards aren't accepted everywhere, so a good portion of your earnings could be useless.
You can't make a huge amount of money with Stickr.co. I'll cover more of the issues the site has below.
Is Stickr.co Legit?
Here's the thing… while advertising for companies is a legit way to make money, there are some red flags for me with Stickr.co!
One is the fact that you have to pay a monthly fee to participate. Sure, Stickr.co says that it will refund you, but it always seems dubious to me when companies require payment for participation.
Aside from that, there are a number of poor reviews of the company online, which claim that Stickr.co is just a scam.
That being said, there are positive reviews of the company too.
On Trustpilot, Stickr.co has 4.2 stars, which is a "Great" rating. Normally, that would give me a reason to recommend a website. When you delve into the reviews though, you see the same complaints from customers. If a few people claim to have a particular issue with a company, that could be discounted, but the fact that dozens and dozens of people have the same issue is a cause for concern.
And, most of the positive reviews were from people the company had invited to leave a review.
Also, Stickr.co hasn't replied to any negative reviews on Trustpilot in 12 months, suggesting that the company isn't taking the concerns of its members seriously.
On the Better Business Bureau, Stickr.co is not accredited and it has an "F" rating. That's not ideal. On Sitejabber, Stickr.co has a rating of 3.4, so not bad. However, I saw the same sorts of complaints about the company on there as I did on Trustpilot.
What people have to say about making money with Stickr.co
Let's delve into those reviews a little bit.
On Trustpilot, most of the positive reviews were praising the company for providing an easy way to make money. One user says:
"It's an easy way to earn a few bucks passively."
Many of the positive reviews were sort of brief like that.
There were also many mixed to outright negative reviews of the company.
Most complained that Stickr.co was a scam.
One user says:
"If there were a no star review I'd give them a 0 There unprofessional customer service charges 9.99$ a month while you make 18.35 and that's reimbursement for the 9.99$ back. SCAM SCAM SCAM DONT DO IT YOU WILL REGRET IT! So you pay out more than you'll ever make!!"
Another user says:
"These people are hard sell. I should not have to pay if I'm supposed to get paid by them but the $9.99 scam fee is the norm. Don't waste your time with these scammers. They claim $2300 a year but it is just a lie."
Another user also complains about the gift cards offered by the company, saying:
"Save your money. I paid about $90 to start up because I wanted to be counted as multiple drivers to get the most income possible. Even after all that the amount I was paid every month barely covered the $9.99 they charged my account every month. I think I'm literally up ten bucks. Biggest waste of my time and money. And don't get me started on the gift cards that you have to spend money to use and are only good at a handful of restaurants that I am not interested in. Epic fail all the way around. Definitely would not recommend."
On Sitejabber, there are similar complaints from customers that the company is a scam.
Is Stickr.co Worth It?
Is this platform worth your time or are there better ways to make money?
Let's take a look at some pros and cons
Pros
Here's why you may want to try Stickr.co:
Easy way to make money
You pretty much just have to put a sticker on your car to make money. So, this could potentially be a good way to make money with little effort.
There are a few different payment methods on offer
Depending on the campaign, there may be a few different payment options available, like PayPal payments and gift cards.
Cons
Now, for the cons, and I have to say there are quite a few concerning things about the company.
Here's why you may want to give Stickr.co a miss:
You have to pay to use Stickr.co
You have to pay $9.99 a month just to use the website. That's really not great. Websites like Swagbucks and Survey Junkie allow you to participate for free.
You can sign up as a driver for Uber or deliver groceries with Instacart, without having to pay a monthly fee. There's really no reason why this company should be charging people to work for them. You are doing brands a favor by advertising for them, so you should be paid. It shouldn't be you paying.
I know that the company says it will refund you, but that is already $9.99 gone out of your earnings. So many people complained that once they deducted that $9.99 from their income, they were left with very little in earnings.
Also, a concern to me was the service fee. I noticed many reviewers saying they paid out quite a lot in fees from the outset.
Many people claim it's a scam
So many of the reviews out there claim that Stickr.co is a scam. There are so many reviews like the one below:
"I had this thing on my car for two months the first month they told me I missed the deadline I could not get paid. The second night they finally verified me, I had to pay $9.99 and they paid me $11.19 I would advise any and everybody to run from this company this is the worst thing ever. False advertisement no ethical people work for this company please do not do it. We should put together a class action lawsuit."
The gift cards are essentially coupons and you may be limited in where you can use them
One of the reward options offered by the website are Restaurant.com gift cards. Sure, it seems good to get free gift cards for restaurants, but when you actually look into these gift cards, they function more like coupons.
For example, you will often need to spend $50 at a restaurant, in order to use a $25 Restuarnt.com gift card.
One user says:
"Had over 100$ in restaurant.com gift cards which were essentially useless as there were very few restaurants that accept them near me and I live in NYC. When we found one that would accept it they would only take 25 off of a 75$ meal. So I would have to spend 300$ on food to use the gift cards. And on top of that, the restaurants made it hard to use them as they would not allow their use on take out or dinner specials."
Also, if you don't live in an area that has many Restaurant.com partners, then you may not be able to use your gift cards at all.
If you plan to spend that amount of money at a restaurant anyway, then that's great. If not though, it seems like you're the one having to part with more money.
The company overstates earnings
On the Stickr.co homepage, you'll see the company claim that you can "Earn upwards of $2,300 in cash and gift card compensation annually."
However, the company contradicts itself when it comes to how much you can earn in its Driver Terms of Service page, saying, "You could potentially earn upwards of $1,200 in cash and gift cards (total combined value) by participating for a year."
That's not the $2,300 in earnings the company claims you can make on its homepage.
There's already a $1,100 discrepancy in earnings from the company itself there.
When it comes to PayPal money, most users say they didn't earn much.
Many reviewers claimed to make just a few bucks a month, like this reviewer on Sitejabber who says:
"So they charge my bank card at 9.99 and sent me a payment on PayPal for 12.00? You make 2.50 a month while people get their name out there. I drive 3 states 1,180 miles every 3 days for my real job. Not worth it to me I canceled today"
Earning seems higher when you factor in gift cards. The company says you can get between $50 to $175 in gift cards for restaurants. However, most reports seem to suggest that you're only likely to get up to $50 a month. And, as I said earlier, you often have to spend money to be able to use that gift card, and Restaurant.com gift cards aren't accepted everywhere.
Overall Verdict
I would avoid working with Stickr.co at all costs. The reviews from people were really concerning. So many people feel scammed by Stickr.co and that's really not great. I even saw people mention that they were trying to get other people to file a class action lawsuit against the company.
Overall, give this one a miss. The fact that you have to pay a monthly fee is a giant red flag. Have you ever tried Stickr.co? If so, what was your opinion on the company?