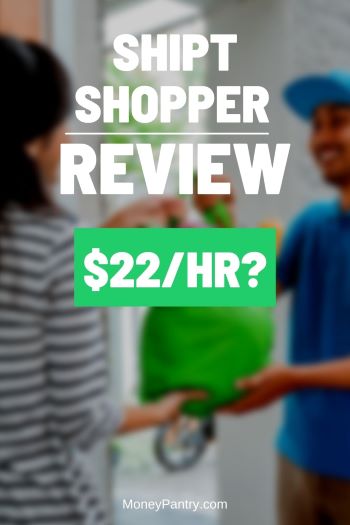 Along with Instacart, Shipt is one of the most popular grocery delivery apps around. For anyone looking to make money, driving for Shipt is certainly a good venture to consider.
It's a legit company that pays you for shopping for and delivering groceries to people. Is Shipt worth it though? Or are there better ways for you to earn money on the side?
In today's Shipt Shopper review, I'll cover everything there is to know about the company from how it works to how much it pays and whether it is one of the best delivery apps to work for.
What is Shipt?
Shipt is a grocery delivery company that customers can use to order groceries and have them delivered to their homes. Founded in 2014, Shipt was acquired by Target in 2017 and is now owned by Target Corporation. Although it's headquartered in Birmingham, Alabama, Shipt operates in multiple states.
Shipt not only allows customers to have food from popular stores like Costco, PetCo, and CVS delivered to them, but it's also given people a way to earn extra money. You can sign up to be a Shipt Shopper and earn money by delivering groceries that you buy based on orders from customers.
How Does Shipt Work?
Okay, so how exactly does being a Shipt Shopper work? Well, in this section, I'll cover how the process works, so that you know what to expect from working with the company.
Need Easy Extra $300+/Month for Free?
KashKick
: Get paid directly into your PayPal for watching videos, surfing, shopping and more.
Join KashKick Now!
InboxDollars
: Paid over $57 Million to members to watch videos, take surveys, shop and more.
Get $5 instantly!
Branded Surveys
: Get $1 instantly just for joining for free. Plus get paid within 48 hours by PayPal!
Join Branded Surveys
First Opinion
: Get paid up to $10 per survey and $300 per virtual focus groups!
Join Now!
Swagbucks
: Get paid to watch videos, shop online, take surveys and more.
Join now & get $10 instantly!
Step One: Sign up
The first step is to head over to the Shipt website and register to become a Shipt Shopper.
You might wonder, who is eligible to be a Shipt Shopper?
Well, the company does have some requirements that you will need to meet.
You'll need to:
Be at least 18 years of age.
Have a valid U.S. driver's license and auto insurance.
Have a reliable vehicle that's from 1997 or newer.
Have knowledge of produce selection.
Be able to lift 40 pounds.
Have an iPhone (iOS 10 or newer) or Android (5.1 or newer) smartphone.
To apply, you'll need to submit a few short answers to a few questions. This is so the company can get a sense of your problem-solving, communication, and decision-making skills.
You will also need to submit some video responses so that Shipt can get to know you, your communication skills, and your familiarity with apps.
Also, you'll have to sign the Shipt Shopper agreement, which outlines the ground rules on how to find success as an independent contractor with Shipt.
Once you've completed the application process, you will hear back from the company's Recruiting Team within a few days or weeks, depending on your area's current need.
If the company is not currently hiring, it will let you know, and get back to you as soon as possible when positions open up.
There's no cost to apply to become a Shipt Shopper.
You can also choose the area where you're willing to deliver. When you apply, you select a large area called a "Metro" where you will be shopping. Usually, these are entire metropolitan areas. After you become a personal grocery Shopper, you can select areas called "Zones" within that metro to shop in. You will receive offers for orders that are in your zones and can choose which of the orders you want to take.
Step Two: Shop for & deliver groceries
After you're approved as a Shipt Shopper, you will be sent a Shipt card and a Shipt shirt at no cost. You usually receive these within 3 to 5 business days after you are approved.
The company says that while wearing Shipt gear is optional, it can help make you easily identifiable to store associates if you need assistance.
You will also need to download the app to start shopping.
You will also receive an invitation to join the Shipt Shopper Hub, which provides information about getting started, and an invitation to an optional online course where you can learn more about using the Shipt Shipper app.
Also, if you have any questions that aren't answered, you're able to contact the company's customer service team 24/7 via live chat on the app or by phone at (205) 502 2500.
Once you have everything you need, like your Shopper card and the app, you can get started making deliveries. Ideally, you're able to set your own hours. So you can work part time or full time, anytime.
You shop for and deliver groceries to customers within a requested time frame. Scheduling, accepting orders, and shopping orders, are all done through the Shipt Shopper app.
What's good about the company is that you use the Shipt card you're provided with to pay for orders. This card is automatically loaded with funds for any orders you've claimed that require payment.
Step Three: Get paid
You're paid each Friday through direct deposit, which is always really useful.
Shoppers with the company are paid per order, and they also get the opportunity to earn tips and bonuses.
It's important to note that Shipt doesn't withhold any taxes from your weekly paychecks. So you are an independent contractor who's responsible for filing your own taxes. Shipt sends a 1099 form to shippers who earn above a certain amount of money at the end of the year.
How Much Do Shipt Shoppers Make?
Shipt says that Shoppers can earn between $16 and $22 an hour. After some research, I found similar numbers reported online from Shoppers.
Figures from Glassdoor suggest that Shoppers earn anywhere from $13 to $20 an hour on average. So that's similar to the $16 to $22 an hour that Shipt says its Shoppers can earn.
You're paid per shop, so the more you shop, the more money you will earn. Tips are also available, and Shoppers are able to keep 100% of their tips.
Tips are not required, but customers have the option to tip in cash or within the app after they receive their delivery.
Is Shipt Legit?
Shipt is a legit company that's well-reviewed on multiple platforms.
Shipt is accredited by the Better Business Bureau, and has been since 2015, and it has an impressive A+ rating.
The company is similarly well-reviewed on Trustpilot where it has 4.4 stars, which is an "Excellent" rating. Of course, those reviews and ratings are for the company as a whole, and not solely from Shoppers.
So, what do Shoppers have to say about working for Shipt?
Mostly, the reviews are positive with the majority of drivers working for the company giving it praise. Of course, many Shoppers had negatives, like the fact they have to pay for gas and that they don't always get as many deliveries as they would like.
On Indeed, Shipt Shoppers have given the company 3.6 stars, so it's mostly positive.
One Shipt Shopper from Bloomington, MN says:
"Overall a good side hustle. Good to make money when you need it. App helps in stores to find location of items by listing aisle numbers. Support / help chat is very quick to respond."
Another Shopper from Swartz Creek, MI, says:
"I really love this job i just hate the uncertainty but that comes with making your own schedule. I don't like how taxes are not taken out but then again it comes with the line of work. Overall I really love shipt. Pros: work whenever, decent pay, great HQ. Cons: taxes, people claiming orders quickly."
A Shopper from Omaha, NE, says:
"Not a bad job. There was no interview. You just have to submit a video of yourself. It's a good job with easy money and tips. But it's really hard on your car. I've done it for a few months and I need to get new tires and my car is just acting weird overall. But maybe that's just a me thing. If they provided a vehicle this job would be 100% worth it. If you have an extra car or if you still live at home with your parents and don't pay bills definitely the job for you. Pros: Fast money, shopping, working alone. Cons: They don't take out taxes, wears out your vehicle quickly, sometimes there are no orders when you are on the schedule to work."
Another reviewer from Chattanooga, TN, says:
"Work is easy and can be fun. Customers are great as is Shipt Shopper support. But pay is only so-so and they tend to hire too many Shoppers in an area, so there may not be many orders. Really great as a side job, not for a steady job. Customers are awesome."
Is Shipt Worth It?
Yes, for anyone looking to earn money on the side, working as a Shipt Shopper is certainly a worthwhile venture.
The company is well-reviewed online, as you saw above, and compared to other similar apps like Instacart, and GoPuff, Shipt is viewed much more positively.
Here's why being a Shipt Shopper is worth it:
Relatively high pay
Shipt pays pretty well offering an hourly rate of between $16 and $22 an hour.
This is a fairly high pay rate and gives you a good way to make money on the side.
COVID-19 Financial Assistance Available
COVID-19 financial assistance is available to Shipt Shoppers. You can get 2 weeks of financial assistance if you're diagnosed with COVID-19 or are placed under mandatory individual quarantine by a public health authority.
Offers flexible working hours
What's good about Shipt is that it allows you to work part-time or fulltime and you can set your own hours.
This gives you a lot of flexibility in your schedule. If you have a fulltime job already or are a student, or are a stay-at-home parent, you can work as a Shipt Shopper at the times it suits you.
This is so handy because it means that you get to work when you want and how much you want to. You also have control over where you shop too!
Free Shipt membership available
Shipt Shoppers are eligible for a free Shipt membership, so you can use the company's services at no cost.
Just sign up in the Shipt app with the same email address that's associated with your Shopper account. If the system does ask you to pay for membership during checkout, contact Shipt support through live chat, phone, or email.
If you already have a Shipt membership and are a new Shopper, you can reach out to Shipt Support to request a prorated refund.
Get some auto benefits
Shipt also provides a number of auto benefits to its Shoppers. This includes things like perks on auto insurance, maintenance discounts, and gas saving programs.
While you're responsible for gas and general car maintenance costs, it's good to know that Shipt does provide some good deals for Shoppers on everything from gas to auto insurance.
Get deals on lifestyle and entertainment
It's not just auto benefits that the company is providing either. Shipt is also providing Shoppers with some good deals on lifestyle and entertainment.
You can find perks with companies like AT&T and DIRECTV.
Get deals on healthcare, fitness, and well-being
The company also allows you to find coverage options for medical, vision, and dental insurance, alongside discounted prescription plans and gym memberships.
You can find deals with ScriptSave and Gympass for example.
Receive payment weekly
Payment is sent weekly, so it's not like you're having to wait a whole month to access your earnings.
If you want to make money fast – and who doesn't, right? – then the weekly payments that Shipt offers definitely makes working with the company worthwhile.
Lots of resources available for Shoppers
You know a lot of companies don't provide much in the way of resources to their workers. I've seen so many websites out there containing barely any information at all for contractors.
Shipt is definitely NOT one of those companies. On its website, Shoppers get access to a whole host of resources that provide a ton of information on working with the company.
And Shoppers are even encouraged to contact Shipt if they need any more information or assistance.
This is great because it means that you can easily learn how the whole process of being a Shipt Shopper works.
Closing Thoughts
Being a Shipt Shopper is worth it. This is a well-reviewed company that pays well and offers flexible working hours. Sure, it does have its downsides – one being that you have to use your own vehicle and are responsible for things like gas and maintenance costs.
And, with these types of companies, there's always the chance that there won't be that many orders available, so sometimes you may not earn as much as you would want to.
Still though, these aren't big deals and for the most part, being a Shipt Shopper is a good way to make money.
Hopefully, this Shipt Shopper review has helped you to decide whether or not to work with the food delivery company.