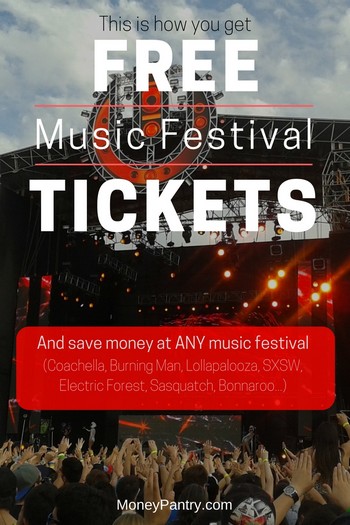 Are you one of the 32 million Americans that will go to a music festival this year?
If so, how much do plan to spend to see your favorite bands?
Between getting there, staying there, eating/drinking, and other activities or merchandise your answer is probably "more than I would like to."
No worries, we've found a few practical and effective ways to cut down costs and save you a ton of money so you can enjoy music and entertainment without breaking the bank.
1. Volunteer for free tickets & discounts
Want free tickets and awesome discounts?
Volunteer at your favorite music festival!
Need Easy Extra $300+/Month for Free?
KashKick
: Get paid directly into your PayPal for watching videos, surfing, shopping and more.
Join KashKick Now!
InboxDollars
: Paid over $57 Million to members to watch videos, take surveys, shop and more.
Get $5 instantly!
Branded Surveys
: Get $1 instantly just for joining for free. Plus get paid within 48 hours by PayPal!
Join Branded Surveys
First Opinion
: Get paid up to $10 per survey and $300 per virtual focus groups!
Join Now!
Swagbucks
: Get paid to watch videos, shop online, take surveys and more.
Join now & get $10 instantly!
All festivals need workers to help them run smoothly.
They need help parking cars, directing traffic, attending baths, or doing other simple jobs.
They generally give people free or discounted tickets in exchange for a few hours of volunteer work.
Be prepared to spend a few hours a day away from the festival and doing your job.
Also, if you sign-up to volunteer be sure to actually do the work.
The festival can always charge you for a ticket if they find out you have been skipping your work.
So how do you find volunteer opportunities at music festivals?
There are a few ways actually.
Contact each festival directly and ask about volunteer opportunities.
Sign up with third party organizations that organize volunteer work for festivals across the country.
Third party organizations
They organize festival volunteering opportunities for music fans.
They work with many of the top festivals in the U.S. including Coachella, Burning Man, Lollapalooza, SXSW, Electric Forest, Sasquatch, and Governors Ball.
A few of the biggest organizations include:
Work directly with festivals
As I mentioned earlier, most festivals offer volunteer opportunities.
Here are a few:
Please keep in mind that this is just a sample. There are many other music festivals that do offer free tickets, discounts and other perks in exchange for volunteer work.
Also, don't forget to follow these festivals on social media. Like most companies and organizations, they may give away free tickets and discounts to their followers from time to time.
Most of them also have email newsletters that you can sign up for free. These emails will keep you up to date on everything. But the best part is that you get access to exclusive deals and discounts.
2. Choose the festival that is right for you
Wanna save money on tickets?
Choose wisely!
It's pointless to pay big bucks for headliners you don't know or care to see.
Find a festival with a lineup that you know/love so you aren't wasting time or money on a ticket.
Rather than walking around talking to friends or people you meet you will be more encouraged to see all the shows and really get your money's worth.
Don't know how?
Check out this list of best upcoming music festivals from Fuse TV.
3. Choose the right ticket
If the bands you want to see are all going to play on one day it's pointless to buy a ticket for the whole weekend.
One-day passes are cheaper and may not sell out as quickly as full-access passes.
Keep in mind some smaller shows may have better line-ups and can be far cheaper than big events like Coachella or Bonnaroo.
Be weary. Although it doesn't happen often you would hate for yourself to be caught up in a Fyre Festival situation so be sure the festival you want to go to is legitimate.
4. Buy tickets early
Early-bird specials are almost always available.
If you know of a lineup you'd like to see, order it as soon as possible.
5. Make lists
Think of everything you could possibly need and write it down.
Make a list of things like clothes and toiletries that you already have so you don't need to spend extra money buying them before you go.
Make a separate list of things you will have to buy.
This allows you to look for sales on things you need.
List-making can prevent you from having to buy something at the festival (which WILL always be more expensive).
6. Create a budget
Having a budget will make sure you always have enough cash.
Right off the bat, you should be able to determine just how much you will need for your trip.
Money spent on tickets and necessary items will be set in stone but you can still plan for daily costs and set limits for yourself so you don't go overboard.
It's always a good idea to take a little extra cash in case of emergencies.
Hopefully, you won't have to tap into the extra funds if your budget fits your needs.
7. Cut down on travel costs
Did you know the average festival goer travels 903 miles to attend?
With that in mind there are a few good ideas to help you get to your festival without going over budget:
Find festivals near you: Try and find a festival that is close to you. The further you have to travel the more expensive it will be.
Buy tickets early: Book tickets as early as you can. The sooner you buy plane tickets or rent a car the cheaper it will be.
Travel cheap: Save your money by buying cheap travel. Travel coach or economy and save your money on things that matter.
Travel with others: You can find people in your area to travel with. Post on social media or on sites like Craigslist to find someone that would be willing to share on fuel costs.
Find a full list of ways to save money on travel here.
8. Stay at or near the festival itself
Most festivals offer campsite rentals along with festival tickets.
Rather than staying in a hotel you can be part of the action of the festival and generally within walking distance of the shows.
Dance parties, impromptu shows, or exciting get-togethers will be missed if you are staying away from the festival.
If you do decide to stay at the campgrounds offered you will need some things (tents, lamps, etc.) but you can generally find cheap options.
Also, don't forget that you can borrow things from people: family or friends might have some things you need and borrowing them can be a lot cheaper than having to buy something new.
9. Cheap hygiene and personal care
It can be hard to keep clean and healthy at a festival and it can sometimes cost more than food.
Here are a few ways to save money and stay clean and fresh:
Consider a solar shower
Most festivals offer showers but they can be expensive.
A solar shower is a great way to have an easy way to shower and save money at the same time.
You can pick one up at Walmart or Amazon for under $10-$20.
Some of the benefits of a solar shower include:
It can save you time since you won't be standing in line.
It saves money since it's a one-time cost.
You will have it for use at future festivals or events.
It can be cleaner than public baths.
Rather than trying to clean your clothes for the weekend use aerosol air fresheners to stay smelling fresh.
Stop by the local Dollar Store before you hit the road
Dollar stores are great places to shop for personal toiletries and other travel necessities.
Stop by your local dollar store before you hit the road.
Things like sunscreen, bug spray, and deodorant can generally be found on sale or at dollar stores.
They will work for a couple of days even if it isn't the brand you are used to.
Small containers of medicine (Tylenol, ibuprofen) and hand sanitizer that can be carried around with you can also be found at dollar stores.
10. Save with cheap clothing
Generally, festivals take place at parks or in fields and it can get quite dirty and (hopefully not) muddy.
Be sure to take clothes that you don't mind having to throw away at the end of the festival.
Hit up your local thrift store like Goodwill or Salvation Army for some cheap threads to wear.
If you aren't bashful don't be afraid to wear a bathing suit as your outfit for the day.
You can also make your own clothes:
The fashion of festivals can be called eclectic at best so don't be afraid to use materials that are cheap or that are already around your house.
Turn T-shirts into dresses or turning old jeans into frayed shorts are among the many ideas.
There are a ton of sites like StyleMotivation and RaveWonderland that can give you limitless ideas.
11. Stay away from merchandise or crafts
Buying programs, clothing, and CDs can add up quick.
You don't need a program to remember what a great time you had or a T-shirt to promote your favorite band or prove the fact you went to a festival.
CDs sold at festivals are generally expensive.
Most clothing items and CDs will be available even months after you attend a festival so don't break your budget all at one time.
If you do want to buy something wait until the last minute, that way you know that you will have enough money and that the price won't go down anymore.
Also, if you want a limited item (program, limited clothing) add it to your budget to begin with and buy it as soon as you can so you know you have one.
12. Save on food
Spending huge bucks on concessions or vendors is pointless when you can eat at your campsite.
Thankfully there are a few easy ways to save money on food.
Bringing in non-perishable foods is much cheaper and it also assures that you are eating what you want to eat.
Instead of standing in long lines waiting for food, you can enjoy the festival!
Save your main meals for the morning and night and carry snacks with you throughout the day.
This cuts down on being hungry and breaking down and buying vendor food.
You should also be sure to buy the right kinds of food:
Foods that are high in carbs or sodium can leave you feeling hungry still.
Take foods like fruits and vegetables and protein (beef jerky) to make sure you aren't feeling hungry all weekend.
13. Save on drinks and alcohol
When it comes to drinking, water is the best way to go.
Taking two cases of water per person is a great idea and it's the best way to stay hydrated since you will be spending energy walking, dancing, or partying.
Flavor packs that you can add straight to the bottle are also a great way to give you a little flavor.
Also, using water bottles as ice packs can save space in your cooler and keep your other food cold. Once it has thawed after a day or two it's ready to drink.
Another good idea is to take a refillable container. Most festivals offer free drinkable water that can save you from buying anything else.
If you do want to drink alcohol while at the festival, check and make sure you can bring your own.
We have all seen the bottles of booze hidden inside loaves of bread and "vodka burritos", but there are better options that keep you out of trouble.
Beer and hard liquor will be cheaper off-site and you can pick exactly what you want.
Also, if you can stomach it, stay away from the vendor's mixed drinks.
Drink beer instead.
It will be cheaper and easier to find at the festival.
Final Thought
Music Festivals are awesome!
They are huge money-makers for the organizers. Ticket sales alone add up to $20-25 million each year.
That means they will continue to evolve and get better.
If you love attending music festivals, follow our tips above so you can save enough to attend another one every year.
Feel free to leave a comment if you have any great tips for saving money at music festivals!