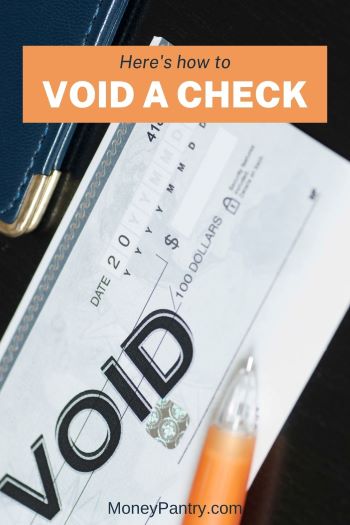 In this post, we'll cover how to void a check.
Sometimes you write a check but then you need to cancel it. You might want to void a check that you no longer plan to send or because you need a voided check to set up a direct deposit or some other type of payment.
If you're unsure how to void a check, then read our quick and easy guide below!
Oh, and if you are wondering how to get a check to void, then make sure you read until the end of the post because we have some tips on that too!
How to Void a Check
Here's how you can void a check in three simple steps…
Step One: Get a pen
The first step is to get something to write on the check with. Yes, that seems obvious, I know, but what you void a check with is important. Using a pencil is not a good idea because it can be erased.
Need Easy Extra $300+/Month for Free?
Panel Payday
: Earn up to $75 per survey. They also pay up to $50/hr for mystery shopping.
Join Now!
InboxDollars
: Paid over $57 Million to members to watch videos, take surveys, shop and more.
Get $5 instantly!
Daily Goodie Box
: Want free stuff? DGB will send you a box of free goodies (Free Shipping - No Credit Card).
Get your box now!
Branded Surveys
: Get $1 instantly just for joining for free. Plus get paid within 48 hours by PayPal!
Join Branded Surveys
Toluna
: Earn PayPal, Amazon & Tango e-vouchers for taking surveys (& product testing!).
Join & get 500 bonus!
Swagbucks
: Get paid to watch videos, shop online, take surveys and more.
Join now & get $5 instantly!
You want to write on the check with a pen. It can be blue or black. But you want the ink to be permanent so that no one can change it. That's why you should avoid using a pencil to void a check.
Step Two: Write "VOID" on the check
Now you have your pen ready, it's time to actually void the check.
To do this, write "VOID" in big letters across the front of the check.
Make sure that the letters are tall and wide enough to cover most of the check.
Be sure to avoid covering the numbers at the bottom of the check.
Another option is to write "VOID" in smaller letters on the:
Date late
Payee line
Amount line
Signature line
Amount box
Step Three: Make a copy of the check
Now that you have voided the check, you'll want to make a copy of it for your records. You should also note the check number in your check register if you keep one. If you use duplicate checks, you should also ensure that your void marks can be seen on the duplicate as well.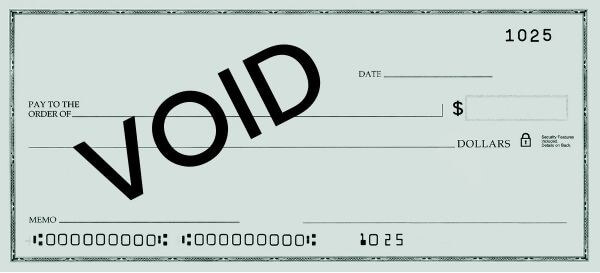 By the way, the process is the same no matter what bank you are with. Whether you are with Chase, Wells Fargo, Bank of America, U.S Bank or even a Credit Union, canceling a check is always done the same way.
How to Void a Check that's Already Been Sent
Okay, so how do you void a check that's already been sent?
Well, you can't void a check after you have given it to the payee. Instead, if you want to stop the check being cashed or deposited, you will need to request a stop payment from your bank. This may involve a fee though.
This is a formal request that the check not be paid out by the bank if someone deposits it or presents it to be cashed. Get in touch with your bank as soon as possible, so that you can request the bank put a stop payment on the check if the check hasn't already been cashed.
How to Void a Check that Was Lost
What if your check was lost? Can you void it then?
Just like with a check that's been sent, you can't void lost checks. Instead, you will need to get in touch with the bank and request a stop payment order on the check. You can only do this though if the check hasn't cleared.
Basically, it's the same situation outlined in the "How to void a check that's already been sent" section above.
Get in touch with the bank to see whether the check has already cleared. Act quickly before the check can be cashed.
If the check was stolen and the payment has cleared, make sure that you report the fraud to your bank.
Why Void a Check?
There are a few reasons why you might need to void a check. I mentioned some of them briefly in the intro, but I just wanted to go into a little more detail here.
Here are some common reasons you may want to void a check:
To set up direct payment
You might need to void a check if you want to schedule any electronic payments, which could be for personal use, or for business reasons. Perhaps you have a business, and you need to pay a vendor electronically? In that case, voiding a check may be required to set up automatic payments.
For direct deposits
Okay, so another reason could be that you need to set up a direct deposit. With direct deposits, you can get paid faster by your employer. However, to get the direct deposit set up, your employer needs certain information from you, such as your bank account number, and bank routing number. Voiding a check is a way to provide those details.
To set up regular bill payments
Okay, so if you want to set up any bills to come out of your account regularly, you may need to submit a voided check. This payment could be a mortgage payment, or a car loan payment, for example. In order to schedule these payments from your checking account, you may need to provide a voided check.
Because you made a mistake on the check
Perhaps you made a mistake on the check when you were writing it? Maybe you wrote the wrong dollar amount for example? If that's the case, then you would want to void the check.
For safety reasons
Voiding a check can also be done as a safety precaution. Because it allows you to cancel a check that you no longer need but may not want to rip up yet as you need the name or information written on it. When you void the check, it allows you to view the writing on it, without the risk of the check being used by someone else if it happens to get lost or stolen.
It's just an easy measure you can take to protect against fraud.
What if You Don't Have a Check for Setting up Direct Deposits or Electronic Payments?
Okay, so you may want a check for setting up direct deposits or electronic payments. Not every check account provides checks though. So, it can be tough to set up a direct deposit or electronic payment.
If you have a checking account that doesn't provide you with checks, then try these options for setting up a direct deposit or electronic payment instead:
Use a deposit slip
Sometimes deposit slips can be used instead. These should also include your routing number and bank account number. So this could be an option if your bank offers them.
Try online options instead
Setting up payments online can sometimes be a better option if you don't have any checks. You may be able to set up online bill payments through your online banking account instead.
Get a starter check from your bank
Some banks will provide customers with a starter or sample check. You may be able to ask the teller to print a check that has your account information on it. Then, you could try voiding that check.
Ask for other documentation from the bank
If the options above don't work for you, then you could instead get other documentation from your bank or credit union rather than voiding a check.
Ask your bank to provide you with an official letter that includes your account number, routing number, and account type (checking or savings).
Some banks provide form letters for setting up direct deposits. So when you are logged into your online banking, you can print that out, and it should include everything you need.
Closing Thoughts
As you can see voiding a check is very easy. Just follow our 3 steps guide!