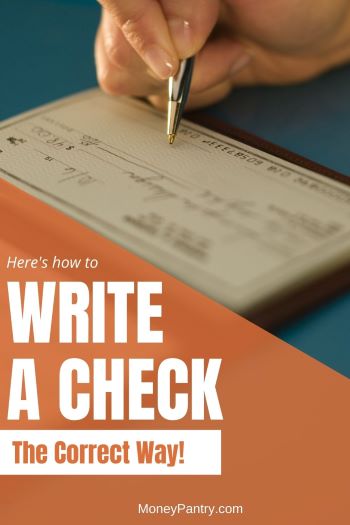 Although we may not use checks as often as we used to in today's digital world, there are still times when we'll need to write or cash a check.
Checks are still a safe, effective way to send money that many people still use.
If you find yourself having to write a check for the first time, it can be a little overwhelming. There are a lot of fields to fill in, and since moving money is so important, you want to make sure that you get it right.
In today's post, I'll provide you with an easy to follow, step-by-step guide on how to write a check.
How to Write a Check
Obviously, if you are reading this, you already have a bank account but if you don't yet and don't know how to, read our guide on how to open a bank account for the first time.
Your bank will give you a number of starter checks and checkbooks to get your stated. After that, you'll have to order more.
Need Easy Extra $300+/Month for Free?
KashKick
: Get paid directly into your PayPal for watching videos, surfing, shopping and more.
Join KashKick Now!
Panel Payday
: Earn up to $75 per survey. They also pay up to $50/hr for mystery shopping.
Join Now!
InboxDollars
: Paid over $57 Million to members to watch videos, take surveys, shop and more.
Get $5 instantly!
Branded Surveys
: Get $1 instantly just for joining for free. Plus get paid within 48 hours by PayPal!
Join Branded Surveys
iPsos iSay:
: If you have to only sign up for one paid survey site, go with Ipsos (high paying survyes)!
Join iPsos Now!
Swagbucks
: Get paid to watch videos, shop online, take surveys and more.
Join now & get $5 instantly!
With that out of the way, here's how you can write a check to someone, yourself or a company.
Step One: Enter the date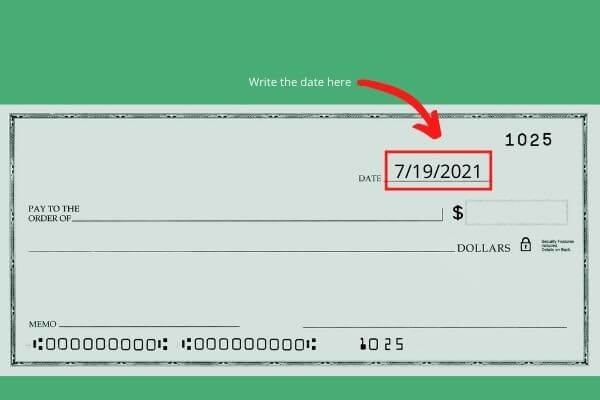 In the top right corner of the check, you'll need to write the date on the blank spot. This date tells the bank and the recipient of the check when you wrote the check. If you don't want the check to be cashed right away, then you can put in a future date and the check will be invalid until that date arrives.
The date should appear in a month-date-year format.
If you were writing a check for November 15th, for example, write the date as one of these formats:
November 15, 2021
11/15/2021
Step Two: Enter the name of the recipient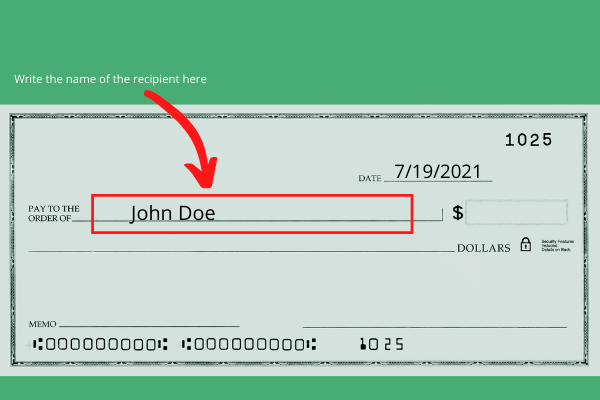 On the check, you'll see "Pay to the order of." Next to that, write the name of the person or business that will receive or cash the check.
Include the first and last name if the check is for an individual.
Use the full name of the company is the check is for a business.
If you are unsure of the person's or organizations last name, you can make the check out to "cash."
I wouldn't recommend doing that though for safety reasons because anyone can cash or deposit a check made out to cash. This means that if the check gets lost or stolen, anyone can cash it.
Step Three: Enter the payment amount in numerical form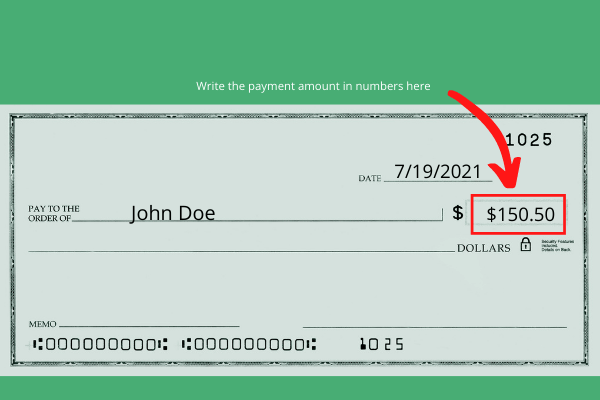 Now you should enter the amount you want to pay. In the box to the right of the recipient's name, enter the amount in number form.
This should be in the dollar amount, down to the penny.
For example: 145.66.
Make sure that you write the number clearly so that the bank can subtract the right amount from your account.
Ensure that you have enough money in your bank account to cover the payment. A bounced check can not only be a bit embarrassing, but you could also get an insufficient funds charge from your bank. And, in some circumstances, it's a crime to write a large non-sufficient funds (NSF) check.
Step Four: Write the payment amount in word form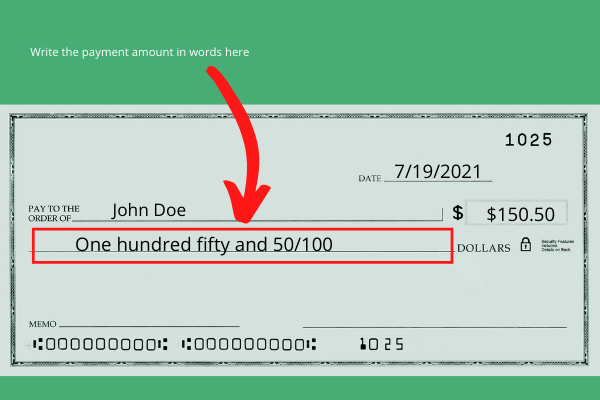 On the line below the recipient's name, you need to enter the amount again but this time in word form.
This means that if the check is for $100, you would write "one hundred."
DO NOT write "dollars" after the amount. I know it seems logical to write "one hundred dollars," rather than "one hundred," but the word "dollars" will already be printed on the check next to the line.
Make sure you write the amount in words exactly, down to the penny.
You can enter cents as a fraction, like 25/100.
Here's an example:
If the amount is "$1,500.60" in numerical form, in number form you would write, "one thousand five hundred and 60/100."
Of course, if you are writing a check for the exact dollar amount, you would write: "one thousand five hundred and 00/100."
Writing the amount in word form helps the bank to clarify the correct payment total.
Step Five: Write what the check is for (Optional)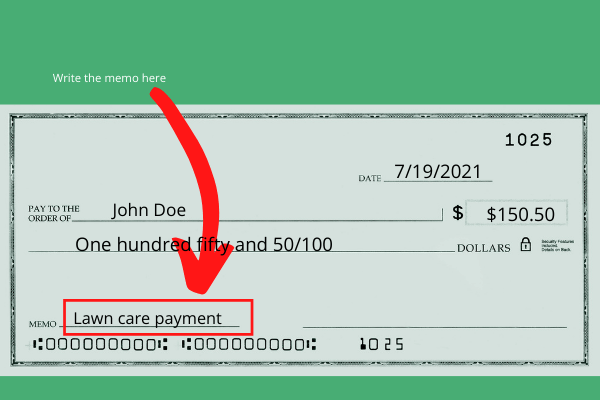 On the memo line, you can write what the check is for.
Now this step is optional, but it just helps to explain the purpose of the check.
Let's say you are paying rent, you might write, "November 2021 rent." Or if you are paying your electric bill, you might write, "Electric Bill," on the memo line. Often, when you are paying a bill, the company will ask you to enter your account number on the check in the memo area.
Step Six: Sign the check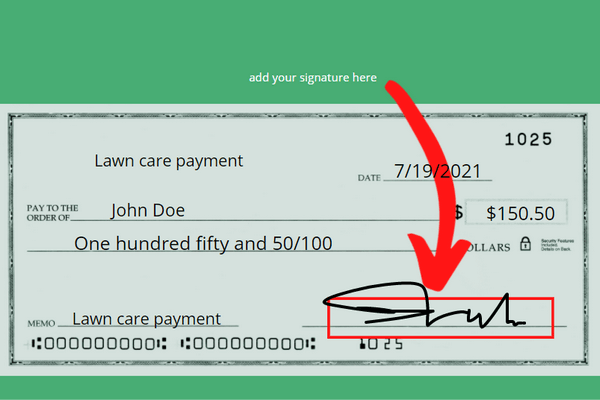 Now all that's left to do is to sign the check. You sign the check on the signature line, which is usually found at the bottom right corner of the check.
Unsigned checks are invalid, and they can't be cashed. So, make sure you don't forget to sign the check. Signing the check shows the bank that you confirm the amount you are paying, and the details of the recipient are correct.
How to Get a Checkbook from Your Bank
You need to write a check but you don't have a checkbook. Well, don't worry. If you don't already have a checkbook, getting one is pretty easy and there are more options than you would think.
Back in the day, you'd need to visit your bank or financial institution in person to order your checks. That's not your only option anymore.
Here are a few ways you can get a checkbook:
Visit your local bank
Okay, so this is your classic option. Just head into your bank and let the teller know that you are looking to order some checks for your checking account. Your bank will be happy to help you.
Order through mobile/online banking
If you don't want to have to visit your local branch, and as homebody myself, I don't blame you, then why not get them through mobile/online banking. A lot of banks give their customers the option to do this.
Open up your bank's mobile app or online banking, and you should find a tab, often in your settings, which will allow you to order checks. Just look out for "order checks" or "check orders."
Call your bank
Another option if you don't want to go into your local branch, or you can't seem to find a place to order checks with online banking or the bank's mobile app, is to simply call your bank.
You can either ask them for help with ordering checks through mobile/online banking. Or you can order checks by phone with many banks. You will just need your account number for this. Don't worry – this can easily be found on your bank statement.
Bonus tip: Order checks online
Did you know that you can order checks online and get them delivered to your house, and it doesn't involve ordering them directly from your bank? That's right. There are quite a few sites out there nowadays that you can use to have checks delivered right to your home.
These sites offer checks at low prices. Now, in order to purchase checks from these sites, you will need some information, like your checking account number and your bank's routing number.
Security Tips for Writing & Using Checks
Although using a check is a classic way to send money, it's not always the safest option. To make sure that you have a good experience with paying with a check, and to prevent fraud, make sure that you follow these simple security tips.
Don't use pencil to write a check
The first tip is a simple one and it's to use a pen whenever you write a check. Do not use a pencil because anyone could erase what's on the check and change the amount and the name of the payee. So, always use a pen to write a check. That way, no one can alter it.
Only sign the check after you have filled in the recipient's name and the amount
Do not sign the check until you've written the name of the recipient and the amount. Make sure the name of the recipient, and the amount is correct.
Prevent scammers from adding to the dollar amount
When you fill in the dollar amount for your check, make sure that you don't leave any room for scammers to add to the dollar amount.
You can do this by starting at the far left edge of the space when writing the amount and by drawing a line at the end of the number.
Use duplicate checks instead of single ones
Single checks are cheaper to buy, but they are not as good if you want to keep records of each check that you write. Duplicate checks come with a thin carbon copy sheet behind each check. This gives you a copy of every check that you write allowing you to better identify where your money goes, and what you wrote on each check.
Make sure your signature is consistent
Having a consistent signature is so important because using the same signature can help you and your bank to identify fraud. If the signature on a check doesn't match yours, then it's easier for you to prove that you're not responsible for the charges. Make sure that you have a signature that's legible and consistent.
Avoid writing a check payable to cash
I mentioned this briefly before, but it's important. If you can, avoid writing a check payable to cash because anyone can cash it in. If the check were to go missing, it could end up getting cashed by a random person and you don't want that.
If you don't know a person's exact name or the exact name of a business, then get in touch and ask them. It's a small step, but it ensures that your money ends up in the right place.
Consider electronic payments instead
Checks aren't the riskiest way to pay for things, but there are safer options out there – namely electronic payments. With electronic payments, there is no paper that can get lost or stolen. Plus, electronic payments are much easier to track. If you can, use online bill payments for your recurring expenses, and a credit card or debit card for your everyday spending.
Closing Thoughts
It can be a little overwhelming to write your first check because you worry about getting everything right. With this easy-to-follow guide though, you don't have to worry. Just follow our step-by-step guide on how to write a check.
The more checks you write, the easier you'll find it. Don't forget to keep our tips in mind either! Oh, and if you have any tips on anything check-related, whether it's safety tips or other stuff related to writing a check to someone or yourself, be sure to share them with us in the comments section below.