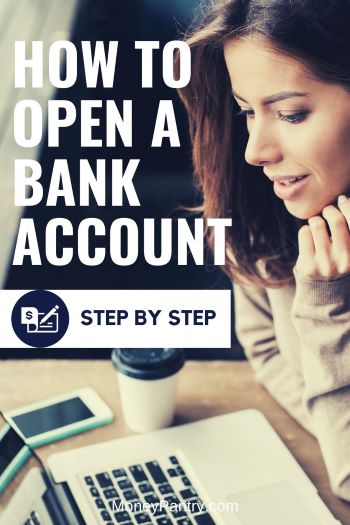 One of the signs of becoming an adult and managing your money is opening your first bank account. People open a Checking or Savings account at different ages though most seem to open their first bank account at 16 or 18.
According to a 2019 FDIC banking survey, almost 95%  of U.S. households had a bank or credit union account.
But no matter at what age you plan to get your first bank account because there are so many different bank accounts and documents required, opening a bank account can seem a little intimidating.
Don't worry though – it's simpler than you would think.
Below, you'll find a simple step-by-step guide on how to open your first bank account. I'll cover things like what you need to open a bank account and tips for choosing the best account that fits your financial needs.
(Oh, and did you know that many banks will actually pay you a bonus when you open a new checking or savings account? Check out our list of bank account sign up bonusses for a list of the best account opening promotions offered by some of the top banks in the country.
Need Easy Extra $300+/Month for Free?
KashKick
: Get paid directly into your PayPal for watching videos, surfing, shopping and more.
Join KashKick Now!
InboxDollars
: Paid over $57 Million to members to watch videos, take surveys, shop and more.
Get $5 instantly!
Branded Surveys
: Get $1 instantly just for joining for free. Plus get paid within 48 hours by PayPal!
Join Branded Surveys
First Opinion
: Get paid up to $10 per survey and $300 per virtual focus groups!
Join Now!
Swagbucks
: Get paid to watch videos, shop online, take surveys and more.
Join now & get $10 instantly!
Why Do You Even Need A Bank Account
In the old days, cash used to be the king, but these days, nobody wants to carry around wads of cash in their pocket. Having a bank account that gives you checks and debit/credit cards just makes things a lot easier, faster and safer.
And you can receive or send money internationally and within your own country with a few clicks. Sure, there are ways to send money without a bank account, but banking just makes things much easier.
And with so many competitors, banks are forced towards lower fees and fewer restrictions. So overall, for the amount of convenience and safety you get by having a bank account, it is just a no-brainer.
How to Open a Bank Account Step by Step
Here's all the info you need to successfully create your first account.
Step One: Find a financial institution that suits your needs
This could be a:
Bank: You could go with your traditional bank. This can include community banks and big banks.
Credit union: Credit unions are customer-owned financial institutions. They offer many of the same services and products you'd expect to find from a regular bank.
Online bank or credit union: Online banks and credit unions don't have any branches you can visit. Instead, they operate solely online. If you don't mind banking online only, then joining an online bank or credit union can help you to reduce fees, and even get higher interest rates on savings accounts in some cases.
Step Two: Choose an account that best suits you
Banks usually offer quite a few account types. These can vary depending on the financial institution you chose.
Generally, you'll find these account types and services on offer:
Checking accounts: This is your regular old bank account where you can make payments and receive direct deposits.
Savings accounts: If you're looking to earn interest on your money, then you might be interested in a savings account. With a savings account, you can earn interest.
Money Market accounts: These are deposit accounts that pay interest based on current interest rates in the money markets. Money market accounts generally pay a higher interest rate, but they also come with restrictions that can make them less flexible than a regular checking account.
Certificates of Deposit: With a certificate of deposit (CD), you deposit money for a specific time frame, during which it cannot be withdrawn. But certificates of deposit can earn much more than savings accounts. With CDs, you generally earn a fixed/pre-determined interest rate.
Loans: Most banks will offer loans like auto, personal, home, and business loans.
Also, banks will also offer a few different types of each of the above account types. So, for example, most banks will offer a basic checking account and a premium one. Usually with premium checking accounts, you pay higher fees, like ATM fees, overdraft fees, and service fees, but you get access to more features. Each product on offer will come with a different name and level of service. So make sure that you compare accounts to find the one the best suits you.
Step Three: Gather what you need to open a bank account
Lots of people want to know, what do I need to open a bank account?
This is an important question because once you've chosen a financial institution and an account that suits you, you'll need to gather all the documents you need.
Here's what you need to open a bank account:
– A valid, government-issued photo ID, like a:
Driver's license
Passport
Or, if you don't drive, a state ID card, which you can get at the DMV office.
– Basic information, like:
Your birthdate
Mailing address
Name
Social security number
Taxpayer Identification Number
Phone number
– Money for a deposit (If required on account opening): Some banks require you to make an initial deposit. Not all of them do. So, it depends on the account you choose. I discuss funding your account in Step Six below.
– Identification details for other applicants if opening a join account: If you are opening up this account with someone else, then the bank will need ID and personal information for all account owners.
– A joint owner to open the account if you are under 18 years old: Banks won't allow those who are under the age of 18 years old to open an account on their own. So, if you are younger than that, you will need a parent or legal guardian to open up an account with you.
Step Four: Ask about a credit check
Most banks will check your credit to see if you've had any issues in the past like problems repaying loans, for example.
Most of the time, these checks are "soft checks." This means that they do not impact your credit rating. But, if you are concerned, it's always best to ask what type, if any, credit check, that the bank plans to do.
Otherwise, skip this step!
It's important to note that you don't necessarily need good credit to open up an account, but having bad credit can sometimes lead to denials from certain financial institutions.
Step Five: Agree to the terms and sign
Okay, so now you have provided the bank with all of your information, it's time to agree to the terms and sign.
Banks have terms and conditions that come along with accounts. Make sure that you read these properly before you sign anything. If everything seems above board, then you should agree to the terms.
If you are opening a bank account online, then you may need to print, sign, and mail a document to the bank before your account is opened. Some banks will use electronic disclosure and consent to make the agreement legally binding. So you can do everything online. Others will require a signed document in order to open an account. Your account will not be active until it has received the documents.
It just depends on the bank you choose. Each one will have its own signing requirements.
Step Six: Fund your account
Okay, so I have included this step as step six, but sometimes it can come before the previous one.
Some banks require you to make an initial deposit into your checking or savings account. This is sometimes required as part of the account opening process, and other times it's required once the account is up and running.
So, although I have listed funding your account as step six, you may actually need to do this before you have your account opened.
It really depends on the bank.
There are a few ways you can fund your account:
Deposit cash: You can fund your account with cash. This should be available to spend with your debit card within a day or so.
Deposit a check: The money should be available within a few business days once deposited.
Deposit a money order: Once deposited, the money should be available within a few business days.
Set up a direct deposit with your employer: You could have your earnings sent directly to your new account rather than getting a paycheck.
Transfer funds electronically: You could transfer money from an external bank account in order to make your initial deposit.
Of course, how long it takes for the money to appear in your account will depend on your new bank's processing times, as well as the payment method you use to make the deposit.
Step Seven: Start using your new account
Now that everything is set up, you can start enjoying your new bank account. Setting up a bank account doesn't need to take long, especially once you have chosen a bank, an account, and have all of the required documentation ready.
Once you have signed everything and have made any required deposits, your bank account may be ready to use within anywhere from a few minutes to a few days.
Make sure you lookout for a debit card or ATM card in the mail if it's a savings or checking account you have opened.
Also, you may receive a checkbook.
Some banks also offer apps that can come in handy for things like depositing and cashing checks and online banking. So do check to see if your bank or credit union has an app for customers.
Also, you may be able to set up things like email alerts that let you know about things like large withdrawals or when your balance is running low.
See what features are offered by your bank.
Bonus Tip: Don't Forget to Close Your Old Account, if Needed!
Above, I've given you a simple, step-by-step guide for opening up a bank account. There's one thing that I just wanted to mention sort of as a bonus tip because it may not apply to everyone.
If you are switching banks, and you don't need your old account, then you will need to close it.
If this applies to you, then read on.
Switching banks properly can help you to avoid late fees and other issues.
Here are some tips for switching bank accounts seamlessly:
Make sure your employer has your new account information so they can make direct deposits.
Check any automatic bill payments: Whether it's your utilities or your Netflix subscription, make sure you cancel any payments that come out of your old account. This may need to be done on the service provider's website or in the bank's own bill-pay platform. Set up new payments with your new account information.
Cancel any recurring transfers and linked accounts: Check that information in any payment and money transfer apps like your PayPal or Venmo is up to date with your new bank account. Remove details of old accounts. And, if you used to transfer money from your old savings account to your old checking account, make sure you cancel that. You can set up a transfer between a new checking and an existing savings account, for example.
Delete apps and cancel alerts: If you have your old banking app, you no longer need it, so delete it. Also, make sure that you cancel or turn off any text or email alerts you were receiving from your old bank.
Destroy any leftover blank paper checks from your old account.
If you have a safe deposit box and want to close that too. Then make sure you collect your stuff in person and make sure you check your rental agreement for details on closing out your box.
Get a confirmation from your old bank that your account is closed. Also, ask if about the bank's reopening policy. Some financial institutions will reactivate closed accounts in order to receive deposits or to honor automatic payments, for example. This can result in unwanted fees for you. So make sure your account is closed and that it isn't going to be reactivated. You may want to get a written statement from your old bank that your account is closed.
Closing Thoughts
Starting up a new bank account honestly doesn't have to take as long as you would think. Especially with online banking! Whether you opt for a bank account with a national bank that has branches you can visit in person, a local credit union, or an online bank, it's important to be prepared.
Do your research into different accounts, compare products offered by different financial institutions, and make sure that you have everything ready like your ID for when you do go to open up your new account.
If you've wanted to know how to open a bank account, follow the steps above, and don't forget to ask your bank for details on account opening too. Each bank has its own rules, regulations, and terms for new account holders. So asking for details of what's required is important.
Banks always want new customers, so I'm sure that they will be happy to help you with setting up your new account.
Do you have any tips on opening a new bank account? If so, share them with us in the comments section below.