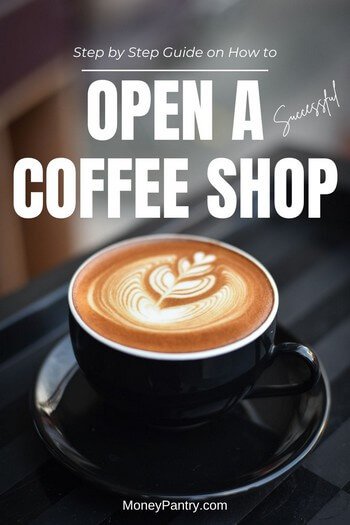 Want to know how to open a coffee shop?
Then this is the post for you.
Coffee is an incredibly popular beverage in the United States. 3 in 4 Americans drink coffee every day! And 32% of consumers purchase coffee from a coffee shop 1 to 3 days a week.
No wonder there is an Starbucks on seemingly every corner, not to mention all the local specialty coffee shops.
That's a lot of people ordering coffee!
You could get in on coffee's popularity and earn a profit by opening your own coffee shop.
Need Easy Extra $300+/Month for Free?
KashKick
: Get paid directly into your PayPal for watching videos, surfing, shopping and more.
Join KashKick Now!
Panel Payday
: Earn up to $75 per survey. They also pay up to $50/hr for mystery shopping.
Join Now!
InboxDollars
: Paid over $57 Million to members to watch videos, take surveys, shop and more.
Get $5 instantly!
Branded Surveys
: Get $1 instantly just for joining for free. Plus get paid within 48 hours by PayPal!
Join Branded Surveys
iPsos iSay:
: If you have to only sign up for one paid survey site, go with Ipsos (high paying survyes)!
Join iPsos Now!
Swagbucks
: Get paid to watch videos, shop online, take surveys and more.
Join now & get $5 instantly!
It's not easy and it does require investment, but it can be a profitable venture.
How to Open a Coffee Shop
Here's a guide on how to open a coffee shop.
1. Decide on starting from scratch, buying a franchise, or buying an existing coffee business
Your first step should be to decide what type of coffee shop you want to start.
You have a few different options:
Open your own shop. So, you're starting completely from scratch and are opening your own store.
Open a coffee shop franchise.
Purchase an existing coffee shop that's for sale.
Obviously, there are pros and cons to each option.
For example, opening your own shop gives you a lot of freedom to create exactly the type of shop you want, but there's no big brand name behind you to help you out at the start.
On the other hand, if you start a franchise, you'll have that brand-backing, but you'll also be bound by the franchise, and have to use certain logos, colors, and even coffee beans.
Write down the pros and cons of each option and then compare it to the factors you're looking for in a coffee shop.
For example, if choosing your own branding and coffee beans is very important to you, then the franchise option won't facilitate, and you'd be better off with one of the other two options.
If having everything already set up and ready to go as quickly as possible is your main goal, then opening your own shop from scratch won't be for you because it requires you to build everything up yourself first.
2. Do your research
If you want to know how to start a coffee business, then it's important to do your research. You need to learn all about what makes a successful coffee shop.
The internet has a wealth of information, and there are also other educational tools that you can use such as books and classes. You could also ask other coffee shop owners about their experiences.
You'll want to learn basically all that there is to know about starting a coffee shop, from how to roast your own coffee beans, to the best machines to use, to the health codes for a coffee shop.
Basically, you need to seek out information on the whole process from making the coffee to growing your business.
Doing your research will help to provide you with important tools and information that can help you to build your business.
The more knowledge you have the better it is for your coffee business as you'll have more insight into how to run it.
3. Create a business plan
Having a business plan is so important for any type of business, including a coffee shop.
Your business plan will involve a few different things.
Firstly, you will need to decide how you want your company to operate. So, there are many options such as:
Sole proprietorship
LLC
C-corp
The option you choose is going to have tax and legal implications for your business. So, it's important to choose carefully.
It can be a good idea to consult a business attorney about these types of decisions. This will help you to choose the best option for your business.
If you are starting a franchise, then you may already have a business entity that you have to use.
Aside from deciding on the structure for your business, you will also need to:
Decide on a business name.
Get an idea of where you want to open your coffee shop.
Think about what type of goods you want to offer.
Consider what type of coffee shop you want to have, like a sit-down or drive-through.
What your target demographic is.
There's a lot to think about when creating your business plan. But, having a business plan is so useful as it helps you to get everything down in one place.
Not only is a business plan useful just for having all of that information in one place, but if you need to get outside capital to start your shop, then you'll need to provide a business plan for funding consideration.
Fortunately, there are lots of options for business loans for a café. Whether you need funding to start your coffee shop or want to leave funding for expansion later on, having a solid business plan from the outset can make the process easier.
There are lots of other things to consider early on too, such as:
What customers in your area are willing to pay. For example, if you're planning to open a store in a working-class neighborhood, then opening up a gourmet café where you charge $6 for coffee may not be the best idea.
Whether you want to offer food. You may also decide to offer food alongside coffee. If you do decide to put food on the menu, then you will need to decide whether you're going to purchase the food pre-made from a bakery or make it in-house from scratch.
There's a lot to consider when you're first starting your business, but the more you can plan, the better. Having a strong concept will help set your coffee shop up for success.
4. Consider costs and funding
Okay, so I briefly mentioned how you may want to consider outside funding when starting a coffee shop.
Not everyone will require outside funding. Some people may already have the capital to start up a coffee shop without having to seek it from investors.
You'll need to calculate your startup costs. Once you have determined your startup expenses, you'll be able to decide what startup funds are required and whether you'll need to request capital from investors or contact banks and credit unions to request a small business loan. Another option is crowdfunding, which allows other people to support and contribute to the success of your coffee business.
Whichever funding option you decide on, you need to have a good idea of what your budget is before you go into finding the capital you need.
Starting a coffee shop is expensive, so you need to make sure that you have enough funding so you can afford all of the equipment and supplies that your business will need.
Also, it can take new businesses 6 to 12 months to actually become profitable. So, you'll need to make sure that your initial funding can cover operating costs until your business can support itself.
There are lots of different methods you can use to get funding for your coffee shop, such as getting traditional commercial loans, business lines of credit, and small business loans.
It's a good idea to research all of the available options thoroughly before you make a decision on what type of financing would be best for you and your business.
How much does it cost to open a coffee shop?
So, you might be wondering just exactly how much does it cost to open a coffee shop?
Well, it really depends on a few factors, such as:
The location of your coffee shop.
The size of your coffee shop.
The type of coffee shop you're opening.
It can cost anywhere from $80,000 to more than $600,000 to open a coffee shop.
The cost really depends on the size and location of your business.
It's important to consider the following costs as they can add up:
Renovations
Buildouts
Construction
Machines
Water systems
Coffee grinders
Also, unforeseen costs often come up, so it's important to be as accurate as you can with your budget so that you avoid underestimating. Think of every possible cost you can when creating your budget.
5. Choose the right location
Okay, so once you have a business plan and have organized your startup funds, then you need to actually start setting up your business. The first step is to start finding a location.
This is probably one of the most important steps in the entire process of starting a coffee business.
The location of your coffee shop will be a huge factor in its success.
Here are some factors that you should consider when looking for a location for your coffee shop:
The size: You want to make sure that enough customers are able to fit comfortably into the space. You don't want them to feel cramped after all.
Accessibility: You want to make sure that your coffee shop is accessible and that anyone can enter.
Parking: Consider how the majority of your customers will be getting to your coffee shop. Will you depend on foot traffic? If not, then you will want to ensure that there's somewhere for your customers to park. This could be either a lot or street parking nearby. Or, if biking is popular in your area, then consider adding a bike rack.
Seating: Think about the amount of seating that's available. Is there enough for the number of customers you want? Do you have some outdoor seating as well that you could set up when the weather is okay for it? You want to ensure you have plenty of space for your customers.
Rent or mortgage: You also need to consider rent or mortgage costs. If you are renting the place, then you really need to consider the cost of rent. How much a business location will cost you in rent will be a significant chunk of your budget and you should make sure that you've included this in your business plan. If you have a mortgage on the space, then you should consider how much this will cost.
Competition: Is there already a well-established coffee shop just down the street? If so, then that location may not be best. If there's no other coffee shop nearby, then you could potentially fill a gap in the market. So, consider the competition in the area.
Crime rates: Sure, a property might be cheaper in a rougher neighborhood, but is it really worth the stress? Look at crime rates when choosing a location and consider what's best for you and your business.
Demographics: What is the location's proximity to your target demographic? Of course, if you are targeting a wide range of people, then this won't be as much of a factor. But, if you're targeting a more specific customer base, then you will want to ensure that your business is located near them or is at least accessible to them.
The space itself. In addition to where the location is, you also need to consider the space itself. I mentioned a few of these factors above, such as seating and accessibility, but you should also consider:

Is there plenty of room in the kitchen?
Are there necessary gas, drain, and water lines already installed?
Is the front-of-house area large enough?
So, you want to consider all of these factors. This will help you to choose a coffee shop that is not only in a good location but one where the physical space itself is conducive to a coffee shop.
You may consider hiring a lawyer to help with negotiations and to ensure that all of the necessary paperwork gets filled out and regulations are met. It can be a good idea to hire an architect or a contractor for the build-out as they can estimate the costs of things like plumbing, electrical, heating, and air conditioning systems.
6. Register your business and file for the necessary permits and licenses
The city or county where you plan to open your coffee shop will determine the specifics of things like registering your business, which taxes you'll be responsible for, and any necessary licenses and permits.
While the specifics of registering a business will vary from state to state, you will need to apply for an employer identification number (EIN) and also establish your business structure before you can begin the registration process.
Before you can start selling coffee to customers, there are many permits and licenses that your new coffee shop will need.
Since you'll be serving coffee, and perhaps food, you will need to be sure that you have the right business licenses and permits. Also, health licenses and permits are usually necessary for serving food. Other types of business licenses can include building, zoning, and land-use permits.
The licenses and permits that your business needs and how you can obtain them can differ depending on your city and state. So, you should check with your local government to see what paperwork is required and to ensure that you have all of the required paperwork in order.
Also, waiting for approval on permits will take time, so make sure that you plan ahead and that you leave yourself plenty of time to wait for them to be approved.
7. Decide on a menu for your coffee shop
Okay, so if you want to know how to open a coffee shop business, then one of the most important things to consider is your menu.
What exactly are you going to offer to your customers?
A good menu design will help to draw in and retain customers.
It's such an important aspect of your business. So, don't take your menu design lightly.
Here are some tips to keep in mind when you are designing the menu for your coffee shop:
Stick to your brand: Any good business requires good branding. So, ensure that your menu is a great representation of your brand. It should be in keeping with the rest of your branding.
Know what the competition is offering: If there are other similar businesses nearby, then see what they are providing to customers. You want to be sure that your coffee shop is offering everything your customer needs and that you're not missing any key items from the menu.
Get feedback: Before you finalize your menu design, it can be a good idea to get feedback from others. Ask them what they think of the design and what you're offering on the menu.
Look at as many menus as possible: Visit lots of different coffee shops and check out their menus.
It can be a good idea to research menu design and to get as much information as you can so that you can design a great menu.
8. Design a layout for your coffee shop
Designing your coffee shop is another really important factor. You want to create an optimal design for both the front and back of the house areas. This is key not only to the efficiency of your business but also to the customer's experience.
Designing the front-of-house layout
Consider what type of atmosphere you want to create at your coffee shop. Do you want something more cozy and private where people can chat, do work, or hold meetings? Or do you want a more open-concept space that's airy or modern?
Whatever type of space you want, consider the size of your shop and how you can maximize the seating. Make sure that you arrange the seating based on the type of atmosphere you want to create for your business.
Seating is not the only important part of your shop's design either. You should also consider things like the color and style of furniture and any other décor elements.
I've said a few times now that branding is important. If your logo and menus incorporate the color orange, but your coffee shop doesn't, then it might not feel as cohesive as it should be.
The colors and the style of furniture that you choose will depend on what type of look you're going for. If you want an open-concept modern-style coffee shop, then you'll want to choose contemporary-style furniture. If you want a cozier, more traditional-style coffee shop, then you will want to choose more classic-style furniture.
You basically want the style of the front of the house to be cohesive and in keeping with your company's branding.
Designing the back-of-house layout
Behind the counter at coffee shops is busy and often crowded. So, efficiency and flow are important. So, when you are designing the setup of the back-of-house area, consider what stations you'll need and how you want the orders to flow.
Think about where you'll take the orders, prepare them, etc. And also about when you'll clean the equipment.
Also, if your coffee shop is going to be serving food, then you will need to think about where food equipment will fit into your layout.
When choosing the design of your shop, make sure that you consider how many people you want the shop to fit, and the type of atmosphere you want to create for them all.
You want a place where people can enjoy their coffee, but that's also easy to keep clean and orderly. The location of your coffee shop is important, but the work that you do inside to design the coffee shop is also incredibly important.
9. Order your coffee shop equipment
Okay, so if you are planning to start a coffee business, then you're going to need coffee shop equipment, right?
The types of equipment needed may vary from shop to shop, but there are a few pieces of equipment that pretty much every café will need, such as:
Coffee machine
Espresso machine
Coffee grinder
Water filtration system
Refrigerator
Freezer
Ice machine
Tea and coffee mugs
Take-out coffee containers
Point-of-sale system (POS)
Hot food equipment
Bakery display
Cup, lid, and straw organizers
Aprons
Sink
The equipment you need really depends on what types of items you are selling.
For example, if you plan to sell cold and frozen coffee drinks, then you will need a blender. If you plan to sell food, then you may need things like ovens and toasters.
Consider what types of items you are planning to put on your menu, and then make a list of all of the equipment that you'll need to be able to sell those items.
10. Find suppliers
Aside from equipment, you will also need supplies. So, finding suppliers is an important step.
Drink ingredients, such as fresh-roasted coffee beans, milk, and syrups, are going to make up a significant portion of your operating expenses.
Ingredients are important. After all, serving good coffee and other beverages is the only way that you're going to attract and keep customers.
You can keep inventory costs low by partnering with a supplier that makes frequent deliveries.
When you are first starting your coffee business, spend time finding the right coffee supplier for your shop.
If you're starting a franchise, the brand will take care of this step for you.
If you're starting your own store though, you'll need to find a good coffee supplier. You'll need to try to find the right supplier that will work for the type of products that you want to offer, is within the right budget, and offers the taste you want for your ingredients.
Serving high-quality coffee is the most important aspect of running a coffee shop, which is why this step is so important.
Many coffee shops purchase their coffee beans wholesale from a coffee roaster.
And, you should be specific when you are looking for a roaster to source your coffee beans. Consider things like whether you like the taste of the coffee beans from that particular supplier. If you don't, then your customers are unlikely to either.
Also, consider things like price, and whether it's affordable for your demographic. And, consider what types of coffee and flavors appeal to you, and whether the coffee roaster has the types of coffee that you want to serve.
11. Hire and train your staff
Another really important step is to hire and train your staff. Making sure that you are selective when hiring staff is important. You want your stuff to be high quality because excellent customer service is important for the success of your new coffee shop.
When hiring and training your staff, consider whether you want to train fresh employees yourself or look for experienced baristas instead.
One of the most important characteristics to look for in a barista is a great personality and the ability to greet customers with a smile.
When training your employees, it's not only important to teach them how to make the beverages correctly, but it's also helpful to teach them about the coffee itself and its flavor profiles.
This is because some customers may be interested in learning more about your coffee selection. And, you'll want your staff to be able to answer any questions they may have and make recommendations.
The people you hire are the face of your coffee shop. So, they are going to be a big aspect of a customer's experience at your café. You want your customers to have a good experience.
You want to train your employees properly so that they can make a great cup of coffee, and also ensure that you hire people who have great communication skills and know the importance of building relationships with customers.
Here are a few important qualities to look for when hiring and training a barista:
Great customer service
Strong communication skills
Great attention to detail
A willingness to learn
Cleanliness
A positive attitude
The ability to multi-task
The ability to work under pressure
Responsible
Reliable
Overall, a great barista will have a love for coffee and also care about the success and reputation of your business.
12. Get a good inventory system
When running a coffee business, you'll need to pay attention to your inventory. When you're first starting out, it can be difficult to know how much you'll need of things like coffee beans or baked goods. You likely won't even know how many cups you'll need each day at first.
So, you will need to track these things carefully at first, so that you can get a good idea of how much stuff you're using.
You will need to stock your shop will things like coffee beans, syrups, varieties of milk, condiments, stirrers, and much more.
Inventory management software is also a great tool for tracking and identifying these items, which makes it easier to know what's in stock and what needs to be reordered.
There are quite a few inventory management apps available to small business owners. Some point-of-sale systems also offer inventory management. So that's something you might want to consider when choosing one. There are actually specific coffee shop POS systems available to consider too.
No matter what option you choose, you want to ensure that you have a method for managing what you need for your business so that you don't run out of items or over-order items that you don't need.
13. Promote your coffee shop
Once everything is set up for your business, you want to start marketing it so that you actually have customers ready to serve on opening day.
Having a marketing plan for your brand should be one of your main focuses when starting your coffee shop.
There are lots of different ways that you can promote your coffee shop brand.
Here are some things you could do to promote your coffee shop:
Create a website for your coffee shop.
Social media (Facebook, YouTube, LinkedIn, and Instagram)
Search engine optimization (SEO)
Influencer marketing
Paid advertising
Networking
Community gatherings and pop-up shops
Storefront advertising
It's important to tailor ads and any promotional material to your target demographic since those are the customers that you're trying to attract.
Make sure that you utilize a few different marketing avenues.
14. Open your coffee shop
After you have created your business plan, found a location, and completed all of those other steps that we mentioned above, you're ready to open your coffee shop!
After you've marketed your company to generate interest in your brand, you can officially open.
You want people to walk through the doors on opening day. It's a good idea to promote your opening day through your social networks.
You could plan a ribbon-cutting event to promote your café or welcome a few people to a soft opening, which gives them an exclusive firsthand experience of your coffee shop.
It's important to post about your shop's opening day on social media. This lets your target demographic know that your shop is open for business.
Offering things like discounts or specials on your opening day can also help to encourage more customers to visit.
On opening day, it's a good idea to mingle with your customers because many people like to know the face behind the brand. You should take the time to get to know your community as this helps to build lasting relationships with customers.
15. Build customer loyalty
Once you've opened your coffee shop, you'll need to work on building a loyal customer base. After all, you need to have a steady stream of customers to keep your coffee business afloat.
You can implement things to keep customers coming back to your shop and to boost sales, such as a loyalty program/reward program or coffee and meal breakfast combos on your menu.
You could also offer coffee gift cards. These are useful for customers who may want to give the present of a gift card to a friend, family member, or coworker. This can put extra cash in your pockets.
Master the Art of Coffee Entrepreneurship!
Starting a coffee business isn't the easiest way to make money. If you follow your business plan diligently though, stay organized, and can build a loyal customer base, then you could be incredibly successful.
Hopefully my step-by-step guide on how to open a coffee shop business is a good starting point to get you going. Good luck!