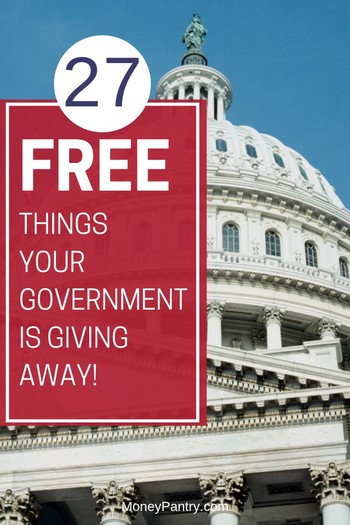 Who wouldn't want to get freebies from Uncle Sam, right?
Seems like we are the one always paying the government – in the form of taxes – but can you really get free stuff from the government?
Yes, you can!
Free money from the government isn't the only thing you can get.
From car seats to educational resources, the government offers a surprising amount of free stuff.
Below, we've listed government freebies that are available to a wide variety of people, from veterans to new moms.
Need Easy Extra $300+/Month for Free?
KashKick
: Get paid directly into your PayPal for watching videos, surfing, shopping and more.
Join KashKick Now!
InboxDollars
: Paid over $57 Million to members to watch videos, take surveys, shop and more.
Get $5 instantly!
Branded Surveys
: Get $1 instantly just for joining for free. Plus get paid within 48 hours by PayPal!
Join Branded Surveys
First Opinion
: Get paid up to $10 per survey and $300 per virtual focus groups!
Join Now!
Swagbucks
: Get paid to watch videos, shop online, take surveys and more.
Join now & get $10 instantly!
Now, it's important to note that for some of these freebies, you'll need to fit certain eligibility requirements, such as earn a low income or have served in the military.
Other freebies though are available to everyone!
It's also important to keep in mind that the government doesn't always just hand out freebies.
For the most part, free stuff is offered by programs, and these programs can vary from state to state.
If you've been wondering, "How do I get free stuff from the government?" then check our list of free things.
Free Stuff from the Government for Veterans
The United States Department of Veterans Affairs offers a wide range of benefits to veterans, from free services, to housing benefits.
Below, we've listed a few examples of the free stuff offered.
Please be aware that each state has its own Department of Veterans Affairs.
And, the benefits offered can differ from state to state.
Here are a few of the free things veterans can get from the government through the Department of Veterans Affairs.
1. Support for Your Veteran-Owned Small Business
If you are a veteran who owns a small business, then you could get free business support from the government.
The program is called the Vets First Verification Program and it's operated by the Office of Small & Disadvantaged Business Utilization (OSDBU).
When you register through OSDBU, you can work with Veterans Affairs.
You'll get access to a wide range of benefits, such as:
Advantages when bidding on government contracts.
The ability to business with VA, if your company is registered as a VOSB or SDVOSB.
Tax relief
Better access to capital
Extra support if your startup or small business is poised for high growth and innovation.
Free resources, education, and training to help you learn how to do business with VA.
Help building business partnerships and connecting with the people who make decisions about procurement in government and large private-sector firms.
Resources to guide you through every step of becoming an entrepreneur.
Support in finding VA procurements, contract awards, and acquisition resources.
So, you get a lot of free resources for growing a business.
2. Vocational Counseling and Training for New Skills
Get vocational counseling and training for new skills from Veterans Affairs.
Through the Vocational Rehabilitation and Employment (VR&E) program, eligible veterans can get:
A skills assessment
Career guidance
Job-market evaluation
Education and training in a vocational field that's a good fit for you.
Apprenticeship, on the-job training, and volunteer opportunities
Employment assistance.
That's a lot of services that you can get for free:
3. Education Benefits
You can also get a number of education benefits for free from Veterans Affairs.
Veterans, service members, and their qualified family members can get help with things like, paying college tuition, finding the right school or training program, and getting career counseling.
4. Housing Assistance
Veterans can get housing assistance from Veterans Affairs.
With VA housing assistance, veterans, and their surviving spouses can get help to buy a home or refinance a loan.
You can also get benefits and services to help you build, repair, or keep your current home, including grants for veterans with service-connected disabilities who need to adapt their home in order to live as independently as possible.
Finding Your Local VA Department
As we mentioned above, each state has its own department or office for veteran affairs and services.
You can find out more about the benefits and services offered in your area on the department website for your particular state.
Below, we've linked to the Department of Veterans Affairs websites for every state in the country, including non-contiguous states, and in US territories.
So click on the one for your area, and you'll be able to see what benefits are available to you:
Free Government Stuff for Seniors
Seniors are also entitled to some free services from the government.
5. Services and Benefits from the Department of Aging
Like with the veteran's freebies, these free services are usually offered by one department of the government – in the case of seniors, it's the government's Department of Aging.
Each state has its own Department of Aging – sometimes it's called other similar names, such as:
Department of Senior Services
Division of Aging and Adult Services
Division of Aging
Office of Elderly Services
Department of Health and Senior Services
This department can offer a number of free resources and low cost services.
In Alabama, for example, seniors can get free educational training. Alabama, offers the Senior Community Service Employment Program (SCSEP).
This program provides community and work-based training to seniors and helps them to find unsubsidized employment upon completion.
Your state could offer a similar program.
It's a great free resource!
You could get access to a number of free services from your local government.
Please note that the benefits offered can vary from state to state.
Finding your local department
To help you to find resources in your area, we've listed the Department of Aging website for all states:
Free Stuff from the Government for Low Income Families
Are you on a low income?
If so, you and your family could get access to a number of benefits from the government, including free stuff.
From free baby stuff to computers, if your family qualifies as a low-income family, then you may be able to get some freebies.
Check out these free things for low income families.
6. Formula and More from WIC
Women, Infants, and Children (WIC) is a government organization that's designed to help and even get free stuff to low income families.
WIC assists women who are pregnant or breastfeeding, non-breastfeeding postpartum women, and infants and children up until they're five years old.
You could get free formula, nutrition education and counseling, as well as other benefits, at your local WIC clinic.
7. Food Assistance from SNAP
The Supplemental Nutrition Assistance Program (SNAP) is designed to offer nutrition assistance to families who are living on a low-income.
The program is offered by the Food and Nutrition Service, an agency of the United States Department of Agriculture (USDA)
You could get benefits from SNAP that you can use to buy food, such as fruits and vegetables, dairy products and meat, fish and poultry and bread and cereals.
8. Car Seat from Your Local Department of Health
You could get a free car seat from a government organization, like the Department of Health, Department of Social Services, and the Department of Public Safety.
Not all states offer free car seats, but many do, here are a few examples:
Virginia Department of Health: The Virginia Department of Health provides a low-income safety seat program. It provides free child safety seats and booster seats to income-eligible children. If you are a parent, legal guardian, or foster parent of a child that lives in Virginia, then you can apply.
Texas Department of Health and Human Services: The Texas Department of Health and Human Services has a child safety seat distribution and education program available to families who are living on a low income.
Minnesota Office of Traffic Safety (A Division of the Minnesota Department of Public Safety): The Child Passenger Safety program offers free car seat distribution facilities. You can use the map on the website to find a car seat distribution center in your area.
9. Summer Food Service Program
When school is not in session, children and teenagers in low income areas can get free healthy meals and snacks from the Summer Food Service Program (SFSP).
10. The National School Lunch Program
The National School Lunch Program offers nutritious low-cost or free lunches to children every school day.
The program is offered in public schools, non-profit private schools, and residential childcare institutions.
11. Laptop from Your Local Department of Social and Health Services
If you contact your local Department of Social and Health Services, you may be able to get a laptop for free.
The department can sometimes assist people on a low-income by connecting them to local programs and non-profit organizations that can help them to get a laptop for free.
Just visit this page of the USA.gov website to find your state's department of social or human services.
12. Help Preparing Your Tax Return
There's an initiative from the IRA called Volunteer Income Tax Assistance (VITA), which helps people on a low income to prepare their tax returns. So, instead of paying someone to do the tax return for you, you could get this service for free from the government.
Government Freebies for Everyone
Above, we've listed free stuff from the government that's available to seniors, veterans, and low income families.
But what if you don't fit into those categories?
Well, don't worry, you don't have to be a senior, a veteran, or on a low income to get some freebies from the government.
There are free things from government organizations and programs that are available to everyone.
Most of these are educational resources that you can get for free.
13. Advice on Starting a Business from the U.S. Small Business Administration
Have you ever thought about starting a business?
Maybe you'd like to, you just don't know where to start.
Well, the government can help!
The U.S. Small Business Administration has Small Business Development Centers all over the country.
In fact, there are 900 of them.
At these centers, aspiring business owners and small businesses can get free advice and technical assistance.
You can get advice and information on all facets of starting and operating a business from the development of business plans to contracts.
And, it' all free!
Getting business advice can be expensive, so getting it for free is great!
14. Information on How to Repair Your Credit Score
You can get information that can help you to improve your credit score from the Federal Trade Commission. On the website, you can find out about your rights, and get lots of information on credit repair, for free! You can even learn how to get a free credit report.
15. Consumer Action Handbook
The Consumer Action Handbook is a free guide from USA.gov.
This resource guide provides tips about your consumer rights and information on shopping for goods and services.
What's great about this free handbook is that it can help you to file a complaint.
It provides information on filing a complaint about a purchase, and it even includes a sample complaint letter that you can use. Plus, it offers contact information for consumer protection offices in government agencies, and for customer service departments at tons of corporations.
So, overall, it's a handy guide to have!
16. A Free Book of FBI History
Ok, this may not be for everyone, but if you are an avid reader, nothings beats getting free books.
The FBI offers a digital version of its coffee table book, The FBI: A Centennial History, 1908-2008.
The book details in the history of the FBI and celebrates its 100th anniversary in July 2008.
For anyone interested in history, crime, or law enforcement, it's a great freebie!
Plus, you can print it out if you want to.
17. Backyard Conservation Magazine and Tip Sheets
The Natural Resources Conversation Service from the United States Department of Agriculture provides resources on bringing conservation to your backyard.
You can get Backyard Conservation magazine and tip sheets for free!
This free magazine has a lot of great information available on a huge range of topics, such as composting, mulching, pest management, and tree planting.
18. Energy Star Publications
You can get free PDF versions of publications form Energy Star.
There are lots of free PDFs available, from coloring books to brochures to workbooks.
19. Educational Resources for Children, Parents & Teachers
The USDA'S National Agricultural Library offers a huge selection of free resources.
From computer games and coloring books for kids to resources for educators and students that supplement and enhance curricula in science and social sciences, there's plenty of free stuff on offer.
Ways to Get Free Money from the Government
Online, you often see people asking questions like "Is the government giving out free money?" or "Are there free government grants?"
Aside from free stuff, like educational resources and formula, the government does also offer free money to people that qualify for it.
You'll need to meet eligibility requirements to get the free cash.
Here are a few ways to get free money from the government.
20. Unclaimed Tax Refund Checks
The IRS has millions of dollars in tax refunds that go unclaimed each year. Maybe you moved and forgot to update your address at the IRS? If so, then that check will have been mailed to your last known address.
So, you could be owed money in unclaimed tax refund checks.
Visit the Where's My Refund page of the IRS website if you were expecting to get a tax refund, but didn't receive it, or call the IRS to check the status of your refund.
21. Unclaimed Back Wages
You might be owed unpaid wages – just search the Wage and Hour Division's database, which is part of the U.S. Department of Labor.
22. Childcare Costs
The government in each state provides income-based financial assistance to help you pay for childcare bills.
23. Cost of Phone Bills and Internet
A government program called Lifeline offers a discount on services, like phone and broadband, to people who are on a low income.
24. Cost of Heating/Electricity
Get financial assistance with your heating or electric bill from the Low Income Home Energy Assistance Program.
The program helps low income families with things like home energy bills, and weatherization.
25. Assistance with Healthcare Insurance
The Affordable Care Act offers subsidies for health insurance to families.
When you buy coverage through Healthcare.gov, you may be eligible to receive a credit toward insurance premiums.
26. Money from Bank Failures
You can claim back funds from failed financial institutions.  Under the FDIC, per insured bank, each depositor is insured to at least $250,000.
So if you had money deposited a bank that failed, then you could claim it back.
27. Rental Assistance
The U.S. Department of Housing and Urban Development (HUD) can give you assistance with paying your rent. One of the ways it does this is through the House Choice Voucher Program. These vouchers can be used to pay for a part or all of your rent.
Basically, you get free money from the government to help with your rent.
Of course, you'll likely need to meet income requirements, i.e. be on a low income, to qualify for assistance.
Free Government Money/Freebies Scams
Unfortunately, there are a lot of money related scams out there. Scammers almost always find a way to scam people out of their hard earned money.
Please be very careful when you're looking for free government stuff. If it's too good to be true, then it probably is.
While there are a lot of signs you can look for, the best and most effective way to differentiate between a legitimate government program and scam pretending to be one is to look at the websites' URL. All (U.S.) government departments and organizations have domains names that end in ".gov". So if you see a site that claims to be part of the government and giving away something for free, that has a domain name that doesn't have ".gov" in it, be very cautious.
Now, there are of course a lot of nonprofits and organizations that work directly with the government to offer freebies and help to citizens and their domain may end in .com, .org, .net or any other domain extensions, but they will never claim to BE a part of the government.
How to Avoid and Report Scams
I hope you never fall for a scam, but if unfortunately, you have, be sure to report them to authorities.
You can report scams to the government through these platforms:
By the way, even if you haven't gotten scammed, the above resources have great information that will help you protect yourself form all kinds of scams and frauds. So if you do have a moment, browse their sites so you can become more aware of what's out here, thus decreasing the likelihood of falling for a scam.
Closing Thoughts
There are quite a lot of free things that you can get from the government.
So, visit the sites above and get free stuff from the government.
If you're wondering how to get free stuff in general then check out How to Get These 200 Companies to Send You Free Stuff.
This post offers hundreds of companies that send you free stuff, and you don't need to meet any eligibility requirements or criteria like you have to with many of the government freebies.