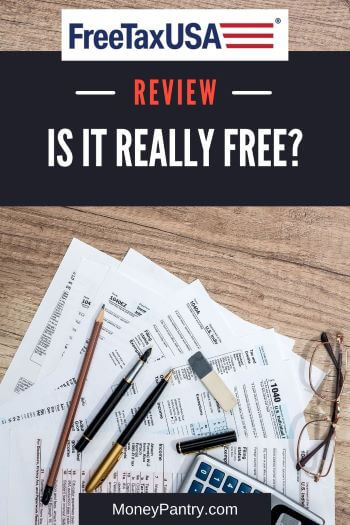 Hiring a CPA to file your taxes for you can be expensive, right?
So, you decide to file your own taxes online. If you have started researching tax preparation software, you may be surprised by how expensive it can be!
Filing online can end up costing you quite a lot of money and if your budget is a little tight, then that's not ideal for your finances.
One of the most budget-friendly apps or websites out there is FreeTaxUSA. This platform allows you prep and file your federal tax return for free and you can also add on a state return for cheap too. For anyone on a budget, FreeTaxUSA is a platform to consider.
Today's post is a review of FreeTaxUSA that will tell you what the company has to offer, and whether it's worth your while.
What is FreeTaxUSA?
FreeTaxUSA is an online tax preparation platform that's owned by TaxHawk. Inc. It was founded in 2001 by a CPA and a team of professional software developers.
Need Easy Extra $300+/Month for Free?
KashKick
: Get paid directly into your PayPal for watching videos, surfing, shopping and more.
Join KashKick Now!
InboxDollars
: Paid over $57 Million to members to watch videos, take surveys, shop and more.
Get $5 instantly!
Branded Surveys
: Get $1 instantly just for joining for free. Plus get paid within 48 hours by PayPal!
Join Branded Surveys
First Opinion
: Get paid up to $10 per survey and $300 per virtual focus groups!
Join Now!
Swagbucks
: Get paid to watch videos, shop online, take surveys and more.
Join now & get $10 instantly!
FreeTaxUSA is an original member of the IRS Free File Alliances, and it's an authorized IRS e-file provider that has securely filed millions of federal tax returns with the IRS.
People can use the website to file their federal tax return for free.
Is FreeTaxUSA actually free?
Yes, FreeTaxUSA is free if you are filing a federal return.
There is a deluxe edition of the free software, which costs $6.99. This comes along with some extra features, which I'll discuss in more detail below.
Now, you do have the option to file a state return too. State returns cost $14.99. Not too expensive, right?
So, if you only file a federal return through the site, then this is free to do.
How Does FreeTaxUSA Work?
So, what exactly does this platform have to offer?
FreeTaxUSA has several products and services, including:
Free tax software
The main draw of the site is its free tax software, which you can use to file your federal return at no cost. The prep process is like that you'd find on most software.
So, you answer some questions and then you move through the relevant forms where you can manually input your income and see if you qualify for certain deductions or credits. Handily enough, there are explainers for tax concepts along the way so that you can easily enter all the right info and file your taxes. The software will perform the calculations, and eventually, you will be able to view your estimated tax refund or tax bill.
FreeTaxUSA supports all common tax forms for free, including:
Filing Jointly
Home Ownership
Itemized Deductions
Dependents
Investments
Self-Employed
Rental Property
Education
What's good about the platform is that even if you are self-employed, own a home, or have investments, you won't pay extra to file.
There are lots of features that make the site's software really beneficial, including:
The software includes itemized deductions.
It allows you to import your prior year tax information.
Offers tax return backup.
Filing history that allows you to compare this year's number with last year.
Considering the software is free, it's easy to use and a good way to file your federal tax return.
Deluxe edition tax software
Like I said, FreeTaxUSA is free to use if you are filing a federal return, but you do have the option to upgrade to the deluxe edition of the site's tax software.
This comes along with extra benefits, such as:
Live chat and priority support: With this, you can chat directly with the company's specialists, and you get to jump to the front the line with any support questions that you may have.
Unlimited amendments: So, if you forgot something or made a mistake on your return, then you can add something new or make any corrections after your return has been submitted at no extra cost.
Assistance with audits: If you get a notice from the IRS, then you can get help from the site's Audit Specialists who will answer your questions and help you to respond.
Free tax extension filing
With FreeTaxUSA, you can get free tax extension filing. It's pretty quick and simple to do with the site's online service.
And, if you owe taxes, you can pay them right from your checking or savings account for free. Or, you can choose to wait and have the funds withdrawn from your account.
The site will email you as soon as the IRS accepts your extension. Federal filing is always free.
Prior year tax filing
Okay, so the website also supports prior year tax filing. You can download and print prior year returns. Federal returns are free and state returns cost $14.99. If you filed with FreeTaxUSA, you can access and print your returns for the past seven years.
If you aren't a FreeTaxUSA customer, you'll still be able to get a copy of your prior year return from the IRS.
It's easy to file back returns through the site.
First, you will need to gather your old tax forms, and if you are missing anything, then you can file the 4506-T form to get a copy from the IRS.
Then, you will need to file your taxes online using FreeTaxUSA's prior year tax software. You can prepare and mail tax returns from previous years.
Once you have finished preparing your prior year returns, you can mail them to the IRS, and it takes a few weeks to process your returns.
Many people with old tax returns actually have a refund waiting, so you can file and claim your refund before it expires.
You can view all available prior years on the site.
FreeTaxUSA supports common tax forms, such as:
Filing Jointly
Home Ownership
Itemized Deductions
Dependents
Investments
Self-Employed
Rental Property
Education
Self-employed taxes
If you are self-employed, then you can also file your taxes using FreeTaxUSA.
This makes it an ideal platform for small business owners. You can prepare and e-file your federal taxes for free.
There are forms for a variety of things, such as:
Health Insurance Costs
Rental Income
Vehicle Expenses
Home Office
Self-Employed Income
Freelance Income
Free 1099 tax filing
All 1099 forms are included for free, and FreeTaxUSA supports:
Self-Employed (1099-NEC, 1099-MISC)
Retirement (1099-R)
Government Payments (1099-G)
Debt Cancellation (1099-A, 1099-C)
Payment Processing (1099-K)
Sale of Home (1099-S)
Tuition Program Distributions (1099-Q)
Social Security (SSA-1099)
Stocks and Interest (1099-B, 1099-INT)
You can complete a free federal return or pay $14.99 for a state return.
Is FreeTaxUSA Legit?
Okay, so now you know how FreeTaxUSA works, you're probably wondering, is it legit?
In this section, I just wanted to go over what customers have to say about using the platform and answer some questions that you may have about the site's safety and security.
Let's start out with looking at what customers have to say about the platform.
Online, there are TONs of positive reviews of the company, but there are some negative reviews too.
On Reddit, people praise FreeTaxUSA highly stating that it is much easier to use than similar companies like TurboTax, and that it's incredibly affordable too.
Overall, most people on Reddit have positive things to say about the company.
One Redditor who used FreeTaxUSA, says:
"Freetaxusa.com is amazing.
 I've been using turbo tax for years. Found it relatively easy but costly. I think it was like $80 last year and I had a relatively simple return but I couldn't do a free version bc of my 1099 interest on my capital one 360. This year I did my turbo…but didn't submit…and then thought let me try what I've been recommended here. 
So I easily put my info in freetaxusa.com. Not only did it only cost me like $11…it was simple to use and I easily uploaded a pdf from my turbo taxes from last year, so I didn't have to type a ton of info. 
The best part was…it came out over $200 from state more than turbo! Why? There was a question about rent that I missed in TurboTax because it was written so poorly and formatted horribly on turbo tax's site. I didn't miss it on FreeTaxUSA. 
When I went back to TurboTax I realized when I changed it there too, the refunds were the same but the point is I would have missed it if I hadn't tried this new site. Plus freetaxusa was way cheaper. 
I'm a big fan."
So, what about elsewhere?
Well, FreeTaxUSA does have a profile on Trustpilot. But there's only 16 reviews on there, which isn't a huge demographic. It has 3.3 stars on Trustpilot, which is an average rating. So, it's not negatively reviewed on there or positively reviewed.
One user on Trustpilot praises the company saying:
"I used FreeTax USA this year for the first time. As a former TaxAct user I can honestly say this was much easier and still very thorough. It had all the bases covered. It was easy and straightforward. I don't have a very complex return, some investments and interest. But it did everything I needed and more. I filed my federal and state return through them and the fees for e filing were reasonable and I look forward to using it again next year. Good product."
The site is pretty well-reviewed on Sitejabber where it has 3 stars from users.
There are lots of positive reviews of the site, as well as some negative ones.
One user on Sitejabber says:
"First time user. I used FreeTaxUSA for my 2020 federal and state returns. As a former TaxAct user I can say from my experience this product is much better. Simple and thorough. They had all the bases covered. The process is a breeze and their prices are very good. They have a new customer for life in me."
As I mentioned earlier, FreeTaxUSA is owned by TaxHawk Inc.
TaxHawk Inc. is accredited by the Better Business Bureau (BBB), and it has an A rating.
Is FreeTaxUSA safe?
It is pretty well-reviewed by customers, but is FreeTaxUSA safe? After all, you are giving them lots of information about yourself and your income.
You'll be glad to know that information that you enter on the site is encrypted and transmitted securely using SSL encryption.
Your data is then stored in secure data centers, and it is transmitted directly to the IRS when it's e-filed. The website even uses the services of Truste, DigiCert, and Security Metrics to ensure that your data is private and secure.
Does FreeTaxUSA sell your data?
Another concern that people have is whether or not the company is selling their data. It's understandable, since some sites do in fact profit from your data.
Thankfully, that's not the case with FreeTaxUSA. In its privacy policy, the company says:
"FreeTaxUSA.com treats your financial and personally identifiable information as confidential and will not sell or rent any information."
So, no, FreeTaxUSA does not sell your data. You can learn more by reading the company's privacy policy.
Overall Verdict
Overall, FreeTaxUSA is good for most people, but those state returns do cost extra.
Now, should you give it a try?
Let's take a look at some pros and cons:
Pros
Let's take a look at the positives first:
Easy to use interface: It's really easy to file your return, and the user interface is clear and simple to navigate.
It's free: For federal taxes, the service is totally free, so you can save yourself some money. And even the cost of the deluxe edition at just $6.99 is pretty cheap and it only costs $14.99 to file a state return. So, overall, FreeTaxUSA is good for people who are on a budget.
Your information is kept safe: All of your information is encrypted and stored securely, and the company doesn't sell your data.
Cons
Now, let's take a look at some of the cons:
Only federal tax returns are free: If you want to file a state return too, then you will have to pay for that.
The customer service isn't great: Now I noticed that many of the negative reviews for the company complained that getting in touch with customer support was difficult. There doesn't seem to be a phone number you can call to talk to the company. If you have an issue with the site, then you will need to get in touch via email which isn't always the quickest way to contact support.
Issues with refunds: In some of the negative reviews of the company, some people complained that they hadn't received their refunds.
Overall, FreeTaxUSA is a legit company that offers free tax filing for federal returns. Most reviews of the company are positive saying how affordable FreeTaxUSA is and how easy the company's software is to use.
There were some complaints, notably about the company's customer service, which seems to be poor, especially for those who don't pay the $6.99 for the deluxe edition of the company's software.
It's does seem like an affordable option for anyone who's looking to file a return though, so give it a try!
Hopefully this FreeTaxUSA review has helped you to decide whether or not the company is for you. Have you ever used FreeTaxUSA? Share your opinions on the company with us in the comments section below.